An Insight into the Technology world.
Analysis and Insight from Savvycom Team.
Technology has brought some real game-changers to the world of business, one of which being data analytics – a tool currently seen as indispensable in every business, be it a startup or an established company. It reflects business performance, provides actionable market and customer insights and helps business leaders make informed decisions.
But simply acknowledging the power of data analytics isn't enough. Any business leader wishing to step up their digital transformation efforts can't overlook the way data analytics is evolving.
Let's take a look at some of the ways that data analytics is radically altering the business landscape in the year 2020.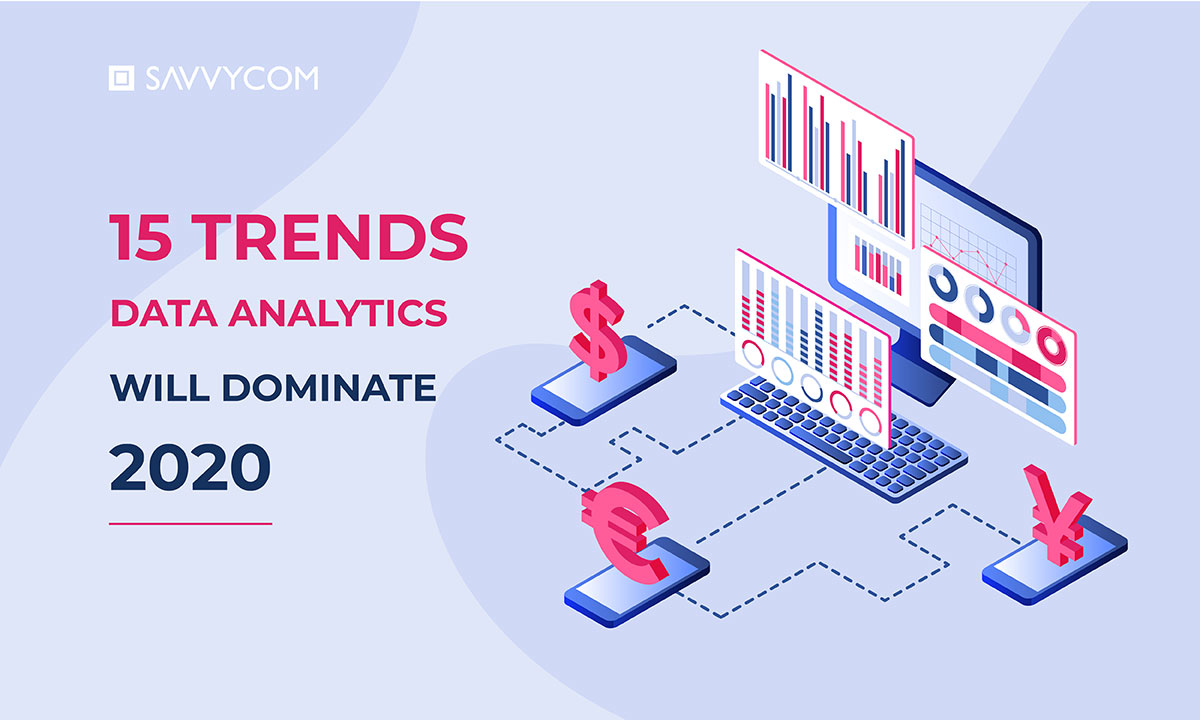 1. Data analysis automation
It is projected that by 2020, over 40 per cent of data-based tasks will be automated, which brings about higher productivity and more extensive use of data and analytics by citizen data scientists. 
What implications does this have for companies?
First, business, especially those who develop data and analytics software platform would want to focus on simplifying data science products to allow better ease of use for citizen data scientists.
Some might wonder "Why citizen data scientists?" which leads us to the long-standing barriers between business users and data scientists. Data science teams consist of experts in analyzing and interpreting complex digital data to assist the decision-making process of business. Yet when working with business, several problems arise. To begin with, data analysis depend heavily on data scientists, yet they are hard to find nor train, so not many businesses can expect to perform data analysis whenever required. Secondly, data scientists often work with data without having proper business context, leading to the resulting analysis failing to fulfil business purposes. Not to mention a large amount of time data science projects require to deliver valuable impact to the business.
This is where citizen data scientists come in. According to Gartner, citizen data scientists are those without the expertise or technical skills that characterize data scientists, and those with the ability to "bridge the gap between mainstream self-service analytics by business users and the advanced analytics techniques of data scientists." By focusing on simplification, data and analytics software platform vendors can help citizen data scientists carry out sophisticated analysis and create models that leverage predictive or prescriptive analytics.
Second, automation will speed up the pace at which companies work towards advanced analytics. With the growing number of citizen data scientists, companies can enjoy access to more data sources as well as a broader range of analytics capabilities of a large audience of skilled information analysts within the organization.
2. Data as a service
The Techopedia defines Data as a service as "a cloud strategy used to facilitate the accessibility of business-critical data in a well-timed, protected and affordable manner."
The DaaS market is predicted to reach $12 billion in 2023 at a Compound Annual Growth Rate (CAGR) of 39%.
The drivers behind this impressive growth are increased adoption of big data analytics across different industry verticals and cloud-based services in enterprises as well as rising demand for real-time data analytics.
In the year 2020, up to 90% of large organizations are expected to be generating some sort of revenue from DaaS.
The DaaS approach brings enterprises lots of benefits such as the ability to move data easily from one platform to another, ease of administration, compatibility among diverse platforms and global accessibility. However, being a cloud computing technology, DaaS also come with major challenges concerning privacy, security and data governance, which suggests that DaaS providers will have to actively seek to address these concerns if they are to reach or maintain their position as a key player in this market.
3. Augmented analytics
Augmented analytics is one of the three major waves of analytics. It combines the use of machine learning and AI techniques to transform how analytics content is developed, consumed and shared.
The global augmented analytics market is expected to reap huge-scale revenues from a variety of industries in the next few years. According to Markets and Markets, the augmented analytics market is expected to grow from USD 4.8 billion in 2018 to USD 18.4 billion by 2023, at a CAGR of 30.6% during the forecast period.
The major factors driving the augmented analytics market include the growing demand for gathering crucial business insights from customer data and increasing volume of business data. Also, the field of data analytics has a wide application portfolio ranging from the transportation sector to the defence and aerospace industry. By 2020, augmented analytics will be a dominant driver of new purchases of analytics and business intelligence, as well as data science and machine learning platforms, and embedded analytics.
4. Internet of Things merged with data analytics
By 2020, there will be around 30.73 million of IoT (Internet of Things) connected devices. The growth of the Internet of Things (IoT) is having a big impact on lots of areas within many IT companies, one of which being data analytics. With more IoT sensors being connected to objects, an ever-expanding amount of data is generated. But these data can bring business value only when data analytics is involved to explore profound implications and point to possible solutions. It is expected that business will work towards more analytics solutions for IoT devices to provide not only relevant data but also transparency.
Combining IoT and data analytics will positively impact the business. For starters, the data generated by IoT comes in a huge volume and varying sets in terms of structure. Data analytics software will allow businesses to analyze data efficiently, regardless of their volume and structure. Additionally, data analytics and IoT are useful tools for business executives to gain actionable customer insights, which contributes to better satisfying customer demand and later on, drive revenues and profits. In the long run, the use of data analytics in IoT investments can also help businesses create a competitive edge over their competitors.
The growing popularity of IoT in many organizations will entail the need for data analytics, making data scientists increasingly in demand within the next few years. However, Gartner projects that through 2020, "a lack of data science specialists will inhibit 75% of organizations from achieving the full potential of IoT" and as staff with the necessary skills will be scarce or expensive, organizations will "seek ways to use them more effectively or will find alternatives to human involvement, perhaps using machine learning rather than human data analysis."
5. In-memory computing
Over the next decade, more and more businesses will start using comprehensive in-memory computing platforms. According to a Gartner report, the In-Memory Computing (IMC) market will reach the $15 billion mark by 2021, a significant increase from $6.8 billion.
In in-memory computing (IMC), storage of data occurs in RAM across multiple computers instead of in a centralized database, resulting in fast performance and scaling of data in real-time. However, many IMC solutions have a limitation, which is the high cost of storing all data in memory. A viable solution to this problem is memory-centric architecture which supports the use of other memory and storage types including spinning disks and storage technologies such as solid-state drives (SSDs), Flash memory and 3D Xpoint. Memory-centric technologies are expected to become the key to cost-effective IMC adoption.
For large datasets, non-volatile memory (NVM) will be the favoured method for storage combined with the use of hybrid storage models. When the power goes off, NVM retains its data instead of erasing them like what volatile memory such as DRAM does, so there's no need for software-based fault-tolerance for IMC platforms. With all its speed and scale benefits, NVM is expected to dominate among data storage models.
IMC platform vendors will support a wider range of machine learning and artificial intelligence use cases. These developments will become new capabilities incorporated into the in-memory computing platforms of many vendors. Integration between a machine learning library and an in-memory computing platform will allow machine learning model development to provide real-time support to mission-critical applications. Further integrating deep learning with IMC platforms will reduce the cost of using operational data to train artificial intelligence models, enabling companies to easily optimize for cost and performance.
The possibilities of data analytics are endless. It's safe to say that data analytics will continue to drastically change and create significant impacts on business. Keeping on top of the latest developments in data analytics is essential to guiding your digital business transformation along the right path and achieving success in years to come.
Connect us for various frontier technology services and IT excellence:
Phone: +84 24 3202 9222

Hotline: +84326752886

Email: contact@savvycomsoftware.com

Hungry for more? Find out here!