New Year's Greetings To Our Valued Clients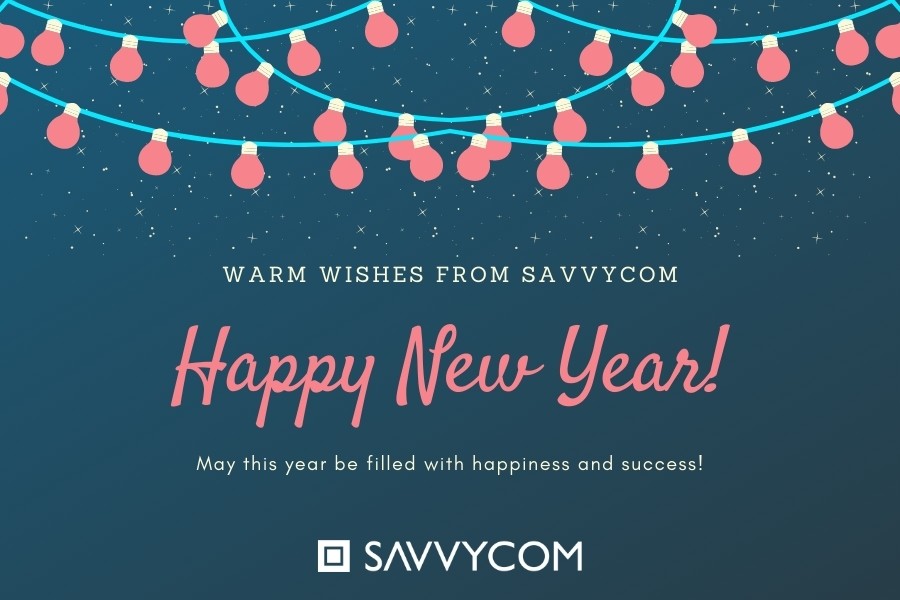 New Year is coming and we are all stoked to see what this year has to offer!
2020 has been a really challenging year as we all had to deal with the negative impact of the global pandemic. But here in Vietnam and especially Savvycom, we always remind ourselves that Covid-19 is not just a challenge but also a chance. A chance for us to redefine ourselves as well as our work. And if we have to look back at 2020, we can ensure others that Savvycom has not and will not backdown nor stay put. This year we are proud to say that we have:
Received 3 honour awards for relentless efforts and contributions.
Successfully established partnerships with 27 partners from both Vietnam and across the seas.
Delivered 9+ ground-breaking solutions of 5 different industries.
Checked in 6 countries including Hong Kong, Singapore, Thailand, Korea, Australia and America.
Welcomed 35 new members to our family.
To be able to achieve such goals. we always remind ourselves of our clients, families and friends who without them we could not get to where we are today. Therefore, as a new year is coming – so is a new chapter of Savvycom, we, from the bottom of our heart, wish our valued clients, partners, and employees the eternal happiness and fulfillment in work and life. We also send our massive appreciation to all of our long-loved supporters throughout the past years, with the hope to build a stronger and more solid future with your furtherance. 
May this New Year be an exhilarating closure for your 2020 story, and your 2021 be filled with achievements and successes. Now let's cheer to a joyful present, a well-remembered past and wait for another chapter-to-come!
Interested in starting your own Custom Software Development?
Invent
,
build
,
integrate
,
scale
and
upgrade
your Software Development with Savvycom! Since 2009, Savvycom has been harnessing digital technologies for the benefit of businesses, mid and large enterprises, and startups across the variety of industries. We can help you to build high-quality software solutions and products as well as deliver a wide range of related professional services.
Savvycom is right where you need. Contact us now for further consultation:
Phone: +84 24 3202 9222
Hotline: +1 408 663 8600 (US); +612 8006 1349 (AUS); +84 32 675 2886 (VN)
Email: [email protected]