Savvycom 11 Years – The Grit To Survive
On November 13, Savvycom celebrated its 11th birthday, marking another milestone in its lifelong journey to embellish the world with technology. Under the excellent management of a one-of-a-kind woman leader – Ms. Thanh Van Dang, who has recently been the only representative in Vietnam to be selected to join the Fortune – US Department of State's Global Women's Mentoring Partnership Programme, the company has managed to pivot against the pandemic turmoil, maintaining business continuity and protecting all employees from the universal risk of downsizing.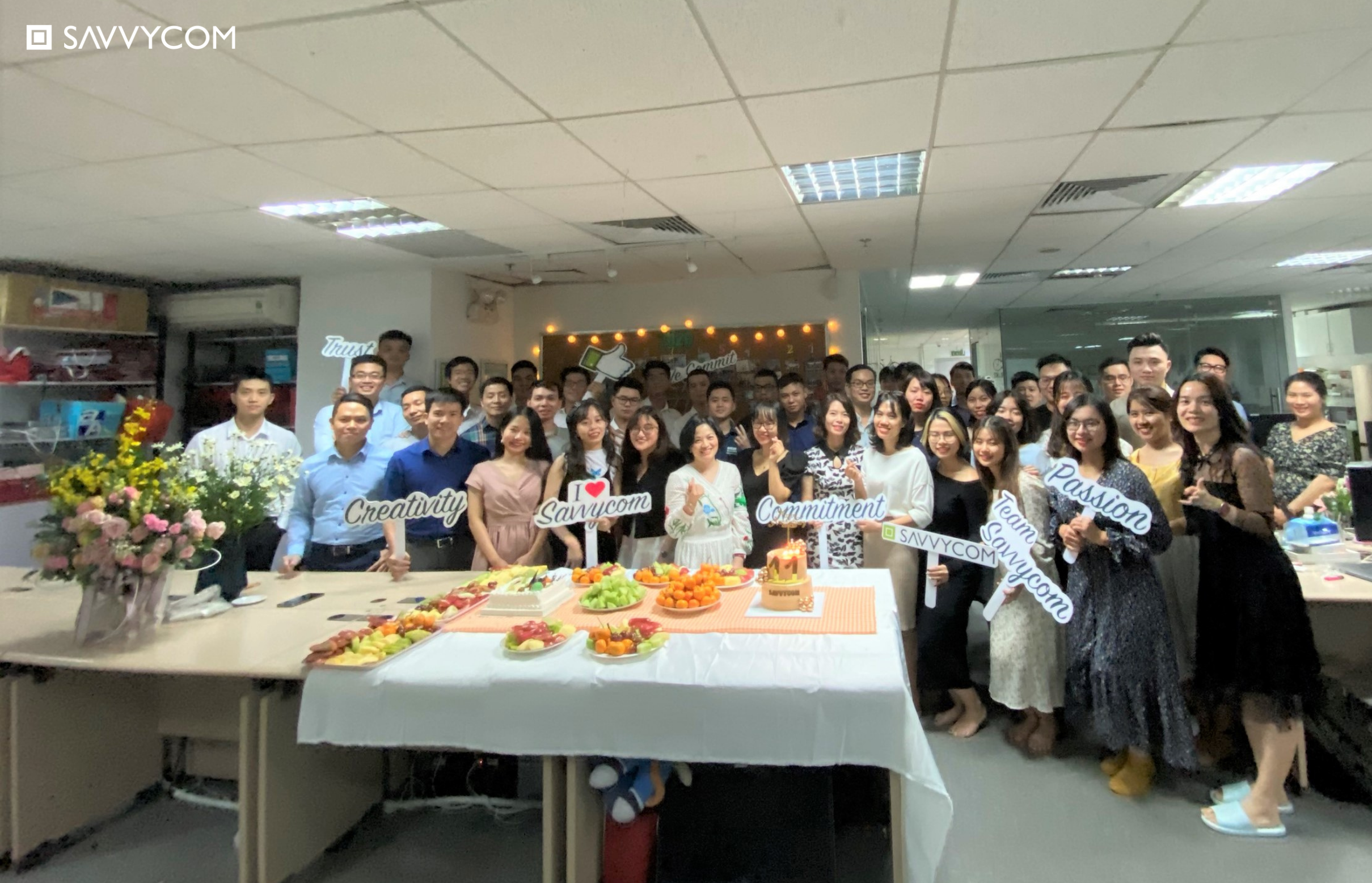 The COVID-19 was undoubtedly a frightening call at first, but with high hopes, great positivity, and a can-do spirit, we worked our way through the danger and turned the pandemic into a lever that pushed us forward. With that, we earned even more credits from both our clients and employees. 
To celebrate this remarkable 11th year, our people have spoken their words – in their own ways:
1. Van Dang – Savvycom CEO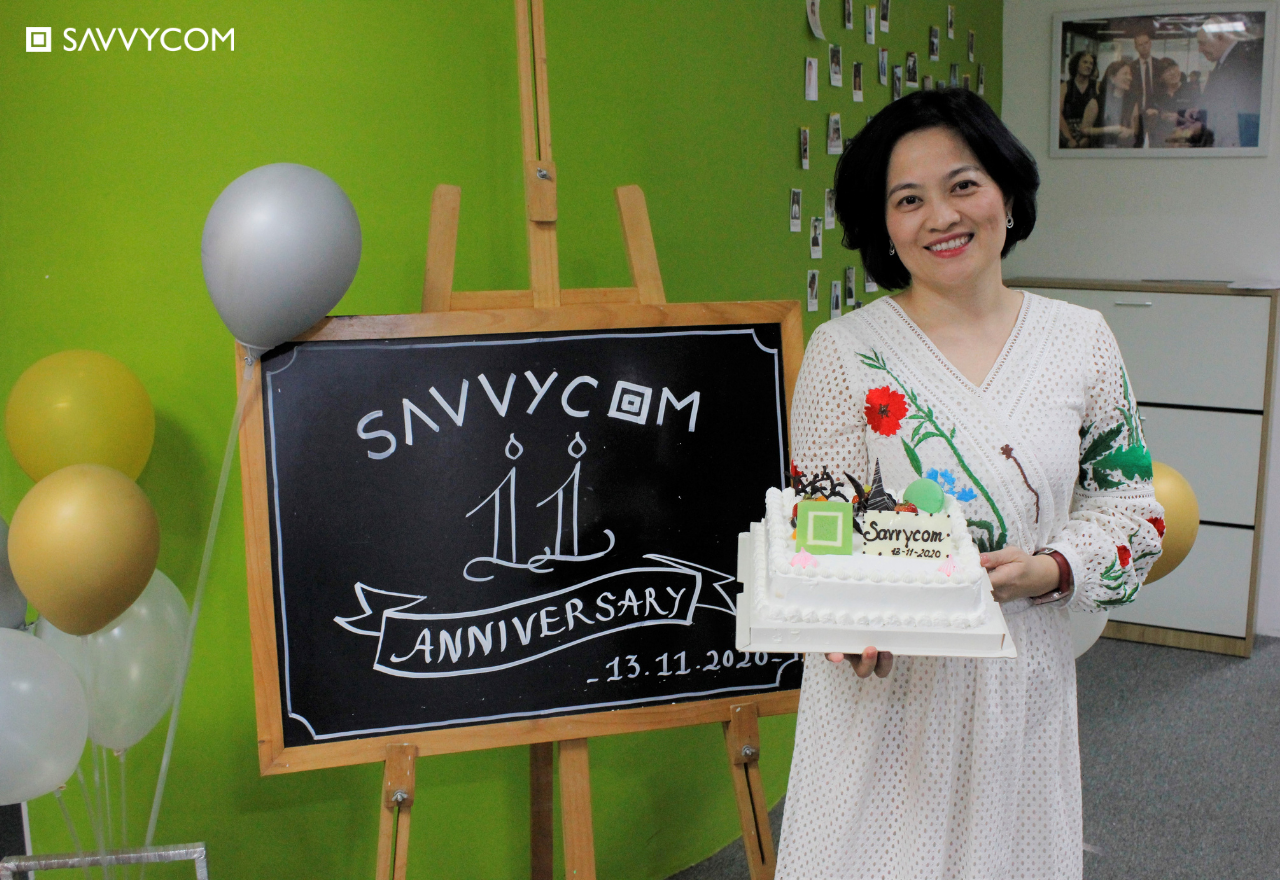 "A year has passed so quickly, many plans have not yet been completed. In return, I can learn and apply new lessons that have not been experienced in the last 10 years. Business Continuity Plan, Business Culture, People Development, Resilience … are all frameworks I have known for long, but it is not only until now do I have the chance to learn them by heart and practice it. Those are lessons that can only be internalized when it comes to special circumstances, like the COVID-19 pandemic that has been sweeping our lives.
I look around and see how many businesses were shut down by the fierceness of the pandemic, where even big names in the industry for a hundred years have also disappeared. Many people lost their jobs, millions of families were struggling to find hope in the demise of floods, hurricanes, forest fires, and COVID. I look around and find my Savvycom too "lucky" as we keep standing.
11 years – two numbers as strong as the two pillars giving Savvycom the strength to never be knocked down and to dart forward. If we talk about the age of a person, this is the age about to enter puberty with a lot of 'stubbornness' and determination; the age of complete molting – inside and out; the age where we grow and develop stronger than ever. This is the point of change Savvycom is undergoing.
I would like to send the sincerest thanks to our valued customers, partners, colleagues, and family for your trust that set the foundation for Savvycom for the past 11 years. There will be many challenges to overcome, many gluttonous goals to work towards, but as long as we remain looking at the same direction with the same values and spirits, there will be no challenges we fail to overcome.
Wishing Savvycom a new age of strength and new value deliveries."
2. Lily Nguyen – Marketing Manager
"The fact that we are here celebrating our 11th year standing has a lot to do with how well everyone was managing and keeping things together during the pandemic. I'm so grateful that amidst the depressing time, we were able to bring rays of positivity into our work, as well as maintain nearly the same level of confidence and efficiency.
In terms of management, we have all agreed on one single priority from the beginning: to enhance internal forces. We understood that every member of the company – regardless of their status – is under our care, and it is our responsibility to contribute to their well-being by offering job security and a sense of productivity in this "great-empty" crisis. 
We stayed in close communication with all employees to make sure they have a grasp of essential information and to give them proper mental support during VUCA. We also encouraged them to take good rest while maintaining the same level of productivity with new, creative ideas even during quarantine to prevent themselves from catching social distancing depression. With such a dynamic internal force, our business remains running smoothly even in the roughest days of this year.
As the head of the Marketing Department, I'm not only proud of how the board carried the company through difficulty, but also would like to thank every other member for staying healthy, hopeful, and inspired. The company will not be standing here, celebrating its 11 age without such a joint effort.
New age, a new goal, same good old spirit. Cheers!"
3. Hung Bui – Frontend Developer
"The last year has been a whirlwind to our company as the pandemic kicks in. It brought about challenges, but it was in the face of challenges that we grew – together. 
We were able to maintain the same level of stability as when things were normal. Even during social distancing, our culture remains the same, with each and every one of us keeping the faith in the company and trying to sharpen our skills in order to deliver better initiatives to clients. 
It evidenced the success of our leaders in controlling hardships and connecting people; and also, once again, shouts out solidarity among Savvycom-ers for the last 11 years. We feel thankful for that.
However, we will not sleep on the "11" milestone – there is still a long way for us to go. With the pandemic that has been happening for almost a year, it is patent that society will change into a completely different dynamic – along with the way businesses operate and make their money. There would be a lot of change ahead, and it is imperative for every company – including Savvycom – to grasp the situation and armor themselves against the new trends. 
I wish Savvycom good "health" and strong inspiration to step into the new normal with even more confidence and positivity."
To find out more about what Savvycom has done and achieved in the 11 years of age, take a look at our website!