Savvycom & KG Group – Strategic Partnership To Develop Global Delivery Centre (GDC) In Vietnam For Korean Enterprises
Savvycom and KG Group announce a strategic partnership to develop a Global Delivery Centre (GDC) in Vietnam for Korean Enterprises.
Hanoi, Vietnam, 26th June 2023 – Savvycom and KG Group, a leading conglomerate in South Korea, have announced a strategic partnership with the goal of developing a Global Delivery Centre (GDC) in Vietnam.
In recent years, Vietnam has proven to be an ideal IT outsourcing destination for businesses due to various advantages, including a rich IT talent pool, lower living costs, and a fast-growing IT infrastructure. Vietnamese and Korean developers are ranked closely on the global ranking of "Countries with the best programmers," indicating a similar level of IT expertise.
Recognizing this opportunity, Savvycom and KG ICT (a member of KG Group) have joined forces to leverage Vietnam's IT talent pool. This is only the first stage of a long-term partnership between Savvycom and KG Group.
The Savvycom-KG Group partnership combines two companies with complementary strengths to offer exceptional value to Korean enterprises. With Savvycom's expertise in software development and KG ICT's extensive network in the Korean market, this partnership is poised to provide a range of GDC services to meet the evolving needs of Korean enterprises.
In addition to a master plan for the development of a GDC in Vietnam, Savvycom and KG ICT will collaborate further to bring more efficient and innovative solutions to their services, including Business Application Development and Maintenance services, Migration & Modernization, Testing Service, Cloud Managed Service and Migration, and Blockchain/NFT Development.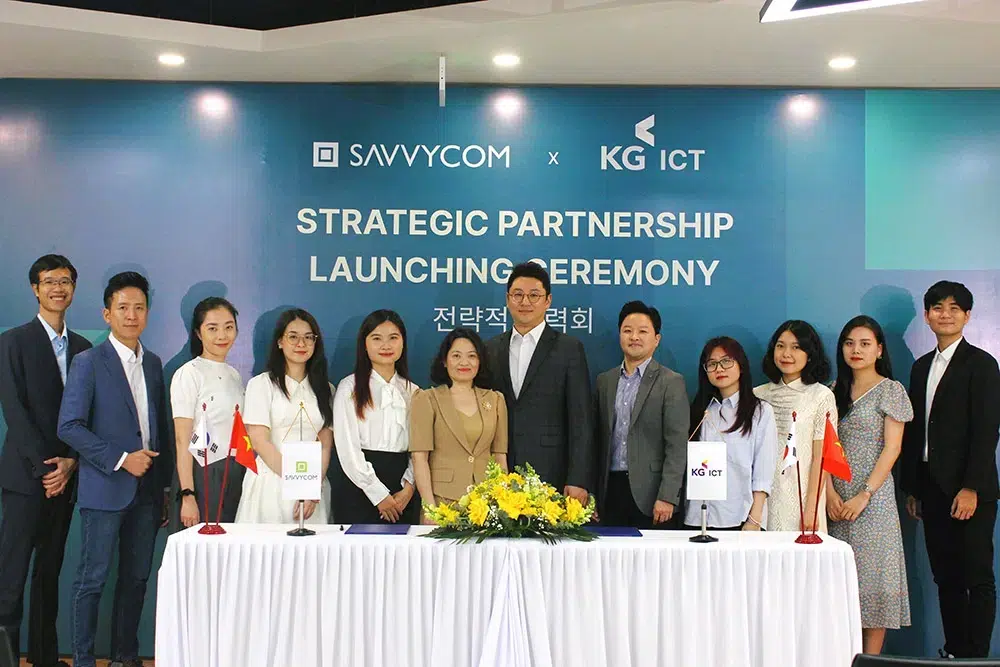 During the ceremony, a panel discussion was also organized for representatives of both companies to share more about their plans for the K-GDC project and future cooperation.
"We are thrilled to be working with KG ICT on this project. We plan to go one step further by turning some of Savvycom's offices into co-working spaces where Korean IT developers can gather and work when they are in Vietnam. We believe our expertise in high-quality software development and KG ICT's knowledge of Korean enterprises will make this partnership a huge success," said Ms. Van Dang, Savvycom's CEO.
KG ICT's CEO, Mr. Lee Sang Joon, also shared his thoughts on the partnership, "We are excited to partner with Savvycom to offer Korean Enterprises an exceptional GDC solution. Our partnership combines two companies' strengths to provide the best value proposition for our clients." Mr. Lee added, "Many of KG Group's services, which target Korean and Vietnamese companies in Vietnam, require IT knowledge, and Savvycom will be our partner for the new business."
The strategic partnership between Savvycom and KG ICT promises to deliver exceptional value to clients seeking cutting-edge technological solutions in Vietnam and can extend to other countries in the coming years.