The Manifest: Savvycom ranked as #1 Mobile App Developers in Vietnam
In February 2021, The Manifest, a renowned business news and how-to website that compiles and analyzes practical business wisdom for innovators, released its prestigious list of the most skilled and trustworthy mobile app developers in Vietnam.
---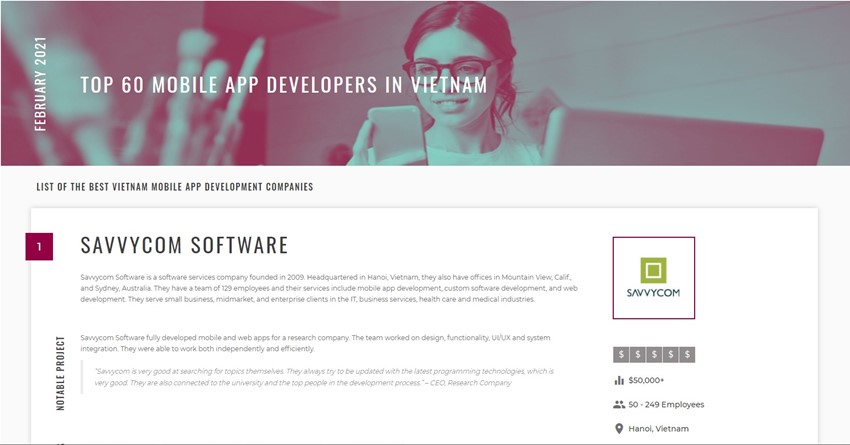 According to The Manifest, a list of 60 market-leading B2B mobile developers was announced, where Savvycom Software Company tops the list as the best service provider.
This is not the first time that Savvycom has made its appearance on public ranking, thanks to our impressive growth and significant achievements across the last 12 years. One of the key success factors of Savvycom is the reliable, innovative, flexible and communicative team. The team has always been updating with cutting-edge technology and had clear knowledge of programming.
Build Your App The Professional Way With Savvycom!
"The overall experience has been very positive. Savvycom's work is of a really high standard, their teams are very flexible and willing to take on diverse tasks. They are good at keeping to deadlines and delivering what they say they will deliver."
---
Savvycom has been constantly striving to fulfil the aim of becoming the most trusted partner to international companies and organizations, pursuing the global aim in the software and technology industry. After nearly 12 years of development, Savvycom has listed itself on Vietnam's 50 Leading IT Companies for 5 years consecutively – as of 2019, Clutch's Leading B2B Companies in Asia 2018 and Top 25 IT Outsourcing Companies in 2017. Ms Van Dang, CEO of Savvycom is also an honored speaker at TEDx and many other national and international events, listing herself at no.3 of Top 15 Global Leaders must watch in 2017 on Forbes.
In 2021, with a "Versatility Beyond" manifesto, Savvycom aims at improving our flexibility even further in all aspects of service delivery and helps our overseas clients win against the COVID-19 pandemic. 
2020 was the year of sluggishness. Business operations around the world were down in the longest Ice Age in economic history, making millions of employees farewelled their jobs. With that comes the challenge for every company: solving such a big problem, with even less resources in hand. 
It is where the power of versatility kicks in. We have Pepsi, which shifted from traditional sellings to its DTC sites with a hope to communicate their unique support to bored people in lockdowns. DHL was also part of the versatility initiatives, that they offer frequent operational updates to all of their investors, partners, customers and employees via diverse channels to make sure everyone is on the same page during the pandemic and therefore, loosen their worries.
Versatility Beyond – Original Video By Savvycom
Versatility – as defined by effective communication with all stakeholders and flexibility in platforms – is the key for not only Pepsi and DHL's recovery, but also the whole economy's.
Sparked by such a purpose, in 2021 where we hope for the pandemic to permanently end, we promise to continue leading business recovery with a stronger versatility mindset and commit to help our clients return to their golden era by technology. 
On this journey, we would like to express our warmest thanks to our customers and partners for your business, your trust and the confidence you have placed in us.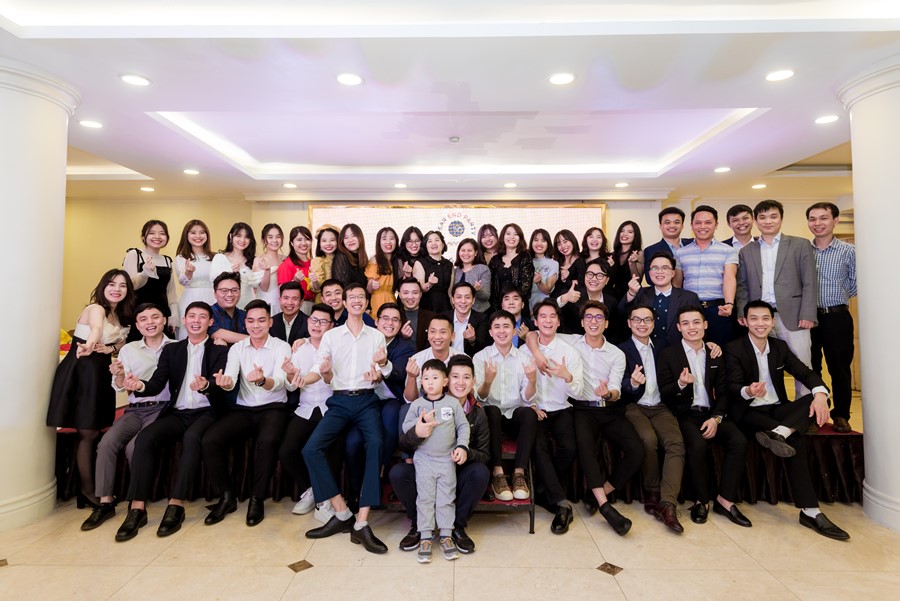 Savvycom – Year End Party – 2020
Savvycom is Vietnam's top Global App Developer and Tech Co-Founders delivering software services worldwide to Startups and fast-growth Businesses. Savvycom creates successful applications by not only just providing development and deployment, but also researching, scaling and improving your ideas, effectively acting as an extended CTO.
Building world-beating applications is our business. Not only offering full service of web, cloud & mobile application development, we have been concentrating on delivering smart IT solutions which render turnkey IT services for all client types. Till now, Savvycom has successfully delivered over 300 premium mobile applications to more than +100 international clients in a variety of industries, such as E-commerce, IoT, Healthcare, Education, Field Solution, etc.
Looking To Find A Trusted Tech Partner?
Tech Consulting, End-to-End Product Development, Cloud & DevOps Service! Since 2009, Savvycom has been harnessing digital technologies for the benefit of businesses, mid and large enterprises, and startups across the variety of industries. We can help you to build high-quality software solutions and products as well as deliver a wide range of related professional services.