Top 8 Enlightening Web Design Trends for Your Business in 2019
Several years ahead and web design trends have developed exponentially along with a flow of creativity. Abandoning grids, simple stock photos for lively illustrations, bold colour schemes and asymmetrical layouts…
Otherwise, technological advancements have optimized websites to be more friendly and convenient, with machine learning and subtle interactions. Web design trends 2019 are the integration of aesthetics and technology – 2 crucial factors accelerating websites interface.
Many creative innovations have been discovered so far, yet we can expect it will go much further and beyond in the future. While waiting for new development, let's look at some outstanding case studies below to predict web design trends 2019
Read more: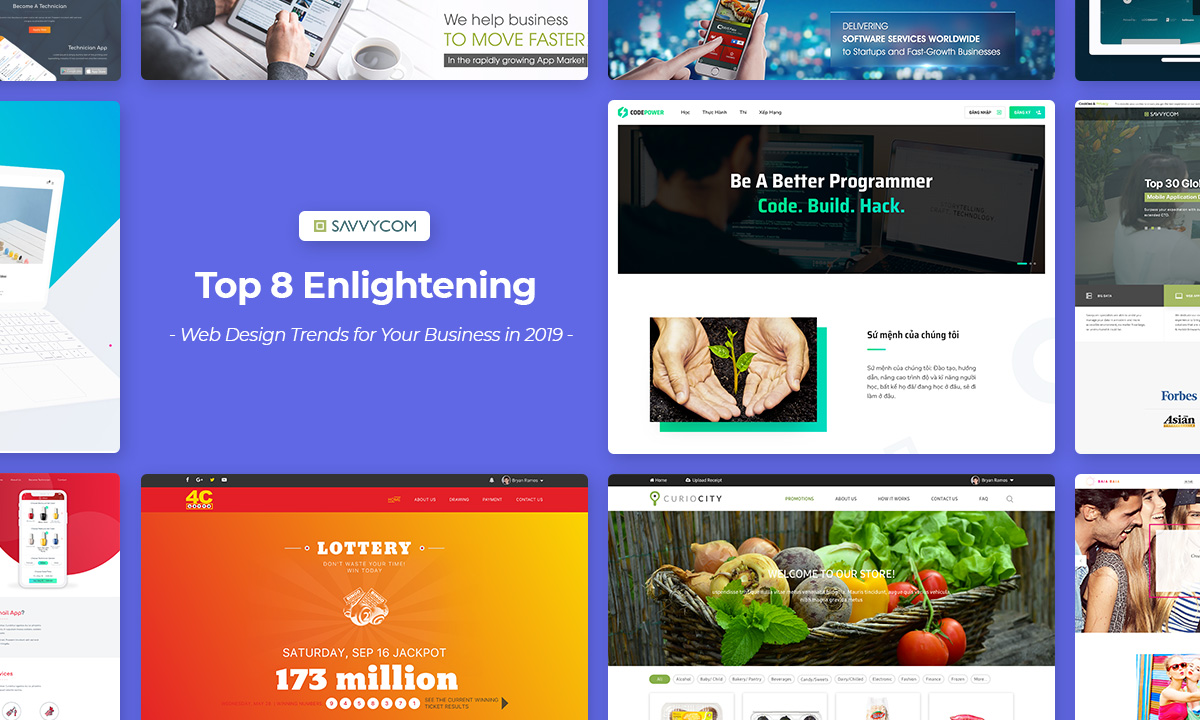 1. Serifs on screen – is it true?
Maybe we heard somewhere a common rule that we print with serifs fonts and sans serifs are for the screen. Several years going by, has anything changed? Whether or not web design trends can break the rule like a rebellious student?
Because of its clean readability, Sans is more favourable in various website interface. Yet, more and more brands are shifting towards bold serifs including in their designs such as headers and callouts. Things you may know, serifs were designed to be a decorative font, and making them emphasis is a good choice.
Serifs may surprise you with lots of character and its adaptability to use in creative ways. Rounded serifs in Mailchimp's funny image contribute to depict positive brand outlook. Or you can reference wedge serifs and bold strokes that make Medium look modern and professional.
2. Simple but Subtle Black-and-white palettes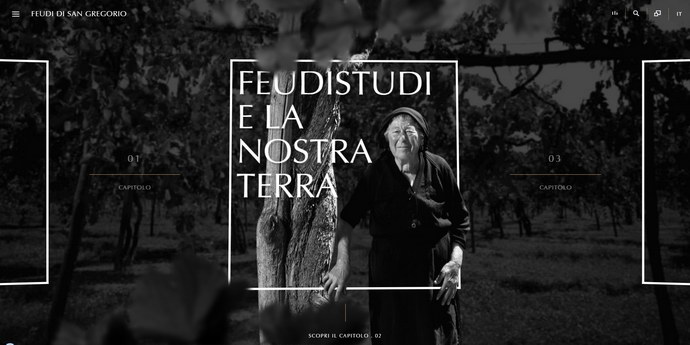 Colour is one of the first things attracting your eyes when you visit a website. It understates but stimulates our mood, defines a brand and creates visual landmarks in support to guide users through an interface. In 2019, simple but excellent black-and-white web design can make a strong statement sending out to the world.
Physically, colour is the way reflecting light particles to our eyes, like a lively filter to see the world. When colour disappears, textures and shapes become more obvious, and the world seems to be prominently sharper, slower and edgier.
White represents cleanliness, purity or softness. On the contrary, black is powerful and assertive. Those two combination impresses us a completely striking look.
Not so surprising that the most apparent effect of black-and-white designs is in their combination with minimal amounts of colour. To make your design more impressive, add an emphatic colour. Not only the new colour in the sea of monochrome is embellished and highlighted, but eventually, points of interest and calls-to-action stand out.
3. Natural, organic shapes
Most of the time, systematic grids have been used to build up a website as a basic element. Yet, natural shapes and smooth lines tend to be a favourable design trend in the upcoming time. Geometric shapes such as squares, rectangles and triangles with sharp corners to create a sense of firmness and stability, but web design trends 2019 focus on customer experiences with a feeling of accessibility and comfort.
Naturally flexible and asymmetrical, organic shapes can make your web design eye-catching and noticeable. Free-drawn strokes with alike natural cubes can capture the spontaneity of man-made accidents such as paint splatter. Efforts to create those things for the main goal here is to make web designs friendly and alive through the illusion of movement.
4. Glitch art
Trends list wouldn't be perfect without the presence of retro design. Since the time computers have become pervasive, glitch arts go along with this development to imprint their mark in design fields.
If you want to create motion into your design (like cinemagraphs), glitch effect is one tool to make it happen! Depending on your purpose and which motions you want to add, glitch effect is ready to shine the light into your work. Old-tech feel or a futuristic curiosity – make the most of its versatile use of this effect is a good strategy.
5. Micro-interactions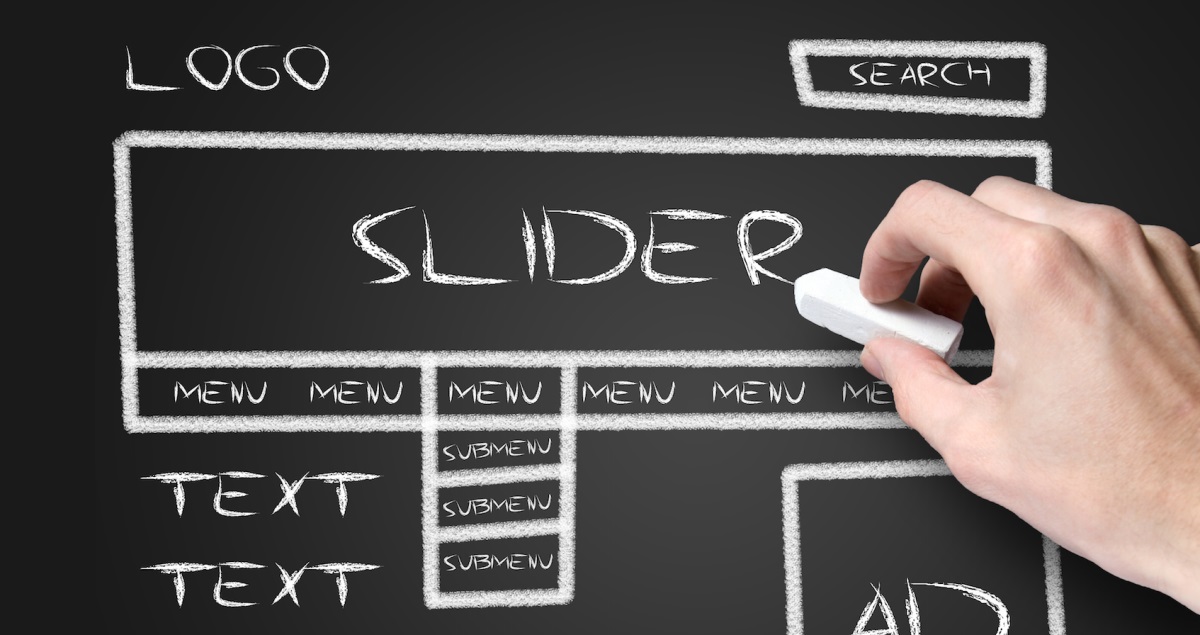 To surprise the user and create an event that is inviting and human, micro-interactions is created. In detail, it means: "Every time you take a small action on a website or app and there is a specific response to it".
And you stumble upon these every day in case you still don't know what it is. Every time you refresh a Twitter page and hear a beep, there it is. Or the time you scroll through Facebook pages and suddenly, a red icon displaying you have a new notification. And what is it? Of course, it's a micro-interaction.
It can be applied more than a social media foundation. In 2019, feature more these micro-interactions on websites will be more popular and common. This is an effective way to interact with your audience and your potential customer on the website, to subtly transmit core information to the users based on their actions and usage, overall make web pages have a better user experience.
6. Chatbots and how AI elevate it
If you offer a product/service to end-user, chatbots are already familiar to you. Along with AI and machine learning development, chatbots at present are more intelligent and efficient in understanding customer's need.
Don't so surprised that more and more chat boxes will show up on every web pages you click through. Bright colours shine your page in customer's eyes. Moreover, friendly mascots representing brands can appear as a chatbox with a personable face.
7. Can't exclude Video content!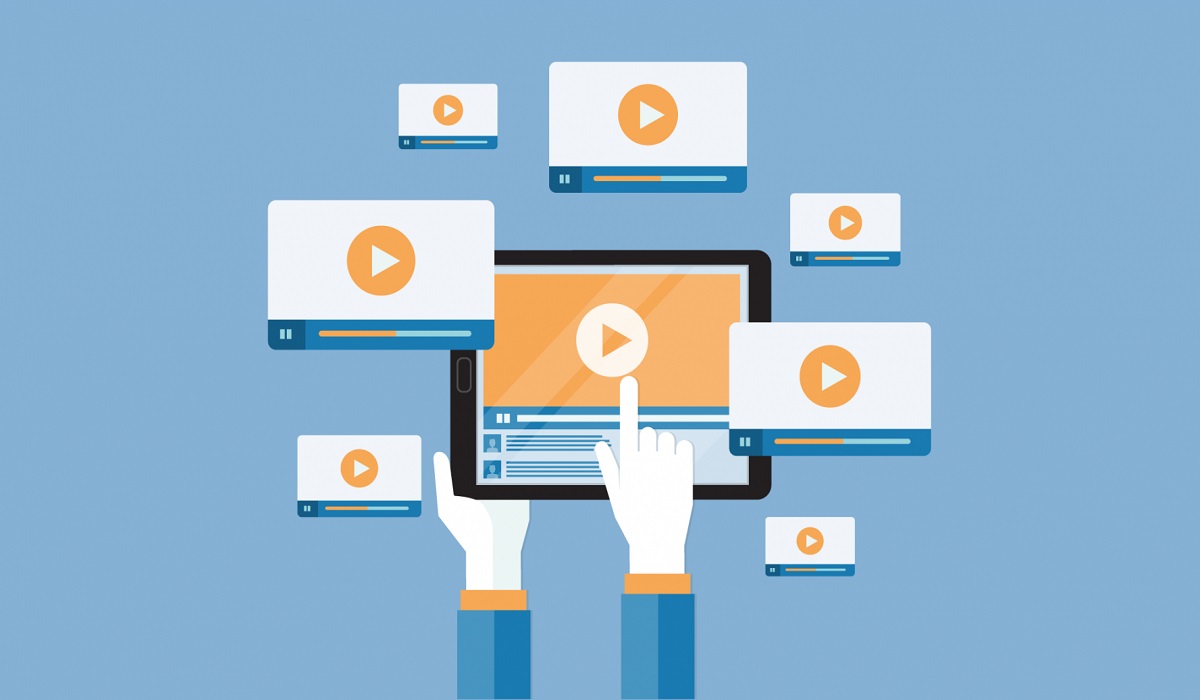 Since content marketing has become one of the key tools to draw the attention of the target audience, video content is much appealing than ever before. For example, it users to go through all long-texted instructions and save their time. And you don't want to read a boring only-texted article, right?
What's new is Google has widened its preferred search results to mixed content, featuring video content above standard web pages. Therefore, websites now are initiating to prioritize video production so as to make theirs easily searchable and bringing out content in the most efficient, shareable way.
8. Minimalism
Minimalism – One of the web design trends will never be outdated. The fewer elements and content on a website, the less your audience will have to think. If a website is designed and optimized in the proper way, it will show the user exactly what they are looking for.
We can say that Minimalism will keep dominating web design trends 2019. Not only interesting to see animations and fade-in effects, but web pages have more space for their focused content. Thus, we have more whitespace, contrast and clear typography, leaving out many distracting elements to have wonderful websites
Savvycom offers web design for your business
If web design is one thing preventing you from attracting to a potential customer, you don't need to worry much! With a suitable and affordable solution for big businesses, Savvycom trusts that web design is an indispensable tool, playing an essential role in business prosperity, large or small. With a well-designed interface, we can make your website professional and outstanding. In turn, we make it achievable while generating incredible revenue for even small and medium enterprises. We, Savvycom specialists, with our excellent experience, will surely deliver the best solution to help you conquer any potential risks while assisting you with your future of web design.
For further enquiries related to web design services, please do not hesitate to contact Savvycom at:
Head Office: 12th floor, Viet A Tower, Duy Tan Street, Hanoi, Vietnam
We would love to give you a free consultation and suggestions to achieve your goals.