An Insight into the Technology world.
Analysis and Insight from Savvycom Team.
Alongside with 2 giant IT outsourcing destinations (India and China), Vietnam is a new-star prominent destination which is drawing the attention of many foreign businesses.
Having quite a lot of unfair advantages, Vietnam has made a move towards an ideal place for software development services.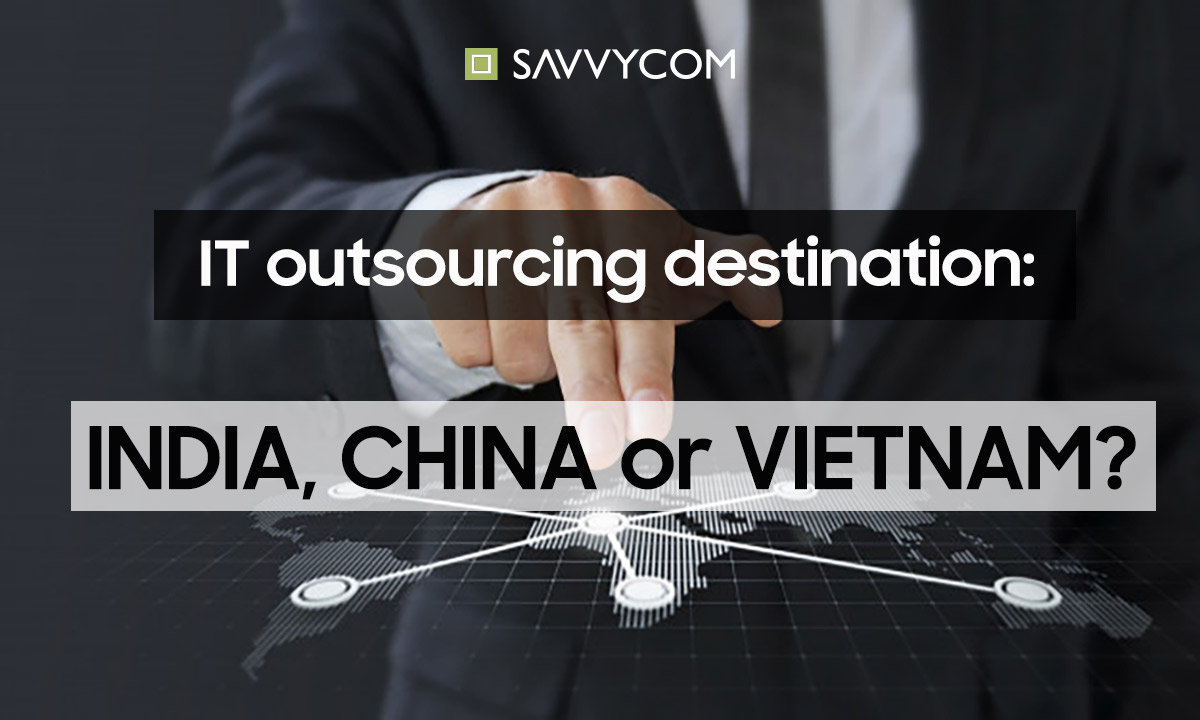 Overview of the technology market in India and China
India
Having been working in IT outsourcing services for over 25 years, this long-time experienced country has no doubt to remain on top of the ideal destination for outsourcing technology projects in any report.
As the biggest giant with a mature spike software industry, India is always the first IT outsourcing destination for businesses to seek out service. With a large number of IT specialists, additionally, to the finest excellent service that customers can get, it's predicted that India will continue staying in number 1 for a longer time.
However, cultural compatibility and business process organisation may still be noteworthy issues that they haven't completely solved yet. And because of the excellent quality IT services they offer, they are likely to increase the price.
China
Just right behind India in this field, China is the second IT outsourcing destination when businesses start thinking about 'move their job' to another country.
With their biggest strengths which are low cost and productive labours, China has a big advantage to surpass many countries in this particular area, plus, they are also very good at promoting their strength on various media channels.
Along with the country's movement to improve business and political environment, labour skills and service quality, China is showing to the world that they are really competitive in this IT outsourcing market.
There is no doubt with the quality in this destination by just looking at the number of companies along with their products in both games and application or other software solutions can go global such as 360 Camera, Baidu and Alibaba.
They can also find in this country a lot of skilful hackers (both white and black hat) that are helping or causing annoyance to many companies and governments all around the world, and somehow, this could show off their developers/software engineers' skills (probably this is a negative way to do it.)
Similar to India, Chinese IT companies are also raising their service price to satisfy their hardworking developers so you may see the cost for this is higher and higher.
However, there is a big disadvantage that many companies from America and Europe may consider in cooperating with this IT Outsourcing destination. Along with their national pride, you will have to learn quite a lot about their culture and know how to adapt to them before signing on a contract.
China is a non-speaking English country and not so eager to learn or speak a new language besides Chineses. Therefore, you must be aware of this matter and ready to recruit a translator/comfort to do the business with Chinese companies.
Now, let's take a look for more detailed at Vietnam software outsourcing market to unveil the insights and potential development of this promising destination.
Some interesting statistics about the new IT Outsourcing destination in Vietnam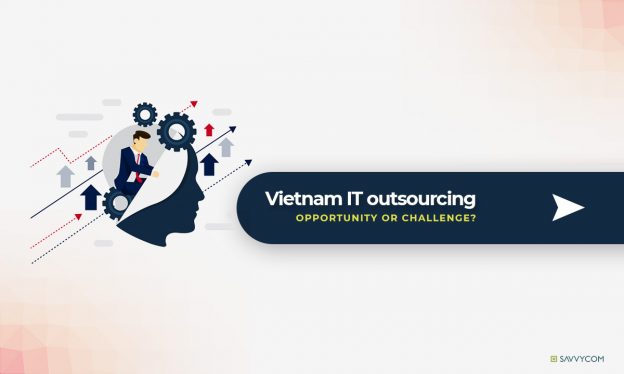 According to the Vietnam Software and IT Services Association (VINASA), the growth of IT outsourcing industry is at the exponential rate (20-35% rate annually over the recent 10 years period).
One of the key competitive factors making Vietnam be such an appealing market and become a positive IT Outsourcing destination like that is a low-cost and skilful workforce.
Currently, Vietnam's population is over 97 million people, and 69.3% is still in the labour force. It means that this country has a very high potential to provide skilful IT labour force for the booming market.
Vietnam government is investing and supporting a lot to the technology industry with the aim to reach over 1 million software engineers/developers in 2020.
Furthermore, in Tholons Services Globalization Index 2017 (TSGI), Vietnam claims no. 08 positions in TSGI Top Digital Nations. Ho Chi Minh City and Hanoi are still in TSGI Top 30 Super Cities (24th and 26th respectively), while Danang starts its debut at no. 73.
To take a closer look at how Vietnam software outsourcing performance can be in the future, let's consider some aspects, pros and cons of each one to judge whether or not it's good for devoting time and resources to do that.
In terms of programmer skill rankings, 2 prestigious ranking sites 'HackerRank Programming Olympics' and 'TopCoder Ratings' offer a glimpse of how skilled developers in Vietnam are. 'HackerRank Programming Olympics' ranks Vietnam at no. 23, while the country is in 11th position in 'TopCoder Ratings' chart.
According to Gartner's 2016 APAC Offshore Locations Report, Vietnam has the highest score in cost among Tier One countries. This information is more solidified with the statistics of average wages for Vietnamese IT engineer. According to AgileEngine's article, the average wage is very reasonable (US$14 for junior IT engineers, $17 for middle and QA engineers, $20 for senior positions and $22 for the architect).
Communications
Foreign businesses may notice language proficiency as a key factor to improve work efficiency. To attract companies to the new IT Outsourcing destination in Vietnam, most of the Vietnamese companies always focus on improving and being fluent in client's languages.
The major part of clients is from Japan and English-speaking countries, so it's better to know one of those in order to get a good job with high salary and an awesome working environment. Therefore, that becomes a motivation for Vietnamese developers and software engineers to learn more and to be able to speak English (at least).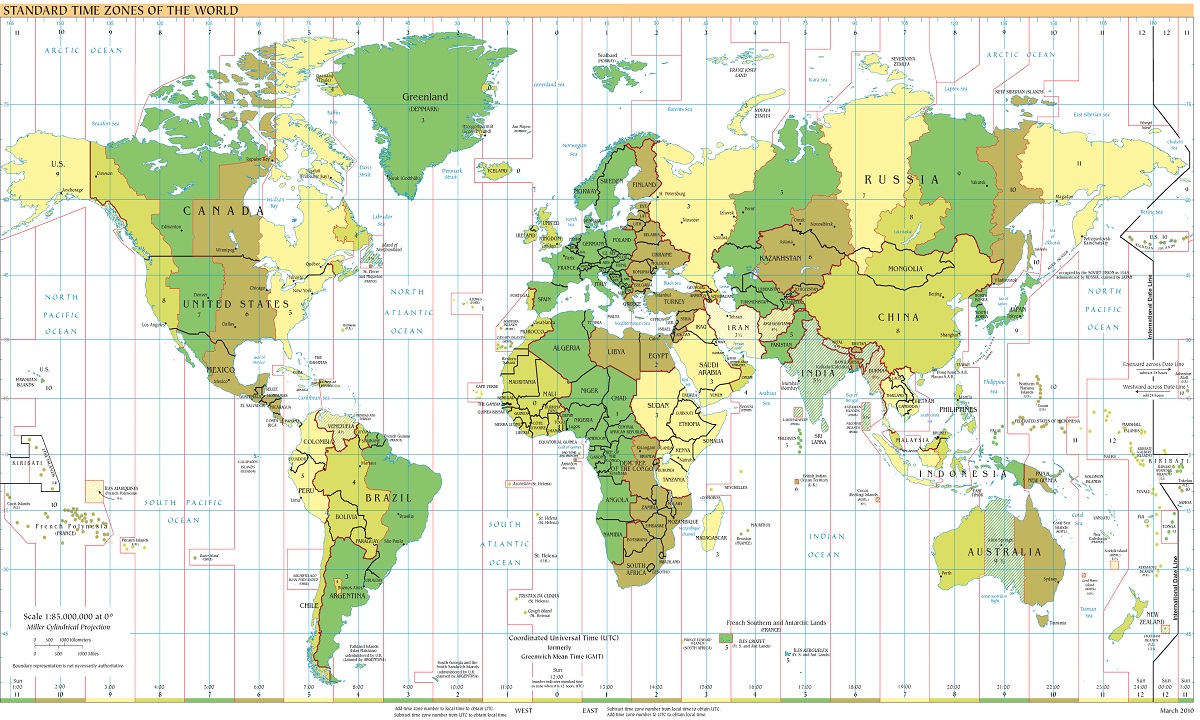 Otherwise, in the offshore model, time-zone difference can be an obstacle to defer the responsive flow of IT outsourcing project team and the client.
Project team's communication behaviours should be taken into consideration to lessen the chances of miscommunication. Discussion with clients to ensure that necessary information is clear.
Any issue or delay should be informed to the client before. Team members can also enhance communication proficiency to make sure that misunderstanding and information loss doesn't happen.
So, I can sum up some main points about the pros and cons like:
Pros:
Vietnamese IT employees have improved their language skills
The team-based working model is effective.
Cons:
More communication efforts to keep information sharing clear and transparent.
With clients: inform about issues earlier.
Within the team: connection more closely to each other.
Language skills
English: verbal improvement.
Japanese: always need comfort to work with Japanese clients.
Delivery
On the good side, clients are satisfied with IT outsourcing services that Vietnamese partners provide with various solutions and technologies to meet the project's requirements and the management to keep them within timeline and budget.
In contrast, lack of experiences in code reviewing and test cases can be a gap that they need to cover if they don't want to result in late deliveries to the client.

To sum up:
Pros
Good quality, exact time and budget for projects on demand
Cons
QA testing and code reviewing need to be invested more
Create more test cases
Skills
Let's go through the 3 skill-sets include technical skills, business skills and working attitude. These are important for you to consider carefully in each aspect and figure out the potential of the IT Outsourcing destination in Vietnam.
In term of technology skills, Vietnamese tech companies don't have much problem with the adaptation of new technology in the Innovation era like AI, Big Data, Cloud, Blockchain, IoT, etc. With the powerful support from the new innovative technologies, their productivity can increase exponentially.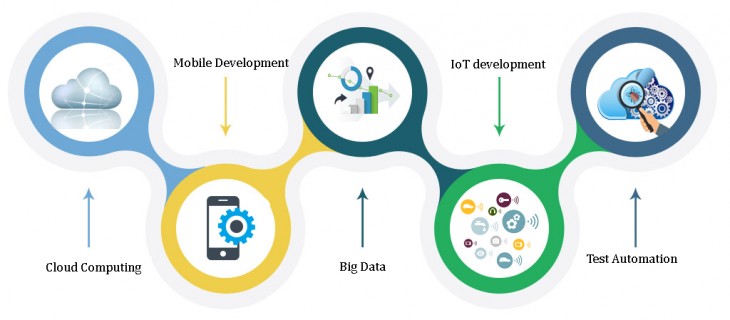 Employees working in the IT field are mostly young, enthusiastic and have a positive working attitude. with the eagerness for knowledge, they can quickly come up with new ideas and concepts during the working time to improve work efficiency.
Because IT companies still focus their efforts on technical skills, business industry knowledge seems not to be a strength. In order to improve their services, many IT companies in Vietnam have started investing in business-based solutions to create more values for clients, step one more levelling up their full services to attract more potential customers.
After 10 years of development, from a "start-up Tech Co-founder", an extended CTO for fast-growing companies, Savvycom has grown up into a Tech Partner and a Technology Consultant for businesses in the various industries and not only for startups anymore.

Aiming to provide more technology services in enterprise management solutions, Savvycom has gained so much experience in developing and delivering better solutions for giant groups in the country as well as international corporations.

As a leading company in the new IT Outsourcing destination of Asia, Savvycom has been serving over 100 global clients with more than 300 successful projects, listed in Top 25 IT Outsourcing Companies by Clutch. At the same time, Savvycom has never missed out of the list of Vietnam's leading IT Companies for years.
Let's check out Savvycom's portfolio here and contact us for FREE CONSULTATION in any technology projects that you're looking for an outsourcing vendor.
To conclude:
Pros
Wide knowledge of technology.
Ability to adapt to new changes in technological landscapes.
Cooperative, supportive, hardworking attitudes are worth appreciating.
Cons
Adapt more technology, increase automation to enhance productivity.
Improve knowledge in related fields.
Improve causal analysis.
Project management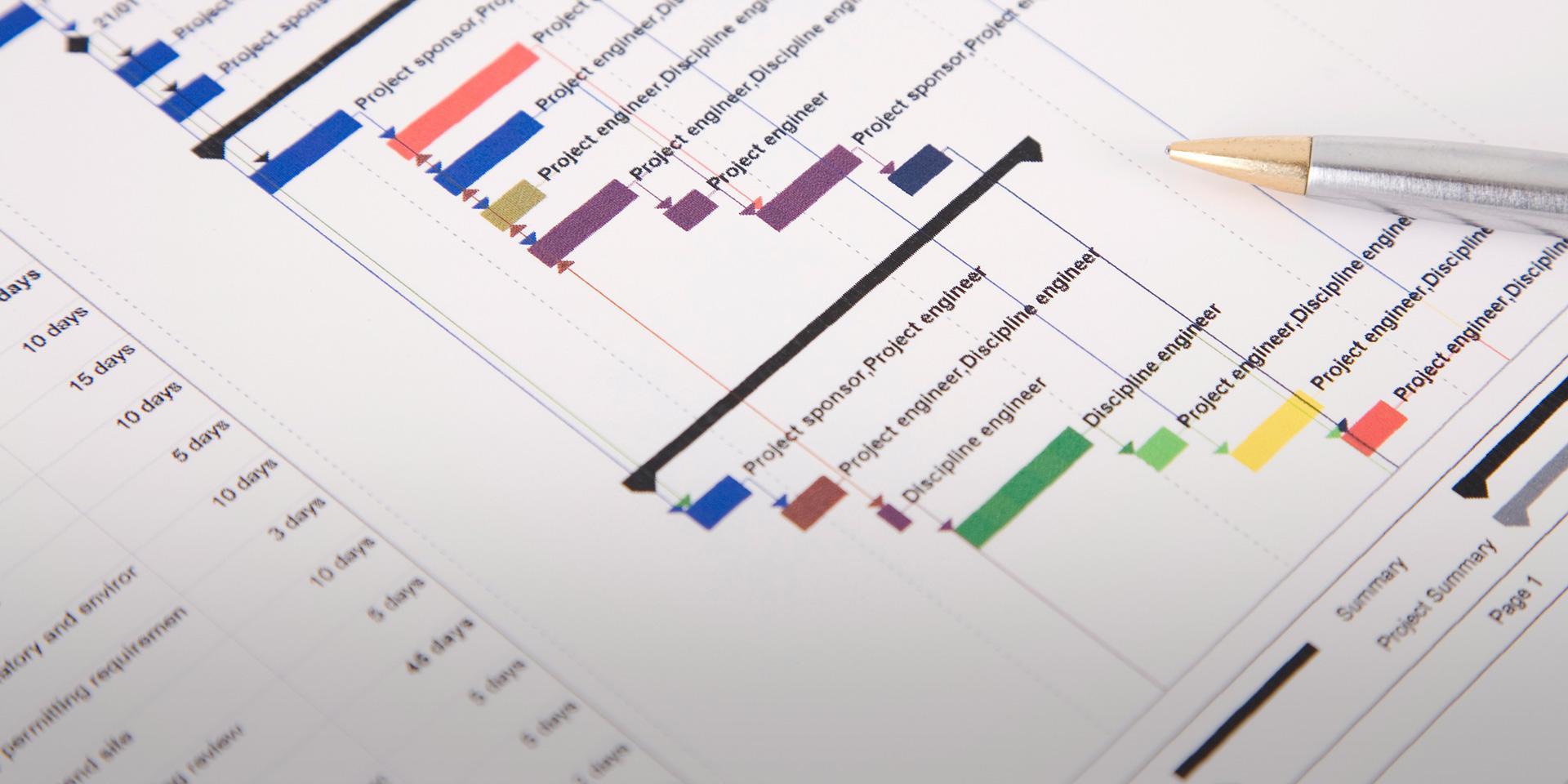 In this field, Vietnam has good leadership and organisational skills. With support from internal project management systems, most project managers are able to keep their projects in check and in order.
If the project generates any issue, it means that project managers may not accurately estimate the effort needed, so the project can not meet the deadline, and even cost more than planned.
For large Vietnam software outsourcing companies, scalability might be an issue they should note. In certain situations, scaling-up can be very challenging to them, especially for some niche request from clients.
To conclude:
Pros
Good team organisation, good leadership.
Progress, process and task management is good.
Good scalability in most cases
Cons
Need for more precise estimation in some projects.
Report document.
Scalability management in some special projects.
Infrastructure
Most Vietnam software outsourcing companies invest a lot to ensure a high-security environment. However, sometimes, the Internet connection can be a concern because of the effect of breaks in the submarine cable system in the Pacific area.
To sum up
Pros:
Cons
Internet disconnection at some point because of objective reasons.
Takeaways
To help you picture all 3 IT Outsourcing destinations, Savvycom has made this comparison table below, please check it out and share with us your comment.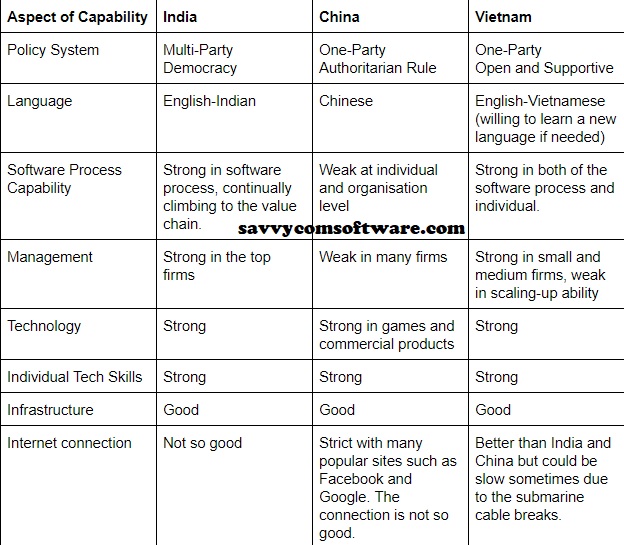 We're happy to discuss with you to find out it outsourcing solution or lend you our professional it and experts.