We commit to your future growth!
Why
Savvycom?
With over 10 years of experience in delivering awesome and powerful mobile & web applications, Savvycom is a top-notch software development company located in Vietnam, also presents in America, Australia and Singapore. We provide IT services and digital software solutions to clients across the globe.
All about you
It's not just being employed, we all came here to discover and boost our own competencies. And so will you! This is where you have numerous chances to work with international partners and customers, gain premium experience from the most up-to-date technologies, and disclose creativity. Are you looking for life challenges? We give you inspiring ones that create sufficient energy and motivation. Are you looking for a warm and welcome working environment? Here you will get involved in an open, honest and sincere team and earn wholehearted guidelines as well as full assistance. You and your career are not all that get intense care, we pay immense attention to your life outside work. You are going to have tons of fun, not only with your hearty colleagues but also with your family. Work with us, and getting work-life balance is not as hard as you always think. It's not just working, it's working fun!
Sharing – Connecting – Shining
Aiming to become the leading IT company globally recognised, we facilitate our team members in every way to make sure they can expose their best. Strengths of each individual are well comprehended, helping your career path to be developed in a sustainable way.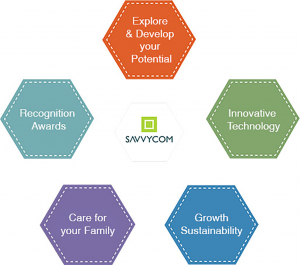 Explore & Develop your Potential
Savvycom has created a professional workplace that puts the emphasis on diversity, innovation and growth. You will discover lots of conditions to find out your dormant strengths and potentials, broaden as well as deepen your existing competencies, and capture great opportunities to progress upwards.
Recognition Awards
With a transparent management system, your contribution, effort, and improvements are continuously recognized and acknowledged by our Performance Review conducted twice a year. Promotion, raise, bonus and such are regularly given as our Rewards Policy aims for motivation, growth, and secure.
Innovative Technology
At Savvycom, you will not only gain premium experience working on high-tech ventures but also have remarkable opportunities to become the very first professionals who get access to the latest technological trends for smartphone apps development as well as web design and development.
Care for your Family
We pay special attention to your relations besides yourself. Family members are always welcome in all activities such as team building, annual meetings, and vacations. The company trade union and colleges commit to sharing both the good as well as the bad with you and your family on all special occasions.
Growth Sustainability
Not only offering competitive income, attractive annual bonus, you will also obtain different useful training courses to take advantage of your own strengths and manage your weaknesses. By doing this, we commit to your life-long learning journey and make sure that Savvycom's success goes with your development and growth.
If you're interested in working with Savvycom and become our team member, please do not hesitate to send us your CV to job@savvycomsoftware.com.