An Insight into the Technology world.
Analysis and Insight from Savvycom Team.
Point of sale (POS) is reshaping the way money-makers take care of their business spine. Traditional vs cloud-based POS, they're both an all-in-one system that registers all data needed for operation, including sales level, inventory information and management functions into one single place, aiming to optimise any other unnecessary, time-consuming, effort-costed processes.
Round-table discussions are set around traditional vs. cloud-based POS, therefore, dig a little deeper into the two's distinctions might help you in making the right decision.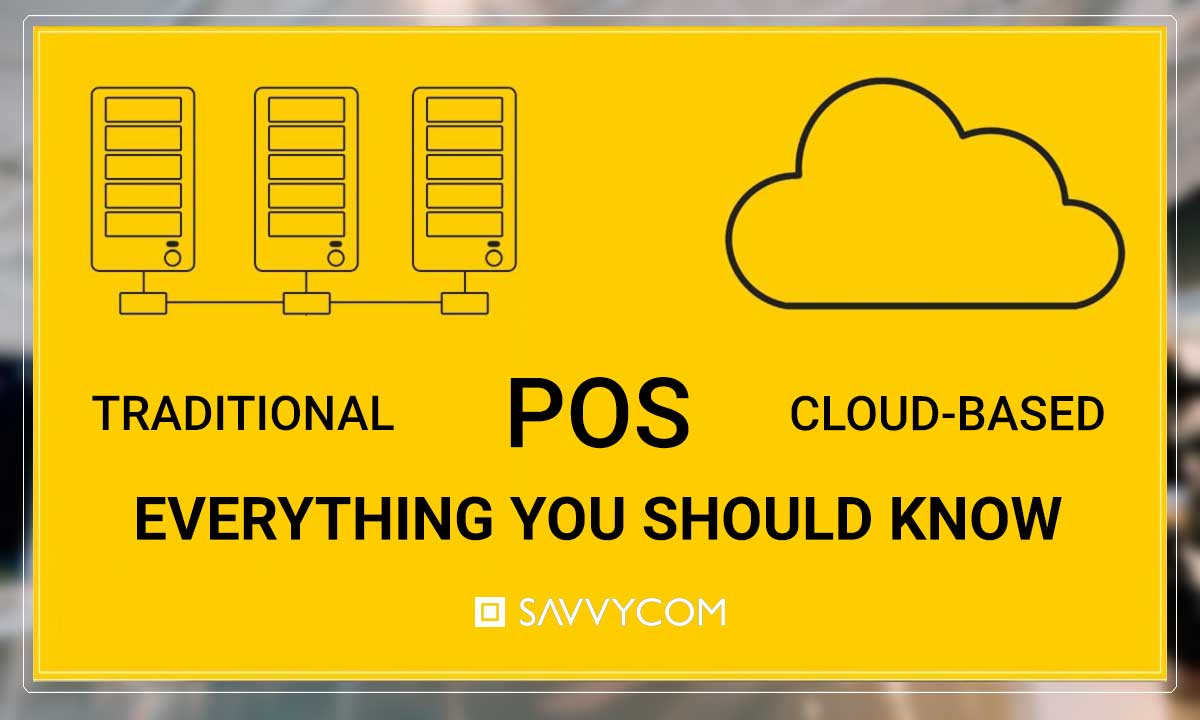 Shed lights on the basics
To mention "tradition" is to talk about the old, conventional aspect of a thing. Traditional POS is a POS system connected to a local on-premise server, which means data from soups to nuts are thoroughly stored in one specific location: most of the time your company's internal computers. With no third party participated, traditional POS seems to be significantly proactive in the way it operates and manages the information.
On the other hand, cloud-based POS applies the on-demand technologies of the 4.0 industrial revolution to meet its personal purposes. Using the internet and cloud computing, cloud-based POS is capable of storing data online (on the website, alternative sources, etc). This creation diversifies your options other than limiting you to a single utility, therefore, enhances the suitability and efficiency of your business.
Convenience as a critical point
Cloud-based POS takes the lead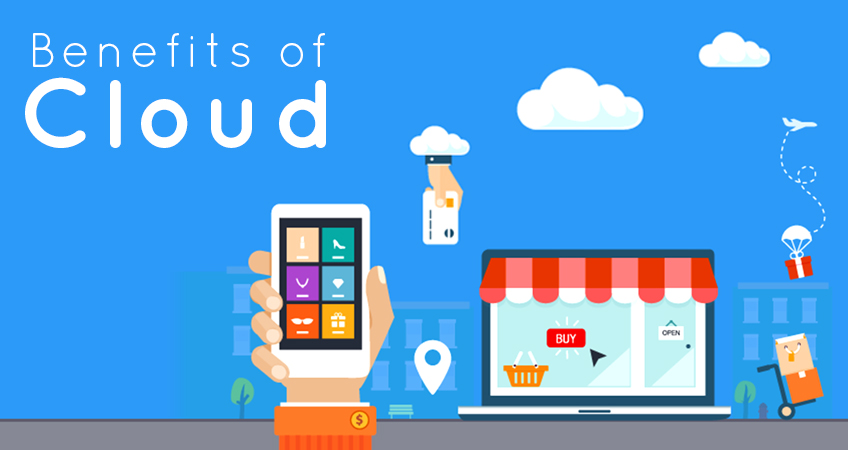 Convenience and experience have always been put at the forefront when it comes to technology. Cloud-based POS stores all of the information on another website, which allows users to access the data from wherever they are and whichever devices they use (laptop, mobile phone, tablet, etc). It also lets general managers (GM) keep track of the business operation more efficiently by providing real-time examination – data on sales, labour, turn times, etc are continuously updated as each second passes. Therefore, GM can have the information checked whenever they have a free hand, minimising the time spent on checking a bunch of reports at midnight.
Moreover, any changes and updates on cloud-based POS such as online ordering, loyalty programs, payments, etc are considered to be much easier and optimal to integrate with business technology platforms compared to traditional POS. It helps businesses to customise their own program which best suits their distinctive needs. Just double-click on the website and voilà, a brand new version with various interesting features comes into effect.
The innovation level of cloud-based POS is also considered to be higher than the traditional version. All you need is to have a decent software engineering team, and there you go! Let's take a look at CRAVE Vend, a smart cloud-based POS designed by Savvycom. CRAVE Vend is not just a basic cloud-based POS – it's an outstanding cost-effective, smart customer engagement system. By thoroughly extracting insights from the customers, it lifts cloud-based POS's convenience up to the next level through providing Crave fleet (a feature improving delivery tracking), QuickBooks sync to reduce manual entries and errors, the ability to manage eCoupon and deliver them to customers' smartphone, integrating social networks for marketing and sales purposes, etc. Savvycom's engineering team has done their best to get the most out of cloud-based POS's innovative potential to simplify the process for both businesses and customers.
Traditional POS helps to take full control
Traditional POS, in contrast, has little convenient advantage. Because of its nature – an on-premise server, it can only be accessed from one specific location, which is usually your office. But chances are you can't always be available at your company to see what's on the board, so it's quite inconvenient for GM and other stakeholders towards this aspect.
In terms of software, in case you want any improvement in your system, you have to buy expensive new software or RIP to completely replace the old one. The hardware of traditional POS is not so convenient as well since it's often big, heavy and bucky, while cloud-based POS's hardware is light and portable (mobile phones, tablets, laptops, etc).
But don't yet to be upset. If you're seeking a touch of proactivity, traditional POS might be the one for you. It's a totally independent system for it doesn't rely on any third party to operate. For example, with cloud-based POS, it requires a strong internet web in order to run smoothly. However, with the traditional version, you are free to access your data even whenever you wish to, regardless of the internet connection.
Having no sidekick sometimes has its own pros too.
The cost has it!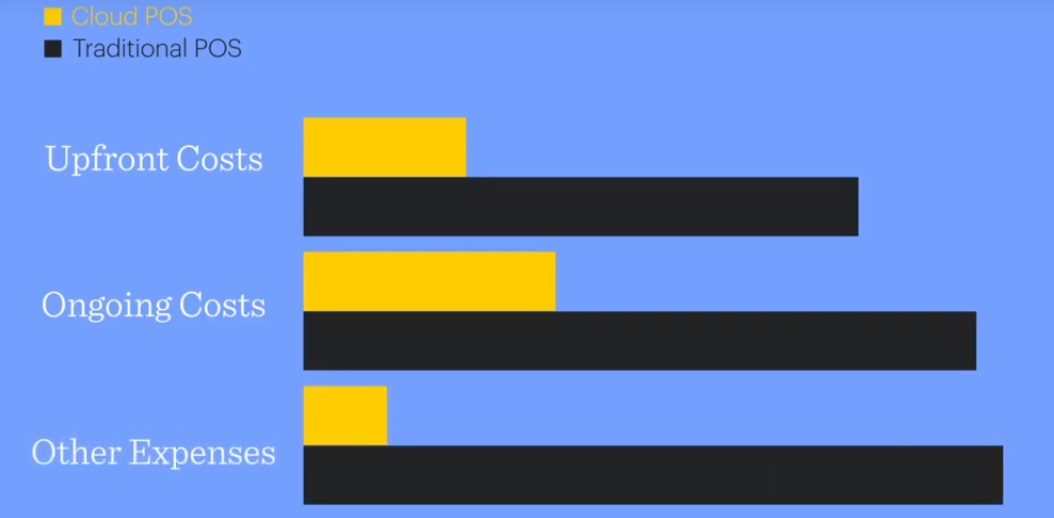 The cost for installing a cloud-based POS is significantly lower than a traditional one (about half the cost) because these systems only require a monthly or annual subscription and no additional support fees. Moreover, the installation of updates on cloud-based POS is not so complex, it reduces the cost to hire specialists or buy a brand new software. This is different from traditional POS which often asks for maintenance fee and expensive, complicated updates.
However, cloud-based POS is not sure to be cheap in the long run. Although the cost of the subscription is included in a monthly or annual fee, it can still differ depending on the size of the business; for example, the number of stores, number of employees, and number of devices can affect the pricing. Should you don't calculate them well, it is likely that the cost of using cloud-based POS will escalate to as high as utilising a traditional one.
The pattern of data loss risks
When talking about data, we talk about how we save and protect them. Because all the information collected into a traditional POS is stored only in companies' computers, in cases where there is an emergency (offices get burnt, computers are hacked, etc), every single piece of information will disappear without a mark, leaving businesses with little fast and immediate actions to restore the already-lost data. Even if a traditional POS user has foreseen such situations to happen and wish to back his data up, he has to make copies of a giant amount of data into another system. This action will take lots of time and effort, not to mention the impossibility of doing so.
However, with cloud-based POS, all data are safe in a highly secured server, the risk of losing information is then minimised. Even when the system crashes, the data would still be there since they are backed up automatically in the cloud, and can be restored easily. The magic of new technology!
Make your own decision
Although cloud-based POS seems to have the upper hand, it's still better if you reassess them based on your business's distinctions. Sometimes it's wiser to choose the remote, secluded path few people choose to go – the point is whether it makes a good match with you or not!
Should you are still confused about which one to choose or are searching for a POS developer for your business, we – Savvycom, agile software development and technology consulting, are here willing to lend you a free hand.
Phone: +84 24 3202 9222
Hotline: +84 32 657 2886
Email: contact@savvycomsoftware.com