Category: Uncategorized
Created in 1983, the Internet took the worm by storm by closing the distance between everyone on the planet in just a blink of an eye. Fast forward to today, there are approximately 1.58 billion websites and approximately 5 billion daily active users on the Internet. And for a long time, Websites have been at the forefront of every business, representing a company from a professional point of view. However, to have a beautifully designed, easy-to-use, and interactive Website, one needs to be informed of the ever-changing website development trends as a valid business owner.
Failure to stay up with current trends can have significant ramifications for your Website's performance and user experience. You risk falling behind your competitors and losing visitors to websites that provide superior experiences.
The best method to stay competitive in your business sector is developing and updating your Website following current trends. Let's look at what to expect in terms of website development trends in 2022.
Why Should You Update Your Website?
Well, it might not seem like a big issue at first glance, for example: So what if your e-commerce website was built in 2016? You're constantly updating your product listings; isn't that enough? Well, it isn't. Not in today's highly competitive online market. Whether you have a big corporate website or a blog for your personal brand, to stay competitive, your site needs to keep up with the times in terms of both looks and functionality.
In short, the importance of keeping a website up to date is this: With the majority of people spending more and more time online, regular updates that are well executed can help your business grow and lift it to the top; a lack of updates, consequently, can bring you down.
Below are the top 08 reasons why you should update your Website or, in a more technical way, "Apply the latest Website Development Trends."
| | |
| --- | --- |
| Reason #1: | Upgrade Technology |
| Reason #2: | Rebranding |
| Reason #3: | Follow Design Trends |
| Reason #4:  | Improve Website Speed |
| Reason #5: | Ensure Data Safety |
| Reason #6: | Provide Flexibility |
| Reason #7:  | Improve Your Search Engine Rankings (SEO) |
| Reason #8: | Add Integrations |
Top Web Development Trends To Watch Out For In 2022
1. Progressive Web Apps (PWAs)
---
In their most recent incarnation, progressive web apps (PWAs) will eventually replace web apps for good, although this is not a new trend for 2022.
So, why are Progressive Web Apps (PWAs) such a prominent issue in web development? According to Statista, mobile devices accounted for 54 percent of global internet traffic at the start of 2021 as well as mobile device income accounted for 54.79 percent of the electronic gadgets market. It is critical to converting web applications into PWAs as smartphones and tablets grow for various online tasks. 
PWAs have other advantages besides providing an unrivaled user experience, such as lower development costs and easy maintenance for the provider. Alongside cost-effectiveness, flexibility, easier maintenance (than native apps), and user- and SEO-friendliness, all of which can make your clients' lives much more manageable.
PWAs will be written with HTML, CSS, JavaScript, React, or Angular in 2022.
Famous PWA Users Samples
Let's take a look at world-known businesses that used the PWA's latest web development technology to enhance their income.
Alibaba's implementation of PWA resulted in conversions increased to 76%.

Twitter Lite PWA was integrated as the standard UI in 2017. It led to the bounce rate lowering to 20%, the number of tweets increasing (up to 75%), and so on.
PWAs speed up the loading of websites and can even be used offline in apps like Google Maps. PWAs have already been used by companies like Starbucks, Uber, Pinterest, and Twitter to improve user experience.
2.
AI Chatbots
---
Many businesses operate in numerous time zones and have operations on multiple continents. It makes offering efficient 24-hour customer assistance a costly and challenging procedure that necessitates modern online technology. Let's take a closer look at the future of Chatbots in 2022:
Web technology has progressed to the point where AI-powered chatbots can provide automated, real-time client assistance. They can answer frequently asked inquiries, handle orders, and so forth.

AI chatbots are predicted to become even more complex in 2022, employing machine learning, natural language processing, and information retrieval techniques to suit users' needs and match their behavior.

Additionally, AI-enabled chatbots help improve the customer experience and support businesses in executing faster tasks by utilizing voice or text interactions.

They can collect data, respond to commonly asked inquiries, and resolve other difficulties, allowing customers to have a smooth digital experience with a business.
According to statistical predictions and surveys on the latest website development technologies, Chatbot creation is a fast-evolving sector due to a variety of irrefutable benefits (such as better UX, simple purchasing process, personalization, etc.). 
Many well-known B2C organizations now use AI chatbots to assist their clients. According to Forbes, marketers' use of AI grew by 190 percent between 2018 and 2020, with many of them operating through Facebook Messenger, Whatsapp, and Skype rather than traditional chatbots. In 2022, we may expect more businesses to employ AI chatbots. According to Juniper Research, the chatbot market will be worth more than $110 billion by 2023.
3. Accelerated Mobile Pages
Google first announced the Accelerated Mobile Pages (AMP) Project in 2015, and it was a new web development technology that was a must-have until summer 2021 and is most seen on news coverage websites. The Technology was intended to stimulate the creation of websites that load quickly and function well on mobile devices. Non-AMP pages take up to 22 seconds to load, but AMP pages take roughly 2 seconds. 
With the goal of providing mobile consumers with lightning-fast digital experiences, Google's AMP can enhance fundamental business metrics like the number of conversions on web pages and offer smooth user experiences and lower bounce rates.
Although AMP adoption has been on the decline since 2020, it remains the most popular mobile technology globally, with 35 percent of websites using mobile technologies and more than half of the top 10,000 websites using it.
As a new web development technique, AMP pages can boost the visibility of a website and contribute to higher SERP rankings. This feature was handy for news portals, lightweight website versions, and catalog sites.
4. Single-Page Applications
Single-page applications are an excellent approach to building an exciting user experience. 
In simpler words, it's a web page/site or web application that only loads one document and works entirely within a browser. 

However, if you want the technical explanation, here you go: Single-page apps (SPAs) are JavaScript-based online applications that load a single HTML page in a visitor's browser and dynamically update content without refreshing the page.
SPA is one of the web development trends for 2022 since it does not require page refreshing while in use, and the majority of the content remains unchanged while only a tiny fraction of it needs updating. The SPA takes advantage of JavaScript APIs when it comes to changing content.
Customers can browse SPA without requiring the server to load data, thanks to the famous AngularJS framework. As a result, performance improves, and it appears as if you're using native software. These new web technologies give users a more dynamic online experience, making their job more efficient and functional.
Every day, you leverage web development trends (namely, SPA). Gmail, Facebook, Trello, Google Maps, and other single-page applications give an outstanding user experience in the browser with no page refreshing.
For example, when you open your Gmail account, you'll notice minor changes during the navigation process. The header and sidebar are identical in the inbox, and when a new email arrives, it reflects the difference immediately by loading the text using JavaScript.
5. Voice Search Optimization
---
Voice search, which Google first introduced in 2011, is fast gaining popularity. According to Grand View Research, intelligent virtual assistants like Alexa and Siri experienced unprecedented market growth in 2019 and are expected to continue to snowball in the future.
Let's look at the numbers and see what we can expect. According to Gartner, over 30% of all searches will be completed without the use of a screen by the end of 2021. According to Juniper Research, up to 55% of household equipment will have built-in voice assistants by 2022; therefore, this web development trend in 2022 should be factored into your SEO and company plan.
To accommodate consumer demand, more tech companies are entering the market or developing new devices, such as Google Home and Apple HomePod. 
Consumers are not only utilizing smart speakers for voice searches; they're also using smartphones and IoT devices. As a result, voice search results will begin to appear higher on search engine results pages and more frequently. As a result, in 2022, businesses will focus on optimizing their products and content strategy for voice search.
6. WordPress Development
The WordPress, content management system is used by over 40% of all websites, and such a significant presence deserves attention. WordPress, an open-source platform, is constantly adding new features to fulfill the demands of its customers, and WordPress developers must be mindful of how the medium changes over time.
Gravity Forms CEO Carl Hancock predicts the release of Full Site editing in 2022, which would extend block editing functionality to the entire website, not just posts, and pages: "The year 2022 will be a watershed moment for the CMS, as it will usher in the most significant update to theming in the open-source project's history: Full Site Editing." Entire Site Editing, which is set to debut in WordPress 5.9, is poised to usher in a dramatic shift in how web sites are built and handled in the future."
7. Motion UI
---
With the help of new web development trends, any product can be as appealing and engaging as possible. The Motion, UI Sass package is a terrific approach to entice customers with attractive animations and CSS transitions that developers can customize to their liking. It may be used with any JavaScript framework, making it ideal for various scenarios.
The rise in popularity of Motion UI:
Motion design options with moving UI components are now available because of AR/VR, social media, and machine-human interaction. It can assist the user in using the app.
Motion UI provides several motion design options. Motion UI is now primarily utilized for advertising banners and video inserts. However, due to emerging technologies, the entire page will shift in the future.
Consumers today demand faster and more mobile-friendly digital experiences and richer and more involved ones.
One of the reasons Motion UI has become so popular is this. Motion UI is a front-end framework that allows developers to create completely responsive websites and mobile apps and use predefined motions in native apps. Using this framework, you may create an element slide, spin, bounce, transition, and more.
Motion UI has been widely used since 2018 because it is compatible with all web technologies and can be added anywhere on a website, such as a header, footer, and menus. However, thanks to the SASS libraries' technology, it has become more accessible, making it one of the top web development trends in 2022.
8. Serverless Architecture
---
One of the web technologies trends is serverless architecture, which allows developers to design and support software without worrying about the underlying infrastructure. Serverless technology has emerged as a result.
Serverless architecture is based on cloud technology and allows users to run code for nearly any application or backend service with no management. There is no need to provision, manage, or upgrade servers. Amazon, Google, and Microsoft are some of the most well-known corporations that use and offer serverless architecture.
This latest web development technique works like this: developers write their application code as a series of independent functions, each of which can execute a particular activity. After passing the testing procedures, the processes are deployed, together with their triggers, to a cloud provider account.
When a function is requested, the cloud provider either executes it on an existing server or creates a new server to perform it. Developers can concentrate on writing and delivering application code while this web technology trend is separated from them.
The global serverless architecture industry is expected to rise from $7.6 billion in 2020 to $21.1 billion in 2025. As a result, we anticipate more companies entering the market in 2021 and beyond.
More products will use serverless functions like downloading file backups, providing notifications, and exporting objects, including chatbots, IoT apps, and APIs.
9. Dark Mode Standardization
---
Dark and low-light websites have become increasingly popular in recent years. Dark mode user interfaces (UIs) will continue to be offered on websites and apps in 2022, according to research that shows at least 8 out of 10 people prefer to utilize dark mode whenever possible.
This feature has already been deployed on Facebook and Twitter. Depending on the reader's desire or system settings, these apps simplify switching between the two modes. Dark Mode will become the standard in 2022 and beyond as more site developers include a comparable built-in feature to switch between bright and dark modes that provide user with:
Low-light conditions
Less "blue light"
Less energy-consuming
Ability to minimize eye strain and dryness
Dark Mode Use Samples
Dark Mode has already been deployed on Facebook, Twitter, Youtube, Instagram, Reddit, so more and more site devs have started implementing the switch between dark and light mode. Here are the most famous sites integrated such a latest technology in web development:
Facebook Messenger
Gmail
Twitter
Slack
YouTube
Interested In IT Outsourcing?
Contact us for a free consultation on Website & App & Software Development and you will get all of the insights from our professional technical perspectives. Our CTO will advise you on the best approaches to the development process, as well as roughly estimate your project concept cost.
10. Improved Native Cybersecurity
One of the most pressing problems for 2022 is cybersecurity, which protects data, networks, and computers from unauthorized access. Every business, regardless of its size, is vulnerable. Hackers could scrape the accounts of 700 million LinkedIn members in June 2021, obtaining personal information such as complete names, emails, and phone numbers, or obtaining hundred thousand income data from Twitch Streamers. There is no telling what could happen in the future if you are not one step ahead.
According to CDN provider Cloudflare, the amount of distributed denial of service (DDoS) assaults roughly increased each quarter in 2020. DDoS attacks can cause hours of disruption, significant income loss, and a tarnished reputation, to name a few consequences.
Cybersecurity service providers (e.g., Fortinet, Microsoft, Cisco, or Rapid7) offer various products and services. The following list contains some of the top web technologies 2022 essential to use in the cybersecurity field:
Firewalls
Data Loss Prevention (DLP)
Virtual Private Networks (VPN)
Vulnerability scanners
Identity and Access Management (IAM)
11. No-Code/Low-Code Development
---
Continuous coding practice and a robust technical basis are required of software engineers. The creation of low-code/no-code platforms, a new technology for web development, makes the developer's workflow easier as well as improves creativity among users.
Customers can construct software solutions using a low-code platform, which is represented as software. Design templates and pre-built code blocks for apps and flows make this possible, and it cuts down on the number of time clients spend manually generating software.
NCDPs (no-code development platforms) are a new web design technology that allows anyone, with or without prior programming skills to create software using pre-built interfaces and setup examples.
12. API-First Development
---
According to current website development trends, web solutions must be well-prepared for integration with other applications. The tendency toward API-first programming has its origins here.
What's wrong with traditional construction methods, and why isn't it compatible with web technologies in 2022? API development is sometimes disregarded when a company's primary purpose is to create a web/mobile application.
The traditional API development workflow contains:
A design building by the R&D Team
Working on a prototype (while the rest of the team is waiting)
Obtaining access to a prototype for further work or developing a MVP
Above sequences will be repeated in case of a bug or any improvement
The API-first process is not a new web development technique, although it is well-known for its parallelism. No team member has to wait for the others to complete their tasks.
Looking To Find A Trusted Tech Partner?
Tech Consulting, End-to-End Product Development, Cloud & DevOps Service! Since 2009, Savvycom has been harnessing digital technologies for the benefit of businesses, mid and large enterprises, and startups across the variety of industries. We can help you to build high-quality software solutions and products as well as deliver a wide range of related professional services.
Savvycom is right where you need. Contact us now for further consultation:
Phone: +84 24 3202 9222
Hotline: +1 408 663 8600 (US); +612 8006 1349 (AUS); +84 32 675 2886 (VN)
Email: contact@savvycomsoftware.com
People tend to say, "Time flies when you are enjoying yourself," And as we witnessed in 2021, many attractive creative, digital, and design trends have emerged, including the advent of 3D design, the revival of retro, accompanied by increasing social awareness and responsibility. With 2022 rapidly passing by, we're again reviewing what the future might hold so our potential clients can stay ahead of the game. So, what will be the most popular Graphic Design Trends in 2022? Let's take a look at this year's list from one of the most popular design & theme sources on the internet, "Envato."
Discover 2022 Graphic Design Trends From Envato
---
As the world continues to sail through the storm named Covid-19, navigating the global pandemic means adapting to the "new normal," and staying in sync with the latest update in visual content as well as design trends. While some designers are exploring futuristic trends such as 3D design, surrealism, and NFTs, others are going back to their old ways of thinking, their root, by returning to retro design and embracing simplicity with a tiny twist of the modern-day perspective.
Whether you're looking ahead or drawing inspiration from the past, we suspect that you'll find something that resonates among the creative trends of the coming year. Ranging from dreamy gradients and simplistic logos to abstract surrealism and maximalism, we want to remind you that Savvycom has always made sure that our clients are kept up with the latest Graphics Design Trends to stay one step ahead of all competition.
Top 09 Graphic Design Trends To Dominate In 2022
1. 3D Design
3D Illustration and 3D typography are on the rise, thanks to the advancement of new design software and technology, and we expect 3D to continue to develop in 2022. It's all about embracing innovation and giving the visual design a sense of depth and dimension. Designers incorporate animation, pictures, and flat illustrations into their 3D work, resulting in some eye-catching outcomes. The 3D design is ideal for web design, branding, and social media material, ranging from the very lifelike to the compellingly abstract.
"While 3D has been around for a while, it's now being integrated more effortlessly into designs," says Envato Senior Designer John Kappa. "From bright, colorful elements to hyper-realistic abstract designs, 3D is here to stay, and it's making things pop!"
Increase Sales Today With Savvycom Design Team!
Contact us directly for a free consultation on UI / UX, App, Website Design to acquire insights from our professional technical perspectives. Our Designers & Business Analyst will advise you on the best approaches to the design process and roughly estimate your project concept cost.
2. Non-Fungible Tokens
Over the previous few years, crypto art has gotten a lot of attention, and with some purchasers spending millions on memes and artwork, the NFT trend is sure to continue in the coming years.
Non-fungible tokens are one-of-a-kind digital files that are published directly onto a blockchain, allowing only one person to claim ownership. Collectors and designers alike are drawn to NFTs because they may buy and sell work without fear of it being copied without permission.
Even Johnny Depp is selling over 10,000 unique NFTs drawn from his paintings of friends and personal heroes. The actor is releasing the non-fungible tokens — one-of-a-kind, verifiable digital assets traded using blockchain technology — under the collection name "Never Fear Truth."
"At the moment, NFTs are arguably the finest way to monetize digital art, you profit from the sale of your NFT, and the interesting aspect is that you also profit from the secondary sale of the artwork." – as this is a fantastic method to sell your work or start something new while also thriving as an artist.
While not everyone is a fan of NFTs – primarily because of their environmental impact and copyright concerns – we predict this market to rise in 2022 as more artists and purchasers seek to participate in the NFT games.
3. Maximalism
As the name implies, maximalism is the art of decorating a frame, design with the most vibrant colors, repeating patterns, and cherished showpieces while avoiding total disorder – in short you can call this "More is More". This design trend is all about rejecting simplicity, the norm, and embracing excess. Drawing a lot from Antidesign, maximalism over-saturates the senses with bold color combinations, contrasting patterns, layered images, and repeated motifs. Over the next year, we expect maximalism to dial up the quirkiness and color factor further.
Rather than minimalism's lack of patterns and striking colors, this trend favors bright pinks, fuschia, vibrant greens, and deep hues to establish the tone for the area. It also combines themes such as paisley and chevron to provide character and charm to the space.
The trick is to realize that maximalist rooms are meticulously planned rather than thrown together like bohemian dwellings. In addition, a maximalist home must have a sense of continuity, which is frequently achieved by repeating motifs.
Maximalism became a term to describe an eclectic home with a kaleidoscope of colors, prints, items, and textures all crammed into one space.
4. Simplified Logos
A logo speaks a thousand words. Without saying anything, a great logo can show you the story and the mind behind a company or organization. Various company logos have recently undergone a change. Many corporations are putting their toes in this trend of logo redesigns, from car companies like GM to eateries like Burger King and food brands like Pringles.
Technological Shift: Companies are streamlining their logos for various reasons, the most important of which is the growing demand for online presence. The rapid development of mobile device usage has made it more challenging to follow existing rules for highly detailed, highly stylized logo designs. Scalability and file sizes have boosted the popularity of vector-based pictures, which are also easier to create, modify, and edit than their raster counterparts. Airbnb, Animal Planet, and Google are among the companies that employ sans-serif and blocky fonts in their logos because they are simpler to read on mobile devices.
Market Demand: Both businesses and consumers appear to agree (although reluctantly) that simplicity is the way to go. More straightforward, flat designs are easier to understand and recognize by many people. The most significant advantages of flat design, according to many proponents, are its effectiveness, inoffensiveness, cleanness, and neutrality. Who remembers how busy and overwhelming Windows Aero's over-the-top designs were in the early 2000s? Indeed, the times have changed.
5. Minimalist Retro
Minimalist Retro is back again! This design is reminiscent of retro 1970s magazine layouts, with old-school fonts, warm tones, organic color palettes, and natural textures. As seen in this design for ROCC toothpaste by Melbourne design agency Date of Birth, it's as stylish as it is functional.
"Think serif typefaces, warm dusty tones, gentle shadows, and natural textures," Envato Graphics Specialist Kate McKinnes advises. "This approach is especially effective when it comes to product mockups and visual layouts." In 2022, we predict minimalist Retro will become more ubiquitous, particularly in branding.
6. Abstract Surrealism
Surrealism is an art and design movement that aims to portray the unconscious mind through jarring, imaginative graphics and paintings. As a result, it's not only about art: it's also about reconciling the artist's dreams with practical reality to produce an "absolute reality." As a design movement, it has left behind powerful imagery that seems to have emerged right out of the nightmares and dreams of its followers. It has influenced sectors other than design, including literature, music, and film, as a pop-culture movement.
Surrealists delight in confronting their audiences with settings that defy logic, causing viewers to study artwork with a mixture of fascination and, perhaps, shock. The outcome of the unconscious mind's liberty reflected in what is known as automatic sketching; surrealist art is both vibrant and banal, intriguing and off-putting, familiar and alien.
Are You In Need Of A Complete Make Over?
Contact us directly for a free consultation on UI / UX, App, Website Design to acquire insights from our professional technical perspectives. Our Designers & Business Analyst will advise you on the best approaches to the design process and roughly estimate your project concept cost.
7. Dreamy Muted Gradients
Dreamy gradients are projected to be the next big thing in graphic design, with their ethereal look and feel. Soft pastels and gritty textures are ordinary in dreamy gradients, which provide a nostalgic feel to anything from presentation design to branding and social media posts. "Technically, gradients have come a long way in terms of what's feasible," says Sean Feehan, an Envato UX Designer. "In the artistic world, this has led to an intriguing investigation and advances with irregular and multicolor blends."
More and more designers are beginning to experiment with this captivating aesthetic, which evokes relaxing and laid-back vibes.
8. Embracing Simplicity
"Simplicity is the ultimate Sophistication" – Leonardo da Vinci
A good design has all of the elements necessary to satisfy its users. What exactly does "everything" imply? Is "everything" meant to indicate that you must deliver every feature requested by the user? No, that is not the case. But how can your user be satisfied with you if you aren't meeting his needs?
Consider making a straightforward design. Simplicity is a design philosophy that examines the user's goals and offers the straightest path to achieving them. Simplicity is more than just utilizing fewer colors or using a lot of white space in your design; it also necessitates understanding your users' demands and providing a basic design to meet those needs.
9. Colorful Minimalism
While minimalism is often associated with monochromatic palettes and white space, opting for a minimalist look doesn't mean missing out on color. But being a loyal minimalist doesn't require seeing the world in two colors! In 2022, Minimalism doesn't imply that color is no longer allowed in your life, for people nowadays tend to take things to extremes, which may be Minimalism's main flaw. The colorful minimalism trend has proven to be particularly popular for branding, combining generous amounts of white space together with eye-catching pops of bright color to focus on, or vice versa.
Looking To Find A Trusted Tech Partner?
Tech Consulting, End-to-End Product Development, Cloud & DevOps Service! Since 2009, Savvycom has been harnessing digital technologies for the benefit of businesses, mid and large enterprises, and startups across the variety of industries. We can help you to build high-quality software solutions and products as well as deliver a wide range of related professional services.
Savvycom is right where you need. Contact us now for further consultation:
Phone: +84 24 3202 9222
Hotline: +1 408 663 8600 (US); +612 8006 1349 (AUS); +84 32 675 2886 (VN)
Email: contact@savvycomsoftware.com
As per research, merchants accepting payment in cryptocurrencies gained up to 40% new customers. The same study also found that customers' spending with cryptocurrency was twice as compared to those paying with credit cards. It is captivating enough to add a cryptocurrency payment option to your business today; however, you must be having many concerns that need to be cleared up. But, because we got your back, you need not worry.
In this article, we will explain:
A brief history of cryptocurrencies
How accepting cryptocurrencies can increase your sales?
What other benefits are associated with accepting cryptocurrencies?
Which cryptocurrencies should be accepted?
How to avoid its high volatility?
What is the future of cryptocurrencies?
Before diving right into increasing sales with cryptocurrencies, it is crucial to know cryptocurrency's prologue.
1. A Brief History Of Cryptocurrencies
A yet-to-be-identified mysterious man, Satoshi Nakamoto, is supposedly the pioneer of cryptocurrency. He brought a workable idea of decentralized currency for the people annoyed by central authorities managing their digital currency. He brought his concept to life in the form of the first-ever cryptocurrency, Bitcoin.
The quick adoption of Bitcoin by the people depicted the intensity of their grievance with traditional currencies. Hence, it was a clear opportunity for many others to explore this avenue. In the light of such circumstances, some brought more workable ideas than Bitcoin.
One such idea was proposed by Vitalik Buterin, a young Russian-Canadian programmer who was aged just 21 years at that time. He introduced the Ethereum network to decentralise currency and many other applications that involve a third party. To illustrate, Ethereum can potentially decentralize cab services; most are currently centralized, such as Uber.
With fascinating functionalities, Bitcoin has maintained the top spot in terms of market capitalization, followed by the Ethereum Network. The advancement, however, has never stopped. The two hegemonic cryptocurrencies aren't flawless, so many brilliant minds continuously come up with new ideas to rectify their flaws.
One such rectification to Ethereum's flaws, Polygon offers better transaction throughput, thus making the transactions cheaper and faster than Ethereum. Polygon's MATIC is the network's coin, or in other words, the network's fuel. Since cryptocurrency is still a fledgling avenue, more advancements similar to Polygon are yet to come.
2. How Accepting Cryptocurrencies Can Increase Your Sales?
As of August 2021, 18.77 million bitcoin is circulating globally, equal to $1,250,254,684,000, a colossal figure that is not even readable at first sight. With this hefty amount in people's pockets, you are missing out on a massive opportunity if you don't provide them with a way to pay it out.
One of the answers to the question "How accepting cryptocurrency can increase your sales?" is disguised in a reason for its existence.
Before cryptocurrencies existed, credit or debit cards were the only feasible options to make contactless payments. The problem with these cards, however, was and has remained the breach of personal data. As we swipe our credit cards to make payments, the vendor knows our first and last names.
The vendor can also extract information from us to home-deliver a service or product, such as zip code or address. Combining it with the data they acquired with the swipe of our credit/debit card, they can indulge more in our privacy with the readily available data appending services. With data appending, they can acquire our personal information such as employment status, marital status, homeowner status, children, and Interests.
Much to privacy-conscious people's dismay, it is only one possibility out of many options that vendors can exploit their data from credit/debit cards. Just to highlight, who is not privacy-conscious in today's era? Probably none.
Even though you can guarantee not to breach the customer's privacy, you cannot bring them back with credit or debit cards because the one once bitten by a snake will fear even a noose.
Now let's come back to the cryptocurrencies. Cryptocurrency is the only contactless payment solution that can resolve this problem at the moment. Realizing its importance, 2,352 businesses have already started accepting Bitcoin, and they have derived only benefits from it.
Many of the people who have minimized their spendings to avoid privacy breaches can be lured back with the help of cryptocurrencies. Because transactions with a cryptocurrency happen pseudonymously, the customer's privacy is not being compromised in any way as it was being done with a credit or debit card.
Hence, a significant chunk of the population, composed of people who are paranoid of their data being compromised when they shop, can cause a spike in your sales if you accept cryptocurrencies.
3. What Other Benefits Are Associated With Accepting Cryptocurrencies?
One of the most appealing benefits of accepting cryptocurrencies can be none other than preventing chargeback fraud. Unfortunately, chargeback, forceful extraction of funds from a merchant's account by a credit card provider, is a prevalent problem nowadays.
Chargebacks are designed to protect the customers, but they are often highly damaging to businesses. Not only can hackers initiate the chargeback without the actual card holder's knowledge, but it can also be performed by actual card owners when they are dissatisfied with a product or service. 
In either case, it is damaging to a merchant. The damage gets intense because the chargebacks usually aren't processed instantly. They may take weeks or even months, and administrative costs are bombarded upon the merchant during this period.
The problem of chargebacks is getting severe with every passing year; it is increasing at a whopping 20% each year. Cryptocurrencies, however, can put a bridle on this problem.
Besides increasing sales, you can also improve your net profit by eliminating chargeback frauds.
4. Which Cryptocurrencies Should Be Accepted?
With nearly over 6000 different cryptocurrencies in the market as of 2021, it may be a challenging selection to approve a few for acceptance. While you may not want to lose even a single sale happening via any of the cryptocurrencies, managing the acceptance of numerous cryptocurrencies simultaneously can be daunting.
Hence, it is better to offer a few options that dominate the crypto market in terms of market capitalization, such as Bitcoin and Ethereum. Or, if you can manage and want to extend the possibilities, you should go no farther than Ripple, Litecoin, and EOS.
5. How To Avoid Its High Volatility?
Volatility is one of the major concerns people have regarding cryptocurrencies. When it comes to investments, high volatility is considered directly proportional to high risk. Also, higher the risk, higher the profit.
Hence, it depends on a person's personality to choose. While some tend to be risk-averse, some happily welcome the risk as they focus on the higher return at the end.
In a business, it depends on its nature. If it's a sole proprietorship, the owner has complete authority to choose high risk or low risk. If it is a partnership business, the power is divided among the number of partners and a collective decision is made by incorporating everyone's thoughts.
In a company, however, taking a lower risk is preferred since a wrong decision's impact will instantly trickle down to thousands of the company's shareholders.
Suppose you are a sole proprietor or a partner but a risk-averse. In that case, you can avoid the high volatility of cryptocurrency by converting it into fiat as soon as you receive it from your customer. On the other hand, if you are a risk-taker, you can keep it and wait until it skyrockets, or it may also dump and hit the lowest.
6. What Is The Future Of Cryptocurrencies?
As the advancements in cryptocurrencies are happening continuously, we are witnessing a better form of it every day. Cryptocurrencies, in their initial days, used to be highly energy-consuming. Nowadays, however, this issue is also being addressed.
Ethereum, the second-largest cryptocurrency in terms of market capitalization, aims to redesign the mining process and cut off energy consumption by up to 99.95%.
The benefits offered by cryptocurrencies, as mentioned earlier, are a dire need of people. Not only that the cryptocurrencies benefit consumers by saving their privacy, but they also help merchants against chargebacks. These two benefits are just two drops from the ocean of benefits that are yet to be explored.
As the fledgling cryptocurrencies will advance towards maturity, we may witness many of our daily life problems being solved by them.
From Q3 2019 to Q2 2021, the global adoption of cryptocurrencies has also skyrocketed by 2300%. This research hints at a safer future for cryptocurrencies if their advancements continue with the same zeal.
Conclusion
To sum up, empirical data available presently suggest an increase in sales with the acceptance of cryptocurrency. How is it happening? We have mentioned the possible reasons to help you make an informed decision for your business.
However, the data is limited. In the upcoming years, we may see more businesses accepting cryptocurrency, so we will get a better look at the correlation between accepting cryptocurrency and an increase in sales. Till then, we wish you an increase in your sales.
SaaS has been helping the travel industry thrive over the last few years and 2022 is set to be no different. As many businesses have hope for this year to be a more productive one for travel, every effort is required from a marketing point of view.
There are some great marketing trends that the SaaS travel industry may find useful to utilize this year. In this article, you'll learn some of the latest statistics for the travel sector in general and five marketing trends to know about as a business in the software as a service market.
1. Travel Industry Statistics in 2022
It's not been a great couple of years for the travel industry and due to COVID-19, the industry worldwide is expected to lose $810.7bn USD as a result of the pandemic.
Whilst it's a lot of money, the travel industry, just like the hospitality industry, can bounce back. Many of us love to travel and the same goes for workers. A staggering 92% of business travelers find a better quality of life when traveling for work.
Traveling helps to connect businesses and individuals together on a personal level. Calls, emails, and video conferencing can only do so much. In 2022, businesses are looking to do more traveling, which means plenty of opportunities for SaaS companies that provide travel support for clients.
2. Who Are Some Great Providers For The SaaS Travel Industry?
There are some great providers within the SaaS industry that are worth knowing about.
2.1. TravelPerk
For corporate travel, TravelPerk is a great choice. They provide the world's largest travel inventory, whether you're after transport or accommodation for your employees.
Its easy-to-use intuitive design is why so many businesses opt to use this platform amongst other competitors. Described by TravelPerk themselves, they claim to be the best tool for corporate travel as an all-in-one solution. They're a fantastic agency for corporate travel.
2.2. Netradyne
For some businesses, offering travel services means safety and professionalism are key.  It's not just about providing your clients with transport but delivering on safety when they're in your care. Netradyne is great for offering driver safety monitoring solutions. Having an awereness of how yoour drivers are reacting and behaving on the road, can help keep your customers satisfied.
2.3. GetYourGuide
For those travelers looking to skip the queue or book activities in various locations across the world, GetYourGuide is a must-have in your SaaS tool kit. For most customers when traveling abroad, knowing what to book in order to see the sights or keep entertained can be difficult. 
Having a booking engine that showcases all your options available to you, is a useful one and offers free cancellation policies up to 24 hours in advance. It offers plenty of flexibility for anyone looking to book excursions abroad or within their own country.
3. Five Marketing Trends For The SaaS Travel Industry
As a SaaS company, making use of marketing trends is extremely beneficial. Keeping your finger on the pulse of what's trending can help you maximize your marketing efforts and to make that budget you have available, go further. With that being said, here are five marketing trends for the SaaS travel industry to adopt this year.
3.1. Offer A Personalized & Tailored Experience
It may require more legwork on your employees' part, however, you can save a lot of resources if you're doing everything you possibly can to hold onto existing customers. You can save yourself a lot of money and hassle by enhancing your current customer's experience with your brand.
This is also a great method to help pull in new customers to your platform. When making comparisons with other competitors, they're more likely to opt for those that provide a more tailored service. It makes them feel valued and not just another transaction. 
Customers are willing to pay for it too, with 86% of buyers paying more for a great customer experience. If they're willing to pay, then focus on offering them a personalized experience that starts when you market your product or service.
3.2. Make Your App Or Website Mobile Friendly
It's obvious that many internet users are opting to use their mobile devices for navigating the web, over any other device.
An app or website that's mobile-friendly is going to provide a better user experience for the customer. There's nothing worse than having landed on a website or app that hasn't been configured properly for mobile use.
With smartphone usage expected to rise, all SaaS companies operating within the travel sector should be highlighting the use of mobile-friendly products to their customers. Accessibility is a big one that is growing in its importance. A lot of sites and apps don't have an access-friendly version available. This freezes out anyone with accessibility needs, which may be valuable customers for the business.
3.3. Encourage & Promote Customer Reviews & Feedback.
Not all businesses focus on their customer reviews or feedback, especially if it's not that positive. However, it's useful to encourage and promote customer reviews because many users online are looking at them. 
They are often influenced by other people's feedback, so even if it's negative, you should be doing something about it. Nearly 95% of customers read reviews before making a purchase. That's data that no business should be ignoring, particularly in the case where reviews aren't all that gracious.
If you're being seen to tackle those less than positive reviews, it's going to change perceptions of the new customers who are assessing your business. 
3.4. Utilize Social Media Influencers Within The Travel Industry
Collaborating with social media influencers and even businesses or individuals that would actively use your product is essential. Just like customers online are influenced by customer reviews, many also take the advice of social media influencers when it comes to making a purchase.
A lot of businesses have become trustworthy in their own right so as a travel product or service, it's worthwhile partnering with both where possible. Many brands are leveraging social media influencers to advertise their business and so you may find it useful to include them in your marketing budget for 2022.
A top tip when it comes to collaborating with influencers is to ensure they're the right fit for your brand. It's a waste of your budget to pick those influencers who may look good at first glance but their engagement and reach are poor in comparison. 
When doing your influencer outreach, assess their profile beyond just the amount of followers they have. Make sure their engagement is good and that they've got a good connection with many of their followers.
3.5. Push Your Sustainability & Concern For The Environment
It comes as no surprise that more of us are worried about the harm we're doing to the environment. With 68% of millennials buying a product with social or environmental benefits in the last twelve months, the future generations are who you should be targeting.
If you're not already, find ways that you can be more sustainable in your approach to the environment through tour products or the business. It may be that you actively promote and run initiatives that benefit the environment. 
Telling your customers and the world about what positive impact you're making is going to do wonders for your business. Look at how your business can be more sustainable as this alone can help to cut down costs and give you something to talk about online.
4. The Benefits To Following Marketing Trends
Following the latest marketing trends are a great way of keeping up to date with all the necessary changes and improvements you should make to your marketing strategy. There's always room for improvement and the market is always changing.
4.1. They Keep Your Business Relevant
As well as being useful to everyone else, they keep your business relevant. When you're making use of marketing trends, it keeps your business current and up to date with the rest of your competition.
4.2. It May Uncover A Gap In The Market
When it comes to marketing trends, adopting one of them might result in you uncovering a gap in the market that's currently not being catered to. This can be great for expanding the business and an opportunity to boost your sales or awareness of the brand.
4.2. More Opportunities For Success
As mentioned above, the right marketing trends can help deliver more success for your business. These marketing trends are popular for a reason and as a business, it pays to be invested in what's working for other companies within the SaaS travel industry.
If you're a SaaS brand, then there are plenty of trends that you could pick up and run with to help your business succeed. Don't forget to take a look at other SaaS travel brands that are making big movements within the industry. It's a great way of finding some inspiration for your own business in 2022.
The Mobile App Development Industry is continuously evolving at lightning speed in the digital era we all live in. And to survive and triumph the rough competition, many companies have decided to create or get involved in developing their own trending mobile solutions since consumers have gravitated to make purchases on mobile devices.
According to Statista, the mobile app market revenue reached a whopping $693 billion in 2021. However, it is only the beginning, as according to Gartner, only 0,01% of mobile applications actually succeed and manage to stay in the game. In this post, we will take a look at the latest Mobile App Development Trends trends, so you can ensure your next app is the one from 100 that turns out to be a great hit.
Learn About The Evolution of Mobile Applications
The Year 2005

Before we proceed to the current state of 

mobile solutions

, it is essential to mention how far we have come. Starting from 

2005

, websites began to be designed for smaller displays and equipped with touchscreen-friendly interfaces. A couple of years later, native applications with gesture navigation had begun as businesses recognized the advantages of having a dedicated and reliable mobile solution.

The Year 2013

Around 2013, the popularity of mobile web applications had risen, and Websites were now capable of being accessed through a device's browser. What is more, personalized technology was introduced – apps gained user personalizations like location, time, and pattern identification for a more personalized experience.

Mobile web apps evolved into hybrid apps and were wrapped inside a native container providing access to native platform features. This led to an increased interest in voice technology to simplify human-to-machine interactions.

The Year 2019

Since 

2019

we have been living in an era of micro apps, which are consumer-oriented solutions that deliver highly targeted functionalities and personalized experiences with the help of artificial intelligence and machine learning.
So, What Happened Last Year (2021)?
It is no exaggeration that people spend more time on mobile devices than on everything else. Statistically, more people own a cell phone than a toothbrush. Mobile devices generate 70% of traffic, and around 75% of emails are being opened on mobile devices. The ease of use and convenience of mobile devices have changed how we behave online and offline. According to Google, 80% of smartphone users are more likely to purchase from companies with mobile apps, and in a world where Covid-19 is still a concern in most parts of the world, people are even more inclined to stay home and buy things from Apps.
Statista goes even further and states that by 2022, App Store user spending will increase to $157 billion (up by 92%). In 2021, the mobile market is set to grow by 385%, and there will be about $7 billion mobile users worldwide.
However, in this dynamic and ever-evolving environment, apps that shined in 2020 may not have the same success factor in 2021. That is why incorporating the latest trends into your mobile app development strategy is vital to a company's success.
Top Mobile App Development Trends To Watch Out For In 2022
01. 5G Technology Implementation
It is impossible to leave the 5G Technology out of the picture when it comes to the Mobile App Development trend. Despite being around for recent years, 5G has not yet become standard in many areas; however, it will by 2022. Many people are eager to try out the latest 5G connections and experience their seamless connectivity. According to PRNewswire Report, the global market for 5G infrastructure is forecast to increase from $12.9 billion to $115.4 billion between 2021 and 2026.
With the 5G connection lightning capabilities, which promises up to 1,000 times faster speeds than 4G, there are endless possibilities in both software ,and mobile app development industry. Developing apps that rely on technologies requiring faster connections to work correctly, such as AR and VR, will get a much-needed boost as 5G becomes all the more accessible to a larger audience. Moreover, the best part about the 5G network lies in its stability and less latency that enables users to watch for 4k resolutions and play games without any single trace of buffering or glitches.
02. Cloud-Native
Cloud-native apps are written with a cloud-first mindset, eliminating the need for a dedicated hosting server. Everything else is handled by cloud-native solution providers like AWS, Google Cloud, or Azure in the case of those apps. Google Cloud serverless tools allow automated scaling based on website traffic is one of the numerous advantages of cloud-native for developers and companies.
Interested In Creating An App?
Contact us for a free consultation on Software Development and you will get all of the insights from our professional technical perspectives. Our Developers will advise you on the best approaches to the development process, as well as roughly estimate your project concept cost.
03. AI & Machine Learning
After FaceApp's unprecedented success, many people were left asking, "What's next?" That's when AI delivered something that blew my expectations out of the water. The MyHeritageApp includes a vital photo animate tool that transforms photos into realistic animations. These animations are so good that you get the impression that your loved one is smiling at you. It elicited some spectacular reactions.
It wasn't the only exciting development in AI last year. Google also added new capabilities to its Maps app that employ AI to improve the user experience. One such feature is Live view, which allows users to navigate large indoor spaces using augmented reality. Google also utilizes AI to offer fewer carbon-intensive routes by optimizing directions for lower fuel usage.
AI and machine learning have been among the most popular mobile app development developments for the past few years. However, these technological breakthroughs have raised the standard for mobile app creation in 2022, and it will be intriguing to watch what the year delivers.
Machine learning is another promising subject where we expect to see groundbreaking developments. When Deep Learning and Machine Learning work together, they can provide valuable data and real-time insights for mobile app development initiatives.
04. Apps for Foldable Devices
Even though foldable devices account for a small portion of the entire smartphone industry, this will alter in the following years. In 2022, 50 million units will be shipped, according to Statista. As a result, it's time to think about foldable devices as part of your mobile app development strategy. Ensuring that your apps work well on foldable smartphones could potentially be an excellent sign to users, showing you are ahead of the curve.
By simply increasing the screen size of video streaming and gaming apps or using the extra space to offer additional information and controls, foldable devices can reap maximum benefits. As a result, one of the leading mobile app development trends in 2022 will be building apps with the screen in mind.
05. AR & VR
---
Pokemon Go's success was fleeting, but it cleared the path for augmented reality in smartphone app development. It demonstrated to the rest of the world that virtual reality could be used to provide users with an immersive experience. Today, if we look around, it's not hard to see big brands using AR & VR to enhance user experience.
Ikea uses AR to let users see how furniture will look at their home before buying it.

L'Oreal has a virtual makeup app that allows users to see how the makeup looks on their faces.

Microsoft Mesh is a collaboration and communications platform developed by Microsoft with the vision to unify holographic virtual collaboration across multiple devices, be they VR headsets, AR, laptops or smartphones".

The newer VR Headset Model from Oculus now works independently without the help of a Modern PC or Laptop.
Apple, Google, and Meta are all bringing AR and VR technologies to the market. In Google Maps, Google added a feature called "Live View," allowing users to see the direction in real-time on real-world photos.
Another significant technological innovation in the world of AR that we've lately seen is LiDAR. Apple dubbed the technology AR at the speed of light, and it debuted since the introduction of the iPad Pro, iPhone 12 Pro, and iPhone Pro 12 Pro max. It's taken augmented reality to a whole new level. It is now possible to take high-quality photographs in low light using LiDAR.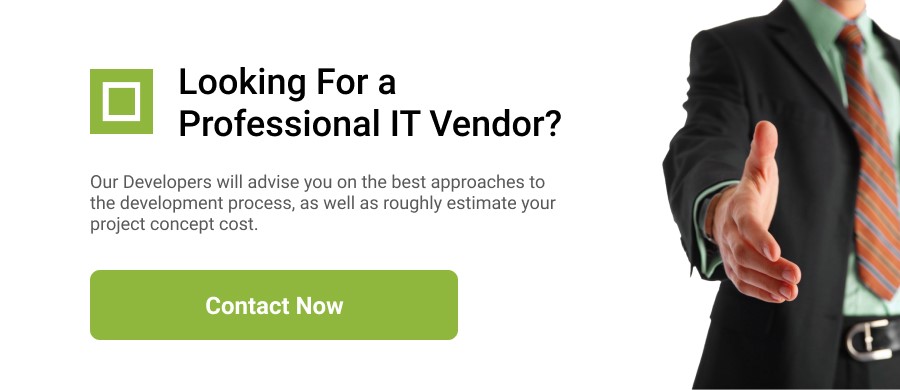 06. Wearable App Integration
Wearable technology has already taken over the planet. According to Statista, there were 453 million linked wearable devices in 2017 and 929 million by 2022.
In the wearable devices market, many noteworthy developments happened this year. Apple has released WatchOS 8 for the Apple Watch, bringing new features, new watch faces, increased wallet access, and a revised UI.
Even Google revealed a unified wearables platform that combines its Wear operating system with Samsung's Tizen software platform, resulting in a 30 percent reduction in app startup times. It foreshadows the rise of wearable technology, which will be one of the most important mobile app development trends in 2022.
In other words, app developers and businesses should provide apps that deliver an exceptional digital experience to customers on Smartwatches and wearables in order to obtain a competitive advantage over those who do not. Take advantage of this mobile app development trend to get closer to your target audience by providing a seamless digital experience.
07. Mobile Entertainment & Gaming
---
Apps for entertainment and games have become ingrained in our culture. Some folks can't imagine living without them for even a single day.
Netflix has roughly 74 percent active customers, in the United States and Canada, so we can predict how popular mobile entertainment apps are. Furthermore, with over 159.1 million mobile phone gamers, mobile devices are the most popular among gamers, accounting for over 89 percent of all digital gamers in the United States.
Popular Tech Giants like Tencent, Microsoft, and Sony have all recently acquired major gaming studios like Bethesda, Bungie, Activision, and Blizzard as following:
Publisher Take-Two announced plans to pay US$12.7 billion for Zynga, the developer behind Farmville and Words With Friends, once the biggest titles on Facebook and mobile, respectively. Sony said it would snag Destiny developer (and former Halo developer) Bungie for US$3.6 billion.

And on the same day the U.S. government announced new plans to rein in runaway digital age consolidation, Microsoft revealed its 

US$67.8 billion

 bid to buy gaming titan Activision Blizzard. In a move that dwarfs others, the Xbox maker is swallowing up what was already an absurd concentration of blockbuster titles, representing a sizable chunk of the global gaming market.
The Market for Entertainment and Gaming will surely be an exciting land to watch out for in 2022.
08. Food & Grocery Delivery Apps
---
As a result of the lockdown due to the Global Pandemic, people began gravitating toward applications that cover food, grocery, and other day-to-day products delivery services. One of the most popular apps in Southeast Asia is the Super app called "Grab" which aims to provide everything you need without stepping foot outside. As a result, these two app categories grew at the quickest rate in 2020 – 21.
According to Statista, sales grew by 80 percent from March to June before declining to 5.7 billion dollars in August. As of October 2021, online grocery deliveries and in-store pickups reached 6.4 billion U.S. dollars.
As we return to normalcy, we may notice a minor slowing in their growth. Food and grocery applications will continue to play an essential role in our lives. People will never stop ordering food online, and 15.5 percent of smartphone users will still use grocery apps.
Whatever the case may be, only time will tell. However, it will be interesting to watch how much road food and grocery delivery applications have progressed by 2022.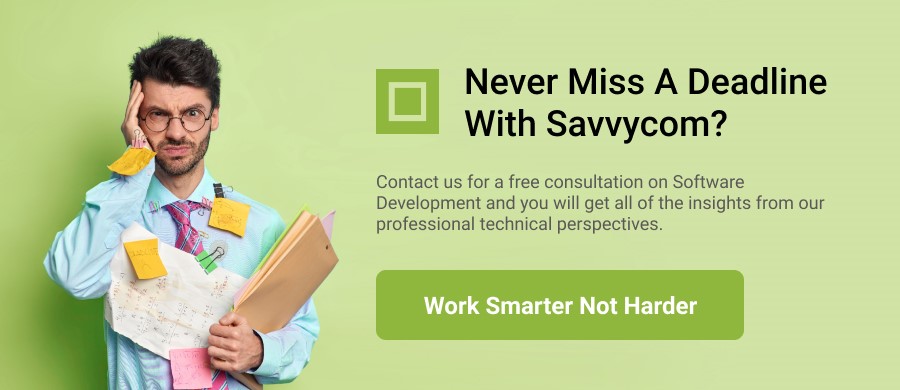 09. Mobile Wallets
Mobile wallets have grown in popularity among users, especially as economies worldwide shift to digital. People prefer to use mobile wallets such as Google Pay, Apple Pay, Amazon Pay, and others instead of cash or inputting credit card information for speedier transactions. Because the market has not yet reached saturation, there is still room for future expansion. Future trends in mobile wallets include:
Audio-based mobile wallets
Near-field communication (NFC) based payments
Radio-frequency identification payments
10. Chatbots
Although current chatbots are far from flawless, they gradually make their way into our daily lives. They aid with the ordering process by automating repetitive user interactions such as answering simple inquiries like "is the store open." Furthermore, more than half of purchasers say they want more self-serving customer service capabilities, and chatbots are an excellent method. According to statistics, 36% of Americans have used a chatbot, and with the popularity of Facebook Messenger, chatbot usage on mobile is increasing even more.
11. Virtual Events Streaming
The Weeknd Virtual Concert Drew Over 2M Viewers
Because individuals could not attend gatherings in person because of the Covid-19 pandemic, virtual events became popular. Even in the post-pandemic era, however, virtual events open up entirely new possibilities, making them less exclusive and more accessible to people from all over the world.
Hopin, one of the most popular online event platforms, allows users to switch rooms, listen to different presenters, and chat with other users. We will most certainly see more of these platforms emerge in 2021.
Another fantastic example would be "Gather," which is centered around fully customizable spaces. Gather makes spending time with your communities just as easy as in real life, thanks to Gamification.
Looking For Professional IT Vendor?
Contact us for a free consultation on Software Development and you will get all of the insights from our professional technical perspectives. Our Developers will advise you on the best approaches to the development process, as well as roughly estimate your project concept cost.
12. Super Apps
For years, mobile app development businesses have taken the approach of one app, one goal. However, things are changing now. Companies are moving away from single-purpose apps and toward multi-purpose solutions – a new trend within mobile app development "Super App."
Super Apps are a type of app that is extremely popular in Asia. In the west, though, the trend is catching up. Natural AI, developed by California-based startup Brain Technologies Inc., is one exciting example in the US industry. It aims to revolutionize how people use their phones by addressing various problems with a single app.
Furthermore, you may have noticed how Facebook has evolved beyond its original role as a social networking site. It currently offers provides markets for users to buy and sell goods. Aside from online shopping, Amazon now allows you to pay bills and make payments.
In Western countries, the thirst for super applications isn't as intense, as consumers prefer to experiment with several options before settling on one. But in the end, though, everyone desires convenience. As a result, super apps are a must mobile app development trend to watch in 2022.
13. Predictive Analytics
For a long time, businesses have used predictive analytics in mobile apps. Netflix utilizes it to make recommendations for movies and TV shows based on the viewing behavior of its subscribers. In addition, Amazon uses predictive analytics to tailor product recommendations.
Predictive analytics will become more prevalent this year. In 2022, we see the trend having a critical role in mobile app development in two areas:
To Optimize the Development Process:

 Enterprises can process the data gathered from developers to discover issues before they occur and suggest better alternatives.

To improve the User Experience:

 Businesses can use user data to predict users' actions and personalize their journey.
As a result, we can cut development time in half while maintaining high quality and focusing on producing innovations.
14. Simplifying MCommerce
Mobile commerce, or MCommerce, allows customers to make transactions using their mobile devices. Consumers benefit since they have to open a Mobile App to explore and shop for items and services. Furthermore, consumers are more inclined to use Mobile App Development with digital payment choices in the context of COVID-19, where more minor touch is preferred.
Even though MCommerce has been on the increase in recent years, it is expected to skyrocket in the following years, reaching a value of $22 billion by 2022. The Mobile App Development industry will undoubtedly see an increased focus on designing native apps to serve this rising purchasing trend as the market grows.
Businesses and brands would move a significant portion of their operations on the MCommerce platform to increase sales and improve customer experience. Furthermore, Software Providers can incorporate AI and Machine Learning into the application to deliver targeted offers and discounts to a specific target group, resulting in increased sales. This cutting-edge technology also enables the analysis of a user's geolocation data and the recommendation of their preferred language option, resulting in increased user convenience.
15. Internet of Things
By the end of 2022 IoT market in the US is expected to exceed $500 billion, and a significant part of this share will be the consumer electronics segment. This technology impacts how people interact with each other and in their own homes by providing opportunities for everyone to engage with appliances and gadgets in real-time. The most prominent IoT impact will be intelligent homes or smart homes to many, since more and more smartphone users control their home devices with apps.
Forecasts say that by 2030 there will be around 50 billion of these IoT devices used worldwide, resulting in a massive web of interconnected devices. What is more, IoT has the potential for data sharing, which will act as a gold mine for app startup and companies.
Looking To Find A Trusted Tech Partner?
Tech Consulting, End-to-End Product Development, Cloud & DevOps Service! Since 2009, Savvycom has been harnessing digital technologies for the benefit of businesses, mid and large enterprises, and startups across the variety of industries. We can help you to build high-quality software solutions and products as well as deliver a wide range of related professional services.
Savvycom is right where you need. Contact us now for further consultation:
Phone: +84 24 3202 9222
Hotline: +1 408 663 8600 (US); +612 8006 1349 (AUS); +84 32 675 2886 (VN)
Email: contact@savvycomsoftware.com
CRM (Customer Relationship Management) software is widely considered to be a must-have for many enterprises, ranging from SME to Corporate Level. Such solutions enable the storage, access, and management of critical consumer information that you can access on the fly and shorten the amount of work later on. And just like a tale that is old as time, the real question that many people, many business owners tend to ask is: "Do I really need to build/outsource a custom CRM or can I just use existing CRM by 3rd Party Provider?"
Follow us as we will discover the many advantages and also disadvantages of both options and learn how a Custom CRM Development in the future could potentially accelerate your business to the next level.
1. A Quick Look at CRM Statistics
By 2025, the CRM market is estimated to generate more than $80 billion in sales.
According to Forester, employing a mobile CRM increased team productivity by 50%.
Only 12% of organizations have cloud-based CRM in 2008. This figure has now risen to 87 percent.
The stats here are quite impressive. So, how could you adopt a CRM system?
| | |
| --- | --- |
| Out-of-the-box-solution | You can use a CRM system provided by a SaaS provider. However, because this software is designed for the mass market rather than a single organization, it is unlikely to meet all business requirements. |
| Customize a CRM software | Customization entails adding functionality to a pre-built system that you require. However, it can be costly and time-consuming. An experienced Salesforce developer, for example, makes roughly $117k per year. In addition, you must pay Salesforce at least $25 per month per user. |
| Development of a custom CRM system | You can employ bespoke CRM developers to create a solution that meets your needs and objectives. This option can be somewhat costly, but there is no additional charge for CRM. |
---
2. So, When is Custom CRM Development the Right Choice?
If you can't find a ready-to-use CRM solution that meets your needs, you should go custom. And there are a number of reasons to why you should start thinking about custom CRM development. However, it's still better to research pre-packaged CRMs like Oracle and Salesforce before investing in custom CRM software development.
Customized for Your Business Needs

The majority of CRM systems are designed for the mass market. As a result, they are unable to meet your needs and expectations. If your company requires some unique features, you should consider starting from scratch.

Custom-made chatbots, for example, can provide more personalized support to your customers.

Unique Design

Pre-packaged CRMs usually come with a variety of design themes, button layouts, tab layouts, and other features. Each business has its own process, and pre-built CRM systems have a standardized (sometimes complex owing to a high number of features) design with minimal customization choices.

As a result, you can devote a significant amount of time and money on staff training.

Various Integrations

If you require a large number of integrations, you should investigate whether a ready-made CRM can accommodate them. There are integrations for emailing, social media, and messengers, for example.

Custom CRM app development is generally a preferable alternative if you want to remain working with all of the services you're used to.

Cloud Architecture

It is not to difficult to create a cloud-based solution that may be accessed at any time. Because all of the data is saved in the cloud, your team may access it at any time and from anywhere in the world. This is extremely more forgiving for peple that are working remotely due to Covid-19
---
3. Custom CRM Development: Types of CRM Systems
When it comes to custom CRM application development, platforms should be considered. CRM solutions are available for desktop, online, and mobile devices.
For Desktop: With the help of C++ or C# and Swift or Objective-C, custom CRM developers can construct desktop solutions for macOS and Windows.
For Web & Cloud Custom CRM: Software engineers frequently employ Angular, Bootstrap, JavaScript, and Node.js for the web version.
For Mobile: Flutter-powered native apps for iOS and Android, as well as cross-platform mobile solutions.
CRM development necessitates a thorough understanding of existing CRM kinds. On the market, there are three main types: operational, collaborative, and analytical.
1. Operational CRM

A number of features are available for marketing, sales, and customer service departments. Lead and contact management, sales pipeline, and helpdesk are the most common features.

Existing solutions: Hubspot, Salesforce

2. Collaborative or strategic CRM

Customer interactions with your company are the emphasis of these CRM systems. They tend to analyze customer behavior and provide insight into client interactions. Sales and purchase histories, marketing choices, and tech support encounters are just a few examples.

Existing solutions: Pipedrive, Copper

3. Analytical CRM

CRM solutions like this assist businesses in analyzing client data. Customer preferences, channels, points of contact, interests, and other factors can all be considered. You can get insights, statistics, and analytics data from the system.

Existing solutions: Zoho Analytics, Salesforce Wave Analytics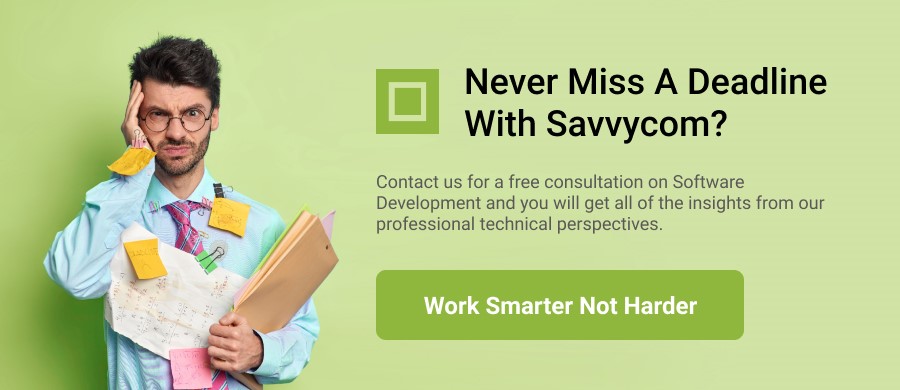 4. How to Build a Flawless Custom CRM Development Without Fail!
Many mid-size businesses and organizations appear to find custom CRM software development to be an excellent alternative. Out-of-the-box software cannot deliver the exact functionality that each organization requires to operate efficiently. As a result, CRM development can help you save a lot of money in the long run. Let's have a look at the stages involved in creating a CRM application.
Step 01. Do Your Research
You must communicate your requirements and business goals to a development team in order to obtain a useful product. Before beginning CRM development, it's a good idea to talk to employees in the marketing and sales departments to figure out what problems they're having and how a CRM system can help them solve them.
Business goals

You can better your results by prioritizing your needs. Your CRM system, for example, can control data flows and automate common operations for your personnel.

The style, CRM type, quantity of features, and even tech stack are all influenced by your business goals.

Security

You should think about security depending on the type of data in your CRM. There are also industry-specific and general standards.

For example, additional certificates such as HIPAA and GDPR are required in the healthcare industry.

Data Regulations

Information storage and management necessitates the application of a slew of norms and regulations. Keep in mind that they may vary based on your location.

These restrictions tend to restrict your capacity to acquire specific client data (address, relationship status, and more). It's a good idea to familiarize yourself with the PCI DSS, GDPR, and PIPEDA regulations ahead of time.
---
Step 02. Define Key Features
A CRM system might have a wide range of capabilities. When you choose bespoke CRM development, you can choose from a variety of unique features to match business needs. To keep this part brief and sweet, I've simply covered the essential aspects of a CRM system.
Email Marketing & Newsletter

For marketing objectives, it is preferable to integrate the email system. Every customer's communication can be tracked. Because managers get a large number of emails each day, the email marketing feature is particularly beneficial.

CRM has the ability to send emails automatically. You can also include an option to start an email sequence. If a consumer opens the first letter, for example, the system will send the following one.

CRM development allows you to create a simple system for storing and sharing documents. You can give access to various departments or even employees because all of the documents are in one place.

The system can also keep track of all document interactions. As a result, you can see who edited the document.

Sales Process

A simple sales tracking system is required by the CRM system so that you can view the status of each order. It allows sales managers to know where each lead is in the sales process (new leads, contact made, qualified, and so on).

This function also allows you to identify the point at which your business begins to lose consumers.

Reports

Customer analysis is one of the most useful components of a CRM system. Each client's information is collected, including purchase history, address, and marketing choices. CRM creates customised offers for each consumer based on the information gathered.

Chatbots

When considering CRM development, consider business process automation.

Chatbots are ideal for customer service because they are available 24 hours a day, seven days a week. They can also automate a variety of tasks:

Respond to Frequently Asked Questions
Make a list of reminders
Schedule a meeting with your coworkers
Step 03. Think of a Desirable Budget that fits your Business
It's difficult to estimate the cost of custom CRM Development because it can range from $25,000 to $350,000. (or even go up). Everything is contingent on the intricacy of your CRM and your requirements.
It's best to consult with the development team to determine the CRM development cost. To receive a more specific estimate, you should clarify your business goals to the IT specialists.
As you can see, the cost of CRM development varies. Let's look at the main price influences.
| | |
| --- | --- |
| The scope of the project | The higher the expense, the more sophisticated features you add. Not to mention a greater certification, custom CRM developers require extra time to implement vital functionality. |
| The location of the developers | The cost of development is determined by the team's location. Companies in North America, for example, charge some of the highest rates in the world while Asian software development companies on the other hand, have the lowest rates, but the quality of their products and customer service are sometimes questioned, especially for BPO that are from India. |
| Level of seniority | According to their job experience, custom CRM developers are typically divided into three categories: junior, middle, and senior. It's preferable to choose more experienced professionals – middle or senior developers — when it comes to CRM systems. |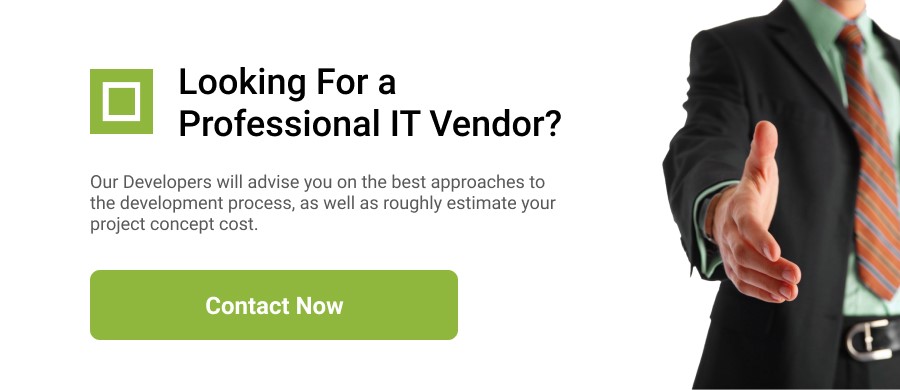 Step 04. Find a Team
Because CRM is such a complex system with so many integrations, you should hire a team of custom CRM developers. There are three common methods for hiring software engineers:
Collaborate with independent developers.
Form an internal team.
Locate a reputable outsourcing firm.
| | |
| --- | --- |
| [icon name="exclamation-triangle" prefix="fas"] Freelance Developers | These days, freelancing is getting increasingly popular. CRM development, on the other hand, necessitates long-term collaboration, whereas freelancers are prone to switching jobs and missing deadlines. |
| [icon name="exclamation-triangle" prefix="fas"] In House Development Team | You can control the development process and maintain smooth communication by hiring an in-house team. However, because there are numerous additional expenses such as rent, hardware, software, taxes, and more, this option is the most expensive. |
| [icon name="star" prefix="fas"] Outsourcing Tech Partner & Dedicated Team | Outsourced development is becoming a popular choice for many businesses due to the low costs and great quality of the final output. For custom CRM application development, you can also employ a professional development team. |
Looking To Find A Trusted Tech Partner?
Tech Consulting, End-to-End Product Development, Cloud & DevOps Service! Since 2009, Savvycom has been harnessing digital technologies for the benefit of businesses, mid and large enterprises, and startups across the variety of industries. We can help you to build high-quality software solutions and products as well as deliver a wide range of related professional services.
Savvycom is right where you need. Contact us now for further consultation:
Phone: +84 24 3202 9222
Hotline: +1 408 663 8600 (US); +612 8006 1349 (AUS); +84 32 675 2886 (VN)
Email: contact@savvycomsoftware.com
The digital transformation process is not been something new for a long time, no matter what industry we are talking about. In truth, the rapid technological development, as well as the incredible pace of the Internet adoption as the main means of communication and trade in the early 2000s, created conditions in which any business simply needs to go digital if they want to maintain their presence in the market, continue to compete and provide its users with a quality service.
Of course, today even a medium-sized business having its own website or even a mobile application isn't coming as a surprise. This is not surprising if you look at the pace at which the digital transformation process is developing today. According to some studies, the expected growth of the digital transformation market will reach $1,009.8 billion by 2025 at a CAGR of 16.5%. If these figures are not enough, then it is worth looking at others in order to make sure that the lack of digital banking innovation process will be disastrous for the vast majority of businesses – 65% of the world's GDP is predicted to be digitized by 2022. In addition, 70% of organizations are applying or developing a digitalization strategy today, while over 55% of startups are entering the market already digitalized.
These figures are extremely convincing, but there are still rare niche products, the issue of digitalization of which is not yet on the agenda as urgently as with other industries such as the financial sector, services industry, and healthcare. We will talk about the state of the digital transformation in banking in this article.
1. WHAT IS DIGITAL TRANSFORMATION IN BANKING?
First things first. We start by defining what the digital transformation process in banking is. Many people, hearing the phrase "digital transformation" immediately imagine a conventional bank that develops its website and mobile applications, switching to providing its services remotely via smartphones, minimizing paperwork and bureaucracy. It is important to understand that in the banking industry, digital transformation implies not just a transition to newer equipment and the creation of digital products for the bank, but a complete revision of the entire corporate culture, customer service, and all related approaches.
As with many other industries, digital innovation in banking sector began around the second half of the 2000s. The economic crisis of 2008 hit hard on the digital opportunities of the banking sector. On the other hand, the same crisis made it clear to the representatives of the industry that the transition to digital space can become the key to the more successful handling of such crises. Further development of mobile services and technologies, as well as global interest in the Internet of Things approach, have dotted the I's, making the digitalization of the banking sector and the emergence of the FinTech industry inevitable.
So, in addition to the obvious investment in creating new digital banking innovation ideas for placing your bank in a digital space, such as a mobile application or website, the digital transformation process in banking also includes a complete rethinking of the strategy of doing business and providing fintech solutions. The transition to digital implies the creation and implementation of a complete customer-oriented strategy in the bank. The task of the bank is to minimize the difficulties for the customer, including automating most of the processes, simplifying the receipt of various services, eliminating paperwork, and minimizing the touch of the customer to the bureaucracy. In the end, what is the point for a customer from the fact that the bank has gone digital if his personal User Experience with such a bank did not benefit from this, right?
Ultimately, the same good old customer retention strategies remain the goals of digital innovation in banking. An increase in the percentage of customer retention allows banks to achieve an almost 30% reduction in the cost of attracting new customers and increase their profit by more than 80% in a two-year period.
Now, let's talk about the key points of the digital transformation process in banking.
2. CRUCIAL POINTS OF DIGITAL TRANSFORMATION IN BANKING
Of course, the digital transformation process in banking does not happen suddenly and overnight. This is a fairly long-term strategy that should be well thought out, since digital transformation affects all processes of the bank, from operational activities to new problems related to the correct storage of data and security. In general, the most important elements of digital transformation in banking are:
Customer experience. Improving customer experience and custom interaction are the main goals of digital transformation in banking. Automation of routine processes and maximum limitation of the user from bureaucracy has a positive effect on the customer experience and allows you to build new and longer-term relationships. The bank becomes open in order to provide its services 24/7, on a completely remote basis, while undertaking to securely store the personal data of customers. A deeper understanding of user needs, which is also the impact of digital transformation in banking, allows you to build better marketing strategies and provide more customized services.
Organizational activity. The transition to digital space means fundamental changes in the bank's operations. Thus, significant changes are being made to the organizational structure regarding the means of communication with customers, the creation of a system for electronic storage of data and the exchange of information, and the creation of means of protecting this data.
All parties benefit from such a transition: the bank gets new opportunities in communicating with customers and providing its services; customers get a more custom service and get rid of paperwork. Digitalization also means creating an effective mitigation strategy that will generally improve the design process and budget allocation for various tasks. Virtualization of the bank's workflow allows for a convenient process of interaction between clients and the bank, with the collection of digital data available to all parties for study and analysis.
Top management readiness. More than 70% of digital transformation processes fail, according to a 2020 study by the Boston Consulting Group. This is primarily due to the lack of faith in the final result of this event on the part of the top management and the lack of a clear understanding of why and for what the digital transformation is being carried out. Often, the decision to start a digital transformation is made in view of the objective numbers and trends that we talked about above. At the same time, little attention is paid to a specific case with a specific bank and what metrics should be taken into account when launching such a process in this case.
The will of the bank's top management in such a situation can save the digital transformation from failure. Agreeing to the understandable risk and understanding the importance of rethinking all processes in favor of a more custom-tailored approach is a key factor in the success of digital innovation in banking.
3. ADVANTAGES AND DISADVANTAGES OF DIGITAL TRANSFORMATION IN BANKING
Obviously, any process has the opposite effect. An unsuccessful digital transformation can lead to serious losses and complete bank closure in the worst scenario. Despite the many advantages that digital transformation offers, this process has its drawbacks and risks.
3.1. Digital transformation drawbacks, risks & challenges
We start with the risks, challenges, and disadvantages of digital transformation in the banking sector.
Investments. It all depends on specific cases, but most often digital transformation requires significant investments, both monetary and time. Choosing the right digital transformation services provider, the discovery phase, analyzing competitors and their strategies, working out your own strategy, not to mention the development, design, testing, and support of the whole ecosystem of new digital products. When embarking on a digital transformation, a bank must be ready to invest large resources.

Security issues. Going into the digital space, the bank must be ready to allocate resources to create a separate team that will ensure that user data is stored in accordance with all the conditions of the regulator, whether it be the GDPR or something else, and their protection is reliable. In any business where money and its storage are concerned, the attention of users grows in geometric progression, as does the attention from scammers. A bank that is going to be digitalized must take this factor into account and spare no resources to provide reliable security measures.

Lack of a well-thought-out digitalization strategy. We have already touched on this issue above: the bank risks losing a lot of money and never achieving the set result and any advantages if the digitalization strategy was not carefully thought out and planned. Ideally, this process should be overseen by a separately hired experienced manager, most often represented by the genus Digital Transformation Director. This person will be responsible for ensuring that the digitalization process proceeds according to the plan, the risks will be handled on time, and the process itself will take place step by step with a predictable result.

Digitization, not digitalization. Yes, these are two different concepts that are often confused. This is due to the fact that digitization is the process of creating some kind of digital product with the absence of fundamental changes in the corporate culture and organizational structure, which we talked about above. Digitalization, in turn, implies just that. Lack of understanding that digital product creation is not enough to complete a successful digital transformation process can also lead to unsatisfactory results.

Lack of understanding between the bank and the software vendor. For a successful digital transformation process, a bank needs to achieve full interaction between its IT team and representatives of the IT software vendor, who will be directly involved in the development of innovative digital banking solutions. Lack of mutual understanding can lead to serious consequences in the form of a final product that will not meet the initial requirements and will be incomprehensible to the bank's IT team. In addition, there is a risk of choosing not a high-quality software vendor, and the process of selecting the necessary specialists can take months and entail additional costs and risks.
3.2. Digital transformation advantages
Despite the obvious challenges and risks associated with digital transformation in banking, the benefits that can be obtained in the end overcome any doubts of stakeholders.
More efficient operating activities. In the digital space, it is easy to ensure more efficient operational activities, thanks to the automation of some processes, simplification of communication between specialists and customizers, and the creation of an understandable workflow.

Readiness for volatile customer demands. One of the essential traits that any modern business, including banks, must possess, is readiness and flexibility in relation to the changing and increasing demands of the customers. The very fact of bringing benefit from any business in modern conditions is no longer enough. What is now also important is the speed and convenience with which benefits are provided, as well as the bank's willingness to quickly adapt to the introduction of new technologies, be it new means of authentication using biometrics or anything else. Digital transformation is a big step towards preparing the bank for such challenges.

Higher quality of services. Of course, offline services are not going anywhere in the banking industry, and some clients, especially elite representatives of big business, will still prefer offline meetings at some points. Nevertheless, the digitalization of the processes can significantly improve the overall quality of the services provided by the bank, from simplifications for the customers to the provision of a complete no-human service.

Reduced operational expenses. Automation and digitization of workflows allow reducing operating costs and reduce overall costs for internal processes.

Income diversification. Moving into the digital space, the bank is faced not only with new opportunities to spend money but also with new opportunities to earn it. So, the bank can start earning from new digital contracts and partnership agreements, as well as in the mobile application.

Enhanced customer satisfaction rates. Successful completion of the digital transformation process will inevitably entail higher customer satisfaction rates, thanks to all the benefits they will receive.

Improved security. In the offline space, the security of data storage is limited by the physical safety of the hard drive and servers. Moving to the digital space, many banks give preference to remote and reliable cloud providers, which allows them to qualitatively improve the security of their users' data storage.

Enhanced risk management strategy. As we said above, one of the important factors in the development of a digital transformation process is the creation of a risk management strategy, the task of which will be to minimize the possible risks associated with the transformation. The same approach will be carried out after the completion of the transformation since the digital ecosphere of any bank implies a risk mitigation strategy associated with the preservation of user data.

Automation. Everything is simple here – automating routine tasks is always good. This frees up time for professionals to perform more complex and creative tasks and to give more attention to customer care activities.

Organizational flexibility. Digitalization implies the creation of such conditions for the bank when the entire organizational structure can become more flexible and scalable.
4. EXAMPLES OF DIGITAL TRANSFORMATION IN BANKING
It's time to talk about specific examples of solutions that result from the process of digital transformation in banking.
4.1. Fraud detection system
As a result of the digital transformation process, a bank can gather a Data Scientist team to create a machine learning-based fraud detection system. The key task of such a system will be to track possible fraud, which means that it is worth training the system on the largest possible number of different data input streams. Thanks to the subsurface fraud detection system, representatives of the banking sector can significantly increase the quality of fraudulent actions detecting.
4.2. KYC software
Know your customer software is one of the key factors in attracting banks to the digital transformation process. Such software helps to identify customers and stay within the framework of current legislation, for example, the Patriot Act. This law requires banks to verify the identities of their customers in order to combat money laundering and counter-terrorism. In countries such as the United States, Know Your Customer initiative is a must, but in the digital space, such software is the most convenient mean of customer identification.
4.3. Big Data analytics platform
Without a doubt, due to their importance, banking institutions are the place where a huge amount of data is collected. The next stage in the development of a banking service can be reached by those banks that can quickly and efficiently analyze all this data for a better understanding of the pains of their customers and create more custom offers. In addition, Big Data analysis also improves the overall bank security and marketing activity.
4.4. Chatbots
Yes, you won't surprise anyone with chatbots today, but if you doubt that they are the future, think again. One of the main problems of offline banking is a long wait for a response from bank representatives and a long exchange of information even in the most simple questions. After all, there is a fixed working day. Moving to digital, every bank should definitely think about how to create a convenient and learning chatbot for its online audience. Ideally, a chatbot should handle 80% of user requests, and in the remaining 20% send their requests to a customer care specialist.
4.5. Predictive analytics software
Predictive analytics in banking derives from Big Data opportunities. Thanks to machine learning-powered analysis of large amounts of data, it becomes possible to predict future events and avoid the associated risks. So, predictive analytics in banking is associated with such frequent activities as Cross-Sell and Upsell, customer retention, account transaction management, fraud detection, cash & liquidity planning, and others.
4.6. Mobile banking
One of the main opportunities that digital transformation gives. Mobile banking is the most convenient way to receive and provide banking services today. By using hardware on custom devices, you can increase the number of innovative banking features provided, as well as introduce biometric authentication through a camera or fingerprint. Finally, everyone uses banking applications today and this is simply a must for any bank that goes digital. The banking app is definitely one of the current trends in mobile app development segment.
4.7. Blockchain
Cryptocurrencies can come and go, but the blockchain technology behind them will stay with us for a long time. This technology is the quintessence of crypto-encryption and distributed data storage, which is becoming more and more popular. Cryptocurrencies are accepted for payment in more and more places and even the largest banks are giving up and starting to provide services in the sector. Digital transformation does not oblige the bank to also touch the blockchain segment, but this can be a good investment for the future.
4.8. Cloud solutions
Someone goes to the cloud for the sake of increasing security, someone for the sake of freeing up time for their IT teams, and someone for the speed and flexibility that the transition to Cloud gives. In any case, banks today are facing enormous pressure and competition, and only those banks that will work quickly and smoothly will acquire their new customers. Cloud solutions are available for digital banking representatives in the form of a large number of cloud vendors.
4.9. APIs
Another important factor, which is often forgotten, but which helps a modern bank to squeeze out in a competitive digital environment, is the bank's ability to work with a variety of third-party programs. In order for this to be possible, the digital bank must have its own API (Application Programming Interfaces). The API allows the bank's software to interact with third-party software. Thanks to this, banks can accept requests from the mobile wallets of their customers, from third-party financial systems (PayPal and others), payment switches, etc.
4.10. Biometric technology
We have already mentioned this above, but it is worth highlighting this factor separately. Biometrical authentication is perhaps the most trusted way of custom identification and authentication. The introduction of biometric authentication into the work of the bank significantly increases the security of all transactions both on the part of the bank and on the part of the customer and helps to identify and avoid fraud.
5. BASIC PRINCIPLES OF DIGITAL TRANSFORMATION IMPLEMENTATION IN BANKING
The digital transformation process itself is not an easy task. This process includes a huge number of actions, tasks, specialists and tools, and you should prepare yourself for the fact that it will take enough time and resources.
The basic principles of digital transformation implementation in banking are careful planning, creation of a risk management strategy, step-by-step movement to the digital space and constant monitoring of all activities.
Speaking in more detail, it is worth starting with the fact that in negotiations with all stakeholders to create the most detailed step-by-step plan for the future digital transformation. Particular attention should be paid to the selection of the correct set of databases that will provide back-end bank operations. It is a good idea to separate or create a separate team within the bank (if you did not have one before) that will monitor the digital transformation of the process.
Do not be afraid of problems and possible risks, as they are inevitable. Prepare for the fact that the bank will no longer be an exclusively financial enterprise, but will become a real digital business platform with wide functionality, capabilities, and corresponding responsibility.
Regardless of who will turn innovative digital banking ideas into software reality, it is necessary to initially ensure the creation of an IT team that will support the digital products of the bank after the successful completion of the digital transformation process.
TO SUM UP
Digital transformation is a unique and exciting journey that any business, and even more so a bank, will have to go through in one way or another. Modern trends do not leave any room for maneuver, therefore, all representatives of the top management of banking institutions should now begin to work out a digital transformation strategy, if for some reason they have not yet done so. Lack of digitalization in banking services negates any attempts to stay afloat in this highly competitive segment.
Software as a service, or SaaS, is steadily becoming the default model for companies producing all kinds of software. In this article, we talk about why SaaS products are so popular, consider their pros and cons, and offer experience-based advice on how to develop SaaS products and make them successful.
What is SaaS, and why is it in demand?
Software as a service is a model of distributing and running software in the cloud.
According to a 2020 global forecast by MarketsandMarkets, the cloud computing market is growing at a 17.5% CAGR and is expected to reach $832 billion by 2025.
Most people and businesses today use at least one SaaS product:
Cloud storage (Google Drive, Dropbox)
Video call software (Zoom)
Collaboration software (Slack, Google Workspace, Office 365)
Creative software (Adobe CC, Figma, Canva)
The SaaS model isn't as new as it might seem. In fact, its history goes back as far as 1999 — to the launch of the Salesforce CRM. However, the rapid growth of SaaS and its expansion into enterprise-scale businesses is a much newer development brought about by the fast evolution of the internet and cloud computing.
The last twenty years or so have seen almost a hundred unicorn startups in the SaaS category, the best known being Stripe, the credit card processor valued at $95 billion as of March 2021.
Developing SaaS applications bring benefits to both end users and software providers.
For end users, using SaaS products means:
Saving money on buying pricey software for each individual machine. SaaS solutions are mostly subscription-based, with a variety of flexible plans for individuals as well as for businesses of any size.
Easy software installation and updates. Users download SaaS products from the cloud and may not need to actually install them, instead running them in a browser. In addition, SaaS solutions can be updated automatically in the background, without any downtime.
Saving time on data sharing. Cloud-based software offers instant access to files by syncing them across devices and accounts. This helps collaboration immensely for team members who have access to the file.
Easy scaling. Users can upgrade or downgrade their plans at any moment without having to call a technical support specialist to remove or install software.
Zero to no downtime. In contrast to physical servers, cloud servers are able to automatically call on extra copies of an app to distribute the load if the app receives too many requests.
Data safety. Cloud servers have higher default levels of security compared to physical servers.
Maintenance support. Individuals and businesses using SaaS products don't need their own maintenance teams. If anything happens, the software owner provides maintenance and updates.
For software service providers, the SaaS model has the following pros:
Secure software code. With cloud distribution, end users have no access to the app's source code, making it impossible for them to steal the code in whole or in part.
Continuous revenue. SaaS is a subscription-based model, which makes for steady revenue flows as long as customers use the software.
Possibility to update and upgrade regularly. Cloud servers are able to make app copies. Thanks to this, with app code in the cloud, it's possible to update the app without downtime for users: a copy of an app's current version can continue functioning as you update the main version. When the update is finished, the updated version will go live and the copy of the previous version can be deleted.
Types of SaaS solutions
There are two distinct types of SaaS software: traditional software as a service and white-label software.
In short, the difference between traditional and white-label SaaS software is as follows:
Traditional SaaS software allows the end user to see who owns the software code.

For example, any business can use Slack for communication, but Slack is the recognized brand. Google owns Google Workspace, Adobe owns its Adobe Creative Cloud software, and Zoom is also a well-known and recognized company.

The software we built for Shanghai nightlife, Unight, is a traditional SaaS solution that helps venues sell tickets and promote events. Unight is currently the #1 ticket selling platform in Shanghai.

White-label SaaS software is sold unbranded. Businesses and individuals that buy it can customize the software and apply their own branding with little to no mention of the code owners and can resell the software's services under their own brand.

For example, DashClicks, a popular drag-and-drop website builder for digital marketing agencies, is a white-label solution. Websites created with DashClicks have custom domains, making it impossible for end users to know they're not custom solutions but rather third-party software.

Website builders, content management systems (CMSs), and hosting solutions are usually white-label SaaS products.
White-label SaaS platforms need to be more customizable than traditional SaaS platforms; therefore, the white-label model is not suitable for all kinds of software.
SaaS tech stack
Almost anything can be a SaaS product these days: CMSs, CRMs, creative software, messengers, audio/video calling apps, and more.
However, certain tech solutions will be necessary for most, if not all, SaaS products.
Content delivery network (CDN)
A CDN is a network of servers — preferably cloud-based if you want to develop SaaS applications — located all over the world. CDNs are used to distribute the load on the network and enhance platform performance. With servers located in all areas where your SaaS platform is available, users will have shorter response times, improving the user experience.
Examples of CDNs are Amazon CloudFront, OVH Cloud, and Cloudflare.
Application programming interfaces (APIs)
APIs are used to implement specific functionality into an application without building it from scratch. For example, when a website offers you to connect or link your social network profile — Facebook, Twitter, LinkedIn — it is made possible by the API of the social network in question.
There are APIs for all kinds of functionality: booking flights, booking a table in a restaurant, streaming, chat functionality, payments, analytics, and much more.
Multi-tenant architecture
A multi-tenant architecture, or multitenancy, is an integral part of any SaaS application. This architecture enables a single server to run multiple applications and allows multiple users to access a single application. At the same time, each "tenant" — whether an app or a user — remains separate from all others, even if tenants share a database.
А мulti-tenant cloud-based SaaS architecture is what makes SaaS platforms scalable.
Load balancer
Whereas a CDN distributes content across servers to deliver it to users faster, load balancing systems distribute incoming requests/traffic across multiple servers to enhance application performance and split the load on databases.
How to make a cloud-based SaaS application
In this section, we'll show you the ideal SaaS development process as we see it. This process may seem quite complex, but it's also flexible enough to fit diverse forms of SaaS software.
Step 1. Clarify your idea for yourself
It's important that you approach developers when you yourself know what you need — to some extent, at least. You might want to do some preliminary research and survey your existing customers and/or potential platform users as to what they need.
What problem do you want to solve with the platform?
What analogs to your idea are there on the market, and what are they lacking?
Is SaaS the best model for your product or service?
Do you want your platform to be a traditional SaaS product or white-label software?
What requirements do you have for your software?
Experienced software developers will help you polish your idea, will offer you solutions for your desired functionality, and will estimate the SaaS development cost and timeframe. However, the more information you provide at the start of collaboration, the faster the team will start development.
Step 2. Find developers
Choosing SaaS developers isn't an issue to be taken lightly. SaaS cloud technology is complex, and SaaS platforms often need to adhere to local and national requirements.
You can choose to hire in-house developers or outsource your product to either a SaaS application development company or freelancers. You'll also need to consider where you'll be looking for developers, as software development specialists can be found in all corners of the world. The process of finding specialists might be daunting.
Step 3. Research and validate your idea
The first thing most good development companies will offer is to conduct thorough market research into your idea. To build a product with success in mind, developers need a lot of information, and you'll need to make some decisions at the initial stages.
Is your idea valid as it is?
What alternative solutions exist that solve the same problem?
What do you offer that's unique to your product or service?
What is your platform's target audience, and what do they need from your SaaS product?
How should you attract users to your platform?
How should you measure your platform's performance?
Research results will help you create a business plan for your platform and allow your team to prioritize features and create road maps for developing your software as a service product.
Step 4. Make prototypes
To make sure you and your team see your SaaS platform the same way, designers will create several prototypes:
Navigation concepts — the basis for the UX
Low-fidelity prototypes — the first UI concepts
High-fidelity prototypes — full-color and sometimes interactive prototypes
Testing a prototype for each stage of design is important to understand how the platform will work and fine-tune it for the best user experience.
Step 5. Build an MVP
A minimum viable product (MVP) is a product with the minimum functionality that you can release to the public. An MVP serves several purposes:
It helps you better gauge audience interest
It allows developers to test the product on real users who might leave genuine feedback
It helps you prioritize features for future development stages
It creates opportunities for building brand recognition and obtaining your first loyal users
In certain cases, an MVP allows you to earn some ROI
The scope of MVP development will depend on the kind of SaaS software you're building. An MVP usually needs basic features plus your unique value proposition, and its design might be rather simple.
An alternative to an MVP is an MLP — a minimum lovable product. An MLP also has basic functionality plus a unique value proposition, but it usually has a more refined UI/UX design aimed at building recognizability and emotional attachment in users.
Step 6. Launch marketing
Marketing is an important stage in the SaaS software development life cycle. You'll need to run marketing campaigns as long as your SaaS platform is live (which will hopefully be a long time after the full launch), so it's critical to use the MVP to figure out the best marketing channels, estimate the possible cost of campaigns, and tweak your marketing actions according to actual data.
Often, it makes sense to launch marketing before the release to feel out demand, build brand recognition, and make users anticipate the release.
Another benefit marketing brings is that it allows business owners to calculate future costs and profits and analyze the product's performance.
Step 7. Analyze performance
To fine-tune your platform, you'll need to know if it's performing as expected or if you need to introduce changes — to functionality, to marketing, or to your business plan and strategy.
One of the most helpful tools to analyze MVP and marketing performance is unit economics.
Unit economics = Customer lifetime value / Customer acquisition cost
Unit economics helps you calculate the value each customer — a user, in the case of a software product like a SaaS app — brings to your business. This allows you to determine whether it's profitable to use a particular marketing strategy to attract users or you're throwing away your hard-earned money. It can also help you optimize your prices and forecast profits.
Having analyzed performance and gathered feedback, you'll have the data you need to make better decisions and continue developing your software as a service product.
How much does it cost to develop a SaaS app?
Given that almost any software can be built as a SaaS platform, making precise estimates for a generic SaaS application is nigh impossible. A highly customizable white-label website builder with numerous templates and built-in tools will have a whole different set of features compared to video conference software like Zoom, for example.
The type of platform you want to create, its feature set, the niche you're aiming at, the development timeframe, the price tag of your chosen development team — all of this will impact the price of creating your product.
The cost of developing a SaaS platform consists of multiple parts — a lot of research and design prior to actual development, testing, and marketing. And it involves multiple specialists:
Project manager
UI/UX designer
Server-side developer
Frontend developer for a web-based SaaS platform
iOS and/or Android developers if it's a mobile app
Quality assurance engineers
Based on our experience, the development cost for a traditional (not white-label) web-based SaaS platform will start at about $65,000 for an MVP and will go up as you add and fine-tune features. If you're going for a platform in the form of a mobile app, expect to hear numbers around $70,000 and up per platform.
There's also an option of a satellite mobile app for a web platform — a small app with very limited functionality. Fitr, a platform we developed for remote coaches, is a web-based solution, but it has both iOS and Android satellites created solely for fitness clients to comfortably watch programs from their coaches.
Twilio's Authy app only provides two-step authentication. An app like that might cost about $15,000 or so depending on its purpose and functionality.
Possible pitfalls in SaaS platform development
Cloud-based platforms are well known (and well liked) for their high levels of security by default as well as for having next to zero downtime. However, it's not that you can do no wrong with a cloud-based product. Cloud-based platforms have their own landmines.
One of those landmines — the biggest one, we think — is paying for cloud servers. Cloud providers charge for every little thing:
Incoming and outgoing content requests
The amount of data that goes in and out
The number of machines you use
The time these machines are active
Cloning your servers
And more
Therefore, setting up cloud servers is no trifling matter. You need experienced developers who will evaluate what you need and what will cost you money but will bring few or no benefits.
The second issue to pay attention to is compliance with regulations and laws in the locations in which you will launch your software. Granted, cloud servers offer great data security. However, local requirements like Europe's GDPR or California's Consumer Privacy Act might require you to implement specific measures. It's important to not just leave everything to the cloud providers.
A reliable and experienced SaaS development company will help you research the topic and implement necessary functionality so you don't fall into any traps.
We hope this article helps you answer at least some questions about how to develop a SaaS application for web or mobile. Developing a SaaS product is a lucrative business venture, and it will become more and more popular in the future. The time to start is now.
Sometimes, buying an already existing solution for your company is not enough. It doesn't have the features you need, or it doesn't work well with your tech stack. Or maybe existing options on the market are very limited, and you need software built from scratch. Since you don't have the time or personnel necessary to build this kind of tool yourself, you have decided to ask a software development company for help. You have prepared a list of requirements for your solution, picked a software company, and booked a meeting. 
Now, it comes to the most critical part – picking a cooperation model. The consequences of choosing the wrong type of contract for your business can be severe, from having no way of changing or replacing features, through ending up with a rushed or unfinished product, to going way over your budget. Therefore you must think carefully about the type of contract that will suit your needs best.
At Savvycom, we offer three different cooperation models:
Fixed-Price
Time & Material
Fixed Budget
If you are wondering which of these cooperation models would be best for you then you're in the right place. In this article, we will take a look at the three aforementioned contract types and how they work. 
We'll also mention which types of projects work best with each model in order to guarantee that you will receive your ordered product on time, that it does exactly what you wanted, and without straining your budget (or nerves!).
1. What is the Fixed-Price model?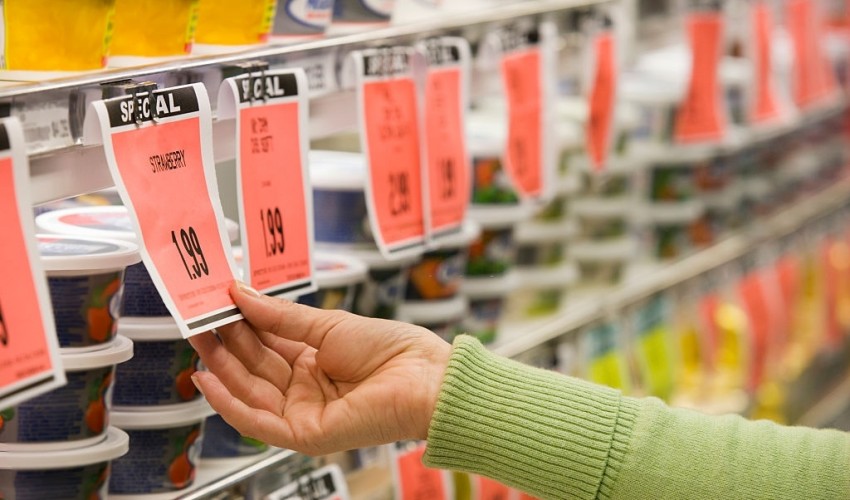 A Fixed-Price cooperation model works just as it sounds. You pay a lump sum of money to the developing company in exchange for specific results being delivered. It's one of the most popular cooperation models because a fixed-price contract makes companies feel safe and secure. They have a set budget and thus are guaranteed not to pay anything more than that for the project. If a company needs to strictly plan their budget and expenses, this cooperation model admittedly sounds attractive. 
What's more, there's a "set in stone" deadline by which time the client is "guaranteed" to be presented with the ready product. And with a detailed plan including goals and milestones, they can easily track the progress of the project. There's no need for the client to supervise the project either, so everything sounds clear and predictable. If your project is a small one, with clearly defined features and little risk of things changing, a Fixed-Price model might be what you need. 
2. How does the Fixed-Price model work in practice?
Let's say you need to order a cake for a parent's birthday. You asked them what type of cake they would like, and they definitely want a chocolate chip cake. So you call a bakery and order a chocolate chip cake. The bakery then asks how big the cake should be and gives you a price for the chosen size. You pay for the cake that you want and the bakery delivers it on the due date. This is exactly how Fixed-Price cooperation models work – it's all pretty straightforward when it comes to simple products. However, this type of contract also has several drawbacks.
Imagine a different scenario. You have already ordered a chocolate chip cake, but then your mother calls and says she would prefer a strawberry sponge cake instead. Can it have a different text on the icing too? You call the bakery to change the order, but they refuse. Since they have everything ready for the chocolate chip cake, they can't change the order. They can only make a second cake, for which you will have to pay extra. They could add the text to the original cake, but that will also cost you extra. 
Project models work in a similar way – if you have a detailed plan and a list of guidelines that you are certain won't change, a Fixed-Price model is an option to consider. However, Fixed-Price contracts also have a number of flaws.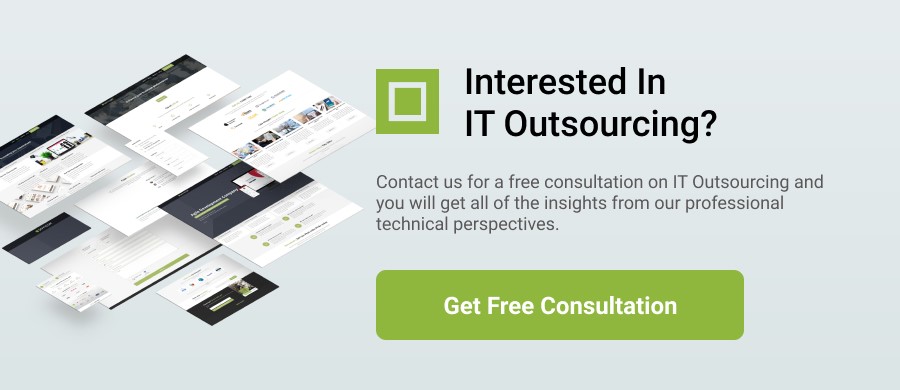 3. Fixed-Price contract disadvantages
At some point during your project, you might learn that you won't need one of the features identified in the contract, but you will need a different one. You also need a newer version of API, and support for the new system. With a Fixed-Price cooperation model, changing the scope of work requires additional procedures and usually the formal flow too. For bigger changes this is justifiable, but for small adjustments the overhead on the formal flow makes the work much more expensive. This is because a task that only takes a developer a few hours has to firstly be discussed with management, some risks assessments have to be added to the estimate, then quality assurance, a code review, and deployment, etc., have to be completed too. That means you will have additional paperwork and will also need another meeting with the development team just to discuss the changes, which might endanger the deadline (and your budget). 
Before choosing a fixed-time contract you need to schedule a meeting with the development team first, during which you will discuss all of the project specifications.  These must be crystal clear to both you and the developer, so you need to plan down to the finest details. You also need to discuss all actions that the development team should take along with possible risks and pitfalls, so bear in mind that you might need several meetings just to have everything specified and accepted. Otherwise, it might be that the final product isn't exactly what you hoped it would.
There's also another problem that can occur with fixed-time models. That is the more complicated the project is, the higher the chance that problems will arise. Regardless, the software company is bound by the deadlines and the budget is set in the contract. In a rush to adhere to the schedule, the development team might cut corners and produce a barely usable product.
4. When can you safely choose a Fixed-Price contract?
It's a small or medium sized project or an MVP
You have clearly defined your needs and expectations to the developers – and by clearly we mean you're able to outline the user's path step by step and you have some experience in writing user stories
The project requirements won't change
You have no need or time to have meeting sessions with the development team 
There's little risk of development problems happening so you can hand over all control to the developers
You have a limited budget for the project, or you need to get the project budget approved first
You are not interested in the time taken but in deliverables, which means that sometimes the project is finished faster but you are still charged the estimated amount
5. What is the Time & Material model?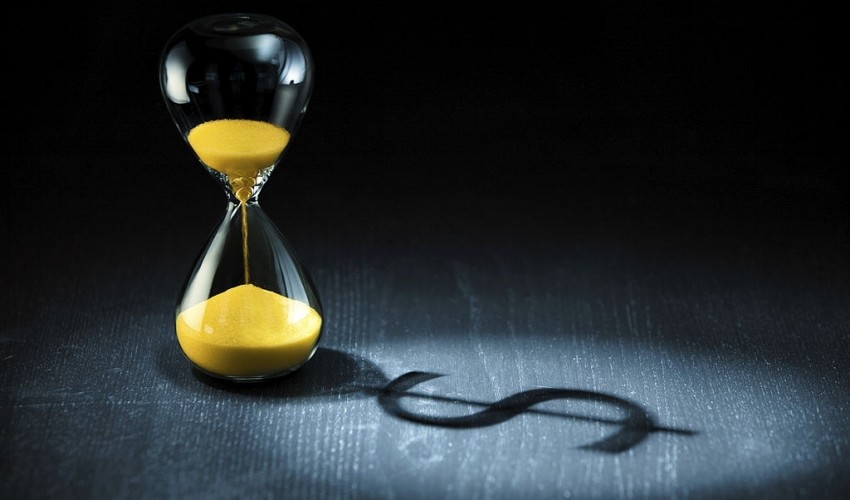 The Time and Material model works on a completely different principle than the Fixed-Price model. In Time and Material, rather than pay a fixed sum right at the start, you pay the software team for the hours of work needed to finish a given project and for all of the materials they use. This type of cooperation model is useful when you cannot accurately estimate how much the project will cost or how long it will take to complete, so there's no set price or rigid deadlines for the team.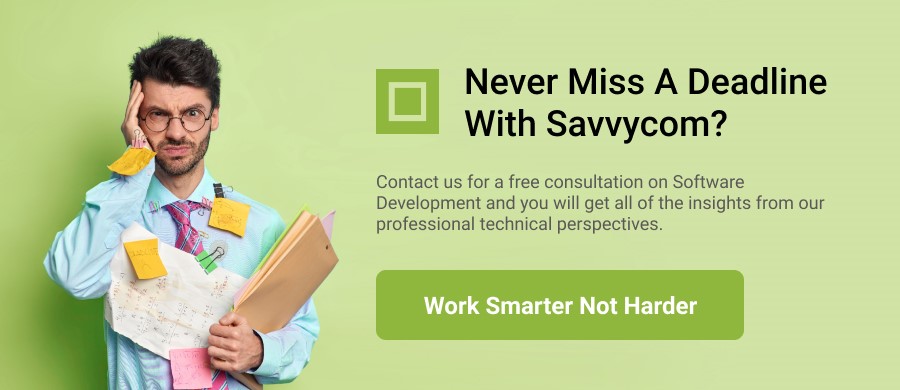 6. What are the biggest advantages of T&M contracts?
The most significant advantage of a T&M cooperation model over Fixed-Price models is that you retain much more control over the project. You can also change elements of the project when needed. If you don't yet have a detailed vision of the product as a whole, the Time and Material model is also a great pick. 
With this type of contract, you can decide in which direction the project should go as it progresses. If there's a sudden need to rework some parts of the project then simply add new features, or if an unexpected issue arises then the T&M model allows you to adjust the work schedule as required. The development team can also start working straight away, even if they (and perhaps you) don't know all of the project details yet. Those can be discussed in later meeting sessions. 
How does it work in practice? The whole project is divided into smaller tasks that each have an estimated time, workforce, and cost. When you agree with the price quoted, the development team can start immediately. During the project, there will be several meetings with the team during which you can add suggestions and ask for modifications. This way, at the end of the project, you will receive a high-quality product that exactly fits your needs. 
7. Things you should consider before opting for a T&M contract
It all sounds great, but the main thing that might worry you here is the budget. How can you control the amount of money spent on a project without a defined price set in the contract? And if you are paying the team for the hours they spend on your project, won't the final cost turn out to be much higher than the initial budget? 
Controlling the budget of a Time and Material cooperation model is actually much easier than you might think. Each task in the project comes with an approximate cost, so you can estimate the project cost in advance. To make controlling the budget more manageable, you will also be sent regular detailed reports about how much time the development team has been working on a given task, how many people were involved, what materials were purchased, and any other extra costs.
Controlling the progress of the project might be a bigger problem. A Fixed-Price model allows you to leave all of the work to the developers until the product is ready.
Time and Material, on the other hand, requires constant supervision of task progress, materials used, and budget spent, as well as frequent meetings with the development team. Monitoring is especially important since there's no definite deadline in the contract, and you don't want a six month project to turn into a year. You should also keep in mind that, unless there's some bonus in the contract to be paid if the development team finishes ahead of schedule, there's little incentive for them to finish the project early.  
We work on because most of the clients we are working with have problems in stating their all requirements upfront.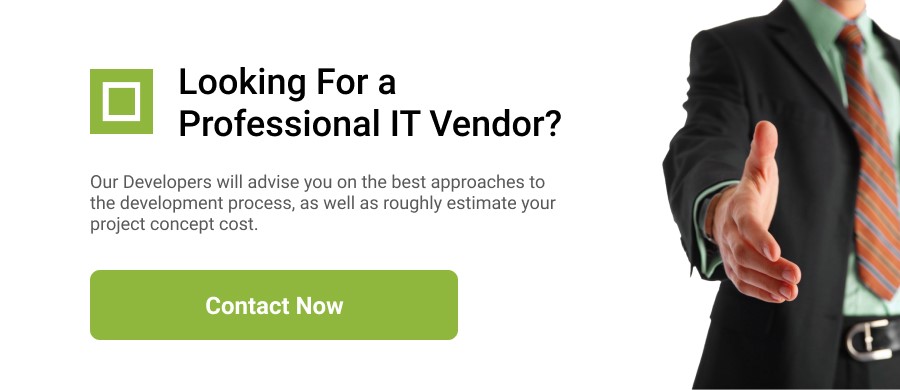 8. When should you choose a T&M contract?
It's a complicated or long-term project
You don't know the full scope of the product, only a basic description
The requirements or needs are likely to change
You want to have full control over product creation and development
You need maximum flexibility
You want to pay for spent time only, as compared to a Fixed-Price model it is the most cost-effective solution for long-term projects with changing scopes
9. Fixed Budget/T&M with cap
If you are still worried about exceeding the budget for the project, there's a third cooperation model we can use called Time and Material with a cap. This is the same as a regular T&M contract but with one change, which is that the contract specifies an upper limit of cost that you will not have to pay more than. If the cost of the project rises above the threshold, the development company will cover the additional outlay. This way, you can have all the benefits of a Time and Material contract without the risk of the project cost being far higher than expected.
Fixed Budget/T&M with cap is very well suited for companies that have a very dynamic change of priorities, but still need to keep control over their budget. The key difference between typical Time and Material and T&M with a cap is that Savvycom takes care of budget control. Savvycom monitors the costs, reports how far we are with the progress, and identifies risks if the scope of the project is not delivered in line with the provided plan. The key difference with the Fixed-Price model is the fact that Savvycom allows clients to introduce changes to the scope of work dynamically and recalculates the available budget accordingly. If the budget needs to change, Savvycom reports this as soon as possible and reacts on-the-fly to the client's decisions. This model is the most collaborative and provides the greatest value to the client.
Fixed Budget projects have the same benefits as the Time & Material model, plus:
our Project Manager takes care of budget control 
they are also in charge of managing the work-load to keep all members focused and at full speed as much as possible
Conclusion
Both cooperation model types have their advantages and drawbacks, so each one works best for different types of projects. If you have a small project with detailed guidelines or when you are sure that no changes will be needed, a Fixed-Price contract is a good option.  You will know what the cost of the project will be in advance, and  your product will be ready on the due date. However, you need to be prepared for unexpected issues or errors arising that might either postpone the deadline, result in additional costs or leave you with an unfinished product.
For larger or long-term projects, a Time and Material contract would be a better choice. It offers flexibility and control of the product creation, while also helping you to stay within budget. There's no precise final price or deadline date though, so you need to keep an eye on both the costs and project progress. T&M also relies on frequent contact between your team and the developers, so you'll be spending a lot of time in meetings. 
Looking To Find A Trusted Tech Partner?
Tech Consulting, End-to-End Product Development, Cloud & DevOps Service! Since 2009, Savvycom has been harnessing digital technologies for the benefit of businesses, mid and large enterprises, and startups across the variety of industries. We can help you to build high-quality software solutions and products as well as deliver a wide range of related professional services.
Savvycom is right where you need. Contact us now for further consultation:
Phone: +84 24 3202 9222
Hotline: +1 408 663 8600 (US); +612 8006 1349 (AUS); +84 32 675 2886 (VN)
Email: contact@savvycomsoftware.com
Telemedicine App Development fulfill a natural demand in the digital age: how to bring patients and doctors closer to each other without the need to lose long hours through traveling, but gain all the benefits of healthcare. That being said, Telemedicine should become such an integral part of the healthcare system in the future that it would not be labeled as "Telemedicine" anymore but just another ordinary way to talk to peers or patients. To prepare for that day, let's check out some critical information about Telemedicine you might be yet to know.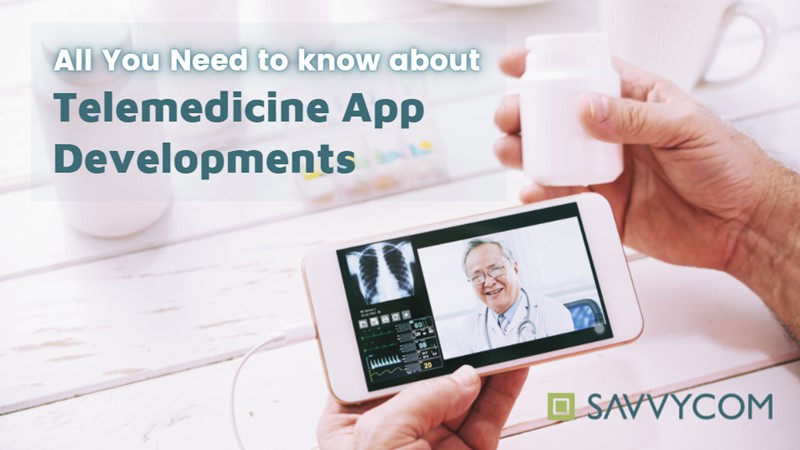 1. What is Telemedicine?
WHO describes Telemedicine as "delivery of health care services, where patients and providers are separated by distance". To put it simply, Telemedicine solutions involve the practice of using communications technology to link healthcare providers to their patients and each other over great distances. Telemedicine manifests in a number of ways, all of them centered around data transfer and communications. If your practice consults patients over the phone, for example, you're already practicing Telemedicine.
In the times of the COVID-19 global pandemic, Telemedicine Software Development became even more relevant and started transforming healthcare to the next stage. The main goal of telemedicine is to provide patients with quality, cost-effective, health services wherever they are. It is particularly valuable in remote areas, vulnerable groups as well as aging populations.
2. Types of Telemedicine Applications
Up to today, there are 7 major types of Telemedicine applications, each of them comes to solve a specific problem for remote patients:
2.1. Telemedicine Networks
Depending on the economic resources available and the needs of the medical professionals involved, there are many different ways to distribute medical data. In the United States, many hospitals and clinics use dedicated networks to share information. These can be routed over the Internet or use dedicated data lines. There are hundreds of such networks operating in the US today, linking thousands of different healthcare facilities.
2.2. Real-time Telemedicine
Real-time telemedicine, a.k.a live telemedicine, makes it easy to do a doctor-patient visit anytime, anywhere. Live telemedicine includes any two-way communications – including video conferencing and phone consultations that let providers and patients communicate in real-time. Assessments of medical history, basic visual examinations, psychiatric evaluations, and even ophthalmic tests can all be done via real-time telemedicine.
2.3. "Store-and-Forward" Practices
Store-and-forward telemedicine makes patient records and medical data more accessible across long distances.  All sorts of useful medical data (e.g. medical imaging, test results, bio-signals) can be acquired and transmitted across vast distances. The biggest advantage of this type of telemedicine is that it doesn't require the simultaneous attention of the delivering and receiving parties. A field technician, caregiver, or specialist can collect the necessary data, upload it, and leave it for detailed inspection by another provider at a later time.
No appointment is necessary, so this type of asynchronous platform is used by many patient-focused telemedicine platforms to solve minor medical issues. Pathology, radiology, dermatology, and many other specialized medical fields rely on this form of telemedicine on a daily basis. Many systems exist to help integrate this type of information into a single cohesive record for an individual patient. Though not all electronic health record systems are interoperable, widespread telemedicine use helps push the industry to make better platforms that can cooperate and communicate.
---
2.4. Remote Patient Monitoring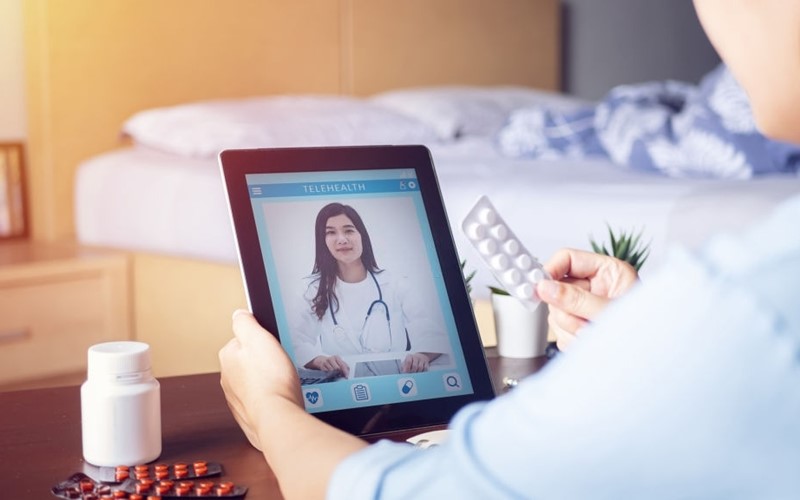 Remote Patient Monitoring – The next step of Healthcare
Another type of telemedicine is called remote patient monitoring. Remote patient monitoring allows healthcare providers to monitor patients' health data from a far, usually while the patient is at their own home. RPM in a Telemedicine App can significantly cut down on the time a patient needs to spend in the hospital, instead letting them recover under monitoring at home.
Remote patient monitoring is especially effective for chronic conditions, such as heart disease to diabetes to asthma. Technology that allows patients to monitor themselves for these conditions has existed for many years, but today, vital health data can be shared with doctors and other healthcare professionals remotely. Cutting-edge equipment can transmit basic medical data to doctors automatically, allowing them to provide a much better level of care and keep an eye out for the earliest signs of trouble.
2.5. Consultation Between Specialists and Primary Caregivers
Telemedicine can improve communications between the members of a medical team. A primary physician can get greater access to a wide range of specialists without requiring any travel. Secure video conferencing platforms make it easy for different professionals to collaborate productively on a given case, with or without the presence of the patient in the communications loop. 
The ability to share patient information quickly and completely improves the overall level of assistance that specialists can provide. In some hospitals and clinics, video consultations are performed with special examination cameras that allow remote specialists to get an up-close look at a patient's condition.
2.6. Medical Imaging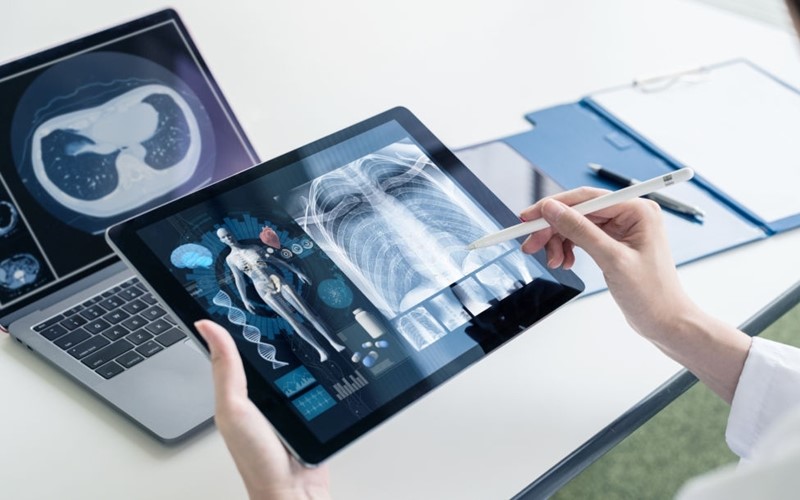 Telemedicine accelerates the future of healthcare
Radiology and other diagnostic specialties deserve special attention in any discussion of telemedicine. Modern technology has vastly accelerated the rate at which x-rays, CT scans, and other important images are distributed from one medical professional to another. Broadband transmission speeds allow these images to be sent from their point of capture to the physicians and specialists who need them almost instantaneously. 
This has allowed healthcare professionals to centralize both the acquisition and analysis of such data despite geographic challenges. For example, a regional hospital may produce x-rays on-site, transmit them to a cardiologist a thousand miles away, and get a useful analysis back within hours.
2.7. Reaching Out To Patients
Thanks to telemedicine, healthcare professionals have multiple ways to interact with patients in their own homes. Web-based services, such as patient portals, allow providers to share basic information and answer simple questions. More robust connections can let professionals gather data from medical equipment in the home such as pacemakers, fetal heart monitors, and pulmonary systems. Patient portals can be used to recommend health-focused mobile apps or educational materials, such as articles and videos. Patients may even connect with physicians in virtual visits, face-to-face, from their own homes.
Telemedicine is an extremely fertile field that has dramatically altered the face of healthcare in a relatively short amount of time. By improving the breadth and frequency of communication and information sharing between patients and medical professionals, it's dramatically improved the overall levels of healthcare service available to individuals around the world. In the future, refinements in the field will create a global network of doctors and other health professionals who can engage and educate their patients to a truly unprecedented degree.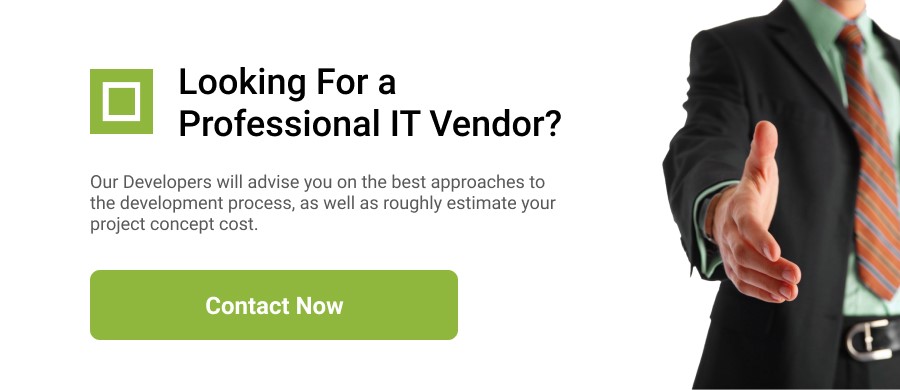 3. Technologies Used in Telemedicine Apps Development
In order to build a telemedicine app you need to be aware of the technologies powering the application. The technology used will have an influence on the features which will eventually be implemented in the final product.
3.1. Chatbots
Artificial intelligence in telemedicine is used for chatbots. A simple FAQ chatbot which has already been programmed with multiple answers can give user information about the doctor's schedule, competency etc. They can also help user book a consultation. Thanks to chatbots, some of the routine processes can be automated.
3.2. Blockchain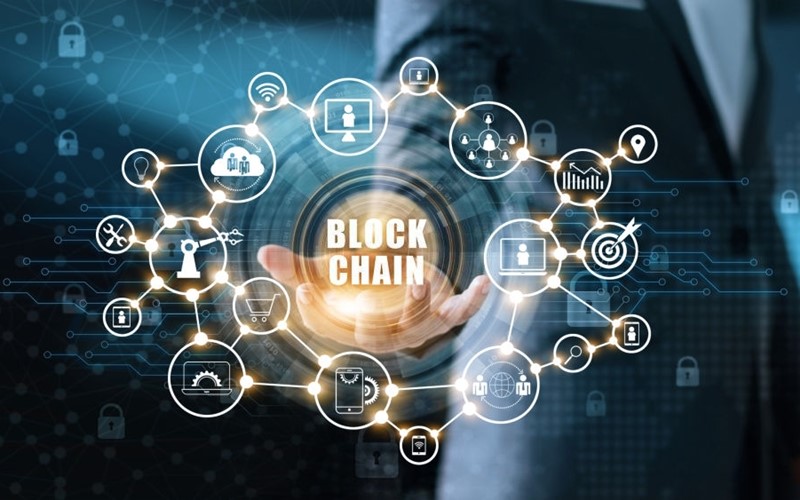 Blockchain help with data privacy
Blockchain allows patients and doctors to share data in a secure encrypted format. It is the answer to the question of how to make a telemedicine app more secure. Blockchain allows doctors to keep the detailed patient history with their treatments, procedures, tests and lab results. It makes those records more efficient to transfer and because of the digital 'chain of blocks' it is close to impossible to change or tamper with a single block. Using blockchain technology helps with legalities since blockchain is immutable – it ensures claims are accurate and cuts down on insurance fraud and patient claims.
3.3. IoT (Internet of Things)
Telemedicine also includes tablets, medical kiosks, digital cameras, smartwatches, etc. And the Internet of Things contributes to vitals tracking, diagnosis, treatment suggestions, medication adherence, built-in emergency response systems, and more. The perfect blend of medical hardware and software eventually leads to better patient care during telemedicine app development.
3.4. Cloud Storage
Storing data can be done either in the cloud or on-premise. More and more businesses recognize the advantages of having a cloud environment with solutions like AWS or Google Cloud. Savvycom can handle setting up cloud storage for you with the best tools on the market with our DevOps cloud services.
4. Important Considerations in Telemedicine App Development post Covid-19
In the 2020 Value-based Care Summit, an overwhelming majority (96%) of industry leaders believe that the role of Telemedicine will continue to grow further than COVID-19 in the industry. Only 4% of respondents believe that it will stay the same.
That being said, organizations will continue building their Telemedicine programs to support their growth strategy. 68% of conference attendees planned to further invest in Telemedicine following the public health emergency. Another 44% said they plan to invest in IT infrastructure and capabilities, which are the foundation for more disruptive Telemedicine solutions. Robust IT capabilities allow Telemedicine programs to thrive.
In another discussion regarding the same issue how Telemedicine App remain the trend post Covid-19, the American Medical Association believes that although doctors may be turning back toward traditional office visits, Telemedicine will remain a way for doctors to maintain a relationship with patients for at least some years:
"Telemedicine has been a critical means for providing care during the COVID-19 pandemic and will continue to be a vital tool, even as in-person visits are accessible for some," says Susan R. Bailey, MD, president of the American Medical Association.
---
On top of that, a recent research by McKinsey has evaluated the change in Telehealth dynamics and found that the pandemic has created a great shift in the outlook for Telehealth. According to its associate partner, Oleg Bestsennyy, many of those dynamics are likely to be in place for – at the very least – the next 12 to 18 months, as concerns about COVID-19 remain until a vaccine is widely available. During that period, consumers' preferences for care access will continue to evolve, making virtual health become more deeply embedded into the care delivery system and fuel the trend to last.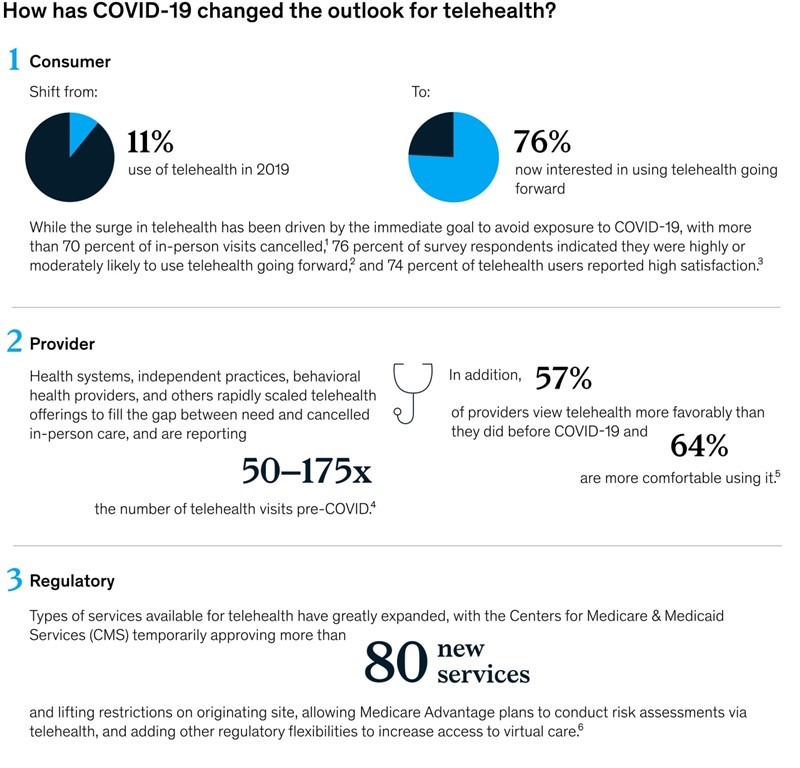 McKinsey's evaluation of future Telehealth landscape
Being a subset of Telehealth, Telemedicine App will be likely to inherit from such a projection and continue being a trend for a time after the pandemic has passed away. In the end, we can safely say that the fascination upon Telemedicine App Development will not end anytime soon.
5. Successful Use Cases in Telemedicine App Development
The British subscription, online medical consultation and health service, Babylon Health, offers medical AI consultation based on personal medical history and common medical knowledge as well as live video consultation with a real doctor whenever a patient needs it.
In the first case, users report the symptoms of their illness to the app, which checks them against a database of diseases using speech recognition, and then offers an appropriate course of action. In the second case, doctors listen and look carefully to diagnose the patient and then write prescriptions or refer to a specialist if required.
The New York-based company was established in 2002 and it is the largest telehealth platform in the United States. Teladoc is a real success story: it was listed 27th on MIT Technology Review's list of the "50 Smartest Companies" in 2015. More than 17 million people used its services as members and more than 1.6 million visits were carried out. The professional network consists of more than 3,600 licensed healthcare professionals who have 20 years of experience on average.
Teladoc has approximately a 10-minute response time before patients are connected with a physician. Approximately 92% of patients that use Teladoc have their issues resolved, which shows an efficient platform and effective medical professionals participating in it.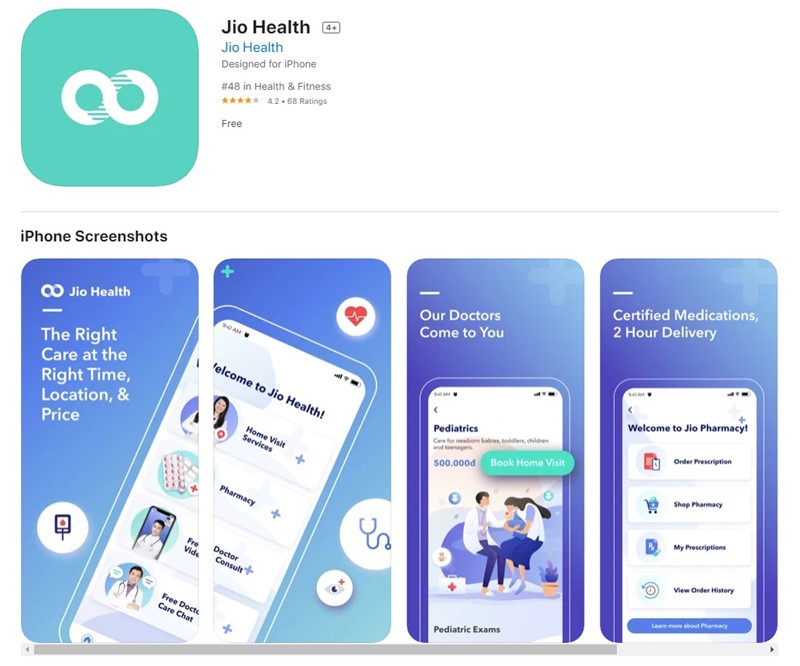 Jiohealth – Made by Savvycom
Jio Health is a leading Telemedicine solution in Vietnam and was developed by Savvycom. The scope of Jio Health's services range from pediatrics to primary care, chronic disease management and ancillary services, which will soon cover areas like eye care, dermatology and cancer. Some key highlights of Jio Health includes:
Application of high-quality WebRTC, allowing communication via a common set of protocols.

Offering an all-in-one place for a better managed, more engaged, and instant access to healthcare service.

Integration with Fitbit and Jawbone, ultimate wearable technology devices, help optimise health track progress with deep insights.
With innovative technology and smart experience design, Jio Health is welcomed by Vietnamese patients, making it the #39 most-wanted Health & Fitness app on global App Store and #1 in Vietnam. The company is on its way to address up to 80% of consumers' needs by itself, and is actively developing referral partnerships with certain hospitals to bring Telemedicine closer to everyday's life. By any means, Jio Health as a Telemedicine solution is making huge success in Vietnam.
Do you need a highly professional team for Telemedicine App Development?
Our team can help you with the development of your application. Contact us to get a free initial consultation regarding your project and its estimation in terms of cost, timeline, and needed technical talent.
---
Doctor-on-Demand
This is one of the best apps for online doctor consultations. The app matches patients with doctors within three minutes using video conferencing. The app is available on smartphones, tablets, and laptops. The patient lists their symptoms, then tells their medical history, gets connected with a doctor, and finally gets the necessary prescriptions. These days, the app is ranked in the top 20 within the medical category according to App Annie, the global mobile market data provider.
Founded in San Francisco, the startup collected as much as $86.75M in investments from Google and Richard Branson.
The service price is slightly higher compared with similar services, but is covered by a few insurance companies. The unique app offering is the integrated laboratory diagnostics.
Medici
This recent telemedicine startup is remodeling the industry, as mentioned by Crunchbase. The app raised $46.6M in an angel round and aims to connect individuals to all their existing doctors. Named the "WhatsApp of Healthcare," the app allows practitioners to connect directly and securely via video or texting.
6. How can you promote & monetize Telemedicine Solutions
Promoting Telemedicine App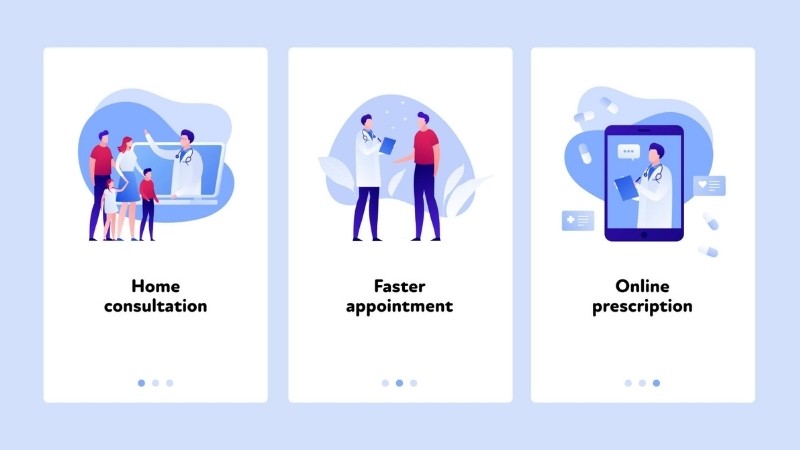 How Telemedicine App contribute to better Healthcare
Telemedicine will continue growing, however, successfully capitalizing it is another story for businesses. There are some actions healthcare stakeholders should take to make sure the trend is in their favor:
Define a value-backed virtual health roadmap

, taking a data-driven view to prioritize interventions that will improve outcomes for priority populations, and develop strategies to digitally enable end-to-care care journeys.

Optimize provider networks and accelerate value-based contracting to incentivize Telemedicine

. Define approaches (beyond the immediate COVID-19 response measures) to reimbursement and covered services, embed in contracting, and optimize networks and value-based models to include virtual health. Align incentives for using Telemedicine, particularly for chronic patients, with the shift to risk-based payment models.

Build virtual health into new product designs to meet changing consumer preferences and demand for lower-cost plans

. This new design may include virtual-first networks, digital front-door features (for example, e-triage), seamless "plug and play" capabilities to offer innovative digital solutions, and benefit coverage for at-home diagnostic kits.

Integrate virtual health into the care delivery approach

. Given the significant disruptions to providers, payers are reassessing their role in care delivery – from ownership of care delivery assets, value-based contracting, or anything in between. Consider options in virtual health (for example, platforms, digital-first providers) as a critical element of this approach.

Reinforce the technology and analytics foundation

that will be required to achieve the full potential of virtual health or Telemedicine specifically.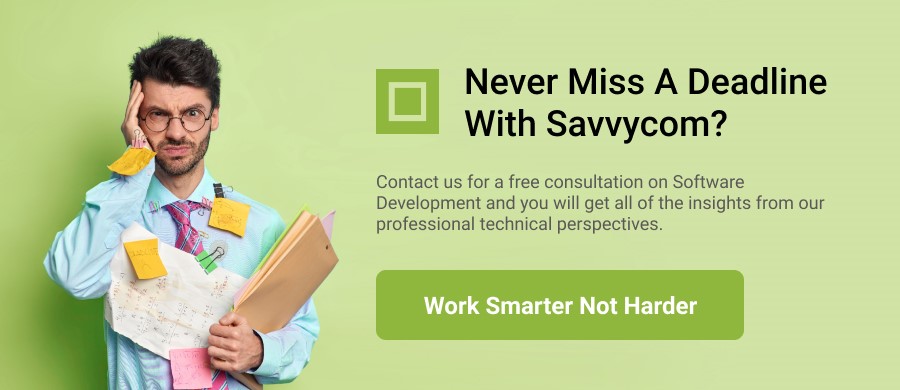 Monetization of  Telemedicine App
The monetization of Telemedicine applications can be done in a variety of ways. These include advertising, in-app purchases, subscription model, sponsorship, crowdfunding, and more. Telemedicine app monetization should come from the concept and target customer. However this strategic decision should be well thought out beforehand.
One of the most common ways to build revenue streams in telemedicine apps is through fees. Similar to the Uber or Grab revenue model, it is also possible to receive some percentage from a service. For instance, the Doctor-on-Demand app charges a patient a 25% fee. This rate can be adjusted depending on the consultation specifics, doctor specialization, consultation duration, or other metrics.
To summarize, telemedicine app development can include the following monetization models:
Consultation Fee (can relate to consultation duration, specialist, etc.). The Tele Doctoral program by the Norwegian Telenor Group uses this model and charges $0.08 per minute.
Membership (or subscription model – e.g. monthly payment for doctors and/or patients). Myca Nutrition utilizes this approach and distributes its product in other countries.
Franchising (a product can be distributed as a franchise). It is possible to offer a software product overseas if the local market has a lot of competition). An example is SkyHealth, which sells its franchise for $3,000.
Software as a service (provide the software product in the form of a service to medical establishments). For example, Doctor-on-Demand SaaS charges around $1 per employee, per month.
7. Begin you Telemedicine App Development wisely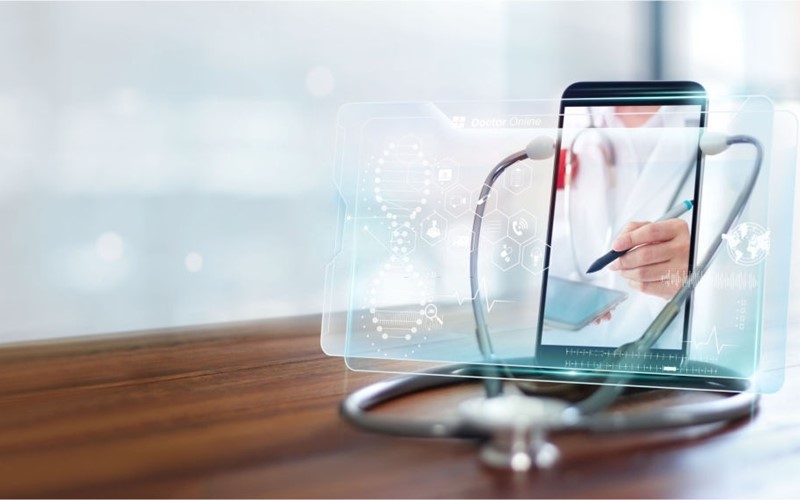 Telemedicine App – The next step in Telehealth Services
Here we would like to inform you about the key challenges in the telemedicine industry. Please take the following aspects into account during telemedicine app development:
The logic, navigation, and layout should be created in accordance with the target user needs. The user experience as well as the user interface in a doctor app must differ from the needs of the patient app.
In terms of functionality, there are some public third-party services that can be integrated into a telemedicine app. It is quite necessary to study their documentation and their fit for the system upfront.
Data Privacy & Security of Telemedicine Apps
Telemedicine apps should be able to ensure high security of healthcare records, especially personal data more specifically personal health record. All the necessary precautions should be taken in order to store, exchange, and proceed with this sort of information. During telemedicine app development phase, developers need to make use of multi-factor authentication, biometric identification can be a great option since almost smart phone nowaday carry fingerprint sensor or even facial recognition. As for the data exchange, it is essential that you include high-end encryption protocols.
Telemedicine apps may still lack adequate trust. These solutions are more widespread in the more developed markets of the USA and Europe. Proof of doctor professionalism, a clear review system, and well thought-out promotion can help to gain interest from potential users.
Selection and hiring process of reliable telemedicine app developers
After you've decided how to build a telemedicine platform or telemedicine app, you will need to address another issue – finding a reliable software team. Depending on your business needs, goals, and financial capacity, you can either hire an in-house development team or find a outsourcing company that specializes in telemedicine app development.
Outsourcing company tends to prove more beneficial for business, as it opens up the following possibilities:
Lower rates for development, but with high service quality
No need to deal with the bureaucracy of the hiring process
Access to a wide pool of talent that knows and understands how to develop Telemedicine App
Project management can be delegated to the IT vendor
Looking To Find A Trusted Tech Partner?
Tech Consulting, End-to-End Product Development, Cloud & DevOps Service! Since 2009, Savvycom has been harnessing digital technologies for the benefit of businesses, mid and large enterprises, and startups across the variety of industries. We can help you to build high-quality software solutions and products as well as deliver a wide range of related professional services.
Savvycom is right where you need. Contact us now for further consultation:
Phone: +84 24 3202 9222
Hotline: +1 408 663 8600 (US); +612 8006 1349 (AUS); +84 32 675 2886 (VN)
Email: contact@savvycomsoftware.com