3 Main Tips for Starting a New Peer-to-peer E-commerce Website
Along with the massive growth of Peer-to-peer Economy, it seems to be "you are late" in the E-commerce competition if your business doesn't build a Peer-to-peer E-commerce website. With the big advantage of online marketplaces like connecting supply and demand, saving time and money for customers, the potential for this market place will be much developing and become a dominant platform in the future.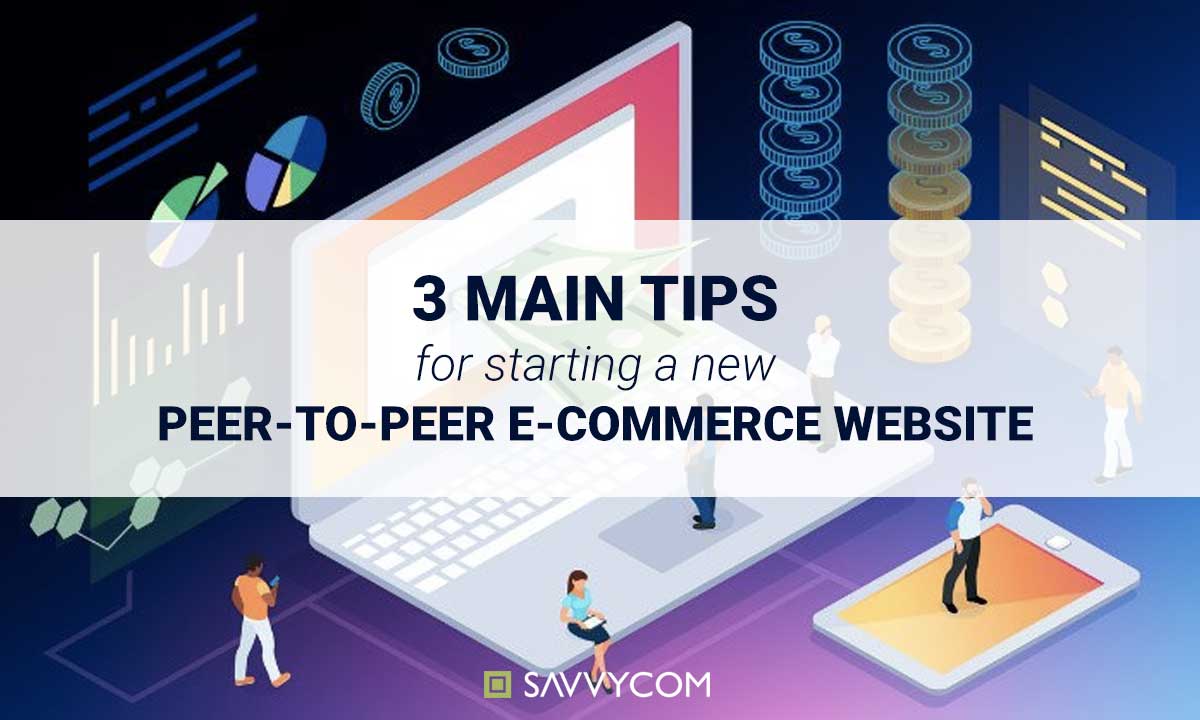 First things you should consider to start a marketplace
2 main aspects you must notice in the beginning:
Build the platform, specifically MVP (Minimum Viable Product)
Introduce your new marketplace in an attempt to get the first users to sign up and receive feedback from them
And 3 questions you need to have the answer for:
What are your initial budget and per-month budget in the 1-year term?
What is your intended time to launch your MVP and certify your ideas by receiving feedbacks from first users?
How much time do you need to spread the word out for your marketplace and how much does it cost to do that?
4 options to start building a Peer-to-peer E-commerce website with a friendly budget (or even free)
1. Hire a developer to build a brand new Peer-to-peer E-commerce website
This is always the first option that any business can think of. With quite a medium initial budget, you can build your own customised Peer-to-peer E-commerce website that can meet your requirements about user experience/ user interface. The positive side is that you fully control the process of building your E-commerce website. But the drawback is that it's not a friendly budget, compared to other options I will list below.
Savvycom worked with CRAVE Vend before to build up a decent, substantial Peer-to-peer E-commerce platform. With the integration of Ultimate Online Ordering feature that Savvycom developed for, Sales and Productivity increases, waiting time for customers is reduced. We also build MercuryPay, the fast, reliable and secure payment gateway for CRAVE Vend to boost up the efficiency of payment.
2. Buy a Peer-to-peer E-commerce website that someone developed before
If you can find a Peer-to-peer E-commerce website that is selling now, it's a really great option.
The great advantage here is that you can save a lot of time and launch it out to the market right at that moment if you want. Instead of waiting for developers to build the brand new website like the first option, you can spend time on the experiment and spread the word for your product, focus on attracting new users and improve your websites based on the feedbacks.
Along with the benefits, we also have its shortcoming too. It is really rare to find the perfect Peer-to-peer E-commerce website right in the beginning because no one wants to sell their ideal products. If they do, they will require you quite a good part of your budget. With the E-commerce website, you are not totally satisfied, you still need to hire a developer to improve the function of your website.
WooCommerce, Shopify, Magento, etc, are excellent addresses you can visit to buy a Peer-to-peer E-commerce website. These sites host thousands of fully customizable E-commerce platforms in totally Free price with open source.
Below are useful comparisions between these well-known e-commerce platforms.
3. Build the Peer-to-peer marketplace on your own
This option is intended for anyone who already knew to code in the first place, or your budget is not that much and you want to explore diligently how to code. The great favour here is that you can save quite an amount of budget for other important things after, and you learn a new interesting coding skill if you just start it over.
But, the difficulty following after can be an impediment more than you expected. For coding learners, you can save money but it costs you a lot of time when you have to learn from the most basic things. For high-skilled coders, it is still an enormous task to create a two-sided marketplace. And the time to spend on coding can take up your time to spread the word and build your business to thrive in the first stage.
4. Your Co-founder is a developer or you can find one
This way is taken advantage thoroughly by university students who want to start their online business with a limited budget. This approach is really paid off if you cooperate well with the developer. It still takes your business time to launch the MVP depending on the skill of the developer.
After launching the Peer-to-peer E-commerce website, the developer may have other tasks to deal with. Because when building marketplace task has completed, other tasks are more prioritising, and the developer needs to do this task too.
To be a partner to run a business, it requires many skills in the near expertise level such as communication, negotiation, persuasion, etc. If the developer knows more than coding skill, that's fine. But if coding is the one and only skill this developer knows, it can take time to train to him/her other skills.
2 more Tips to build a peer-to-peer marketplace
1. Determine your target
If you have an intention to create a marketplace, defining the market is completely important. Setting up the market broader than normal, chances are, you will miss the specific character that your products/ services offer to the customer. On the contrary, when you set up the market too narrow and focused, there are high chances that you miss the opportunity to reach the numbers of the target audience you set the goal before.
This first step is crucial because you need to research to evidently define the goal and the specific target attached to your goal. It's even more important to entrepreneurs when they first step into the new industry. They had better understand the industry, including specific circumstances, market share, market growth, etc. They can also reference in similar companies in the same market as your business, learn how these companies detect and deal with issues, crisis. Learning how to define your business with the unique, special offers that make you be different from other competitors is really essential too.
By its localization strategy in researching rich-culture countries in SouthEast Asia, Grab is the winner in the ride-sharing battle. Not the first ride-sharing start-up like Uber, Grab doesn't have competitive advantages to directly confront Uber in every field. But, Grab can have many lessons from the predecessor Uber and create their own niche market: 'positions Grab as a multi-local, culture-adaptability company'
2. Find 'the face' for your business
Who is 'the face' of your companies? Salespeople, right?
I can say that salespeople are one of the most powerful forces that can boost up your business to the next level and even outperform the set goals. But finding the right force is never that easy.
One of the key characteristics that you can look for and recruit salespeople is Passion. Passionate salespeople can convey their energy, enthusiasm and knowledge to potential customers, encourage customers to find out more and have engagement with the products/ services like they do.
And of course, to have that energy and enthusiasm, the salespeople need to thoroughly understand the products/ services that your company offers. Furthermore, your company's mission statement, as well as an overall strategy, should match with the vision and career development of each individual in the Sales team. That's why in the interview, you should carefully judge Sales candidates right at the beginning so that there is no mismatch between you and your Salespeople.
If you have an intention to build a trustworthy, appealing Peer-to-peer E-commerce website, Savvycom is the trusted partner to answer all your questions about this issue.
Savvycom is willing to give you a free consultation on how you should take advantage of the technology to boost up your business and enhance business performance. Please do not hesitate to contact us via:
We're happy to discuss with you to find out the right mobile app solution and send out our professional team and experts to support you in the projects.