Dang Thi Thanh Van (born 1980) is a renowned entrepreneur in the field of technology and an inspirational figure for women in Vietnam. She founded Savvycom in 2009 and has led the company into one of the top 30 technology companies in Vietnam. Savvycom specializes in consulting and providing software solution services in finance, healthcare, and retail for domestic and international businesses.
Currently, Ms. Thanh Van is holding the positions of Vice President of Vietnam Alliance of Digital Technology Enterprises (VNITO), Vice President of Hanoi Women Entrepreneurs Association, member of Steering Committee of Aus4Innovation program. Ms. Van has spoken on innovation and digital transformation at many major events such as TEDx, APEC and the ASEAN Business and Investment Summit, and is a regular judge at startup competitions.
In 2021, Ms. Thanh Van was honored to be selected as Asia Society Victoria Distinguished Fellow.
Background:
After 4 years of studying abroad and graduating with a Bachelor of Computer Science from the University of Sydney (Australia), Ms. Dang Thi Thanh Van spent the first time in the country working at a research institute of VNPT Group of Posts and Telecommunications, a software company in a joint venture with Denmark. Still, she decided to start a business of her own with her vast IT knowledge and skills.
At that time, Ms. Thanh Van always had a belief that there was a way for Vietnamese information technology (IT) engineers to provide quality services to meet rigorous global demands in 2009. She and her friends founded a technology company called Savvycom – the convergence of Vietnam's leading IT strategists and experts.
Over 12 years since its establishment, up to now, Savvycom has achieved many successes: Top 30 global mobile application companies (voted by the US); it is the only Vietnamese enterprise that can participate in the Apple Consultants Network (Apple's consulting network) – including independent technology service providers specializing in Apple solutions for businesses in South East Asia. For many consecutive years, Savvycom was honored as one of the top 30 technology companies in Vietnam.
Personal Achievements: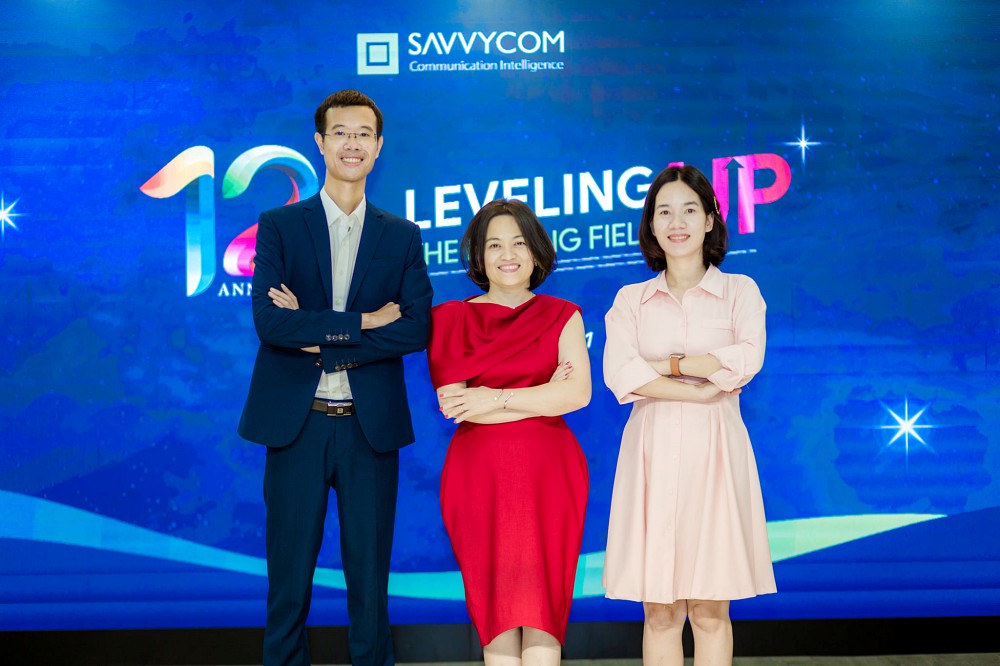 Savvycom 12th Anniversary
2021 Asia Society-Victoria Distinguished Fellowship

2021 Advance Award Finalists, Alumni.

Fortune-U.S. State Department Mentee, Global Women Mentoring Program, 2020

Most Prominent Australian Female Alumni, Australian Embassy in Viet Nam, 2019

Speaker on the topic "Technology Innovation and Women in Leadership" at the EIS Summit taking place in Melbourne, Australia, 2018

Vice President of VNITO Alliance (Vietnam IT Outsourcing Alliance)

Forbes magazine 15 Global Leaders to Watch, 2017

ASEAN Female Entrepreneur of the Year hold by ASEAN Business Advisory Council, 2017

Top 100 Outstanding Start-up Entrepreneurs hold by Vietnam Young Entrepreneurs Association, 2016

 Hanoi Most Distinguished Entrepreneurs 2016 hold by The Youth Union of Hanoi

 Merit of Outstanding Achievement and official mentor of Cherie Blair Mentoring Program

 First Winner of the Mekong Women's Entrepreneurship Challenge hold by World Bank, 2013

 More than 15- year' experience in Software industry
 Bachelor's Degree in Computer Science from University of Sydney, Australia