The Ultimate Guide To Business Messaging Software
Effective communication is paramount in the business world as it ensures the smooth functioning of operations. It allows for the clear and concise transmission of information, ensuring all team members understand instructions, goals, and expectations. It minimizes errors, leading to increased efficiency and productivity. 
Moreover, effective communication fosters strong relationships within the workplace. Team members feel valued and supported by promoting open dialogue and active listening. Collaboration and teamwork thrive when individuals express their ideas and concerns freely, leading to better problem-solving and innovative solutions. 
Besides, effective communication is crucial for building and maintaining relationships with clients and stakeholders. Clear and effective communication builds trust, enhances customer satisfaction, and strengthens partnerships. It enables businesses to understand customer needs, address concerns promptly, and deliver exceptional service, ultimately leading to long-term success and growth. Companies of all sizes increasingly use messaging software to streamline their communication processes. 
Messaging Software: An Overview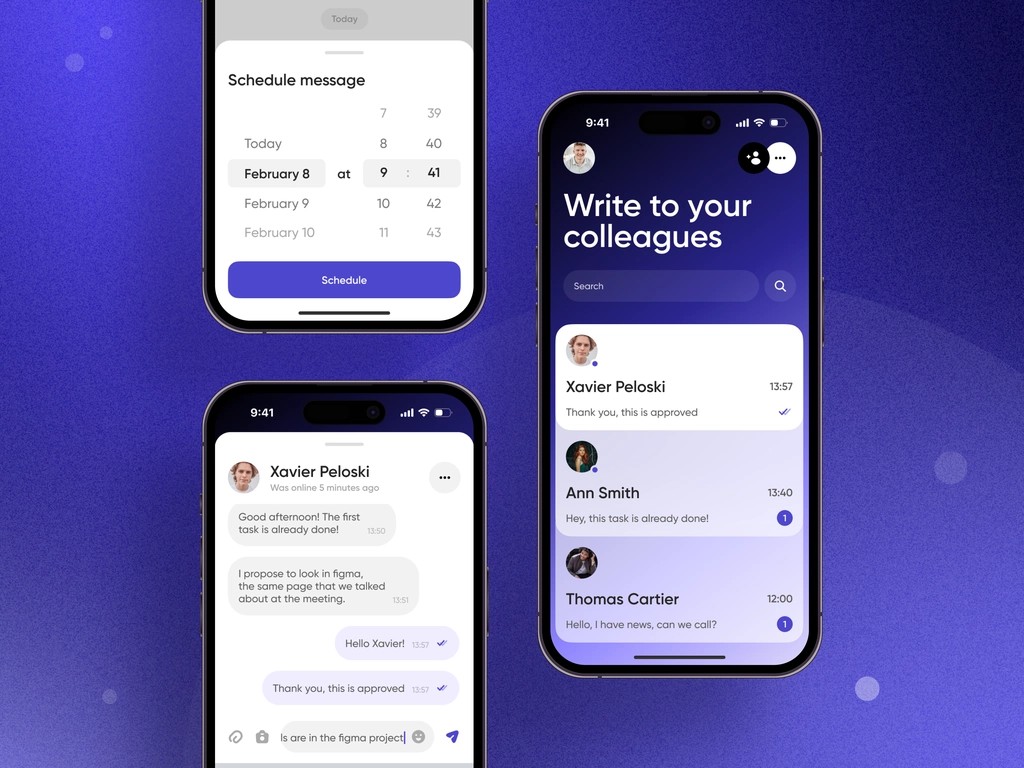 Messaging software refers to a computer program or application designed to facilitate the exchange of messages between individuals or groups. It enables users to send and receive text-based messages, typically in real-time, through different electronic devices such as computers, smartphones, or tablets. Messaging software encompasses various services, including instant messaging apps, email clients, and social media platforms. 
One example of a communication tool is the Ringless Voicemail Drop Software, which focuses explicitly on delivering voicemail messages without the recipient's phone ringing. This software allows users to leave pre-recorded voicemail messages directly in the recipient's box, avoiding an incoming call's interruption and potential discomfort. Such an application can be utilized for various purposes, such as marketing campaigns, customer outreach, or personalized messaging, offering a non-intrusive communication channel for businesses. 
Benefits Of Messaging Software In Business Communication And Growth 
There are several ways your business can benefit by utilizing messaging software. These include;  
Streamlining Internal Communication 
Time, as they say, is gold in the realm of commerce. Is your day dominated by the constant juggle of emails and messages? You're not alone. Implementing messaging software can usher in a new era of orderly, efficient communication. It's like swapping a chaotic traffic jam for a smooth, open freeway. 
You can relay essential updates or receive team inputs in just a few clicks without getting lost in unread emails. It means more time on your hands to focus on driving your business toward success. 
From fostering instant communication to reducing information overload, messaging software can be the catalyst to make your business operations more efficient. 
Silos can lead to miscommunication or, worse, missed opportunities. But fret not! Messaging software is here to the rescue. By bridging gaps, these modern platforms facilitate seamless information flow across teams. No more 'broken telephone' or misinterpretations. The result is a collaborative, unified workforce primed for achievement. 
Beyond eliminating communication barriers, messaging software promotes a company culture of openness and transparency. It's like building invisible bridges between islands of ideas, leading to a unified mainland of shared visions and goals. 
Improving Customer Engagement 
Step into the shoes of a customer for a moment. You have an urgent query. Would you rather wait for an email response or get an immediate answer through a chat? The latter seems more appealing. Messaging software allows you to deliver swift, efficient customer service. 
Not only does it enable real-time interaction, but it also humanizes your brand. This interactive engagement fosters trust, turning customers into brand advocates. In this era of instant gratification, prompt and personalized responses can set your business apart. Messaging software helps you build stronger connections with your customers, enhancing their overall experience and loyalty to your brand. 
Mobilizing Your Workforce 
The thought of a flexible, mobile workforce is quite enticing. Well, this doesn't have to remain just a thought. With the advent of messaging software, you can turn this into reality. 
Whether your employees work from a coffee shop, at home, or halfway across the globe, these platforms keep everyone in the loop. It enables you to create a virtual office that transcends geographical boundaries. 
In addition to providing flexibility, this also leads to increased employee satisfaction. After all, happy workers form a high-performing team. 
Enhancing Document Sharing And Collaboration 
Remember the days of sifting through different versions of documents, trying to figure out the most recent one? Those days are history. Enter the world of hassle-free document sharing with messaging software. It allows you to instantly share files, ensuring everyone works from the most updated document.  
Facilitating Swift Decision-Making 
With messaging software, waiting hours or even days for crucial decisions can be a thing of the past. These platforms serve as catalysts for swift, informed decision-making processes. Real-time conversations allow for immediate problem-solving and quick resolutions. 
The ability to make instant decisions is efficient and empowers team members. They can quickly discuss issues, deliberate solutions, and make confident decisions without delay. This speed in decision-making can give your business a significant edge in today's fast-paced corporate world.

In the digital age, data security is paramount. Thankfully, messaging software comes equipped with robust security measures. From encrypted messages to secure file transfers, these computer programs ensure that sensitive information remains confidential. 
While facilitating seamless communication, messaging software also upholds the integrity and privacy of your business data. This combination of effective communication and stringent security measures reinforces trust among your team members and customers alike. 
Choosing The Right Messaging Software For Your Business 
As detailed above, integrating messaging software into your business communication systems has numerous benefits. However, you must use the right application. But with many messaging solutions on the market, deciding which is most suitable for your business needs can be overwhelming. Here are strategies to streamline the process: 
Evaluate Your Business Needs 
Embarking on the journey to find the right messaging software starts with a thorough understanding of your unique business landscape. What are your key communication pain points? What features could streamline your workflow? It's critical to outline these necessities as a starting point. 
Consider the size of your team, the nature of your projects, and the complexity of your operations. Each factor plays a significant role in determining the most suitable application for your needs. It's not a one-size-fits-all scenario. 
Consider User-Friendliness 
Ease of use is another critical factor when choosing messaging software. Your team should be able to navigate and utilize its features effortlessly. 
A platform with an intuitive user interface will minimize the learning curve for your team, which translates to less time training and more time doing productive work. Also, consider software compatible across various devices, allowing your team to stay connected anytime, anywhere. 
Another key consideration when selecting messaging software is to envision the future of your business. As the company grows and evolves, so do its communication requirements. The messaging software you choose today should be flexible to adapt and grow with the business. 
Investing in a scalable solution means selecting a platform that can handle increased users, teams, and data volumes. This foresight ensures the software remains relevant and valuable as business needs evolve, protecting it from future disruption. 
Ultimately, the ideal messaging software is one that not only meets the company's present needs but also accommodates its future growth and expansion. 
Evaluate Customer Support 
In the world of technology, facing technical issues or questions is almost unavoidable. When these situations arise, reliable and responsive customer support is invaluable. Choosing a messaging software that offers excellent customer support ensures any issues are quickly resolved, minimizing disruption to your business operations. 
The best platforms provide multiple channels for support, such as live chat, email, and phone calls. This round-the-clock assistance can make all the difference in seamless daily operations.  
Scrutinize Security Measures 
Security is a non-negotiable aspect when it comes to business communication. Before deciding on a messaging platform, dive deep into its security features. Does it offer end-to-end encryption? What about adherence to data protection laws such as HIPAA Compliance? These are critical questions that need answering. 
Remember, protecting your business data is not just about preventing potential breaches. It's also about maintaining your reputation and customer trust. Therefore, choosing messaging software that offers robust security measures is vital.  
Analyze Cost-Effectiveness 
Every business decision comes down to the bottom line. While free options might be tempting, they often come with limitations. On the other hand, the most expensive software might offer features your business doesn't require. 
Therefore, when selecting messaging software, it's crucial to assess the value it offers relative to its cost. The right choice will be a balance between affordability and functionality. 
Typically, considering the cost-effectiveness of messaging software means weighing its features and benefits against its price. Invest in a platform that enhances communication and collaboration without imposing a heavy financial burden. 
Future Trends in Business Messaging Software 
As you adapt to the fast-evolving world of business communication, it's worth exploring the future of messaging software. Below are four key trends poised to shape this landscape and how they could shape your business communication:
Embracing Artificial Intelligence 
Artificial Intelligence (AI) is breaking barriers across numerous sectors, and business messaging software isn't being left behind. Imagine a world where your messaging platform offers automated responses that are so accurate they feel human. That's the potential power of AI. 
In the future, more sophisticated AI integration in messaging platforms could revolutionize your business communication. Think predictive text options that speed up your response time or an AI tool analyzing your communication patterns to suggest more efficient practices. Ultimately, AI integration in messaging software makes your communication processes faster and smarter.  
Enhanced Collaboration Features 
With the rise of remote work, you need tools that facilitate communication and enhance collaboration. Future messaging software will offer advanced features that transform how you collaborate with your team. 
Envision this: a platform where you can not only exchange messages but also share files, assign tasks, track progress, and sync calendars. Future messaging platforms could become your all-in-one tool for project management and communication. 
The line between messaging software and project management tools is blurring, and this trend could redefine how you collaborate with your team, no matter where they are. 
Your business is unique, and your communication needs are too. That's why the future of messaging software is likely to lean heavily into customization.  
You could set up custom chat groups based on projects or departments, choose notification settings that suit your work style, and more. In other words, you could mold the platform to reflect your operational needs and company culture. 
With such customization at your fingertips, your messaging platform could become a mirror of your business, enhancing effectiveness in communication. 
Rise Of Omnichannel Messaging Platforms 
Today, your business communication likely extends across multiple channels – emails, texts, phone calls, and more. Managing them can be overwhelming, and that's where the future of messaging software comes in. 
An omnichannel messaging software could simplify your communication process by providing a single, integrated platform for all your business interactions. 
This integrated platform will allow you and your team members to switch between channels effortlessly, maintain a consistent communication history, and ensure no message gets lost. This approach could be a game-changer, providing a streamlined and comprehensive communication solution. 
Takeaway 
Effective communication is the lifeblood of successful business operations. It fosters robust intra-office relationships and bridges gaps with clients and stakeholders. In this context, messaging software emerges as an effective solution, serving as the linchpin of efficient, simplified organizational communication. 
Leveraging messaging software can eliminate communication silos, bolster customer engagement, and mobilize the workforce. Beyond that, it facilitates seamless document sharing and collaboration, enables agile decision-making, ensures data security, and provides scalability. This powerful tool is instrumental in transforming how organizations function, making them more agile and responsive. 
You must choose the right messaging software that aligns with your unique business needs. Also, consider future-forward trends such as AI integration, enhanced collaboration features, customization options, and omnichannel capabilities. By doing so, you can unlock the full potential of communication tools, fostering growth and success amidst the dynamic business landscape.