Top 10 E-Learning Platforms in the 2021
Covid-19 and the global pandemic have already created a new world where the eLearning industry's potential is enormous. By 2022, the size of this industry is expected to amount to a whopping $243 billion. And importantly, it's expected to grow at over 5% CAGR (Compounded Annual Growth Rate) yearly till 2022. The numbers and the prospect of 2021 when lockdowns due to Covid are more than likely still in effect, are compelling. It all now boils down to choosing the best eLearning platform to host your courses.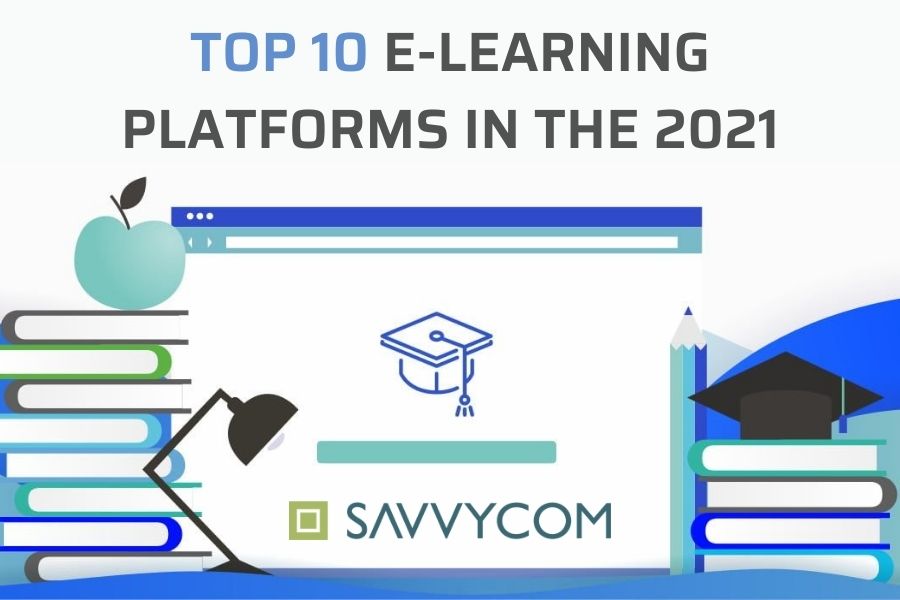 What is E-Learning Platforms?
Learning through online platforms is becoming a common way of enhancing the mode of education in this digital world.
E-Learning is learning utilizing electronic technologies to access educational curriculum outside of a traditional classroom. In most cases, it refers to a course, program or degree delivered completely online. It is interactive where you can also communicate with your teachers, professors or other students in your class. Sometimes it is delivered live, where you can "electronically" raise your hand and interact in real time and sometimes it is a lecture that has been pry recorded. E-Learning has been proven to be a successful method of training and the education system is making a change in our country.
Learning Management System (LMS) – Wikipedia defines an LMS as "It is a software application for the administration, documentation, tracking, reporting, automation and delivery of educational courses, training programs, or learning and development programs." The learning management system concept came out directly from e-Learning. To make it simple, LMS is used for creating beautiful courses or Exams and tracking the progress of your learners.
There is no big difference between the two. The basic difference is in the application and the methodology by which it is used.
As we can see from above, establishing differences between an LMS and an eLearning platform is complex, and more often than not, it comes down to chosen terminology. In essence, an LMS is a type of platform, because a platform is a base to work from. All LMSs could be considered eLearning platforms, but not all eLearning platforms are specific enough to be considered an LMS. To be a true eLearning platform, an LMS should sit at the heart of your learning strategy. It should be the starting point for all training activities and learning opportunities, including:
Course creation
Content storage
Enrollment process
Delivery
Taking courses
Gamification
Discussion
Social sharing
Certification
Reporting
What are the Pros & Cons of E Learning Platform?
Online courses can be a great way to improve your education level. E-learning has several important advantages and will therefore significantly grow in popularity in the future. However, there are also some downsides to online classes. Therefore, you should make sure to check what you get for your money before joining those courses. If you inform yourself properly, online courses could be a valid alternative to the classical education system for you. Here are a few Pros & Cons that you should know before diving yourself deeper into E-Learning:
---
| | |
| --- | --- |
| E-Learning Pros | E-Learning Cons |
| Flexible class schedule | Requires self-discipline |
| Possibility to watch a lecture again | Good time management necessary |
| Geographical independence | Less interaction with other students |
| Could be used after work | Fewer networking opportunities |
| No commuting necessary | Technology problems |
| Eco-friendly | Reputation of online courses may be low |
| Individual pace | Not available for all niches |
| Perfect for parents | High variance of quality |
| High level of convenience | Higher dropout rates |
| Efficient way of learning | Not suitable for everyone |
---
E-Learning is the future especially in a world affected by Covid-19. "Market research firm Global Industry Analysts projected "E Learning" would reach $107 Billion in 2015 and it did. Now, Research and Markets forecasts show triple the revenue of 2015 – e-learning will grow to $325 Billion by 2025." – Forbes
The Advantages of building an E-Learning website
Does your company really need e-learning system development? Learners seem busy at work and have limited attention to learning. So, if there is an open-source learning platform that do not occupy too much time, they are always eager to learn. Here are the top four advantages of an online learning website!
Time saving – As a business owner, you have to spend time looking for trainers, resources, or venue. Instead, you could just develop a course and send out the link to your staffs.
Reduce cost – Another benefit of e-learning is the cost-effectiveness. You can reduce a lot of travel expenses for employees and instructors or external learning materials.
Increase productivity – Instead of traditional training methods, online education platforms allow users to learn anywhere, anytime with the focused, key information that meets their needs.
Increase employee's retention – One of the biggest problems companies face – employee turnover can now be eased with the e-learning approach. Not only increasing performance, but e-learning also add more quality in their work, making them feel that they are always being kept up-to-date.
1. Udemy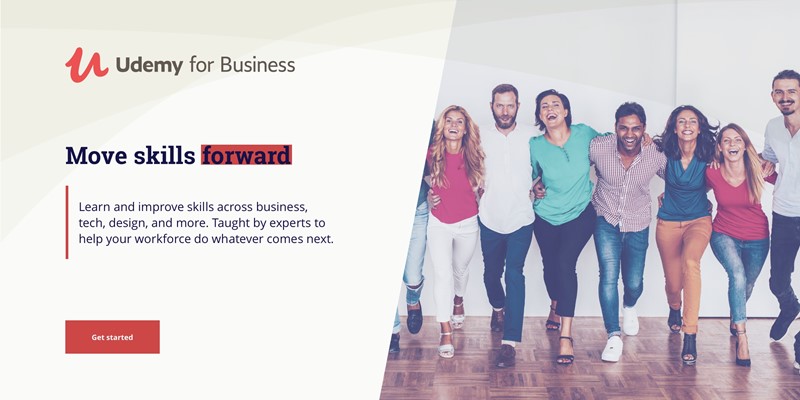 Udemy, Inc. is an American massive open online course provider aimed at professional adults and students
Udemy firmly believes in disrupting and democratizing educational ecosystem by allowing anyone and everyone to learn from its pool of more than 20000 Subject Matter Experts. To a very large extent, Udemy has been successful in its mission. This eLearning platform has many content creation tools such as PDF documents, PowerPoint, etc. text and video content can be collated to create and publish courses. This online training platform can be used by instructors for free. However, Udemy makes big money by taking 50% per sale of your course. Udemy has more than 12 million students.
---
2. Teachable
No doubt, Udemy is a great online training platform. But there is little autonomy for instructors. For instance, Udemy doesn't let instructors control branding and pricing of courses. Also, instructors know little about students. Teachable capitalized on all such limitations. Today, Teachable has more than 3 million students, 7500 instructors, and 20000 courses. The numbers are getting bigger and better. Instructors should pay a monthly fee to access this platform. To attract prospects, this eLearning platform gives a free eBook which clearly explains aspects such as course creation, video creation, slides presentation etc.
3. WizIQ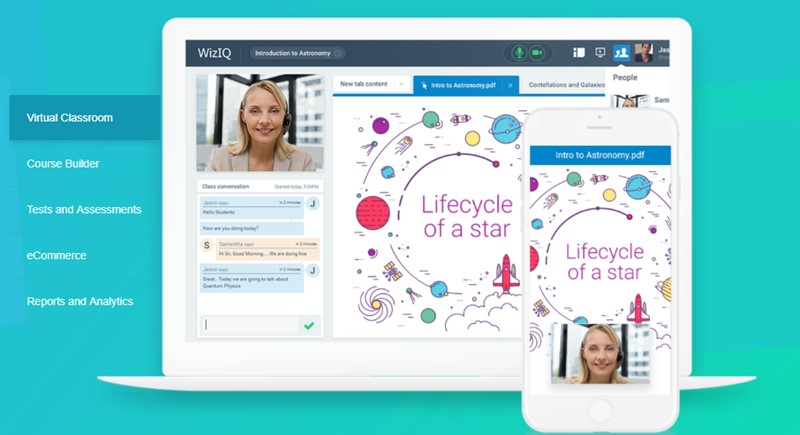 WizIQ is a cloud-based education platform to access teaching and training modules through smartphones and laptops
WizIQ is yet another established name in the eLearning industry. For all intents and purposes, this online teaching software has been the go-to tool for instructors to deliver live and on-demand webinars. It is equipped with enough provisions such as slides, desktop sharing tools, audio, video etc. WizIQ is very common among academic course content creators. It's effortlessly easy to create courses and publish them on WizIQ online marketplace. By the way, WizIQ is known to provide a host of plug-ins for popular learning management software such as Moodle, Sakai etc
Are you looking for a Custom Software Development Team?
Contact us for a free consultation on Software Development and you will get all of the insights from our professional technical perspectives. Our Developers will advise you on the best approaches to the development process, as well as roughly estimate your project concept cost.
---
4. Ruzuku
Ruzuku is another valuable addition to this list of 10 best eLearning platforms. Instructors aren't required to have much knowledge of technology to use this platform. As a matter of fact, Ruzuku invests great efforts to make it easy for Subject Matter Experts to create and publish courses. It has a ton of cool features such as PayPal payment gateway, MailChimp integrations, everyday backups, etc.
5. Educadium
Educadium is on an ambitious mission to assist entrepreneurs and organizations of all sizes to create, manage and profit from online teaching and training through its EasyCampus platform. It has a plethora of features ranging from course designing to course publishing. You should check its trial version to get an idea of this online training platform. Subsequently, choose your subscription package.
6. LearnWorlds
Are you looking for a platform which can complement course content with immense social learning and high interaction? Are you looking for a white label solution? Stop your search right now and take a look at the impressive features of LearnWorlds. The platform's premium positioning has worked wonders all these years. There are many impressive features such as tools to build sales pages, simulators, intelligent sales engine, advanced analytics, etc. They certainly deserve premium positioning. LearnWorlds is a very good option. But be sure to do the math—the platform charges $5 per sale and monthly subscriptions start from $24 per month.
7. Thinkific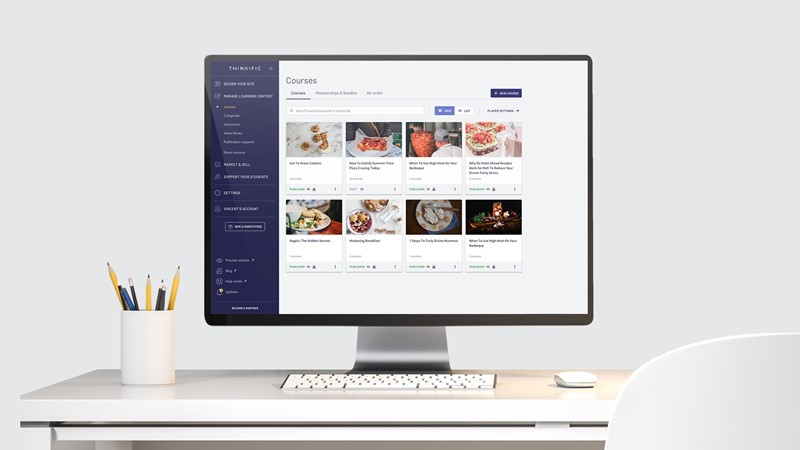 Thinkific is a software platform that enables entrepreneurs to create, market, sell, and deliver their own online courses
I have been a course instructor on Thinkific for quite some time. It's an amazing platform for 35000 + content creators who are looking to brand and sell courses. If you are looking to grow your audience quickly, you should bet your chances on Thinkific. I have seen many business savvy and smart personalities having trouble in designing and scaling their courses on other platforms. By all means, Thinkific is a top class exception. Prospects have little trouble in the building, launching, scaling, and marketing their courses.
---
8. Academy Of Mine
As the name suggests, Academy of Mine lets you start your own online academy. If you are looking for a drag-and-drop solution that can save you a lot of time, Academy of Mine scores brownie points. This online teaching software is power—packed with an amazing administrative interface. The learning curve is somewhat steep. That said, if you climb up the curve, you can leverage all its powerful features.
9. CourseCraft
Looking to turn your blog into a profitable business? Try CourseCraft. Its editor is flexible, simple and powerful enough to create different types of courses. It's integrated with Stripe and PayPal payment processors. Creating quizzes, lessons and forums is just a matter of few precious minutes. Instructors can run discounts and offers. Students can collaborate with friends and instructors and create a big knowledge ecosystem. It has great custom branding features.
10. Skillshare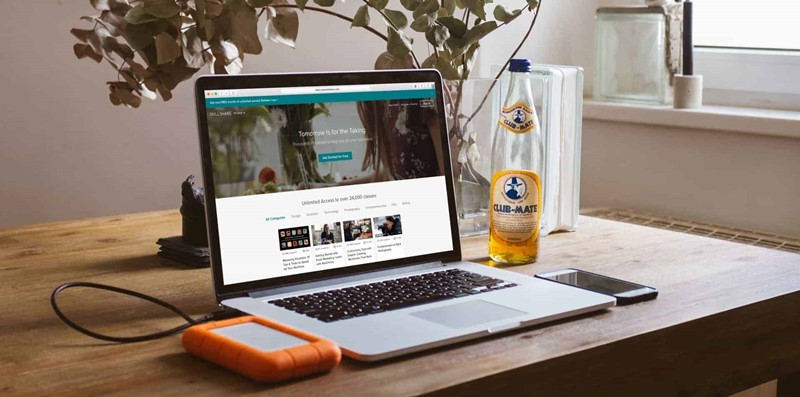 Top teachers on Skillshare make as high as $40000 annually. Almost every course lesson entails two key components—video and class project. Courses are made up of a series of small videos whose duration is typically anywhere between 10 and 25 minutes. You can make money through Skillshare's Partner Program. Of course, you have to fulfill certain prerequisites like enrolling at-least 25 learners per class etc. Skillshare's subscription model is different from that of Udemy. Udemy sells subscriptions of individual courses while Skillshare sells subscriptions to all its complete content.