Fitness App Development Cost: What You Should Be Looking Out For
Statista reports the fitness app segment is projected to grow at a fast speed, valued at US$19.33 billion by 2023. With an annual growth rate of 14.34% (CAGR 2023-2027), the volume expected by 2027 is US$33.04 billion. 
Prior to the COVID-19 pandemic, the fitness app market was nearly stable. It saw a 45% increase in users in 2020, and interest has remained high in 2021, with an estimated 385 million unique users.
Health and fitness applications are changing the way individuals track their health and remain active. Many people now use fitness apps as part of their daily routines.
Clearly, this is a potential market for businesses to "explore". However, developing an app is not a walk in the past. To reap benefits from it, you will first need to know the fitness app development cost, how that number is calculated, and tips to control the expenses. 
If those are among your concern when developing an app, read on to find the answers in our article.
How Much Does It Cost To Build Your Own Fitness App?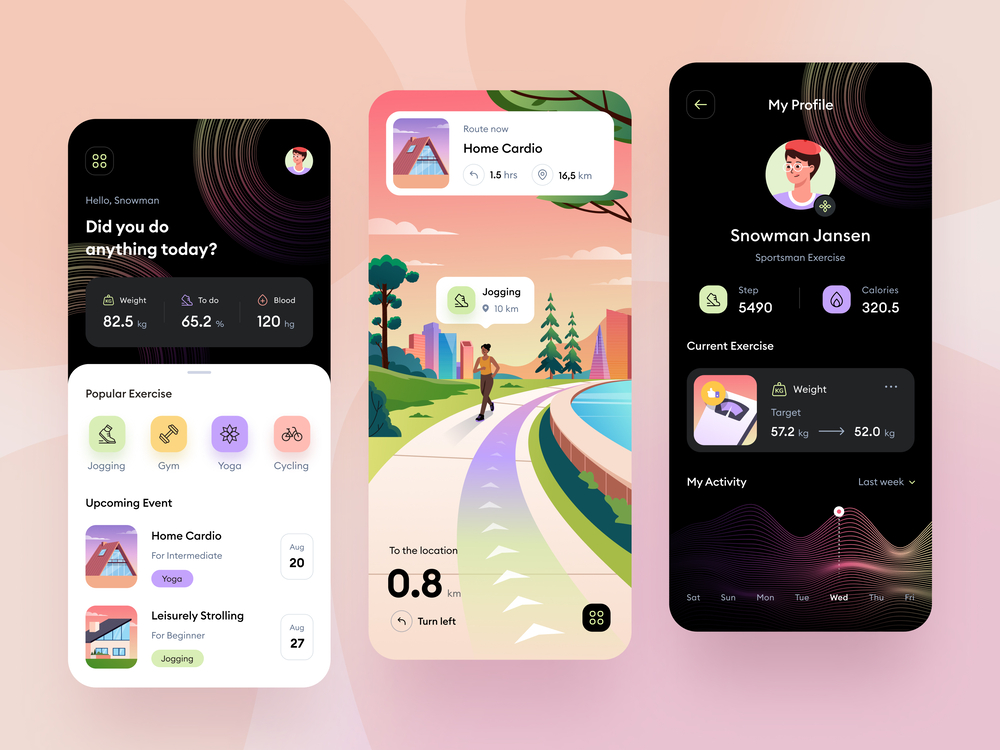 Unfortunately, we can't give you an answer with one fixed number. The cost of developing a fitness app is determined by a variety of criteria, including design complexity, the location of the development team, UX/UI design, quality assurance, and others. More details will be provided later.
There are several sorts of fitness applications. Developers incorporate necessary features based on the kind you select, which also determines the cost of development. More features imply a higher price.
The table below provides estimated development costs for a fitness app regarding its complexity.
App complexity
Features
Estimated cost
Simple App (Basic Features | MVP)

Registration
Goal Setting
Activity Tracking
Sleep Tracking
Push Notifications
Social Media Integration
In-app payments
Multiple device synchronization

$15,000 – $35,000
Medium App (Slightly Advanced Features)

All the basic level features +

Workout routines
In-app Purchases
Geo Location
Video Tutorials
Security Protocols
Wearable device integration 
Online consultation

$35,000 – $45,000
Complex

All basic and medium level features +

AI-driven personal coach
Gamification
Live streaming
Video-on-demand

Starts from $50,000
You now understand the fundamental cost of fitness app development. Let's look at the factors that affect fitness app creation.
Which Factors Impact Fitness App Development Costs?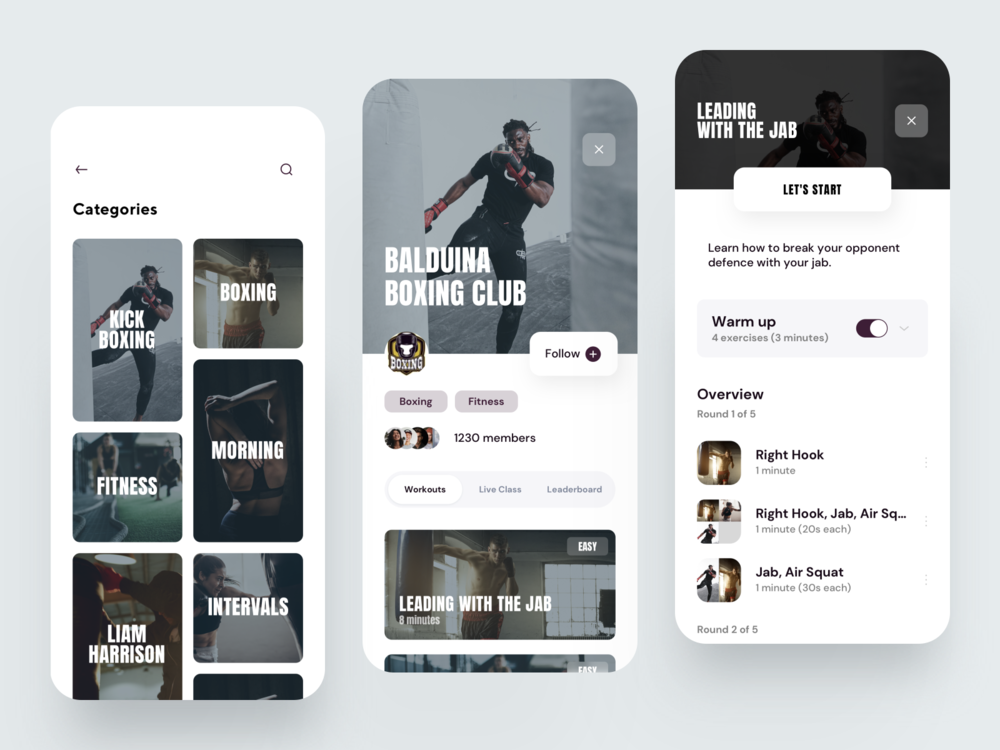 When making the budget for your fitness app development, you need to know the components that impact such costs. 
Let's go into detail about all of these variables and how they affect the entire fitness app budget.
App platform: This is one of the first aspects to decide when building a fitness app. Will your app be a native one – only for iOS or Android or a cross-platform one? In the conclusion of the best approach, take into account your target audience. Note that a native app can optimize its performance on a specific platform, while a cross-platform app allows you to maximize the reached audience. 
Integrated features: As previously stated, the more complex an app is, the more expensive it is to build. The characteristics of the apps can influence their expenses. Depending on the advance of a feature, the cost to build it can vastly range from $150 (login/registration, push notifications, etc.) to $6500+ (gamification, in-app payments, on-demand videos).
UX/UI design: The overall cost of an app can be affected by its design. It may take longer if your designer needs to detail the designs and construct sophisticated displays. Again, the costs of prototype creation differ from the expenses of aesthetic design. Consider how this impacts the entire cost of fitness app development. Each design type costs differently – wireframing ($450 – $1200), prototype ($450 – $1500), and visual design ($1800 – $2100). 
Development Prices by Country: The hourly rates in the country in question decide this. Hourly developer rates are higher in countries like the United States and lower in places like Vietnam. While a US outsourcing firm will charge over $70 per hour, a Vietnam company will charge roughly $25+ per hour.
Hiring Approach (In-house or Outsourced): The cost of developing a fitness app is determined by the hiring strategy. When compared to outsourcing, the cost of building a fitness app in-house may be relatively higher.
Looking For a Trusted Tech Partner?
We'll help you decide on next steps, explain how the development process is organized, and provide you with a free project estimate.
Other Expenses To Be Aware Of For Your App
Regulatory assistance
Fitness apps hold sensitive data about the users (age, gender, habits, etc.), thus they are also carefully regulated. A development team with industry knowledge will know the essentials, but it won't hurt to have competent compliance help to ensure that the app is adequately safeguarded and will not risk user data.
Data storage and servers
Data storage necessitates ongoing maintenance, which can account for up to 20% of all banking app development costs each year.
Fees for third-party integrations
Some payment app integrations require a monthly or annual fee. Plaid, for example, is an industry-specific API that may cost more than $500 per month.
App release
Google charges a one-time $25 registration fee before you may upload an app. To submit your app to the App Store, you must be a member of the Apple Developer Program, which presently costs $99 per year. It does not appear to be important from the perspective of the overall project cost, but it should still be evaluated. App rejections may complicate the process and increase costs.
IT support
A mobile app is never completely "finished," as bugs must be fixed and updates must be released. It is believed that bugs consume more than 10% of the entire development expenditure each year.
Fitness App Monetization Strategies
Mobile apps make a lot of revenue, but how do they do that? Well, there are 4 common strategies that business implement to create income streams from their apps. Let's check them out!
Subscription
You can offer a free trial for new users, and after 7-10 days, they will need to pay for it or subscribe to continue using your app. 
In-app purchases
Provide your users with basic features in the free version and advanced options in the premium version, such as access to more professional programs, extensive features, or workouts with virtual coaches.
Advertisements
You make money from advertisements by "renting out" slots for promotion ads. Yet, the ultimate goal is still to offer an engaging experience, so ensure that these ads don't disrupt your users' training. 
Fees
Associating your fitness app with online fitness experts is part of this plan. Users that use your platform to access a training program will be charged a price.
The best strategy to monetize your app will be determined by your target market's willingness to pay. In general, if your app is more favored by users than other competitors, the higher your prices could be.
Each of these alternatives has advantages and disadvantages, so you must determine which is best for your app. To entice people to upgrade to the paid version, you may also provide a free version of your app with restricted functionality. Whatever method you select to monetize your software, make sure it provides value to your consumers.
Tips To Reduce App Development Costs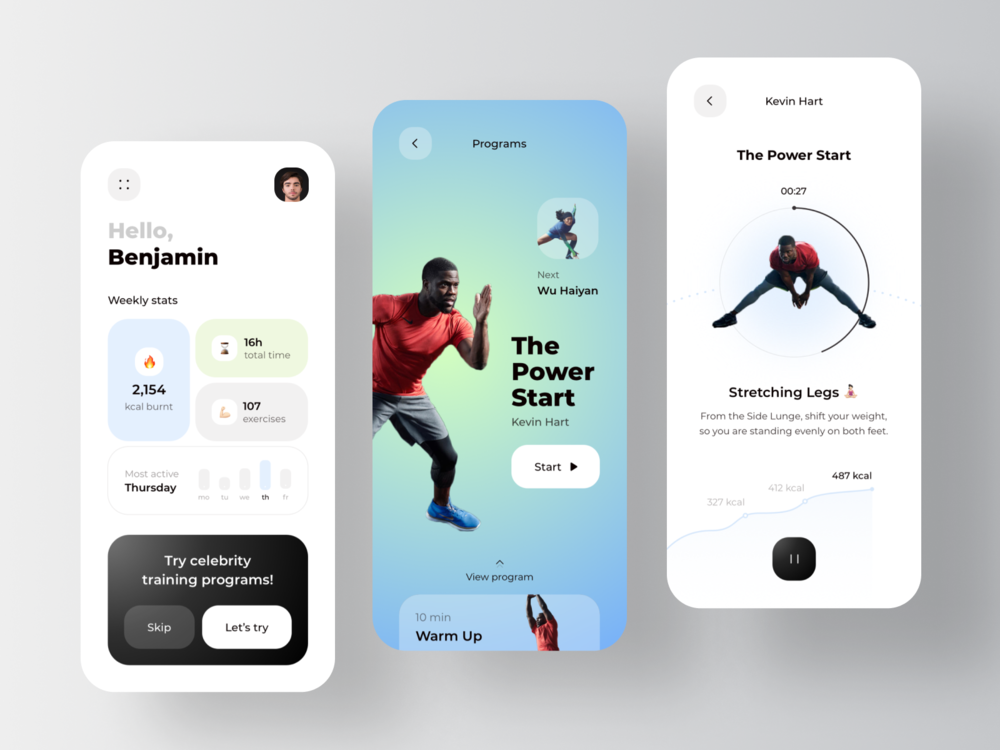 When designing the fitness app, it is critical that you do not go over budget. If you feel you will go over budget, here are some strategies to assure a smooth and on-budget development.
1. Plan out detailed requirements for your app
You must be adequately informed of your fitness application's requirements. Failure to define one of the many key needs can result in an incorrect estimate, which can then influence the app development budget.
As a result, before you begin developing fitness apps, you should conduct thorough market research. Examine other fitness apps to see what kinds of solutions are available. Determine which features you believe will fix the current problems. From there, you can develop app monetization techniques.
2. Outsource to develop your app
So for app development, you can go for in-house or an outsourcing team. Yet, it is recommended to outsource, since it has a number of benefits for your business. In term of prices, outsourcing often reduces development expenses, and allow you to access a pool of talents required to guarantee your success. This solution also shortens the time-to-market and allows you to focus on more core activities to improve profits. 
3. Validate your app idea
Before you begin the mobile app development process, always validate the concept and determine whether it will function in the market. For example, if you intend to provide a solution for mental health, you need to determine whether or not the users will use the program. To determine whether the notion will work, you can run a survey or apply other validation procedures.
By verifying the app idea, you will automatically lower the app development cost.
4. Create an MVP to test your idea 
You should create the MVP before proceeding with full development for fitness apps. The minimum viable product will demonstrate how to move forward with software development. It will assist you in identifying potential problems by providing an overview of the app.
For example, if the MVP is a success and you believe you have a user base, you can start developing the rest of the application.
5. Understand the app development process
Instead of focusing on random phases and building the application, consider creating a simplified development approach. When you transition from one phase to the next naturally, you may plan better, spend fewer resources, and accelerate development.
If you move from concept to development carelessly, you will pay more for resources and development. However, moving from concept to validation to wireframing will save you money. Iterations will show you if something is incorrect with the app from the start, allowing you to implement the solution faster with fewer issues and greater acceptability.
Sum Up
Understanding the expense of developing a fitness app isn't important in 2023, but building a compelling product that didn't exist before makes a difference. The appealing product does not have to be anything out of this world, but rather an app that customers are willing to include in their daily routine.
You may launch a fantastic product in the market by including some fascinating and exciting features and interactive elements in your fitness app. However, all of this requires you to first determine your budget. You can begin with an MVP and gain user acceptance.
If your software is doing well in the market, update it to make it more user-friendly and enjoyable to use in order to attract additional users.
Savvycom – Your Trusted Tech Partner
From Tech Consulting, End-to-End Product Development to IT Outsourcing Services! Since 2009, Savvycom has been harnessing the power of Digital Technologies that support business' growth across the variety of industries. We can help you to build high-quality software solutions and products as well as deliver a wide range of related professional services.
Savvycom is right where you need. Contact us now for further consultation: