Fitness App Development: Features, Trends and Costs
Everyone's top priorities have always included health and fitness. Back in the day, however, staying fit and on-trend was more difficult due to the difficulty of finding fitness coaches who you would enjoy working with. Fortunately, since the dawn of the digital era, the fitness industry has undergone a full digital transformation makeover as well. Since then, health and fitness app development have marked a variety of approaches, from cultivating healthy diets to weight loss exercises with only one tap on their smartphones.
Follow us and you'll learn about the latest features and get a step-by-step guide to creating a fitness app. You'll also get an estimate for the cost of developing a fitness app. But first and foremost, let's talk about the basics.
1. Fitness App Industry & Casestudies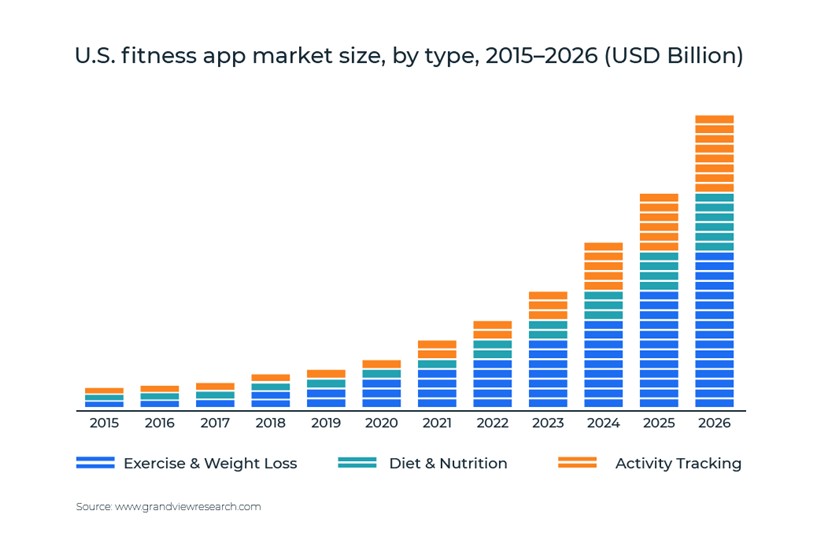 1.1. Fitness App Industry & Market: Why Would You Make A Fitness App?
The fitness app market is expected to reach $14.7 billion by 2026, according to a study published by Market Watch in January 2019. The market is expected to expand at a CAGR of 23 percent over the forecast period. According to a Statista report, the Fitness segment's revenue reached $17,963 million in 2020, and it has continued to expand rapidly.
As a result, revenue is expected to increase at a CAGR of 5.0 percent from 2019 to 2023, resulting in a market volume of $20,499 million by 2023. As a result, the fitness application market grows and is expected to expand as new health and fitness features emerge.
Also, from Statista, health and fitness apps were downloaded globally 593 million times in the first quarter of 2020. Health and fitness apps are expected to produce 656 million downloads by the end of the second quarter of 2020. Health and fitness apps were only downloaded 446 million times in the same quarter last year.
The global coronavirus pandemic, which has caused consumers to stay at home and restructure their exercise regimen and general lifestyle practices, is primarily to blame for this rise.
1.2. Fitness App Types & Casestudies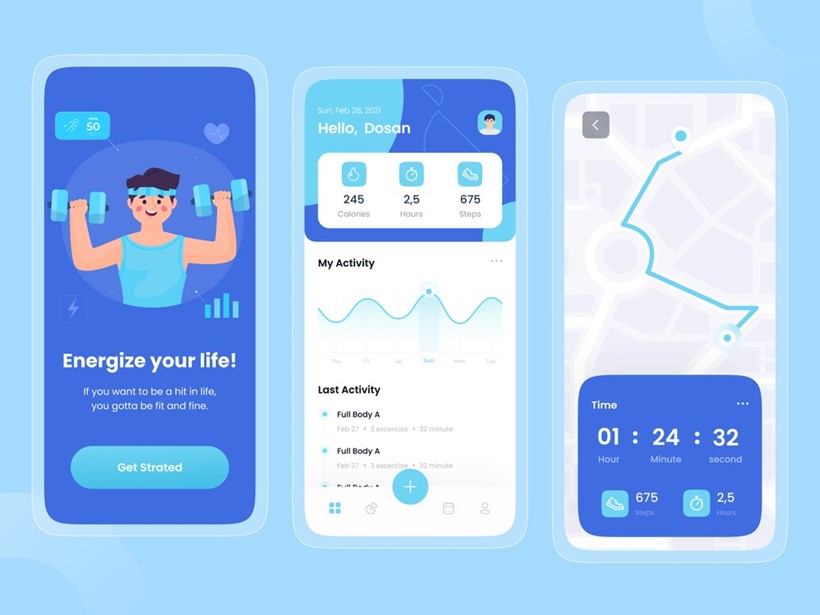 Fitness App Example
Each type of fitness app has a notable casestudy that we would like to show you:
In 2020, Fitbit led the activity tracking category in terms of new installs (4.8 million) and average daily active users (1.5 million).
Since September 2020, MyFitnessPal has been the revenue leader among nutrition and diet apps, bringing in over $1.44 million.
Wanna Train | Premier Fitness Platform | Built by Savvycom

2. Fitness App Development: Key Features
Are you unsure what features to include in your exercise app? Each fitness app development serves a different purpose and provides its users with special features. However, there are some basic features that a fitness app must have in order to be more user-friendly and accommodating. We've put together a list of fitness apps' must-have features.
2.1. Onboarding
When you need to explain app features or give instructions to new users, onboarding really comes in handy. (If your app is straightforward, you can skip this step.) When users interact with your app, you can provide onboarding by showing two to eight screens, adding a 60- to 90-second video tutorial, or sending in-app prompts. On Dribbble, you can see examples of onboarding.
2.2. Sign-up & Login
Allow users to sign up using their Facebook, Google, Twitter, Instagram accounts or other social media accounts that suit your target audience, as well as their own personal email addresses.
Have a Project Idea in Mind?
Get in touch with Savvycom's experts for a free consultation. We'll help you decide on next steps, explain how the development process is organized, and provide you with a free project estimate.
2.3. User profiles
Users enter personal information such as their name, age, height, weight, gender, and fitness level when creating a profile. Both app developers and users will benefit from this information. It assists app developers in creating apps that match users with customized workout routines and track their sporting activity. A user's profile gives them easy access to subscription plans, as well as a history of completed exercises, progress, bonuses, and other information.
2.4. Goals
Setting goals is an important aspect of any fitness app. Allowing users to set objectives and goals is motivating because it translates into a goal tracker that will help them achieve their fitness goals without fail.
2.5. Synchronization with wearable devices
Smart watches have became increasingly popular for the past few years
Which the rise of smart watch and other wearable devices like Apple, Samsung and Xiaomi, your Fitness App should ultimately be able to connect and synchronize with them. To combine data from fitness trackers and your fitness app, you can use the HealthKit and GoogleFit APIs. Apple Watch and Android smartwatches can be synced using the watchOS and Wear OS operating systems.
2.6. Workouts & exercises
Photos, 3D animated models, and video illustrations can all be used to illustrate exercises and workouts. Allow users to make their own workouts, use a standard set of exercises, or combine the two. You'll need an organized and searchable content library for this.
2.7. Activity tracking
Your app can obtain activity tracking data in one of two ways: from smartphone sensors or by integrating with any wearable tracker. Smartphones allow your app to show the number of steps taken, the number of stairs climbed, the distance traveled, the speed, and the direction traveled – a noteworthy app can be mentioned here is Samsung Health. To sync with fitness wearables and measure other parameters like heart rate, sleep quality, or body temperature, you'll need to add third-party APIs. You should also inquire about the parameters that users want to track.
2.8. Audio/video player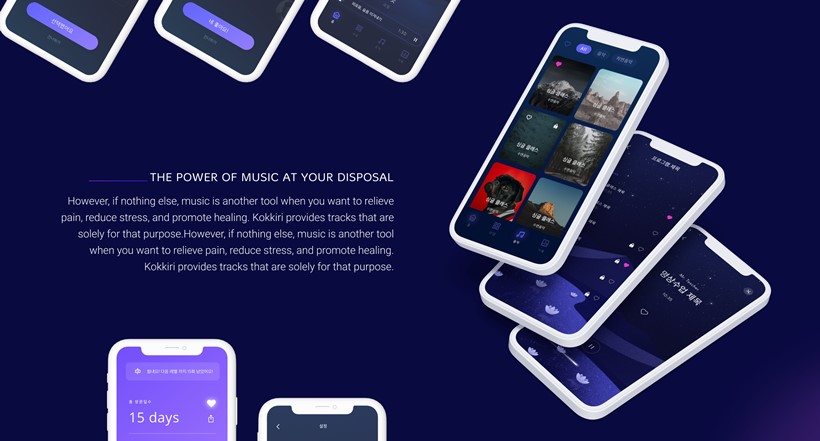 Kokkiri | Meditation App | Created By Savvycom
Exercises, workouts, running, yoga classes, meditation — audio/video podcasts with a trainer's voice, a soundtrack, or a video tutorial can guide you through a variety of fitness activities. Users should be able to leave feedback, bookmark/favorite/like tracks, and return to them later in your fitness app player.
2.9. Product & recipe database
Access to a large database of products and healthy recipes, analysis of nutrition values, and data on ingredients received through a barcode scanner are some of the most compelling features of nutrition apps. Nutrition APIs are required to provide this functionality to users. Allow users to manually add goods to your app that they don't see.
2.10. Workouts customization
Within your app, users can make their own workouts, meditations, exercise sets, recipes, or diet plans using a customization feature. This feature on paper might take a lot of work but in a user-centric world, your customer should be put in top priority.
2.11. Push notifications & reminders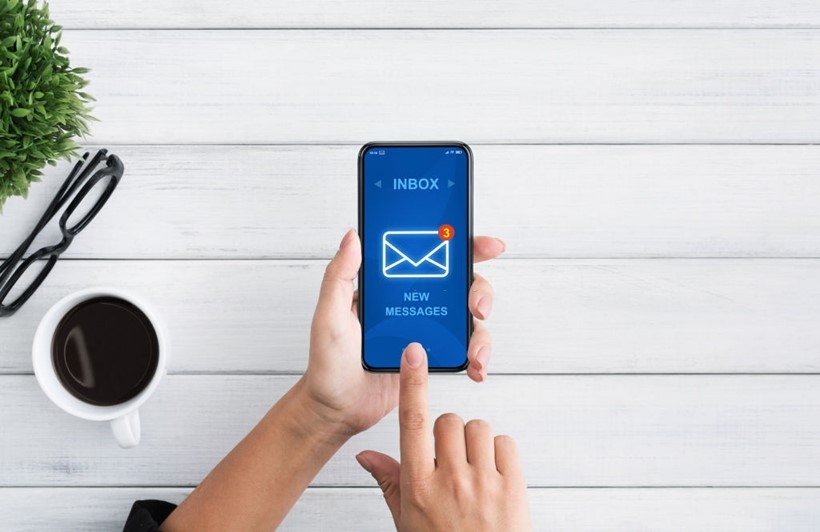 Push notification is probably the most important feature to have in any app
The right text delivered at the right time will boost an app's retention rate by three to tenfold. Push notifications for fitness apps should contain no more than 90 characters and be sent between 7 a.m. and 8 a.m. or 12 a.m. and 2 p.m., according to Business of Apps. If your app allows users to customize the timing of reminders and push notifications or in some cases to turn off notifications completely, that's a plus.
2.12. Recommendations
Machine learning algorithms can be used to provide personalized recommendations based on a user's preferences and/or viewing history. Artificial intelligence (AI) enables an app to build customized fitness programs with dietary plans, and it has a good chance of outperforming any human personal trainer when it comes to accurately adjusting personal workouts.
2.13. Profile Settings
Users can change their passwords and emails, alter their notification settings, and deactivate their accounts using this feature.
2.14. Support & Customer Services
Users will appreciate a chat feature in a workout app where trainers provide real-time advice or consultations. If your app doesn't have live chat options, consider combining a chatbot with pre-programmed responses. Nevertheless your app should include contact information that users can have access to at anytime, it not only increase your trust but also help at gathering much needed feedbacks.
2.15. Payment feature & method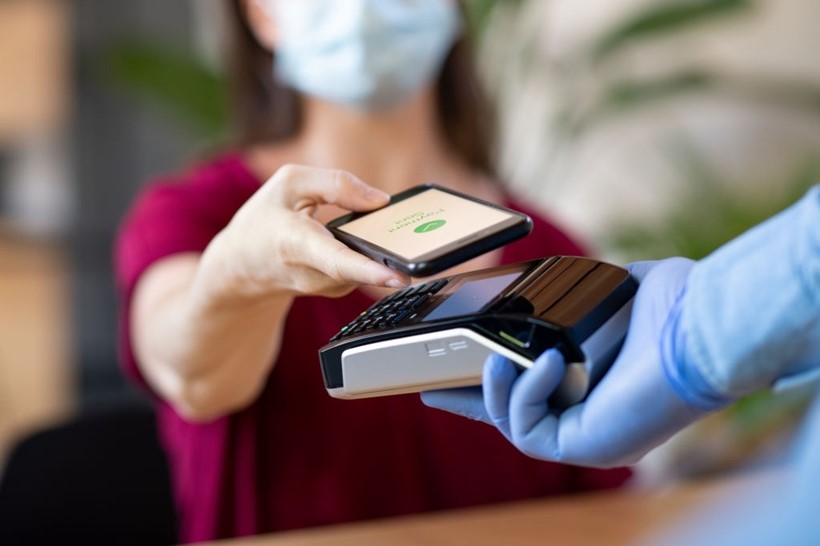 A secure payment method greatly increase trust
The need for a payment feature is actually self-explainatory. How can you make money from your app if you don't have it? Integrate a payment gateway into your app, such as PayPal, Visa, etc.
3. Choose The Monetization Model For Your Fitness App
Of course, you must ensure that the fitness application you are creating can provide you with positive results. You can monetize your app in a variety of ways. You should include the following in your fitness app to generate profit or income:
Paid Apps – Users must first purchase your fitness app in order to benefit from it. Offering a free trial is one strategy you can use, and if they know the value of your app, there's a good chance they'll pay for it or subscribe to keep using it.
In-app Purchases – If you want to create a free fitness app for users, you can still make money by encouraging them to buy something in the app, such as an advanced feature setting or premium content that they can only get if they buy the feature.
Advertisements – Other fitness companies may be interested in partnering with you and running advertising campaigns in your app, which you can charge a cost-per-mile commission for.
Free Apps – It's a freemium model. Your users can use the basic features of your app for free, but you can charge for the premium features. A premium subscription model is another name for this type of business model. Basic features are free, but advanced fitness plans or personal coaching services are not.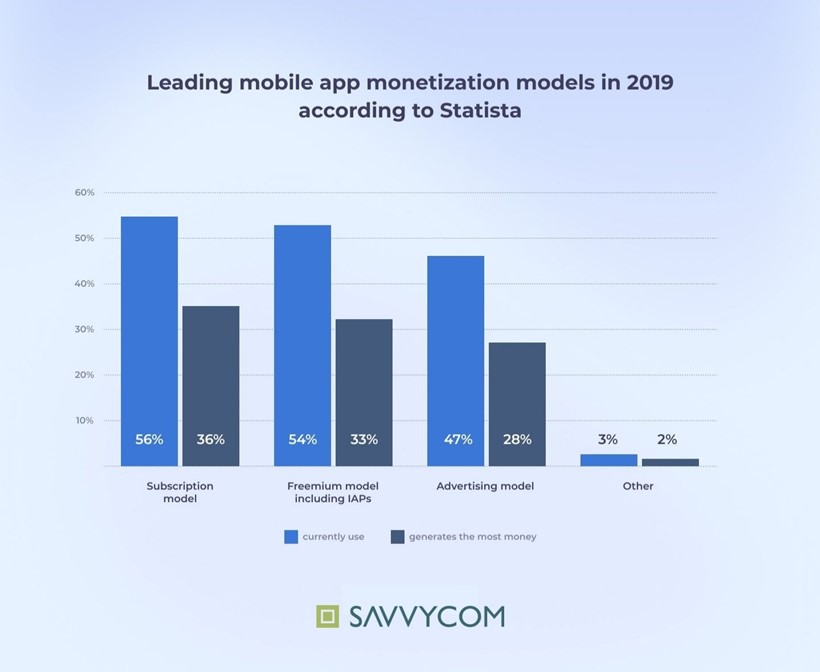 The paid subscription model is, according to Statista, the most useful and profitable monetization model. However, you are free to make your decision based on your company's objectives and app. In any case, during the discovery phase of development, you can choose a business model for your app.
4. How Much Does It Cost To Make A Fitness App?
An outsourcing fitness app development company will only give you a rough estimate of your workout app development cost based on their previous experience with similar projects at first. After you've gone through the concept validation and UX strategy stages of development, they'll be able to give you an accurate estimation. Regardless, here at Savvycom we'll talk about the price.
Your minimum app development team for a fitness app should include:
QA engineer
Project manager
UI/UX designer
iOS developer
Android developer
Backend developer
So, how much does it cost to make a fitness app? Fitness App Development cost on average is $63,770, based on a $35 hourly rate and 1822 hours of work. But that is just for MVP (Minium-viable-product), contact us to get your free consultation now!
5. Fitness App Development Stages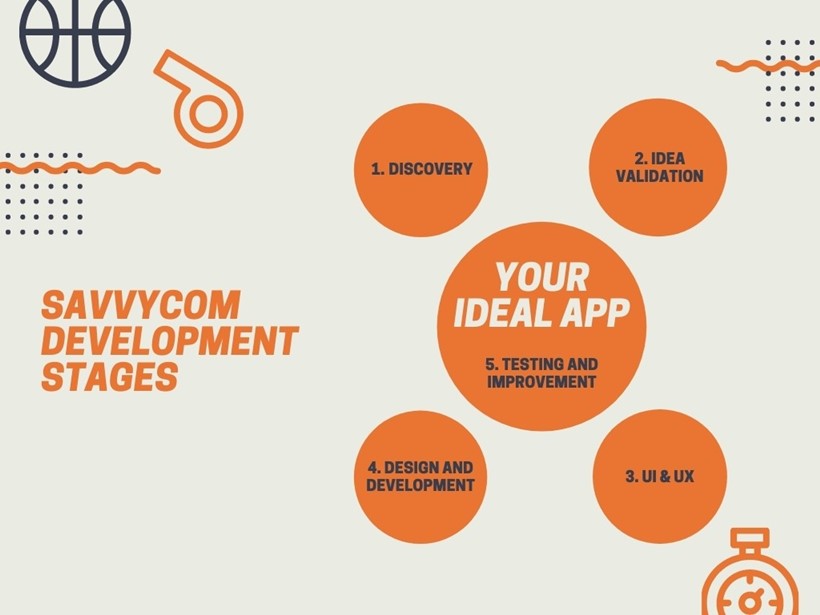 5.1. Discovery
At this point, your mobile app development team performs preliminary market research to determine whether or not your fitness app idea is marketable, and if so, what can be done to make it so. You'll brainstorm with a product manager, designer, and project manager to:
Make a vision for your app that includes challenges, solutions, requirements, rivals, acquisition channels, your app's unique value proposition, and revenue sources.
Consider the logic behind your fitness app.
Make a list of epics based on the main functionality of your app.
Make a drawing of your prospective customers.
Create a table with epics and potential user stories.
Make an idea for your fitness app's navigation.
5.2. Idea validation
Validation of an idea You analyze problems that your app will be able to solve during the discovery stage. You should check the solutions your app can provide during the idea validation stage. A product/project manager, UI/UX designer, iOS and/or Android developer, backend developer, and quality assurance engineer are all required to accomplish this.
5.3. UX strategy
At this point, your development team is working on a comprehensive app interface and screen relationships. You'll need to recruit the entire app development team for the UX strategy stage to:
Create a data structure and interconnections in an information diagram.
Make a high-fidelity app prototype with an interactive interface that shows where all of your app's control elements are.
Make a rough project plan with assignments and deadlines.
In terms of details and functionality, a high-fidelity prototype is the closest match to the final design.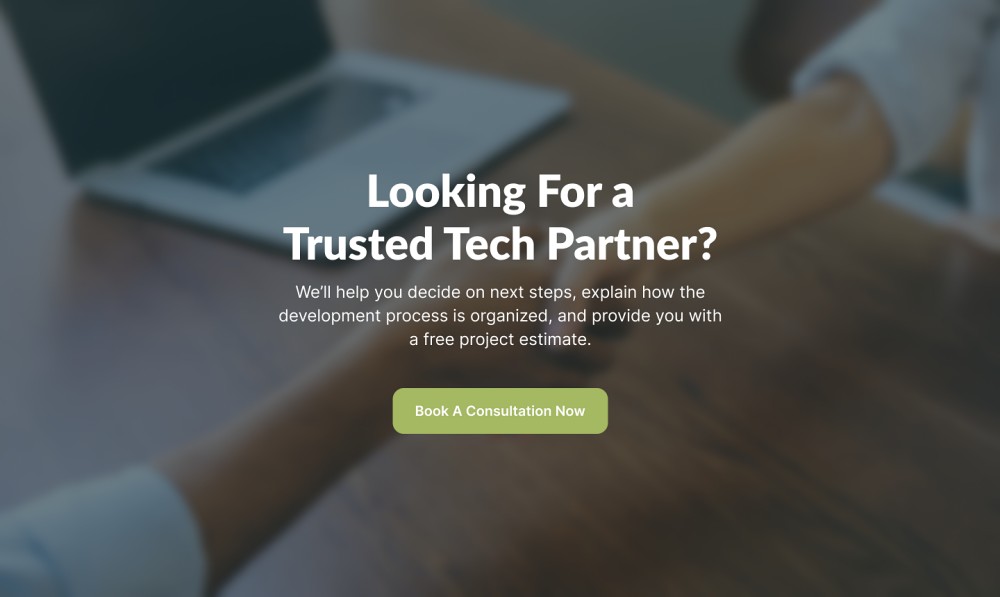 5.4. Design and development
Your app development backlog is split into sprints during the design and development period, which are typically two weeks long. A project manager's job is to prioritize tasks, track their progress, and keep track of the backlog.
The style guide is approved for use in any part of your project during the design concept sprint.
The team describes the design of functionality, refines documents, and sets up the technical environment for the next sprint during the technical setup sprint.
The app is developed during a development sprint, and a project manager plans the next sprint and creates documentation.
5.5. Testing and improvement
This stage also necessitates the participation of the entire app development team. When you get a fully functional fitness app, the testing and improvement stage ends, but it resumes if you decide to make a change.
KPIs for mobile apps are being tracked.
Taking input from users and analyzing it
Identifying the faults in an app
Fixing flaws
Enhancing the app's functionality

6. Final Words on Fitness App Development
Remember the following when developing a fitness app:
To keep attracting and retaining users, provide the best fitness app features.
In terms of exercise variation, tips, and techniques, workout apps must be adaptable.
Integrate wearable fitness devices and cooperate with their manufacturers for improved fitness results, not to mention the cost-effectiveness of this method.
Fitness app development, like any other type of app development, can be difficult. It is, nonetheless, effective and worthwhile if you ensure that the fitness app of your choice includes the best features that will be of value to users in the long run. To do so, make sure you can provide people with customized workout plans that are tailored to their specific needs. It's more likely that your fitness app will stand out and succeed if you have the sincere intention of assisting users in achieving their fitness goals through various features.