Keys to Successful Digital Transformation

As digital technologies dramatically reshape industry after industry, and will be rocketing even more aggressively as accelerated by the COVID-19, many companies are pursuing large-scale change efforts to capture the benefits of these trends against future risks or to keep up with competitors. Still, there is a problem. They all talk about what successful digital transformation will disrupt business performances, yet only a few tell us what exactly is "successful". 
Yes, success in these transformations is proving to be elusive, as McKinsey once mentioned. That's why you may need someone to explain what a successful digital transformation looks like, and what are the keys leading business to such success. 
Let us be your guide.
Checklist for a successful digital transformation
The 5 key elements for a successful digital transformation are:
Clear objectives

An integrated approach

Buy-in from leaders

Adaptability

Skill focused
This combination of strategic and practical elements will help you develop the structure and processes needed to successfully execute your digital transformation.
Clear objectives
The power of a strategic digital framework lies in its objectives. Less digitally mature companies tend to focus on specific technologies and use them to improve general operations, while more mature organizations create digital strategies to transform their business entirely.
One method that walks the line between these approaches is McKinsey's digital transformation model. According to McKinsey, technology drives value in businesses in four ways: product innovation, automation, enhanced connectivity, and improved decision-making.
This digital framework looks at the impact of digital on your internal processes, but also at how it can be strategically harnessed to become more competitive within your market.

Whether you're completely transforming your business model or just want to improve overall operations, having a clear objective in mind when designing your strategic framework is imperative.
To start on this journey, ask yourself the following questions:
Why are you investing in digital transformation?

What is your priority?

How will you measure success?

What is your starting point?
An integrated approach
Companies function across several different technical systems, so an integrated approach is essential when considering digital transformation.
Your customers do not only interact with you once but through multiple touchpoints throughout the customer journey – each requiring their own system and process. You may run marketing activities in one system, handle customer inquiries in another, and record their data in yet another system.
Nowadays, customers expect this process to run as smoothly as possible. As a result, the more you can automate and improve every step in the value chain, the better the experience for both your customers and your staff.
Buy-in from leaders
All too often, a lack of digital adoption is rooted in a lack of leadership – specifically executives who haven't developed the right mindset towards digital strategy.
According to research from Digital McKinsey, many leaders are prone to being overly cautious when it comes to transformation, adding that "In today's environment, making incremental changes is like rearranging the deck chairs on the Titanic." Without a commitment to real transformation, the chances are high that your efforts will fail.
This kind of shift requires company-wide adoption, and leaders need to take the reins in bridging the gap between technology and business. While you could look at digital strategy from both a top-down and bottom-up approach, leaders' buy-in is critical at every step. People at the top have a greater understanding of both the market in which they work and their internal business needs, and – most importantly – have the authority to drive change.

Adaptability
The landscape in which business operates is continuously evolving, so organizations today should be prepared to evolve their strategies along with it. With this in mind, it's important to design a digital framework that considers changing market scenarios and evolving technologies. To do so, leaders should prioritize agility and innovation in every step.
An agile approach can help you make incremental, iterative progress towards your goals, while also allowing you to manage the complexity and unpredictability of digital projects. To stay adaptable, you'll also need to engage with peers and thought leaders. This will help keep your knowledge up to date so that you can anticipate future disruptions that could give you a competitive advantage.
Skills focused
One of your top priorities in a digital strategy should be to ensure you have the right mix of skills in your team to work across the entire transformation lifecycle.
To implement innovative technologies, you'll need skilled IT people, with an understanding of disruptive technology, who can turn your ideas into an actionable plan.
However, IT is just one of the skills needed for running a successful transformation project. In an interview on navigating digital transformation, Adobe's director of talent development, Danielle Clark says: "From people management to machine learning, we emphasize cultivating both the soft and hard skills that will allow Adobe to continue growing and scaling."
Some other crucial skills include:
Data analytics

Software development

Cybersecurity

Digital literacy

Creativity
However, it could be costly for your company to recruit a team of such skills. Therefore, an alternative is to outsource an engineering team from a professional IT service provider. It helps you to optimize the cost of human resources while still achieving crucial skillset for successful digital transformation. The edge of outsourcing is that the recruitment period is totally flexible – the team might last for a prolonged period or a one-time-project only, depending on your real-time need. As such, there are 3 outsourcing models, each stands for a different approach which is customizable for all demands.
The first one is the delivery team model (team-based). A delivery team model is when software developers are assembled by an outsourcing provider to deliver high-quality technological expertise that adds value. This model is particularly well suited to projects that require complete management from the outsourcing partner. Typically, businesses with limited internal resources and capacity opt for this approach. In detail, the responsibility of the outsourcing partner encompasses:
Providing the client with IT experts for all the essential roles: project managers, software developers, quality assurance engineers (QA), etc.

Taking care of people management, daily task management, and process quality.
Typically, delivery teams work autonomously and have regular contact with the client to update on the progress. In Savvycom, all delivery teams use Agile methodology, which allows optimal communication and collaborations to help shape and influence the deliverables without costing too much time and effort. The core benefits of a delivery team model are:
Adding values immediately: The client has access to a highly skilled team of experienced professionals that don't require any further training.

Streamlining project and team management: Increase capacity and reduce the burden on the client by taking responsibility for some certain, definite tasks or the whole project.

Remaining the due diligence's control: While outsourcing vendors are in charge of the day-to-day running of a project, the overall control and major decisions shall remain with the client.
The second is IT staff augmentation (white-label). IT staff augmentation is where companies contract qualified software developers with specialist skills to work alongside in-house software engineers. Augmented developers are appointed to work as an extension of a company's full-time development team. This means they do everything the in-house team does, including attending regular daily meetings and reporting directly to managers.
The IT staff augmentation model can work for most projects, no matter how simple or complex: from prototyping to full-scale development of mobile or web applications. Core benefits of IT staff augmentation are:
Dedicated teams: Outsourcing providers assign skillful engineers to each client, meaning they only focus on one project at a time.

Time-saving: Working closely with skilled in-house developers means there's no need for the client to advertise, interview, and onboard full-time staff.

Maintaining oversight and control: Engineers quickly integrate themselves within the team, making it easier to track work processes and reporting.

More in-house flexibility: Companies have more flexibility over the tasks assigned to developers. The client decides who will carry out specific tasks and on which project. 
The last is project-based outsourcing (fixed cost). Project-based outsourcing is when a company hires an external development team with special expertise to work on a specific project. A project-based approach adds the most value to one-off or irregular development projects that have a set timeframe and clearly defined end-goals. For example, this approach works particularly well for mobile and web applications.
Core benefits of the project-based outsourcing model include:
No long-term commitment: Companies aren't tied to working with one particular outsourcing provider over the long-term. If the project is low-maintenance, there's no need to arrange retainers.

Easier to budget: Project-based outsourcing typically means paying one-off project fees, which makes it easier to budget for the work required.

Cost efficiency: Hiring an outsourced development team with the skills to execute a one-off project is much more cost-effective than upskilling in-house teams or hiring full-time staff. 
With 3 models covering all possible needs from businesses, outsourcing is undeniably beneficial to not only improve the level of skill within your IT team, but also optimize the cost while increasing operational optimization. You can always pick the model you find the most attractive, based on the situation of your business and the resources you feel comfortable to invest.
Checklist for a successful engineer outsourcing
As said, outsourcing is a great choice to improve the competency of your IT team without trading off too many resources. However, not all outsourcing strategies work out – there are multiple blindspots a "newcomer" cannot oversee in the first place.  Therefore, we craft these 5-step checklist that help you optimize your outsourcing-to-come:
Step 1: Define your objectives and goals
A decision without clear, relevant and actionable objectives may create ambiguity and hinder your future success. Therefore, here are some questions that would help you organize your thoughts and produce a SMART goal:
What are your business priorities: is it cost-saving, scalability, time-to-market, competencies, vendor diversification, or something else?

How will you align an outsourcing model with your current business strategy?

What services do you expect a vendor to provide?

What will be outsourced and what will be kept in-house?

Time-frame: When will you start the first outsourcing project? What do the overall timeline and delivery plan look like? What are the milestones that need to keep up with?
Step 2: Collect a vendor list
Creating a list of potential vendors gives you the perks of selection and a glimpse of how outsourcing companies are performing, therefore, benchmarking to set suitable criteria for your desired outsourcing partner. 
There are 4 main sources you can exploit:
Recommendations from your network
If your friends, your family, your colleagues, or your partners have experienced the services on-hand, you had better ask them for reviews or suggestions. People having actual experiences in outsourcing are definitely a good source of reference for genuine insights.
Google has always been a to-go destination for information. Some of the best-rated sources for outsourcing seekers are:
Savvycom, an IT outsourcing in Vietnam, has been listed in many of Clutch's roll of honors. We were once named as the "Top 30 Global App Developer" and arrived at no.6 in B2B Leading IT Companies in Asia. The company is currently standing at no.1 Top App Developers in Vietnam by Clutch's Leader Matrix.
Industry awards and ranking
In case you don't trust any word-of-mouth or subjective reviews, companies that are widely accepted and certified by awards and rankings as voted by critics, tech experts, or independent analysis firms may be the best fit. 
Many companies in Vietnam have received prestigious awards and honors as evidence for their relentless effort to strive for excellence. One of them is Savvycom, a Vietnamese outsourcing company that has stood strong on the offshore IT outsourcing market for 11 years and have been awarded with Vietnam's 50 Leading IT Companies Award for 4 consecutive years, Emerging IT Outsourcing Enterprise honor by Vietnam ITO Alliance (VNITO), Sao Khue Award for "Software Outsourcing Service 2017", etc. Starting from the bottom, til' today Savvycom has risen to be a tech start-up with a more-than-100-employee scale and leaves our marks on the technology map.
Reports from research and consulting firms
This source is likely to be the most detailed and insightful. Many research and consulting agencies conduct surveys throughout the technology landscape and generate key takeaways that are well-confirmed by industry analysts and experts. 
Every year, these kinds of companies produce reports and surveys to help you understand not only the market dynamics but also the capacity and competency of the notable players. Some of the most reliable firms are:
Step 3: Define some potential outsourcing destinations
In today's context where outsourcing has become one of the familiar patterns, many countries are upsurging as a destination for good outsourcing services. Here, we list down 3 countries that are rising strong in terms of quality and cost.
India is probably the first country you think of when you hear the term "outsourcing", and with good reason. India is the second-largest English-speaking country in the world, making it an ideal choice for English-speaking employers interested in outsourcing. Their education system also focuses heavily on mathematics and produces as many as 2.6 million STEM graduates every single year.
According to research from Gild, Indian developers outscored their American counterparts on math and logic assessments by a full 11%. However, they received significantly lower scores on tests in PHP and HTML, so if you're looking for web development, you may want to verify if the outsourcers you're going to be working with have a good track record of work delivered.
Salaries: According to Innotech, the average annual salary for a software developer in India ranges from $28,000 to $42,000.
China is home to many of the fastest growing IT companies and produces as many as 4.7 million tech graduates every year. In a hypothetical analysis of countries fit to participate in a "programming Olympics" by HackerRank, China ranked first.
There are, however, a couple of potential drawbacks here. First, only 10 million out of China's 1.45 billion residents speak English, presenting a large communication barrier for many international employers. Second, China is known to have lax enforcement on Intellectual Property (IP) laws. However, this can be overcome by hiring a reputable outsourcing agency and establishing clear rules before you start working together.
Salaries: Annual software developer salaries in China typically range from $28,000 to $53,000.
In the report Spotlight on Vietnam, PwC forecasts that IT outsourcing will be one of the most attractive sectors for foreign investment. Besides, prominent tech companies such as Intel, IBM, and Microsoft have been actively and continuously endowing Vietnam. The trend is becoming more and more popular in Vietnam.
Also, the outstanding feature of outsourcing in Vietnam is the cost-efficiency with low cost and lucrative preferential corporate income tax. Another aspect being Vietnam's young population (45% of the population are under 35 years of age), low attrition rate (6-8% in comparison with 20% in India), convenient location, and the rising competency of engineers – meaning businesses could now outsource with a reasonable cost without having to settle for low quality. 
Read more: Vietnam – the offshore IT outsourcing heaven for tech dominants
Although not standing as high as China or India in the world's outsourcing map, with the aggressive IT development in recent years and the cost benefits, Vietnam is sure to be a leading destination for IT outsourcing services.
Salaries: According to Payscale, the average software developer engineer in Vietnam is about $12,000 to $48,000.
Step 4: Evaluate the cities
Don't just pick countries – narrow them down into cities as well. For example, Beijing in China, or Bangalore in India. You shall choose 1-2 cities in each of the countries you listed. 
In order to have a clear sense of how the city looks and feels like, desk research should be done first hand. The outline of the research could be drafted as below: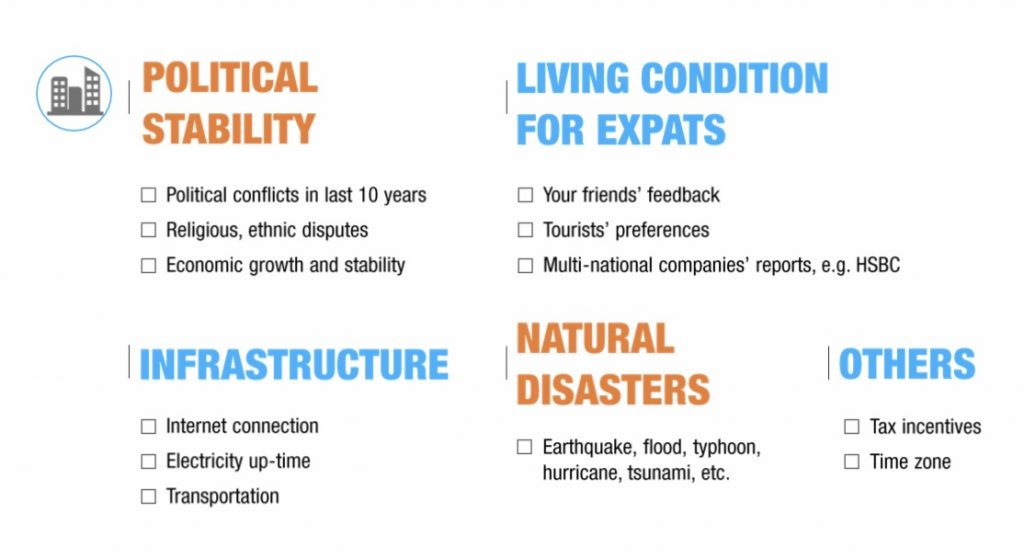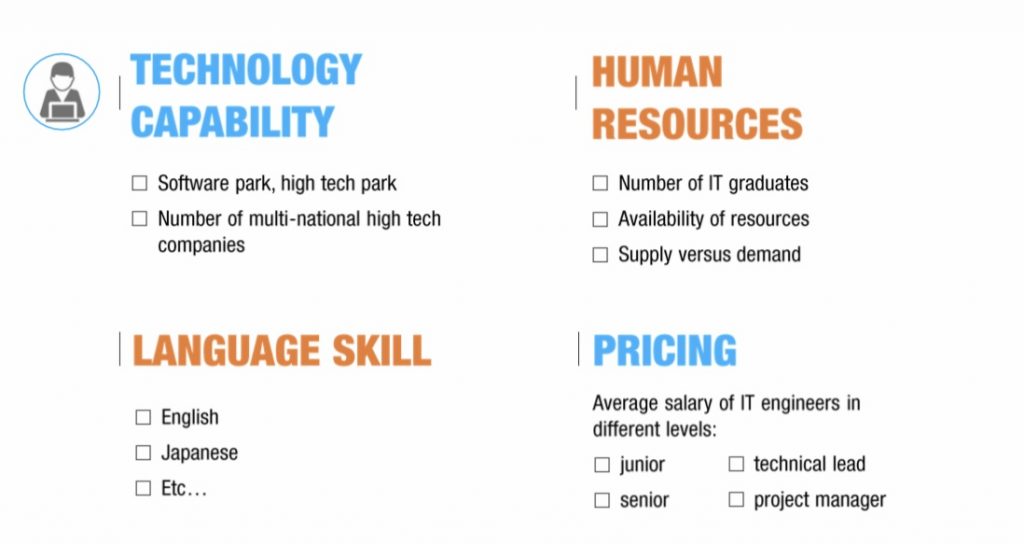 Take Vietnam as an example. In Vietnam, Hanoi and Ho Chi Minh City are the most prominent ones for IT outsourcing services:
Being the capital of Vietnam, Hanoi is the social cultural-educational center where the technology industry is fast-developing. It is the home-based for many tech giants such as Nokia, Samsung, Intel, Microsoft, etc. There are over 140,000 software engineers who graduate from here annually with global-standard English proficiency. 
The annual salary for a software engineer in Hanoi is about $16,000.
On the other hand, Hanoi is equipped with modern IT infrastructure, having stable economic development and rare natural disasters. Moreover, because Hanoi is the center of all political activities, the political stability here is secured at a high level, in which almost no unrest, demonstration, or terrorism have ever happened in the past years.
Listed as one of the most attractive cities to work and live for software engineers, HCMC is a highly urbanized, international city that is expected to be the Silicon Valley of Vietnam in the next few years. Because of the highly secured governmental stability in Vietnam, the political and economic status of HCMC has similar characteristics as Hanoi: rare social outbreak, positive GRDP growth, good IT infrastructure, and convenient living and socializing conditions.
The IT labor force in Ho Chi Minh, although is yet to be statistically proven, remains very promising. Additionally, the average salary for an HCMC-based engineer is around $19,000, a little higher than that in Hanoi. 
Step 5: Evaluate the vendors
Keep narrowing down – countries, cities, and now the vendors. It is important to note that the list of criteria we suggest below does not apply to all because each company has a different priority and strategy – we simply suggest the general version to help you grasp some of the fundamentals. 
Now it is time to track down your list of vendors and do a detailed evaluation and analysis on:
Reputation and financial stability of the company: check it out on

Clutch

,

Crunchbase

, etc.

The core competency of each vendor and how that particular profession can solve your business problems or actualize your ideas.

Check out their portfolio and any of their past partnership (if possible): these kinds of information are often posted on the company's website.

Any awards, honors, and achievements of the vendors.

Contact the representative of the vendor to receive an in-depth consultation and understand the vendors more.
The detailer checklist for evaluation can be drafted as follow:


Step 6: Do prioritization
After you have narrowed down to some most outstanding options, it's time to sum them up and pick the one that will give you the most benefit. There are lots of models you can apply for this step, but here we suggest you benchmark the lucrativeness of each based on its attractiveness and winnability. Continue shortlisting until there is only one strongest vendor left. 
Read more: The Ultimate Outsourcing Guide
Last words
When digitally reimagining your company, it's important that your framework consider the above elements. Without them, you run the risk of pushing capital into ventures that are essentially a waste of time and money. Above all, your framework needs to have a clear objective, drive adoption and adaptability, and prioritize a skilled workforce who can develop and shape your digital future.
At the heart of this connecting world, Savvycom is racing against time and innovation to deliver world-beating technological solutions to our valued clients. With our 10+ years of tech expertise, the endorsements from 100+ clients of 4 continents around the world, and multiple successful partnerships with reputable global firms such as Apple, Amazon Web Services, Google Cloud, and IBM, we make serving our clients with the best services a promise.
Contact us via: