An Insight into the Technology world.
Analysis and Insight from Savvycom Team.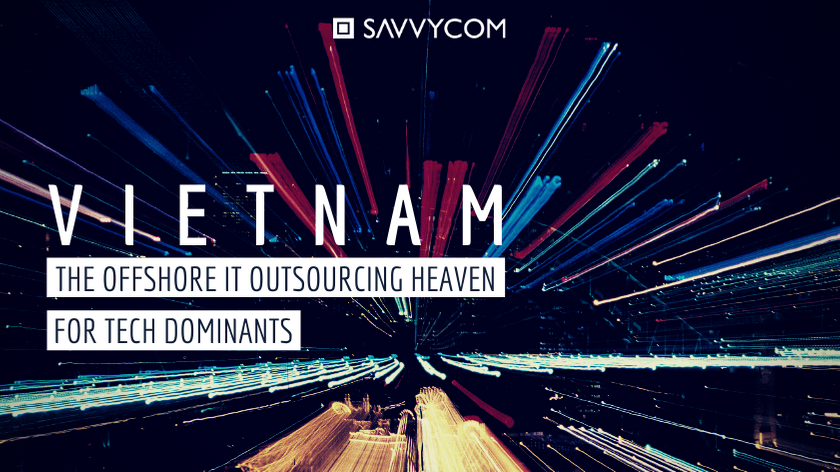 On the technology map, China and India have long been the most popular markets for offshore IT outsourcing – however, the gold rush has also arrived in other developing countries with soaring development, including Vietnam. For the time being, Vietnam has ranked 20th among the top nations recognised as an excellent outsourcing destination.
In addition, prominent US tech companies such as Intel, IBM, and Microsoft etc. have been actively and continuingly investing in Vietnam. Many tech companies from other developed countries such as Xact solutions, KMS technology,… have already set up offices and hiring software developers to work on their projects in Vietnam in the past years. The trend is becoming more and more popular.
In case you are wondering Why, here comes a short list of why Vietnam is becoming a lucrative market for such tech dominants.
Convenient Travel Location
The time difference between Vietnam and other Asian countries is one to a few hours on average, which is practically negligible for efficient daily communication. Moreover, travelling within Asia is very convenient, as you can reach most Asian tech hubs within a couple of hours flying from Ha Noi. 
There are also direct connecting flights with major European and US cities available throughout the day. Although travel time takes obviously longer, a maximum time difference of below 24 hours still makes it possible to set up efficient cooperation with the help of daily sync-ups and flexible working hours.
Cost-Effectiveness
Outsourcing to Vietnam is gaining recognition as a low-cost high-quality software maker in Asia. CIO magazine suggests that to outsource to Vietnam is about 90% cheaper than developing software in the United States of America. Compared to India, developing software in Vietnam costs between one third and one-seventh times cheaper. These are very convincing figures for companies to start venturing their offshore development to Vietnam.
Also, according to Innotech, outsourcing software development in Vietnam costs 50% less than the rivals from India and China. Anderson Vietnam also estimates that outsourcing per person in Vietnam is only $20,000 per person a year compared to $40,000 per person in India. These figures are convincing enough to place Vietnam as the top future contender for offshore development projects. As Indian companies enter the maturing cycle, the cost differential between India and Vietnam will increase even further. The outsourcing costs in India are most likely to increase in the coming years.
Another optimistic aspect in lieu of cost is the tax incentives in Vietnam. As Vietnam is aiming to be a start-up country, generating favourable conditions for businesses especially tech unicorns, the government has issued uplifting terms in Preferential Corporate Income Tax treatment for investment in encouraged sectors such as high-tech, software, etc:
Exemption for

the first 4 years

of operation.

At

50%

of the preferential rate thereafter.

Preferential rate of

10%

and

20%

(while the generally applicable rate is

25%

).
Therefore, outsourcing to Vietnam makes a lot of sense for companies looking to make the most cost-effective development. 
Potential Workforce
Human capital is the spine of any projects, business activities and the whole corporate system. Especially in offshore IT outsourcing, where techies and the expertise equipped with them are the commodities, the potential of software engineers is of high concern. 
In the meanwhile, human capital in Vietnam is witnessing positive trends. Some of the most notable highlights in Vietnam IT workforce in recent years are:
Top 7

countries in Asia with the highest EF EPI Average.

Top 5

countries in Asia with the fastest improvement in English skills.

Top 10

countries in the world with the most engineering graduates.

Top 10

countries of origin of international students in key study-abroad markets.

Top 10

countries in Asia Pacific with the highest Human Capital Index.

Top 10

in regional groups in global attraction and global knowledge skills.

Top 30

countries in the world and top 2 in SEA countries for basic academic skills.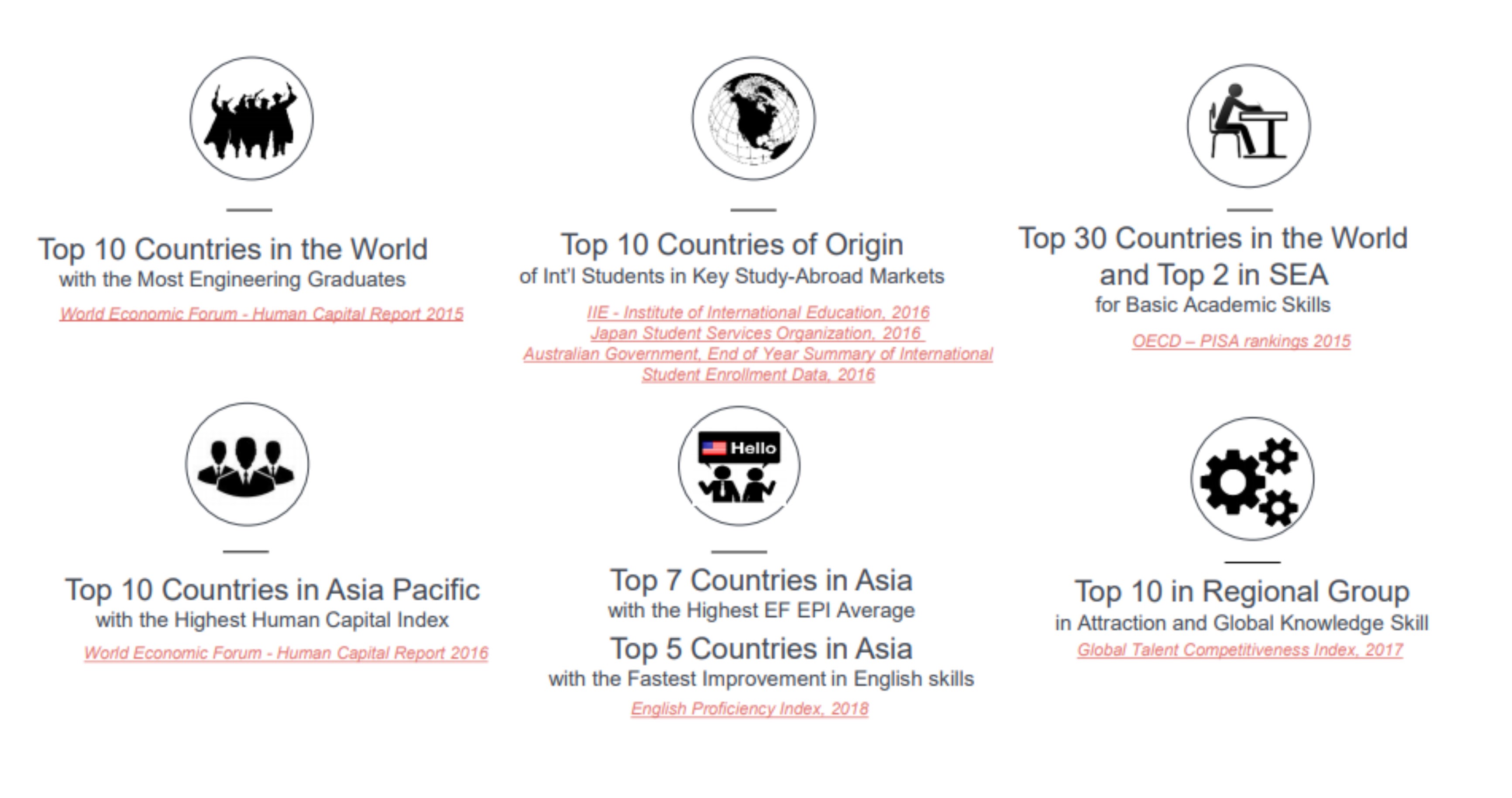 Knowledge and skills
As the surge of technology is making a significant impact on every generation, more and more STEM majors, schools and academies are opened to encourage the young to invest their talents in technology and relevant sectors and hone their skills. The rapid development in both quantity and quality of IT education in Vietnam provides an extensive supply of software developers for Vietnam outsourcing companies in the years to come. 
On the other hand, Vietnam students are often appraised for their fast absorption of knowledge, most of them have good to excellent academic background as certified by standardized exams, endorsements from global recruiters, honours and awards. 
In detail, among every SEA country, Vietnamese students' academic capability arrived at no.2 for all subjects – following only Singapore. It was also ranked as no. 8 in Science out of more than 100 countries in the world – which is quite impressive for such a developing country.
The calibre
Vietnam has a population of over 90 million people and over 60% of the population is under 30 years of age. With that being one of the countries with a young population, the Vietnamese – or Vietnamese workforce specifically – are perceived to be fast learners, dynamic, innovative, tech-savvy and flexible to changes. 
However, in contrast with the age-old prejudice that the younger the people, the more changeful they are, Vietnamese labours are inherently loyal. It seems to be a characteristic of Vietnamese culture, influencing attrition rates. According to remoteresources.com, the attrition rate in Vietnam always fluctuates between 6 and 8%, compared to that in India which is at about 20%. Besides, Vietnamese talents in the software development industry are prestigiously valued for their hard-working spirit, earnest and modesty.
All things combined, international partners could have high hopes for the workforce in Vietnam to rise and shine.
Last words
Vietnam is on its way to write a new chapter in the history of outsourcing software development. As an emerging software outsourcing destination, Vietnam will be a perfect fit for companies looking for a technological advance.
At the heart of this country, a certain set of individuals are working relentlessly to bring these technologies to the forefront. With every innovation, the rules are reset, along with the skills required to engineer and implement them. These individuals are all over the world, including us – the devoted and skillful engineers from Savvycom, who are racing against time to create world-beating apps and bring values to our treasured clients. 
We believe that with our 10+ years of tech expertise, the endorsements from 100+ clients from 4 continents around the world, the successful partnership establishments with reputable firms worldwide such as Microstrategy, Apple, Accelerance, IBM, etc, no mountain would be too high.
Read more: A recap of Savvycom 10-year excellence
Furthermore, with the relentless learning and growing culture, we make sure our expertise will always be at the forefront of technology and that the products we deliver to our clients are not only well-designed but also leading and ground-breaking.
"The overall experience has been very positive. Savvycom's work is of a really high standard and their teams are very flexible and willing to take on diverse tasks. They are good at keeping to deadlines and delivering what they say they will deliver."
Daniel Tudor, Co-founder Kokkiri App 
Read more: Kokkiri – Your all-in-one meditation and relaxation app
Contact us for free consultation and partnership: