Things to consider before implementing a cloud-based POS system
Cloud-based POS system has brought about numerous positive changes to businesses, simplifying various processes, allowing great flexibility and performing a wide, useful range of functions that traditional systems could not satisfactorily fulfil. Whether you're a merchant planning to purchase a cloud POS system for your own retail store, or just simply wanting to better understand this type of technology, this article is just for you. By the end of this article, you'll find the answer to the question of what to consider before implementing a cloud-based POS system.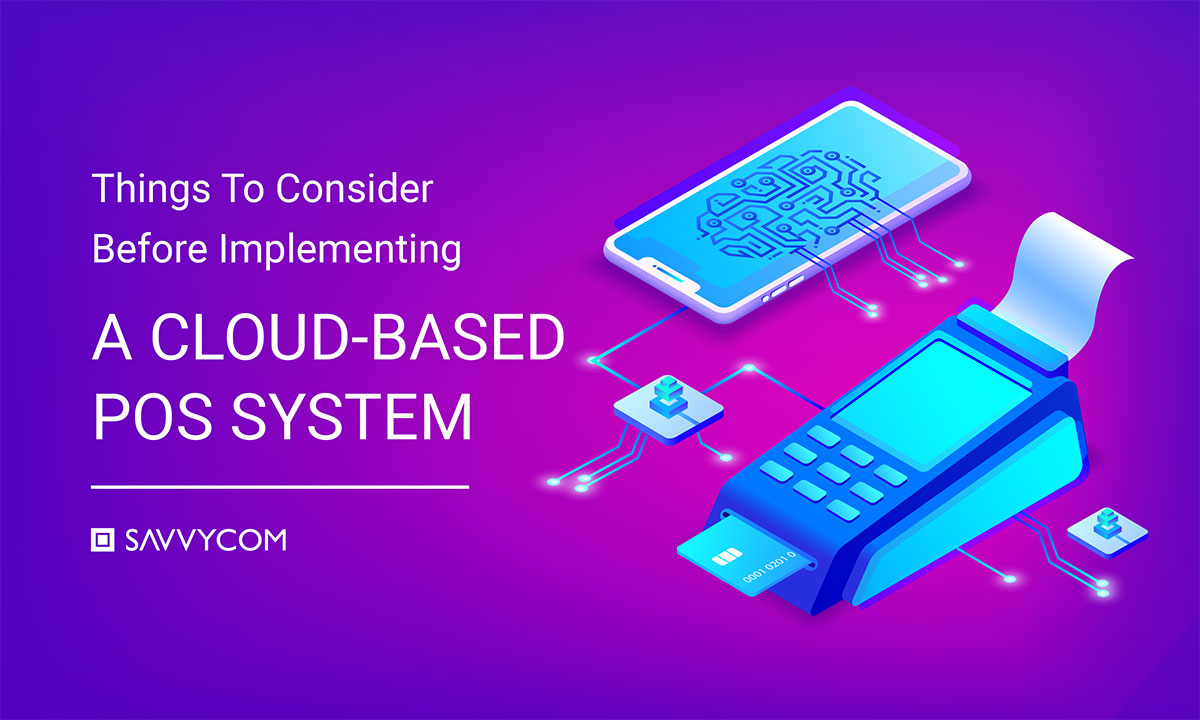 I. Costs of cloud-based POS system
As a matter of fact, the initial cost of a cloud POS is lower than that of a traditional POS. Instead of paying hefty fees for setup, licensing and maintenance, which is the case of traditional POS, merchants opting for cloud POS only need to pay a monthly subscription for access to the software. This makes cloud POS a practical option for small, newly-established businesses. 
However, just like any purchase decisions to be made when running a business, there are a number of considerations that a business owner should keep in mind. First, look for the plans offered by the POS vendors that stay within your budget. A cloud POS can cost you any amount between $20 and $200 per month. After you have narrowed down your options, explore the features that come with your chosen plans in more detail. You'd want to learn if the vendors charge more for add-ons such as loyalty functionality, 24/7 customer service or connecting third-party services. Another point to consider is whether to sign a long-term service contract with the vendor, as the price can be reduced for committed clients. 
Business owners also need to evaluate credit card processing fee options. With different processors come different prices and benefits. Make sure to choose the right fit for your business which provides you transparent credit card processing fees, reliable customer support and no requirement for long-term contracts. Read more about What is a POS System!
II. Functionality and features
However satisfied you are with the favourable price you've managed to deal with the vendor, or with the excellent customer service, if the system can't function as you expected, then your investment would mean nothing. Functionality and features are certainly of the key considerations before purchasing a cloud POS system, yet it's almost too easy to overlook these important factors. Below are some common questions to address:
1. Is an open application programming interface (API) integrated into the cloud POS?
Open APIs allow connection between all the platforms that clients need to drive their business. They assist many business services taking place around the POS, such as accounts, inventory, sales, orders, loyalty, tracking, tables, mobile or online ordering/payment and delivery. As the business expands, business owners can streamline a specific process by developing specialised apps using open APIs.
2. Which advanced integration is available?
Modern technology has made it possible for merchants to integrate a number of advanced business and marketing functions into their cloud-based POS systems. For example, any customer can make a payment from anywhere within a business premise and not just at the front counter as they'd have to do with a traditional POS system, and then get receipts via their cell phone. External accounting, digital loyalty programs and rewards system can also be integrated into the cloud POS.
3. In which language is the software written?
For the system to function properly and to ensure ease of integration with third-party vendors, look for providers who offer software written in a modern, cloud-native language and steer clear of those using the no-longer supported legacy code.
4. Is it possible to upgrade existing systems or do I have to entirely replace them?
Many merchants are not exactly willing to get rid of their current devices which have cost them thousands of dollars. Therefore, instead of throwing them away, merchants can research cost-effective upgrading options to develop the current systems to modern cloud POS systems. 
5. How much offline functionality do I retain if network connectivity is unavailable?
Cloud POS is largely internet-based systems, and as connectivity issues arise from time to time, your cloud-based software will also be affected. Therefore it's important to have your vendor clarified what will happen in case of interrupted Internet connection. Ask the vendor if you'll still be able to access data, make sales or perform other business tasks; when and how will the data be backed up or synced, and if extra fees are required for offline solutions. 
III. Data security risks
Taking your POS to the cloud means having to transfer your data to a remote server, and to many business owners, this doesn't sound very appealing. Company's data is among the most valuable assets and it's crucial to keep data security a top priority. You'll need to understand how your data will be imported, what risks are involved, and what solutions the vendors have to ensure the security of your data.
IV. Customer service after implementing the system 
Although cloud POS systems make a lot of businesses process much simpler, that does not necessarily mean that running this system will always be plain sailing. Problems might arise along the way, and this is where customer service comes in. Make sure that you're working with a trusted vendor who is ready to give you strong and timely support. Study their support options, learning if they offer a written user guide, a live chat service, or how much time it takes for a response, etc. Don't trust the provider's self-advertised, impeccable customer service right away. Sometimes you need to examine reviews or even test out the customer service before deciding to sign a contract.
Though relatively young compared with traditional POS systems, cloud-based POS has achieved significant market penetration and will continue to grow exponentially, providing advanced solutions that help businesses streamline processes, operate with greater efficiency and eventually yield a higher profit. Cloud POS system seems to be a perfect choice, especially for small business owners. However, before you decide to take your POS to the cloud, it's only right to fully understand the benefits and gauge all the risks that come with the cloud technology. 
Have other cloud-based POS system concerns?