Top 20 Best AI Chatbots For Your Growing Business In 2023
More and more businesses are leveraging their customer services using Chatbots. This trend does not stop only at a website level, chatbots are taking over digital spaces such as Facebook, Instagram, and even text messages. There is no telling where this trend will stop, but it sure is increasing the competition for more powerful chatbots. The automated conversation with a robotic tone is no longer engaging enough for users, that is why companies are moving onto the next generation – AI chatbots. 
Interested in having an AI chatbot for your business, but don't know where to start? In this article, we will introduce the best AI chatbot list for 2023. As we go into details, you will see why everyone is talking about AI-powered chatbots, from those created by tech giants to the new player that is the topic of the Internet – ChatGPT. 
What Is AI Chatbot?
Chatbots are computer programs that can mimic human conversation. Most of the current chatbots still work using data from already-defined answers. In short, when a user inputs a question, they will pull out a suitable answer from their database. The drawback is that due to the nature of already-defined answers, the conversations are robotic and plain. 
However, thanks to the latest technologies, AI chatbots now can offer a more engaging conversation, by using NLP (natural language processing). AI chatbots "learn" about users by tracking patterns in their data and then build up their "intelligence" to solve similar problems.
The result is that it is no longer a simple Q&A session with a robot, these AI chatbots understand the intent behind such requests and respond to them in a natural, human way. 
Top 20 Best AI Chatbots That Can Leverage Your Business
So, AI chatbots are the latest "weapon" that can help you attract and retain customers. But with so many options available, each with a different price range and set of features, it might be tough to choose the best one.
If that is the case, find the best AI chatbot for you from our list.
1. Tidio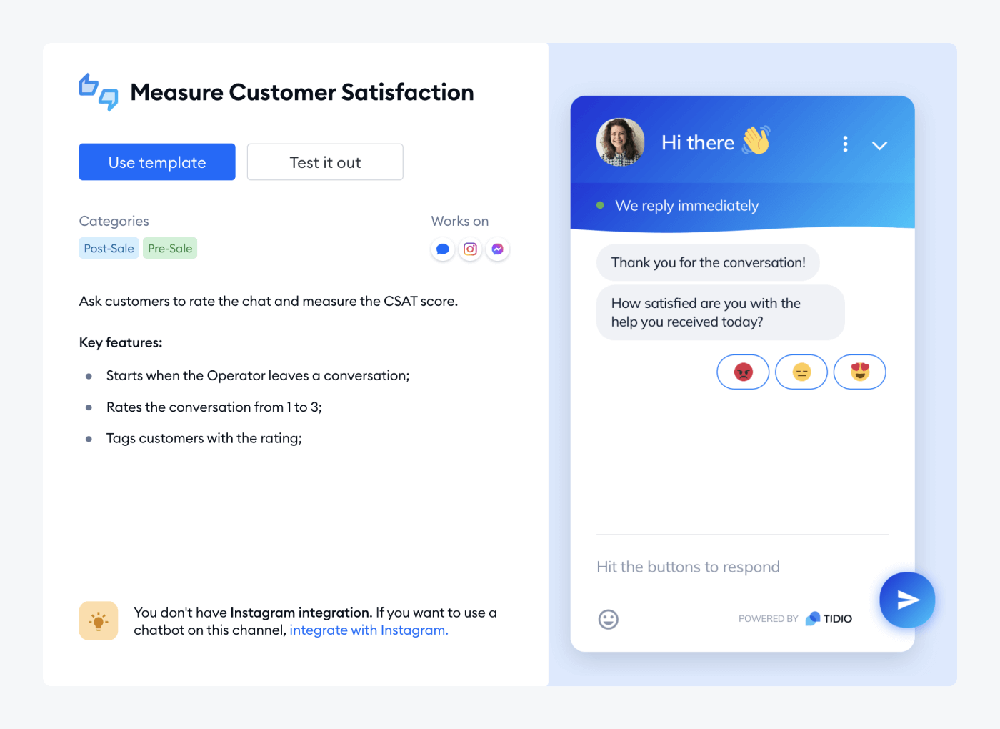 Tidio helps turn your customer experience into your competitive advantage. This tool enables you to respond to potential customers fast and easily. It provides a diverse set of chatbots and automation. You can use it to seamlessly connect with third-party apps like WordPress, Wix, MailChimp, Google Analytics, and more.
Pricing
Free plan available
Communicator ($19/mo/operator)
Chatbots ($39/mo)
Tidio+ (from $289/mo)
2. Drift
Drift AI-powered chatbots assist B2B organizations in starting conversations and answering inquiries. These bots provide buyers with a personalized user experience and real-time engagement. Its sales AI chatbot can also arrange meetings with prospective clients, allowing you to reach decision-makers more quickly.
Pricing
Free plan available
Premium (from $2,500/mo)
Advance and Enterprise plans → contact sales for pricing
3. Hubspot chatbot builder
HubSpot chatbot builder platform is simple and powerful, allowing you to automate and expand live chat discussions. Customers will be able to find answers to frequently asked questions, schedule appointments, and navigate the site. Their responses are kept in your CRM, allowing you to qualify prospects and activate automation.
Pricing
This chatbot builder tool is included in Hubpost's marketing package.
4. Intercom
Intercom is software that allows you to give prospects messenger-based experiences using live chat, chatbots, and other features. Intercom can answer up to 33% of inquiries and improves customer response time by 44%, giving a tailored experience using machine learning and behavioral data.
Pricing
Starter: $74/annually 
Most businesses: contact for pricing.
5. Salesforce Einstein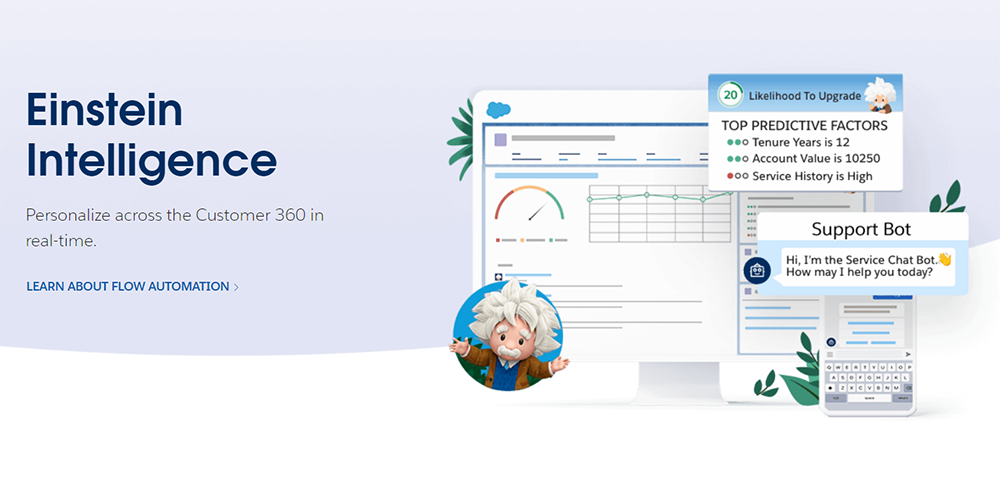 Salesforce Einstein is AI technology that powers several Salesforce products, including Salesforce's Service Cloud and chatbot solutions. These chatbots provided by Salesforce enable you to provide customer service 24 hours a day. You can create FAQs for the chatbots to answer, as well as a self-service option that allows your consumers to solve problems on their own.
Pricing
This AI chatbot is available for $50/month, as an add-on to Salesforce Service Cloud, 
6. ProProfs Chat
ProProfs Chat is created for businesses that want real-time sales and support for their websites. You can use the software to develop unique chatbots that automate support, convert leads, and increase sales. ProProfs Chat even provides extensive reports that assist you in analyzing how your chatbots are performing on the website and whether they are successful in engaging more users on your website.
Pricing
Monthly plan: $29,99
Annual plan: $239.88 
7. Watson Assistant
Watson Assistant, developed by IBM, is one of the most advanced AI-powered chatbots on the market. It can be pre-trained with specialized industry knowledge to interpret your past chat or call logs, search your knowledge base for an answer, ask customers for clarification, and direct them to human agents.
Pricing
Lite: free
Plus: $140/month
Enterprise: Custom pricing
8. Engati
This chatbot vendor has won the CODiE Award for 2021. Engati is a platform for conversational chatbots with pre-built templates. You can also rapidly create pre-configured workflows, business FAQs, and other discussion routes without any programming knowledge.
Pricing
Free plan available
Professional $78/mo
Business $249/mo
Enterprise → contact sales team
9. WP Chatbot
WP Chatbot, the most popular WordPress chatbot, provides live chat and online chat to tens of thousands of websites. It is easily integrated with just one click. WP-Chatbot uses a Messenger chat widget to power live and automated WordPress site interactions with a Facebook Business page. Users have a single inbox for Messenger and webchat communications, making cross-platform consumer contacts easy to handle.
Pricing: Free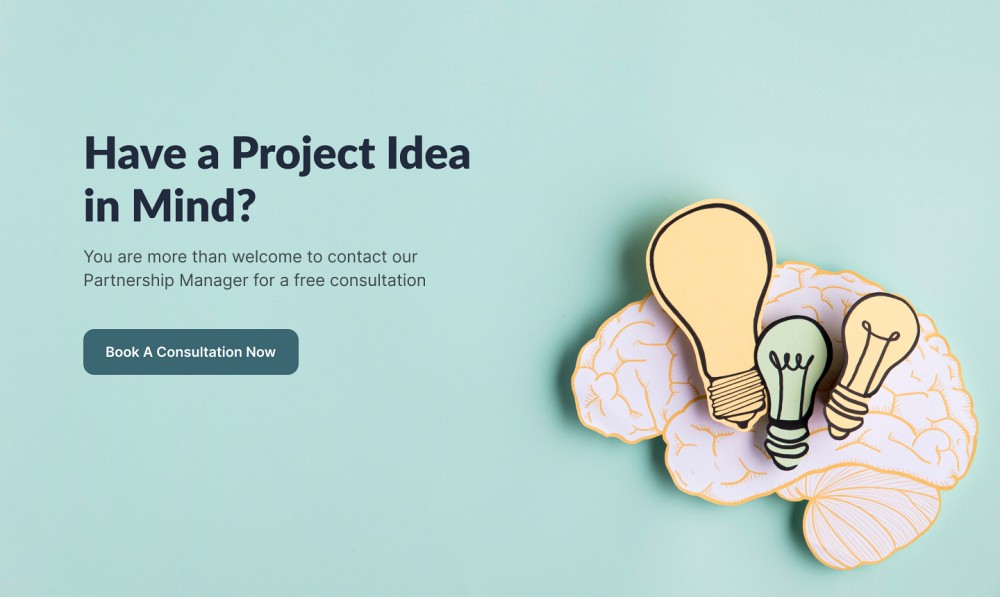 10. Zoho SalesIQ
Zoho SalesIQ provides digital customer engagement capabilities for your marketing, sales, and support teams to communicate with every site visitor at every stage of the customer lifecycle. This all-in-one live chat and analytics platform encourages proactive client interaction by allowing you to launch the appropriate type of conversation at the right time.
Pricing
15-day free trial
Basic: $10/operator/month
Professional: $17/operator/month
Enterprise: $25/operator/month
11. Zendesk 
Zendesk Answer Bot is a prominent AI chatbot platform for businesses. One of the simplest chatbot programs to set up, it integrates seamlessly into all forms of media: voice, chat, and social networks. Zendesk provides enhanced customization, tracking of sales/conversions, and real-time monitoring.
Pricing: Zendesk Answer Bot is included in Zendesk's service.
12. LivePerson
LivePerson provides AI-powered dialogues that link brands and consumers across various messaging platforms. LivePerson collaborates with firms that offer a wide range of products and services in a variety of industries, including The Home Depot, IBM, and Vodafone. According to LivePerson's website, its conversational AI software primarily handles marketing and sales, with customer care coming in second. Moreover, you can also build a new chatbot from scratch with their BotStudio, without any coding skills!
Pricing: Contact LivePerson for pricing.
13. Mobile Monkey
Mobile Monkey is a Facebook AI chatbot that allows your e-commerce company to manage all inbound and outbound client interactions in one place. It can also help you scale your business by utilizing a range of automation and third-party connectors.
Pricing
Free AI chatbot available
InstaChimp Platinum: $19/mo
MobileMonkey Startup Edition: $119/month
14. Paradox
Paradox is a recruitment platform that offers AI-powered chatbots to help global customers with their hiring processes. It automates activities such as real-time resume screening, interview scheduling, and more. It also administers onboarding communications and answers candidates' inquiries.
Pricing: Custom pricing for businesses
15. Aivo
Aivo chatbot promises to give superior customer support with instant responses and extremely efficient interactions thanks to Deep Learning, Machine Learning, Natural Language Processing, text classification, and contextual neutral networks. It also has other abilities such as personalizing solutions with contextual analysis, naturalizing conversations by localizing its dictionary, and understanding and using emojis in conversations.
Pricing: Contact Aivo team for pricing. 
16. Genesys DX
Genesys DX is a chatbot platform with Natural Language Processing (NLP) features. Businesses can use it to build bots that understand human language and respond appropriately. The focus on engagement is what distinguishes Genesys DX. It includes features like engagement history that help organizations learn how customers interact with their chatbots.
Pricing
Genesys Cloud CX 1: $75/month
Genesys Cloud CX 2: $90 – $110/month
Genesys Cloud CX 3: $130 – $150/month
17. itsAlive
itsAlive is now one of the finest Facebook Messenger AI chatbots. It reduces response time to frequently requested inquiries by answering them directly using chatbots in Facebook Messenger by detecting keywords. When necessary, you can transfer the conversation to a person, as with most AI chatbots worth their salt.
Pricing
Free
Solo: $19/month
Plus: $49/month
Pro: $99/month
Enterprise: Custom
18. Chatfuel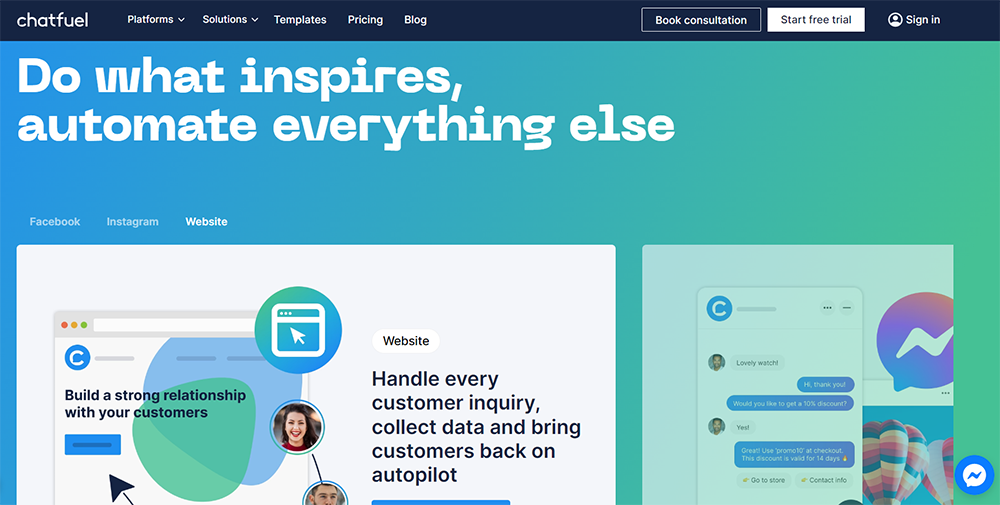 Chatfuel is a fantastic, simple-to-use platform for creating Facebook bots without coding. It provides many editing tools to help you construct your chatbots and set up conversational rules in the dashboard. When someone interacts with the chatbot, their information is automatically added to your database for future contact. 
Pricing
Free trial: 50 conversations
Entrepreneur: $14,99/month
Startup: $29,99/month
Small business: $54,99/month
19. Manychat
You can create chatbots for Facebook Messenger with Manychat by simplying drag and drop. The platform is used by over 400,000 firms worldwide and has facilitated over 1 billion monthly business-to-customer conversations. It also allows you to broadcast content to all of your subscribers at the same time.
Pricing
20. Bold360
The Bold360 chatbot building tool enables you to create intelligent bots that take visitors via customized buyer experiences. It can read the complicated language, recall the context of a full discussion, and respond to consumers in natural ways. Consumers may even purchase your stuff via the chatbot. You may also give your chatbot a personality and use it on any chatting platform.
How AI Chatbots Can Support Your Business?
When talking about chatbots, the first thing that comes to mind is that they help solve part of customer queries. But what are the other aspects this modern software can support a business? Let's dig a little deeper.
Increase sales
During a conversation with a client, AI chatbot solutions can recommend products as well as upsell and cross-sell. According to study, chatbots enhance a company's sales by an average of 67%. In short, this boost has the potential to increase your revenue substantially in the long run.
Enhance communication
Customers express that chatbots are the necessary tool to improve communication quality with a brand. This is no surprise since a chatbot is available 24/7, and with proper data, it can generate suitable and natural answers to customers' queries. Thus, customers may stay on your website longer and be willing to be in touch with your brand.
Improve engagement
There is an interesting fact that users like interacting with chatbots that act human-like and can be "witty" more positive than those only acts in a robotic way. An AI chatbot is the perfect solution to meet this demand. NLP allows these chatbots the capability to filter data and answer in a more interesting way, which makes them more fun to chat with. 
Offer personalized experience 
In the retail industry these days, personalization is one of the keys to turning a first-time consumer into a loyal one. Data shows that about 80% of the time, customers spend more when a brand offers a personalized shopping experience. Because they are more intelligent, AI chatbots can give better product recommendations to customers, which increases sales and satisfy consumers' needs at the same time.  
Support proactive customer service
According to studies, 68% of consumers prefer brands that provide proactive customer support over those that do not reach out to customers. To ensure that your brand stays in touch with customers, an AI support chatbot can reach out to them via your website and other communication channels.
Conclusion
AI chatbots is a powerful software that when integrated correctly, can significantly improve business performance, save costs and enhance the customer experience. The distinctive characteristic of AI chatbots is that they can answer queries in a natural, more human-like way, using the natural learning process technology.
To optimize the advantage a chatbot brings, you will need to input information into its database, and then train so that it learns to improve its answers to each request. AI chatbots are beneficial in many industries, from retail, food, and beverage to healthcare and even for personal use. 
The best AI chatbots on our list are available for different pricing plans, and they are also built with different technologies, so do your homework and research carefully to select the right assistant for your business.
Keep in mind that AI chatbot technology is still rapidly evolving, and we do not expect it to slow down in 2023 or in the years ahead. This trend will only continue to develop, making now the best moment to begin employing AI chatbots for your organization. With so many benefits, there's no reason not to give them a shot.
Savvycom – Your Trusted Tech Partner
From Tech Consulting, End-to-End Product Development to IT Outsourcing Services! Since 2009, Savvycom has been harnessing the power of Digital Technologies that support business' growth across the variety of industries. We can help you to build high-quality software solutions and products as well as deliver a wide range of related professional services.
Savvycom is right where you need. Contact us now for further consultation: