Top 10 Use Cases Conversational AI in Healthcare
New instruments and technology have always played a significant role in medicine. One of the more interesting new discoveries is the emergence of artificial intelligence systems such as conversational AI for healthcare.
Conversational AI is changing how healthcare providers engage with patients by utilizing natural language processing (NLP) and machine learning (ML). From booking appointments to monitoring conditions, conversational AI has multiple uses that improve the healthcare experience for both patients and clinicians. In this article, let's look at the top 10 use cases of conversational AI in healthcare and considerations for effective implementation.
Rising Adoption Rates: According to a study by Grand View Research, the global chatbot market size was expected to reach $1.25 billion by 2025, with businesses across various industries adopting chatbot technology to improve customer service and streamline operations.
Customer Service: One of the most significant areas of chatbot implementation was customer service. Gartner predicted that by 2022, 70% of customer interactions would involve emerging technologies such as machine learning applications, chatbots, or mobile messaging.
24/7 Availability: Chatbots provide businesses with the ability to offer round-the-clock customer support, which is especially valuable for global companies serving customers in different time zones.
Cost Savings: By automating repetitive tasks and reducing the need for human agents to handle basic queries, businesses can save on operational costs. Juniper Research estimated that chatbots could save businesses up to $8 billion per year by 2022.
Improved Customer Experience: As chatbots continue to advance in their capabilities, they offer more personalized and context-aware interactions, leading to enhanced customer experiences.
Integration with Messaging Platforms: Chatbots have been integrated with popular messaging platforms like Facebook Messenger, WhatsApp, and Slack, making them easily accessible to customers where they already spend much of their time.
E-commerce and Sales: Businesses in the e-commerce sector have leveraged chatbots to assist with product recommendations, order tracking, and upselling.
Human Resources: Chatbots have also been employed in HR departments to answer employee queries, manage onboarding processes, and provide general HR-related information.
Analytics and Insights: Chatbot interactions can provide valuable data and insights into customer preferences, pain points, and frequently asked questions, which businesses can use to improve their products and services.
What is Conversational AI for Healthcare?
Regular chatbot vs. Conversational AI

It is critical to understand that conversational AI is not a chatbot. While the phrases chatbot, virtual assistant, and conversational AI are sometimes used interchangeably, they are not all made equal.
Chatbots are basically programs that automate conversations. It means that a user may ask the chatbot a question and get a quick response without waiting for someone to assist. Chatbots, however, do not have to use artificial intelligence, and many do not. In fact, the majority of today's chatbots give straightforward replies to a specific set of questions using scripted, pre-defined responses and rule-based programming.
Conversational AI, on the other hand, uses natural language processing (NLP) to comprehend the context and "parse" human language in order to deliver adaptable responses.
What is
true

Conversational AI?

Conversational AI combines advanced automation, artificial intelligence, and natural language processing (NLP) to enable robots to comprehend and respond to human language.

Conversational AI in healthcare provides deeper analysis and intent recognition, allowing it to assist patients beyond contextual or grammatical errors. Conversational AI does not require patients to match specific "keywords" in order to receive a comprehensive answer or consultation. NLP enables the model to comprehend the text rather than simply scanning for a few words to get a response.
Top 10 use cases of conversational AI in healthcare
Let's take a look at the use cases for conversational AI in healthcare and some examples of its integrations in this section.
1. Answer queries
Patients frequently have pressing inquiries that require immediate answers but may not necessitate the attention of a staff member. The good news is that most customers prefer self-service over speaking to someone, which is good news for personnel-strapped healthcare institutions.
Because it reduces many of the common issues of FAQ sections on healthcare providers' websites, conversational AI is the best solution for self-service in healthcare. Users may struggle to identify the most appropriate response to their query using the website search tool, for example, since they aren't using the same vocabulary as the FAQ. Alternatively, they may have a number of queries that need them to navigate to various sites.
Intelligent conversational interfaces address this issue by utilizing NLP to offer helpful replies to all questions without requiring the patient to look elsewhere. Furthermore, conversational AI may match the proper answer to a question even if its pose differs significantly across users and does not correspond with the precise terminology on-site.
2. Symptom checking
When we have minor health problems, many of us turn to Google for answers. Although the internet is an amazing source of medical information, it does not provide personalized advice.
Conversational AI may diagnose symptoms and medical triaging and allocate care priorities as needed. These systems may be used as step-by-step diagnosis tools, guiding users through a series of questions and allowing them to input their symptoms in the right sequence. The benefit is that the AI conversational bot converses with you while evaluating your data. Some symptoms may indicate something dangerous that demands immediate attention.
Conversational AI systems do not face the same limitations in this area as traditional chatbots, such as misspellings and confusing descriptions. Even if a person is not fluent in the language spoken by the chatbot, conversational AI can give medical assistance. In these cases, conversational AI is far more flexible, using a massive bank of data and knowledge resources to prevent diagnostic mistakes.
3. Appointment scheduling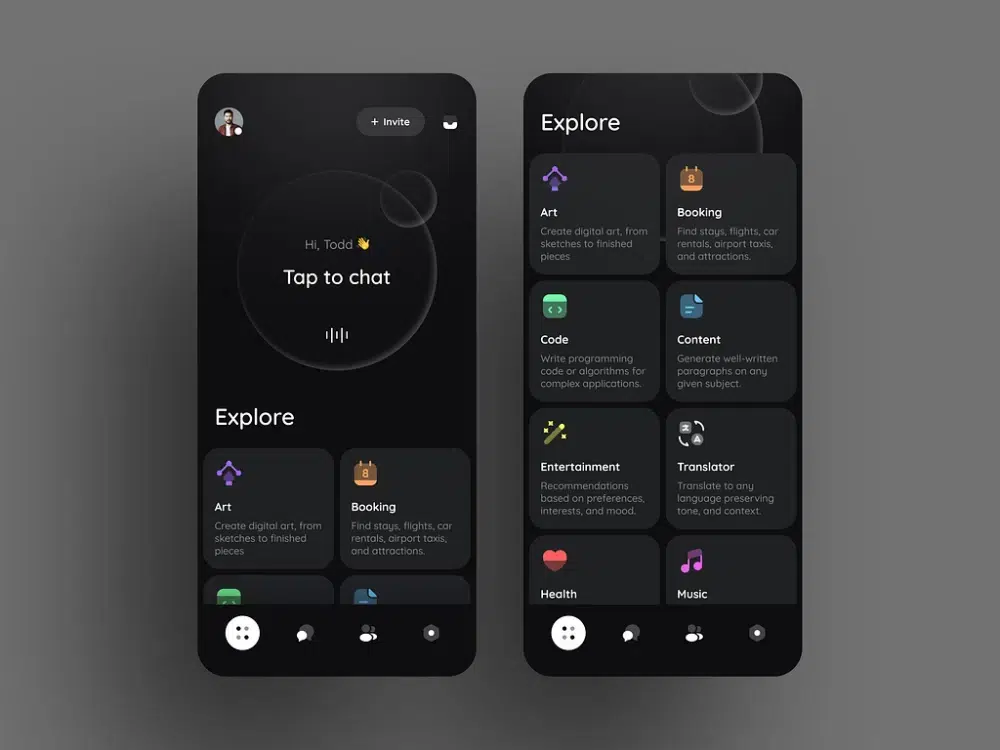 Managing appointments is one of a healthcare facility's most demanding yet vital tasks. While appointment scheduling systems are now very popular, they are sometimes inflexible and unintuitive, prompting many patients to disregard them in favor of dialing the healthcare institution.
Conversational AI systems make it easy for patients to schedule appointments without the hassles of a sophisticated user interface. Patients can easily arrange an appointment with their favorite practitioner or reschedule or cancel an existing appointment.
The benefit of conversational AI in appointment scheduling is that it serves as a big database of clinics, doctors, and up-to-date schedules, allowing patients to match their specific timetables.
It can do more than just create, reschedule, or cancel appointments; it can also send reminders and other important information, such as whether a patient needs to bring a particular document to the appointment or need someone to help them after a procedure.
Looking For a Trusted Tech Partner?
We'll help you decide on next steps, explain how the development process is organized, and provide you with a free project estimate.
4. Medical Triaging
Undertriaging and overtriaging both result in unfavorable conditions for the patient or the healthcare providers. What part does conversational AI play in this situation, then?
In certain situations, conversational AI in healthcare has made better triaging judgments than certified professionals with a deeper examination of patients' symptoms and medical history.
While an AI-powered chatbot can help with medical triage, it still requires additional human attention and supervision. The outcomes will be determined by the datasets and model training for conversational AI. Nonetheless, this technology has enormous promise and might produce superior outcomes with sufficient funding.
5. Health & Medication management
Conversational AI has the potential to aid both doctors and patients in terms of medication management and adherence. In healthcare, AI-powered chatbots evaluate your patients' lifestyle behaviors, preferences, and medical history to produce tailored daily reminders and guidance.
By implementing a conversational AI tool, you can help your patients:
Make precise information regarding their medication and regimen freely available
Keep track of the remaining medicine and get alerted when a refill is needed
Take their medication according to prescription by delivering alerts throughout the day
Maintain their motivation to stick to the routine
For doctors, AI's analytical capabilities provide access to structured dashboards where all information gathered about each patient finds its home. Adherence rates, medication numbers, and treatment check-ins are all available with a single click for each patient.
6. Mental health support and counseling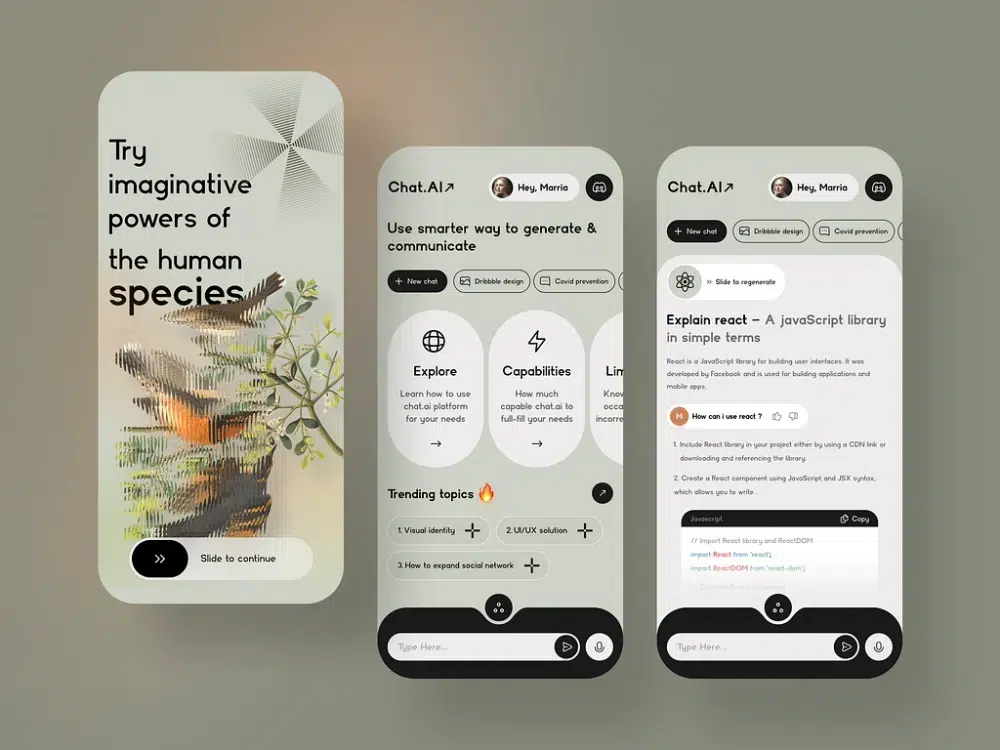 AI chatbots that have been upgraded with NLP can interpret your input and provide replies that are appropriate to your conversational style. However, matching the tone of speech is insufficient for mental health.
When AI chatbots are trained by psychology scientists by overseeing their replies, they learn to be empathic. Conversational AI is able to understand your symptoms and provide consolation and comfort to help you feel heard whenever you disclose any medical conditions you are struggling with.
7. Patient Engagement and Post-Treatment Care
The number of interactions patients have with healthcare experts varies significantly depending on their stage of treatment. For example, post-treatment patients may have frequent check-ups with a doctor, but they are otherwise responsible for following their post-treatment plan.
However, if the patient misunderstands a post-care plan instruction or fails to complete particular activities, their recovery outcomes may suffer. A conversational AI system can help overcome that communication gap and assist patients in their healing process. For example, the patient could submit information regarding what post-care steps they have taken and where they are in their treatment plan. In turn, the system might give reminders for crucial acts and, if necessary, alert a physician.
8. Patient insights 
Conversational AI systems are designed to collect and track mountains of patient data constantly. That data is a true gold mine of vital insights for healthcare practitioners, which can be leveraged to help make smarter decisions that improve the patient experience and quality of care.
For example, the conversational AI system records numerous instances of patients attempting to schedule appointments with podiatrists but failing to do so within a reasonable timeline. A study of the data would reveal this reoccurring pattern, and the healthcare organization may then determine that they may need to hire more podiatrists to meet patient demand.
Furthermore, by watching and evaluating how patients interact with the conversational AI system, healthcare providers may immediately fix any gaps in care. The questions patients ask can reveal a lot about their degree of medical literacy, whether they find certain parts of attending the clinic challenging, and so on. This might help you determine what kind of information you should put in front of patients and what you should leave out to make their encounters more pleasant and enlightening.
9. Automation of Administrative Tasks
On a daily basis, thousands of administrative tasks must be completed in medical centers, and while they are completed, they are not always done properly. Employees, for example, are frequently required to move between applications, look for endless forms, or track down several departments to complete their duties, resulting in wasted time and frustration.
An intelligent conversational AI platform can simplify this process by allowing employees to submit requests, communicate updates, and track statuses, all within the same system and in the form of a natural dialogue.
Conversational AI may simplify and streamline the onboarding process, help patients through the prescription request process, enable them to update crucial information such as their address or a change in circumstances, and much more.
10. Public Health Information Dissemination
A critical takeaway from the COVID-19 pandemic is that disinformation is the only thing that spreads faster than a virus. Even without a pandemic threat, misleading health information can inflict significant harm to individuals and communities.
Conversational AI has the potential to enable governments and institutions to establish a reliable source of information about the virus's transmission. For example, in the case of a public health crisis such as COVID-19, a conversational AI system may distribute recommended advice such as washing your hands for 20 seconds, maintaining social distance, and wearing a face covering.
It can also suggest when someone should attend a healthcare institution, when they should self-isolate, and how to manage their symptoms. Advanced conversational AI systems also keep up with the current guidelines, ensuring that the advice is constantly updated with the latest science and best practices.
Considerations for deploying conversational AI in healthcare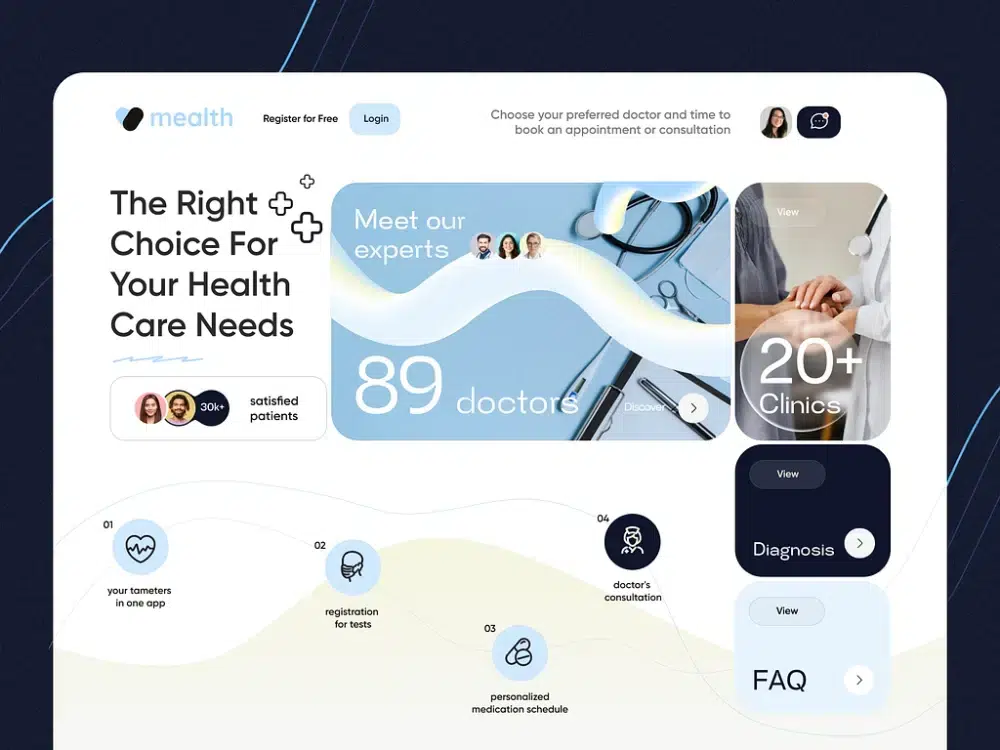 To successfully adopt conversational AI in the healthcare industry, there are several key factors to be considered.
1. Setting goals and objectives
Setting goals and objectives for conversational AI implementation in the healthcare industry involves defining specific actions such as improving patient engagement, reducing administrative workload, and improving care delivery efficiency. Conversational AI implementation requires coordination between IT teams and healthcare professionals, who must frequently monitor and evaluate the technology's performance. Such information ensures that it continues to accomplish its objectives while also catering to patient demands.
2. Selecting the right communication channels
Conversational AI in healthcare communication channels must be carefully selected for successful execution. Ideal channels are ones that patients easily access and integrate seamlessly with existing systems. Voice assistants, bots, and messaging platforms are some of the most often used choices for meeting the demands of various patients.
3. Ensuring HIPAA compliance
Healthcare providers must guarantee that their solutions are HIPAA compliant to successfully adopt Conversational AI in the healthcare industry. This includes encrypting critical patient data during transmission and storage. To maintain compliance, working with knowledgeable vendors specializing in HIPAA-compliant solutions and conducting regular audits is critical.