Healthcare App Ideas: What You Should Not Miss in 2021
According to Statista, there are nearly 88,000 health applications available for both iOS and Android-based smartphones. Everything is adopting digital transformation, especially in healthcare, with the world facing the second year of Covid-19. And with the help of technology, you can do nearly everything with a few simple clicks. The healthcare sector is an industry that certainly benefited from innovations in technology. But coming up with the perfect healthcare app ideas is a complex process, which needs expert guidance.
This article will show you the necessary information about developing the best healthcare app.
How Technology Devices Improve Communication Processes in Healthcare
1. Healthcare App Development In 2021
As the COVID-19 pandemic struck, the world healthcare systems or, more specifically, healthcare apps have become even more popular. Telemedicine, AI, and remote patient monitoring went up by 300% in investments. The total global mHealth market is predicted to reach nearly 100 billion U.S. dollars in 2021. That would be a fivefold increase from around 21 billion dollars in 2016. – According to Statista
Healthcare app development would generally fall into one of the two categories: healthcare apps for doctors and healthcare apps for patients. The former such as Personal Health Records software (PHRs) or Electronic Health Record (EHR), which are created for medical institutions, gives health records to doctors, nurses, and healthcare professionals. The latter provides patients or simply users with health management, booking appointments, fitness tracker, etc.
2. What Are The Types Of Apps In Healthcare?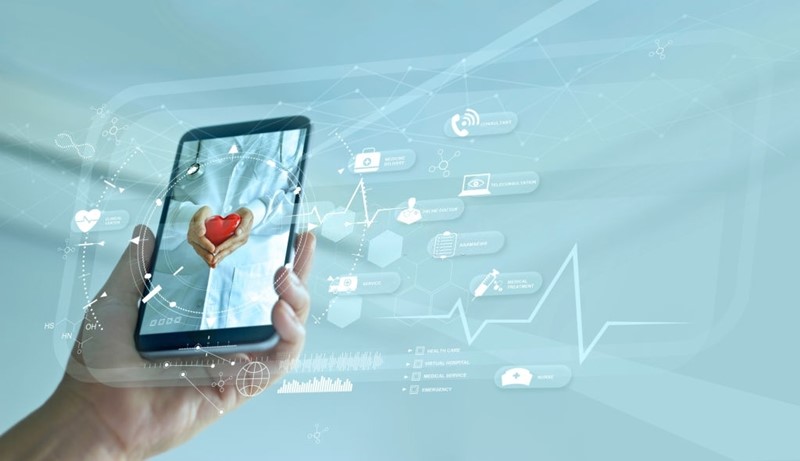 The top hospital and health system mobile apps offer interoperability and secure care coordination
As technological development continues to accelerate, the use of mobile app continues to invade deeply into almost all aspects of the economic system; the healthcare industry is no exception:
The global mobile health (mHealth) app market is projected to grow from 28.320 billion USD in 2018 to a whopping 102.35 billion USD by 2023 at a Compound Annual Growth Rate (CAGR) of 29.30%. – Research and Markets
75 per cent of US consumers considered technology important in managing their health in 2018 (Accenture). In addition, nearly half (48 per cent) of healthcare consumers are using mobile/tablet apps, compared to just 16 per cent in 2014.
Consumers are increasingly turning to digital solutions when it comes to healthcare services, showing preference to address their healthcare needs using digital tools such as mobile device. More so, 50% said they would leave their current providers for one that promises better technology. – BusinessWire
So, what do all these figures boil down to? It appears that there are tremendous business opportunities for healthcare app development, as the mHealth market is predicted to grow exponentially. With new demands arising for quality, high-performance healthcare apps, many mHealth entrepreneurs can already see the great chance to develop brilliant apps that satisfy consumers' healthcare needs and make the most of this highly potential market.
---
2.1. Telemedicine Apps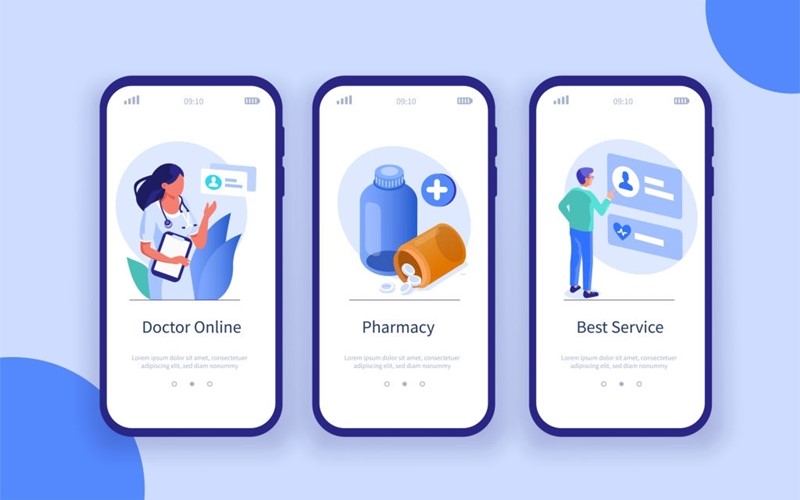 Telehealth is the distribution of health-related services via electronic information and telecommunication technologies
The telemedicine market has seen significant growth over the past few years, especially during the Covid-19, when people are more inclined to stay home. In 2019, the global telemedicine market was valued at $45 billion. By 2026, it is expected to be valued at more than $175 billion. This enormous growth is caused by the increasing costs of traditional health care, increased digital health users, and telemedicine funding. In 2013, there were around 350 000 telemedicine patients around the world.
Build Your App The Professional Way With Savvycom?
Our team can help you with the development of your application. Contact us to get a free initial consultation regarding your project and its estimation in terms of cost, timeline, and needed technical talent.
---
2.2. EHR/EMR/PHRs App
Electronic health records or personal health records software store data about patients' diseases, while electronic medical records provide official information for hospitals and healthcare service providers. EMRs store data about specific conditions and serve as an electronic copy of disease history. Thanks to EHRs, hospitals access patients' health data on the go and make everything ready faster than it usually would.
2.3. Healthy Lifestyle & Fitness Apps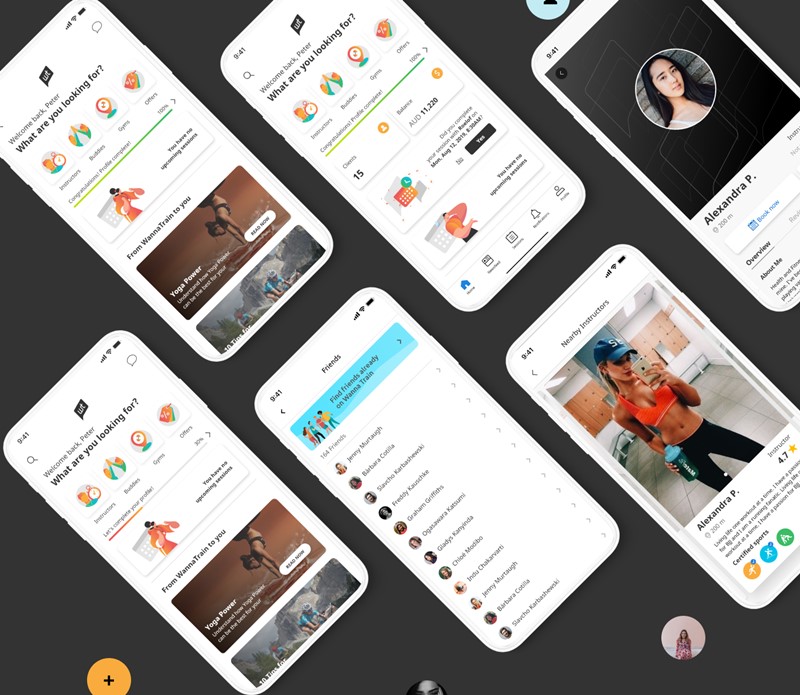 Connect with fellow gym members, friends and others nearby on Wanna Train
These healthcare apps are focused on maintaining a healthy lifestyle. They are equipped with diet-tracking features, monitoring fats, proteins, carbs eaten like (Samsung Health or Apple Health). There are also gender-specific applications and information like ones for pregnant women tracking data, doctor's appointments, etc.
Fitness Apps, on the other hand, can keep track of your progress. In 2019, Savvycom built an app with the same name for Wanna Train – a premier platform for fitness trainers and enthusiasts. Wanna Train Platform helps users connect with fellow gym members, friends, and others on Wanna Train social channel. Whether you are looking to snap and share a photo, network on similar training techniques, or stay in touch with other passionate fitness enthusiasts, we create a unique ecosystem that changes the way people make healthy connections.
---
2.4. Emergency Apps
Just as the name suggests, those healthcare applications are used in emergencies. When the user feels terrible or cannot speak, they can immediately boot up the app tap the Help button, sending a request to the hospital with the healthcare app user's exact location.
2.5. Reminder/Medication Apps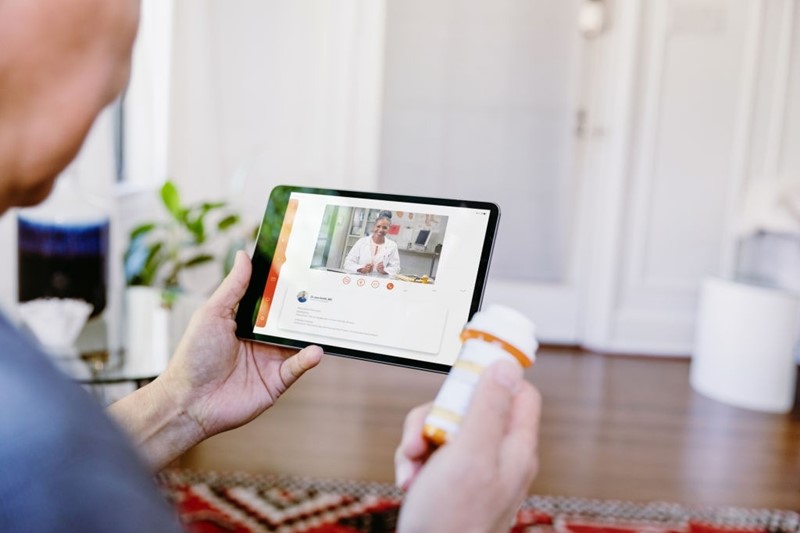 Healthcare applications that help patients keep track of doses and medicine-taking schedule. These apps also allow doctors to send prescriptions to patient.
2.6. Treatment Monitoring And Patient Tracking Apps
These programs are used to engage patients in their treatment, giving them information and tips about their sickness and monitor progress.
3. Must-have Healthcare App Features
Most popular health app ideas have quite a few things in common. When analyzing their core features, we can develop a pretty detailed list of 'must-haves' features. Some of them are highly dependent on the type of mobile app you decide to create to better suit your business goal.
3.1. Real-time Updating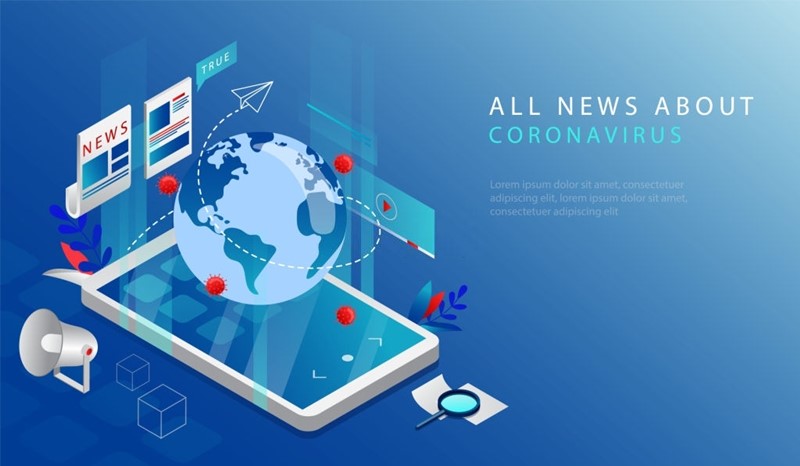 The ability to provide up-to-date data is one of the most important features for health applications. The information needs to be refreshed continuously, not just for the patients but also for the doctors to provide the best analytics.
---
3.2. 

Cross-platform Accessibility
The best healthcare apps should be available for various Android and IOS devices, from patients' smartphones to doctors' computers. The ability to be accessible from any device is also one of an app's main selling points.
3.3. Offline Mode
Even though we live in a world where people are always staying connected, an online-only mode is still one of the most annoying features to have on an app. The best healthcare app should not depend on the internet connection all the time, and that is why offline access needs to have an uninterrupted flow of data and create backups.
3.4. Monitoring & Analytics
Important analytics of patient's data are useful during medical checkups in the hospital or any medical facility. This way, medical professionals can predict possible threats, complications, etc.
3.5. Progress Tracking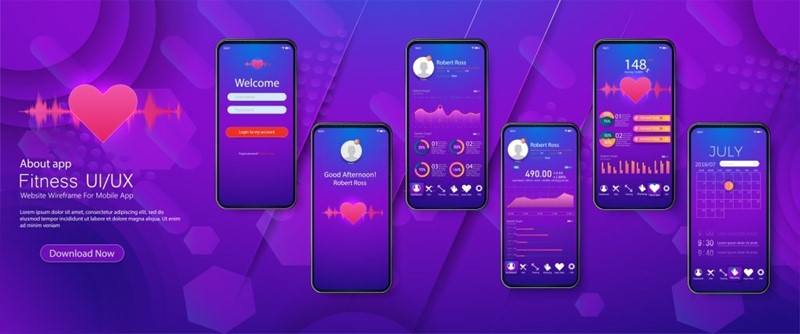 The option to track heart rate, calories, blood pressure, diets, etc., is useful for measuring progress and keeping an eye on the patient's vitals.
3.6. Two-way Communication
Patients should be able to get feedback from doctors and learn more details about their prescriptions and conditions. This feature develops mutual trust between the healthcare app user and the provider, making them feel that they are being looked after by their doctor even when they cannot go to the hospital.
3.7. Push Notifications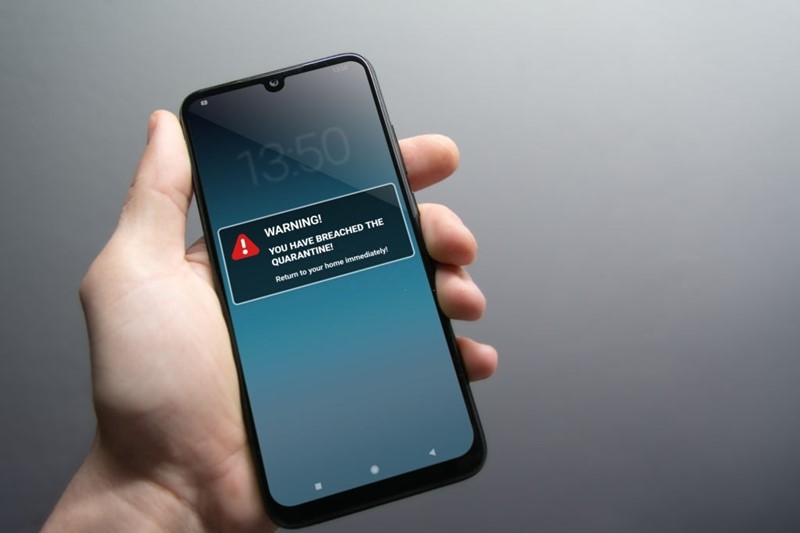 When something is out of the ordinary or provides the user with various reminders, notification is one of the essential features to have. 
3.8. Schedule Appointments
Some healthcare applications like telemedicine will give you the ability to book a visit with your practitioner or doctor directly from your mobile device.
3.9. Payment Integration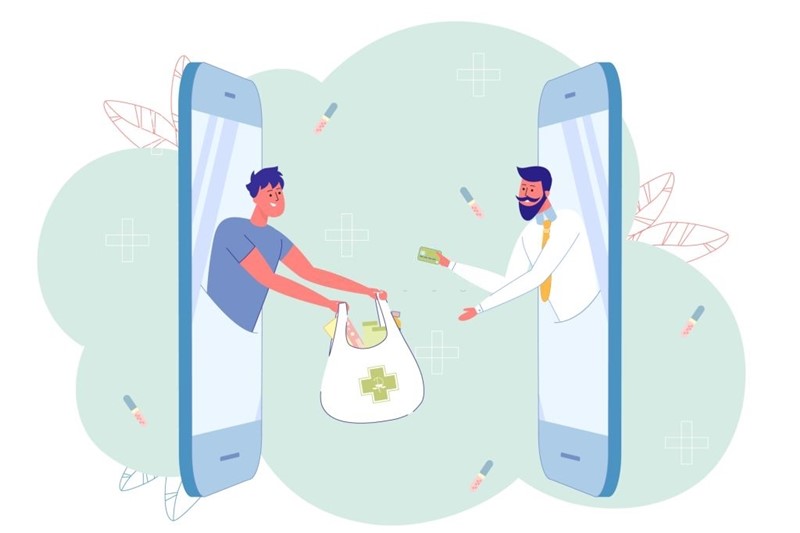 Paying for medical services online is an excellent option to have as doctor's appointments and hospital admissions are connected with bills.
---
3.10. Patient & Doctor Profiles
In most cases, everyone should organize all data in user profiles that doctors can view. In contrast, doctors' profiles should include information about their specialization and other valid information that will make choosing a practitioner easier for patients.
3.11. 3rd Party Integrations
Google Fit, Samsung Health, Apple Health, and others – most healthcare apps should be able to connect to these platforms and various measurement devices like smartwatches, smart scales, etc.
4. How To Make a Successful Healthcare Mobile App?
When you decide to create a medical app, you should follow some essential steps to navigate you through the process pain-free.
Step 1: Market Evaluation
The market for mobile apps is growing rapidly like never before
Remember to does market research. Finding out what solutions already exist and which ones are lacking. Define your target customer, get to know their problems, and figure out the features your app should have. During this step, validate your idea. Come up with a clear vision and a detailed outline of your healthcare app ideas while remembering that a useful application is easy to install and use. It has an excellent interface and ensures maximum security.
---
Step 2: Choosing the right platform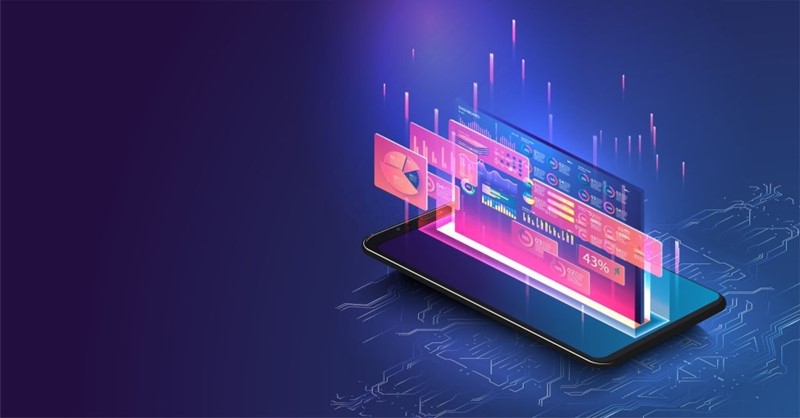 Android or IOS or Both
This decision will influence the features your app will have. You can develop it solely for Android or iOS devices or create a hybrid that both operating systems will support. Take into consideration the devices your target audience uses. The solution should look good on smartphones, tablets, and smartwatches.
You can make use of a ready-made solution or create custom software. Ready-made solutions will give you stability and low development costs. However, they lack the creativity you can achieve with a custom solution. 
It is worth noting that your target group will influence the UX and UI of your application. The better you understand the audience's dynamics, the better solution you will be able to provide. Doctors will expect different features from patients. Keep that in mind while discussing the app layout and functionalities with your design team.
Step 3: Design, Development, and Release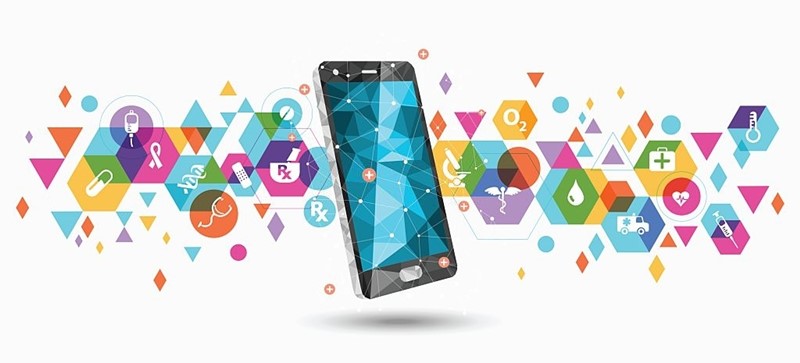 When all is prepared, it is time to start coding. First of all, your team will focus on the back-end of the architecture. This is the time to discuss the must-have features. Then, there will be time for the front-end, which is strongly connected with your application's graphic design.
When you finally have your final healthcare app ideas, it will be time to test them on a small group of people for further improvements. Testing will ensure that your product works seamlessly and is easy to use. If all that goes well, it is time to distribute your application. You can release it to the App Store and Google Play or distribute it to users on an ad hoc basis – providing it is a staff-only product.
---
5. Healthcare App Development Ideas Easy with Savvycom – The Story of Jio Health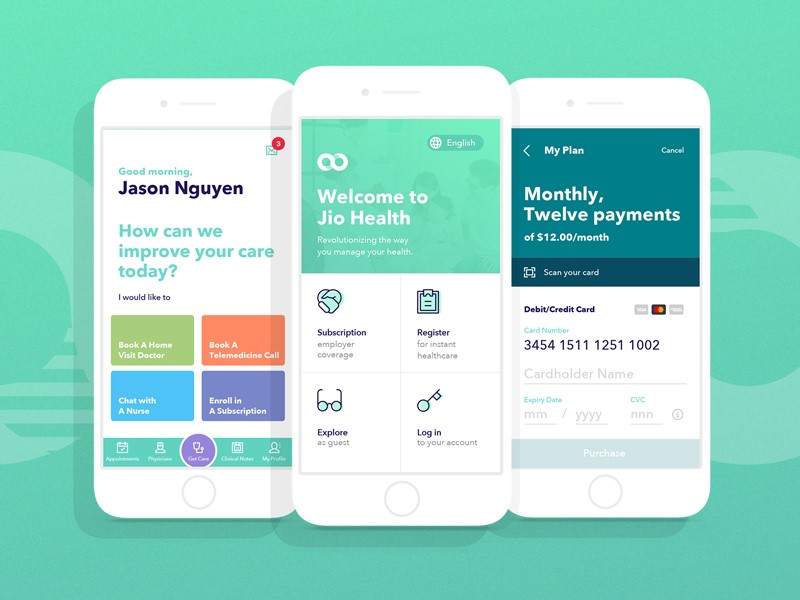 Jio Health's initial concepts
5.1. The Idea
Rising costs and increasing demand for quality healthcare has made telemedicine and telehealth solutions become increasingly important, especially for those without easy access to medical professionals. With a view to making healthcare more open and connected, healthcare provider Jio Health collaborated with Savvycom, leading software development to create Jio Health – an innovative mobile app to deliver quality, trusted healthcare to users online, in the office and at home.
5.2. Its Features
[wpdatatable id=2]
5.3. Turning It Into A Reality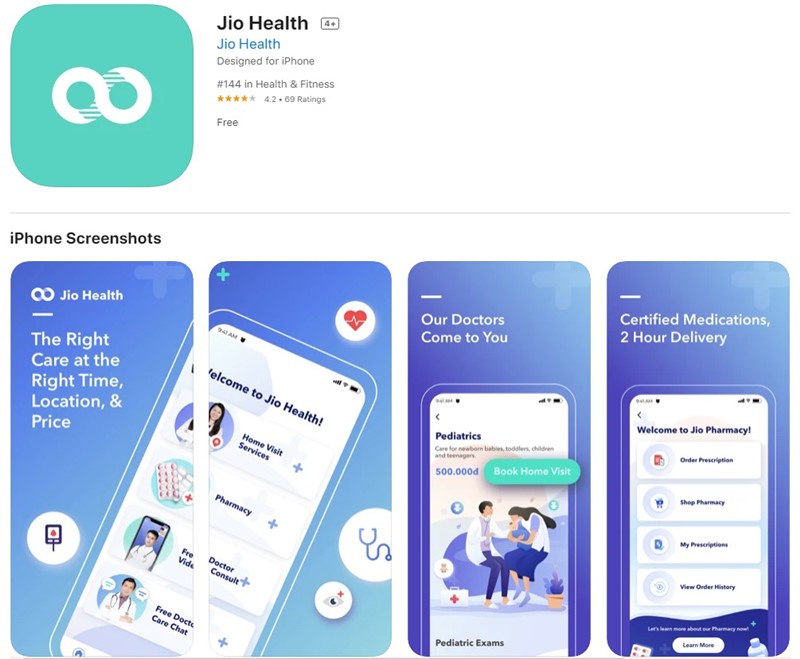 Jio Health on Appstore
Jio Health is created to be a cost-effective, smart engagement system running on both iOS and Android. The Savvycom Team works to make sure that Jio Health delivers seamless communication using high-quality WebRTC– a technology supported by leading Window browsers like Google Chrome, Mozilla, Opera and Firefox, which provides better sound quality, browser security and stability.
Jio Health is also connected with healthcare wearables such as wireless blood pressure cuff, scales, glucometers, and fitness bands from trusted wearable companies like Fitbit and Jawbone, AppleHealth Kit and Google Fit, facilitating patients in tracking their weight, blood glucose and pressure, physical activity, heart rate and nutrition on a daily basis.
---
---
Frequently Asked Questions: