Top 10 Finance Chatbots Your Business Needs
According to a report by Forrester, 90% of people in charge of customer service agree that personalization is what businesses need today. To keep up with customer expectations, AI is becoming a more important part of the financial services industry.
Many financial companies are trying out chatbots as a way to give their customers new and better financial services and to assist them in general. In the finance industry, chatbots add a lot to both the user experience and the budgets for managing costs. However, there are so many different companies that offer chatbots. All of them talk about how great their features are and seem to be perfect.
Which one is the most suitable? This article will show you the top 10 best finance chatbots so you can choose the best one for your business.
What Is Finance Chatbots?
Bots that work in the financial services industry are called "finance chatbots." They talk to clients and offer support 24/7, 365 days a year. They can do things like answer questions that are often asked, check the customer's account balance, and give financial advice. Financial chatbots can also handle multiple requests at the same time that come from different channels.
What Can The Finance Chatbots Do?
Chatbots have a lot of advantages. They can help customers 24 hours a day, 7 days a week, and are connected to the firm's financial database so they can quickly get information to help both employees and customers. Here are some main features that finance chatbots have:
1. Welcoming New Clients
Chatbots can be used in the onboarding process to do things like:
Making sure that all required financial documents are uploaded and available.
Sending them their contract to look over and reminding them that they need to sign it.
Setting up a new account and getting to know it.
Users can get a financial app on their phones and look at it.
Chatbots will also get feedback from new customers about their customer journey and offer services during the onboarding process so that a full analysis can be done.
2. Giving Financial Advice
Chatbots can help people manage their money or act as financial coaches. They can give advice and answer questions about the simple financial questions such as:
Spending each month and each quarter.
Plans for saving.
Bank balance.
Advice on insurance and taxes.
Customers can also request chatbots to give them a notification when a budget limit is surpassed or there is an ongoing promotion
3. Enhancing Customer Services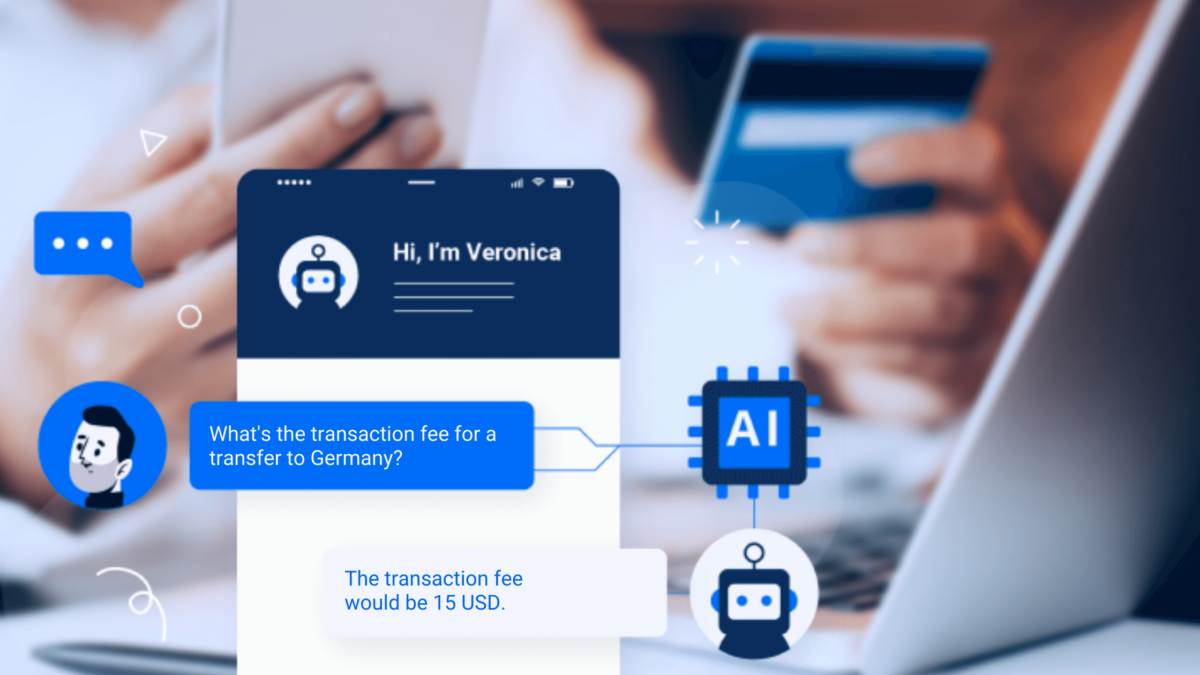 Good customer service always the main reasons why customers return. Customers of insurance and banks also tend to want help right away and correct answers to their questions. Chatbots can satisfy the clients because of these features:
Are available 24/7.
Answer FAQs.
Give human-like answers.
Set up a secure way for personal information to be accessed and changed without human interference. For example, users can complete transactions by chatting with a chatbot.
Get personalized services based on where you are and what you've done with the financial services provider in the past.
4. Assisting Internal Operations
Chatbots can be used as a virtual assistant by people who work in finance or banking. Chatbots can help employees quickly answer questions from customers, such as:
Getting answers to their questions about the company's rules and policies.
Charts, photos, or videos showing how to get around
Setting up or changing the passwords for their business accounts
Predictions about how much money a client has.
Chatbots can also help employees with internal tasks like sharing documents with other team members, reporting to their boss, and keeping track of their daily progress.
The advantages of finance chatbots are clear, there are many use cases and applications of these chatbots. But how to choose the right one? Here are the Top 10 Finance chatbots for your business.
Have a Project Idea in Mind?
Get in touch with Savvycom's experts for a free consultation. We'll help you decide on next steps, explain how the development process is organized, and provide you with a free project estimate.
Top 10 Finance Chatbots Your Business Needs
KAI is the name of the AI chatbot platform that Kasisto has. They say that the chatbots they make for financial institutions help them. There are some key features that the chatbot offers:
Pay with the chatbots
Check your account information, and ask questions.
Help people manage money from more than one account. 
If the chatbot can't solve a customer's problem, KAI software can send a conversation between the chatbot and the customer to the customer service department, where employees can take over and help further.
Hybridchat is a live chat software that connects chatbots to a messenger that the company likes. Hybridchat makes it easier for people to:
Use digital tools
Streamline banking operations
Automating frequently asked questions (FAQs) and customer service requests.
New clients can easily join the platform by getting help with user registration, authentication, and account registration.
In the financial services business, people often ask the same questions over and over. Chatbots can answer customer questions and help companies sell everything from credit cards to insurance policies. This saves time that would have been spent on customer service.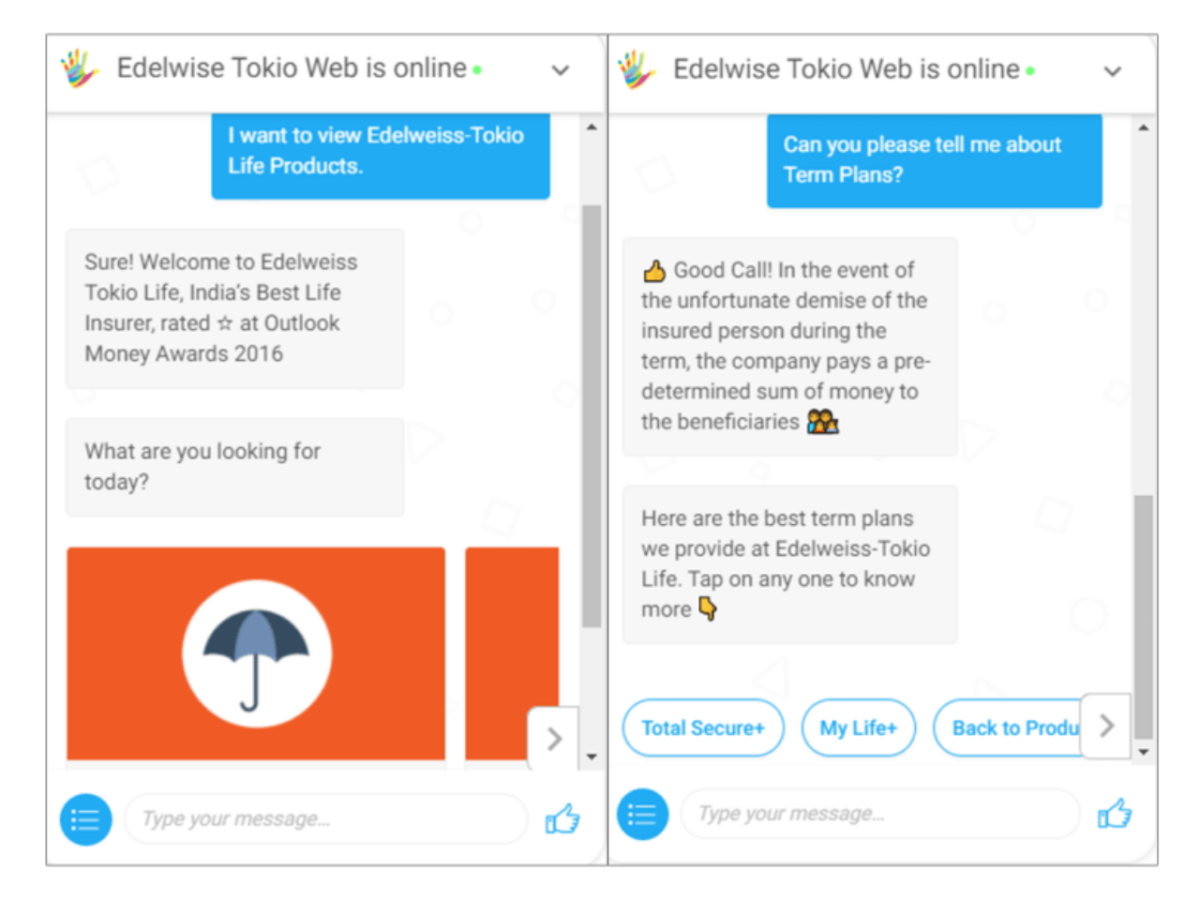 Haptik is one of the best new Finance Chatbot tools. It uses Smart Skills technology and is made for the finance industry and others. Haptik has a large library of smart skills that are based on what the financial services industry has learned and what works best.
Easy to connect the IVA to other contact center infrastructures, such as CRM, ticketing systems, and ERP.
Code editor that is built on Python and does everything.
Using open APIs and open, flexible Webhooks, it is easy to send information between the IVA and the other apps.
These chatbots communicate in a way that sounds natural, interesting, and personal on different platforms, which satisfies the customers. Haptik also helps make sure that marketing, sales, service, and support all use the same voice for the brand.
Chatbots from Collect.Chat talk to customers in a way personal way, which helps generate leads. These chatbots are proactive and ready to help customers around the clock.
Collect.Chat chatbots talk to every visitor and help get their email addresses, which can then be used for lead generation.
When a user finishes talking to the chatbot, the customer service team will know right away.
Chatbots can be used to set up meetings with senior agents and book those meetings.
Easily find out how happy your customers are by asking them what they think and how their experience was. 
ảnh
Nuance Communication just started providing services in the financial services industry recently. They have a service called Nina that acts as a virtual assistant. Customers can talk to Nina or send her a text to ask her a question. You can add the virtual assistant to the company's website or smartphone app.
Can be used as a customer service platform for larger companies.
Can easily solve customers' problems by answering a few questions.
Show very personalized automatic prompts that change based on how the user acts. For example, if a user is working on a certain financial plan for a long time, Nina can be set up to show advice prompts. 
Ultimate.AI is a platform for virtual agents that helps businesses all over the world use AI to scale up their customer service. It can help you automate queries that take a lot of time and make it easier for your clients to help themselves. 
Has a quick CRM authorization and works with many CRM platforms, like Salesforce, Zendesk, Freshworks, and Genesys, as a partner.
It has features like being able to activate a card and unblock a card through chat, which makes things easier for your customers.
Ultimate also has a multilingual virtual agent that you can train with your support history and use a chatbot builder to create chats.
With the help of finance bots, you can make your finances and accounting more efficient by getting rid of tasks that you do over and over again. The system can:
Help you make important tasks like purchasing and getting the goods your company needs to run easier.
Automate accounting and finance tasks.
Let you process invoices and keep track of expenses with reports, which can help your clients better manage their money.
Work as a conversational AI bank agent that helps customers keep track of their money by notifying them of their balances and reminding them of their bills.
AlphaChat is an AI chatbot. It has bots and a virtual assistant that use natural language processing to talk to people in a way that seems natural. This platform has templates for different industries and a bot that can communicate in multiple languages with international finance organizations.
It cuts down on the amount of work your agents have to do by handling FAQs and other repetitive tasks.
Makes your customer service more effective by using intent detection and cross-referencing chat resolution data.
This finance chatbot has SSO, APIs, and the ability to add custom codes so that the software can be used in more ways.
The finance bots can also be used on more than one platform, such as WhatsApp, Messenger, and Apple Business Chat.
Another Finance chatbot is called GrowthBotics. This finance chatbot platform focuses on providing services for the financial, banking, and insurance industries, so your organization will be in good hands.
It uses AI to make predictions about people who apply for loans but don't pay them back, and it gives reports about people who have a low credit score.
Can also automate some of the processes and workflows, like loan applications or allowing staking.
Offers automatic customer onboarding with an AI sentiment assistant so that your customers can quickly and easily learn how your systems work. 
This is one of the chatbots for banks and financial services that can help you get investors for your clients and raise money.
Looking For a Trusted Tech Partner?
We'll help you decide on next steps, explain how the development process is organized, and provide you with a free project estimate.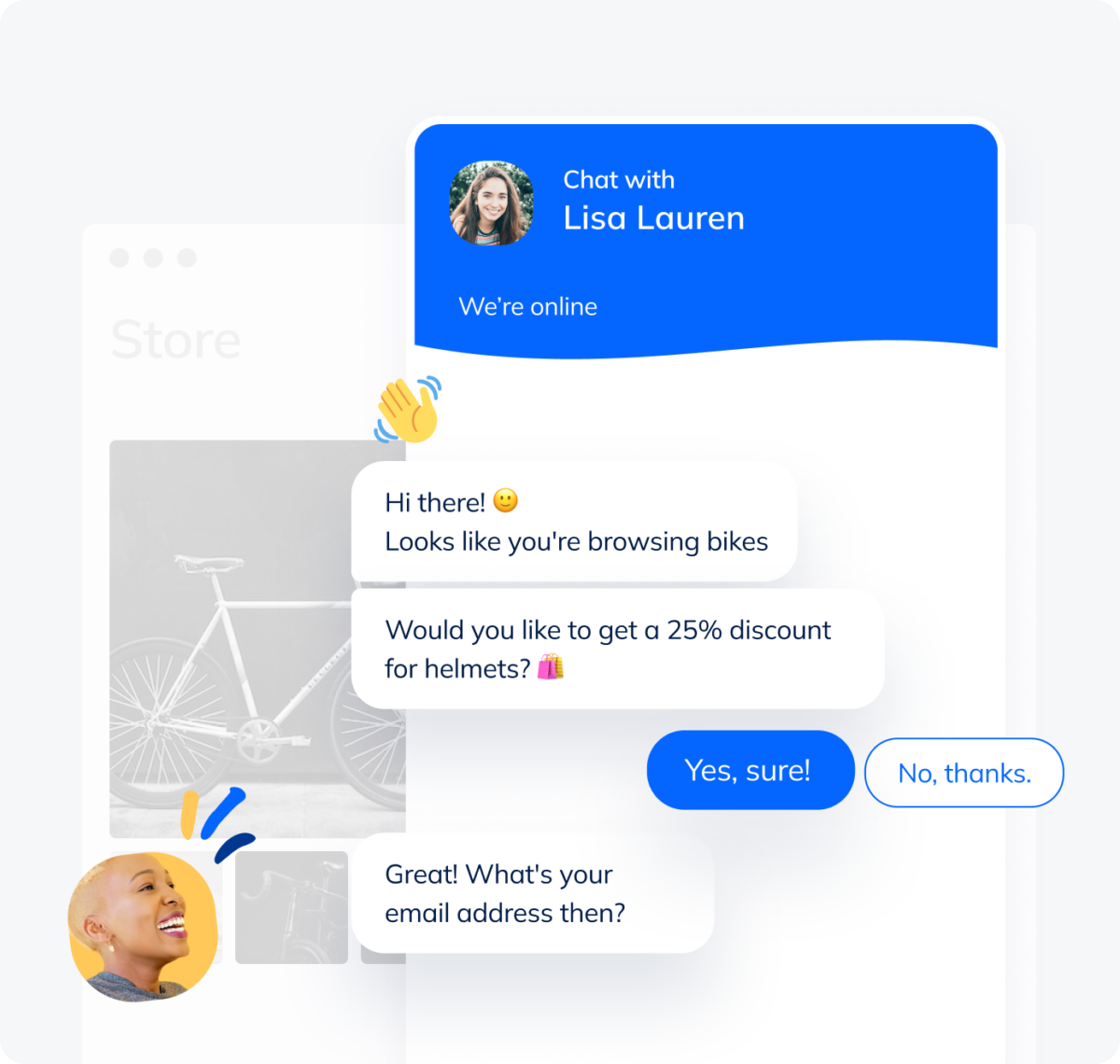 The last finance chatbot in this list is Tidio. Tidio is an all-in-one platform for customer service that helps financial institutions make more sales and give better customer service.
It has AI-powered chatbots that make it easier for customers to interact with your business in real time and enhance their experience. 
You can get information about your clients and use different templates to make chatbots that do specific tasks. For instance, you can use the "Schedule a meeting" template to let people book a meeting with one of your financial advisors when they visit your website.
Want To Create Finance Chatbots For Your Company?
Having chatbots can clearly bring benefits to your company, from allowing your business to save time to satisfying the clients. Ojd Digital Solution's survey revealed that 68% of the customers are happy with the instant help from the AI chatbots. So, it is not surprise that more and more businesses are adapting this technology.
If your business is looking for a vendor to create your own finance chatbot, Savvycom is here to help! We are one of the best Information Technology companies in Vietnam, specializing in digital transformation consulting services and software solutions for businesses in Finance, Healthcare, and Retail.
Savvycom – Your Trusted Tech Partner
From Tech Consulting, End-to-End Product Development to IT Outsourcing Services! Since 2009, Savvycom has been harnessing the power of Digital Technologies that support business' growth across the variety of industries. We can help you to build high-quality software solutions and products as well as deliver a wide range of related professional services.
Savvycom is right where you need. Contact us now for further consultation:
Here are just a few of the most important questions you should ask when choosing a business chatbot:
Who is going to be helped by this chatbot?
What are your objectives when using this chatbot?
What is your goal response speed?
What functions this chatbot needs to have?
Overall, there are 6 main types of Chatbots:
Menu/button chatbots: This is the most basic chatbor. Most chatbots are button-based decision tree hierarchies. Some chatbots demand multiple selections to find the answer, like the automated phone menus we use virtually daily.
Language-based (Rule-Based Chatbots): A multilingual chatbot may solve your consumer questions if you can forecast them. Using if/then logic, linguistic chatbots automate conversations. Your chatbot can quickly help customers if their enquiry matches its conditions.
Keyword-recognition-based chatbots: Respond to what users type, unlike menu-based chatbots. These chatbots use customisable keywords and NLP to determine how to respond to the user.
Machine learning chatbots: Significantly more advanced than the three discussed above. These chatbots employ ML and AI to remember user chats to learn and evolve. Context-aware chatbots can improve based on user requests and language.

The hybrid model: Companies love AI-chatbots but may not have the personnel or data to support them. Hybrid chatbots combine AI-bot sophistication with rules-based chatbot simplicity.

Voicebots: Businesses are using voice-based chatbots or voice bots to popularise conversational interfaces. Voice-activated chatbots provide smooth consumer experiences.
Chatbots aid banks and financial organisations most by:
Customer experience enhancement: Financial chatbots learn from real-time conversations and instantaneously access client data to provide highly tailored interactions. AI-powered chatbots can filter mountains of data in seconds and extract the needed information faster than humans at any moment.
Client growth: Chatbots generate 400% more leads than emails or cold calls (according to Yellow). Semantic interpretation and understanding, machine learning, and natural language processing help chatbots generate excellent leads and convert.
Resource optimisation: According to Zebrabuzz, chatbots can automate 80% of consumer queries, saving organisations money and human resources, notably in customer support (up to $7.3 billion worldwide by 2023, Juniper Research stated).