Top 10 Mobile Banking Trends To Take Your App To The Next Level
Mobile banking is undoubtedly one of the most fast-growing industries on the market, where new trends appear every year aiming to simplify the process of sending and receiving payments. And with the heavy influences of the COVID-19 pandemic, mobile banking has received more attention than ever.
Every year, building a competitive mobile banking app is more challenging than before.
In 2020, 1.9 billion individuals actively used online banking services, which is expected to grow to 2.5 billion by 2024. The number of users is rising, and the audience's needs are becoming more and more demanding.

Increased Mobile Banking Adoption: It is expected that the adoption of mobile banking apps will continue to rise as more people embrace digital banking and smartphone usage becomes more widespread.

Enhanced Features and Functionality: Mobile banking apps have been continuously improving their features and functionality to provide users with a seamless banking experience. This includes integrating biometric authentication, personalized financial insights, voice banking capabilities, AI-powered chatbots, and more.
In this situation, you are left with an unavoidable choice which is to follow the mobile banking trends. And in this article, Savvycom will show you the top 07 mobile banking trends shaping the industry and which you can use to perfectly match users' needs.
1. What is A Mobile Banking App?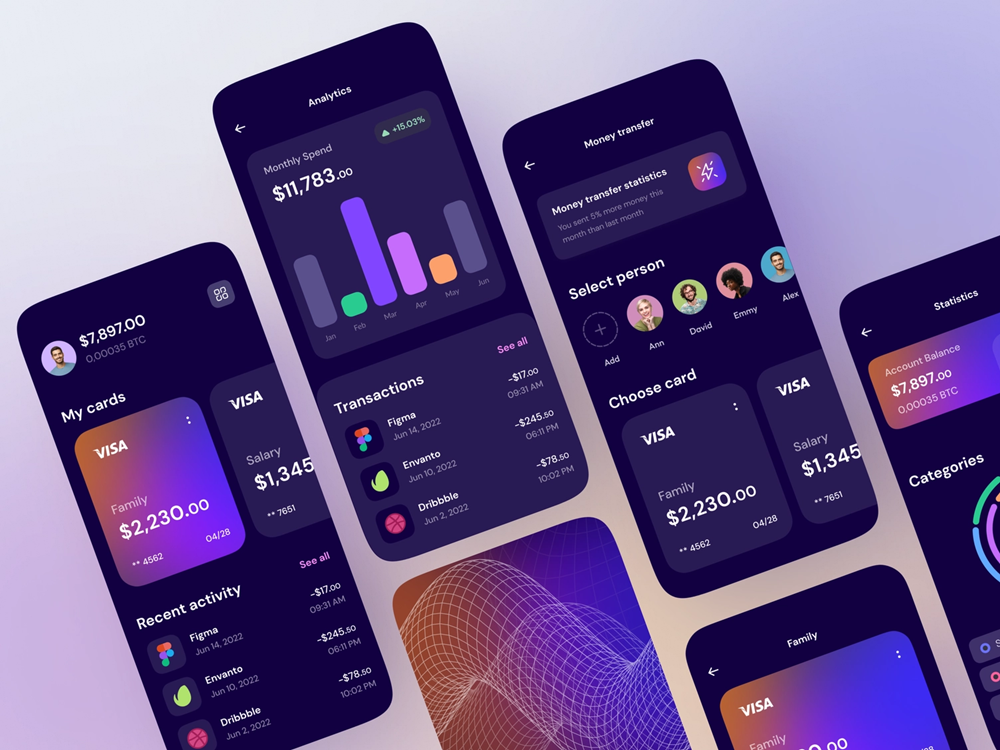 Mobile banking apps have been experiencing significant growth and adoption worldwide. The convenience and accessibility offered by these apps have made them increasingly popular among consumers. The COVID-19 pandemic further accelerated the shift towards digital banking as more people sought remote banking solutions. Here are a few types of apps covered by the mobile banking category: 
Payment systems that help to carry out transactions online (for example, Paypal). 
Autonomous mobile banking apps help manage personal accounts, transactions, bill payments, etc. 
Analytical financial apps also provide personal financial analytics, category management of expenses, etc. 
Crypto or Stocks Investing apps (for example, Coinbase, Binance, Robinhood). 
07 Top Trends Of Online Banking 2022
In recent years, mobile banking has revolutionized the way people manage their finances. With the increasing popularity of smartphones and the convenience they offer, mobile banking apps have become an essential part of our daily lives. As technology continues to evolve, so do the trends in mobile banking. In this article, we will explore the top seven mobile banking trends that can help take your app to the next level.
1. User-Centric Experience 
It is no secret that during the last 15 years or so, all user-targeted services have undergone a revolution. The leading role in such services has shifted to users rather than the quality of service itself.
You do not have to build a super tech-savvy and complicated service to become a user's favorite. Succesful Businesses nowadays gravitate towards a mobile banking app with convenient, including services that will allow users to complete their banking purposes efficiently, fast, and even have fun from time to time.
And in order to achieve this simplicity and smoothness, you need to follow the user-centered or user-centric approach. This is especially important when your target audience is Generation Z and Millenials, whose data is often more valuable than gold. 
2. Open Banking API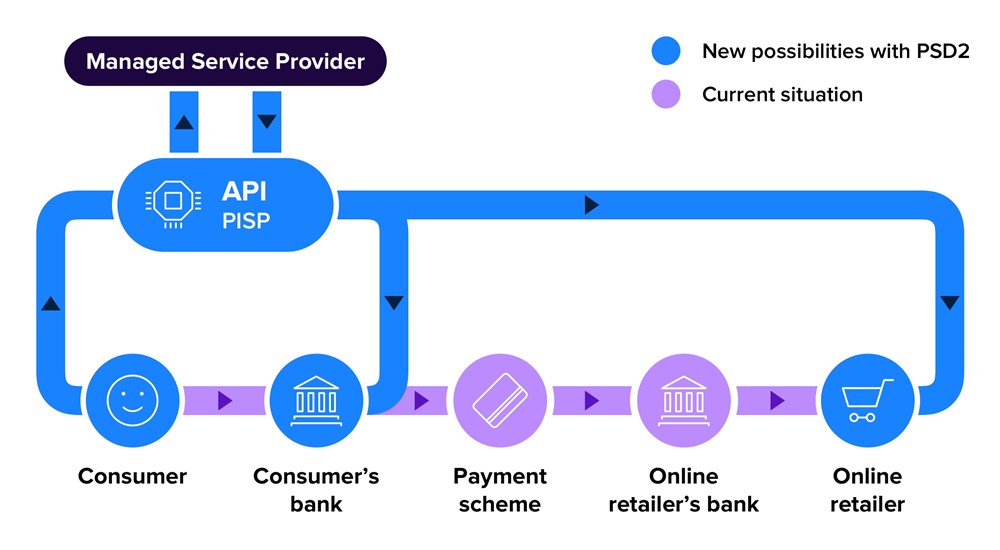 Another trend disrupting the industry for the last few years is open banking. This unique technology allows a bank to share its banking information via APIs (Application Programming Interface) to third parties (startups), who can use them to develop new fintech products, like financial analytics apps. 
Open banking API is currently on a break as many countries, like EU countries, India or US, are introducing open API regulations to streamline this process. Yet, many countries are only on the way to introducing open banking into their legislation. Anyway, this mobile banking trend is expected to shape the industry for years ahead.
3. AI And Machine Learning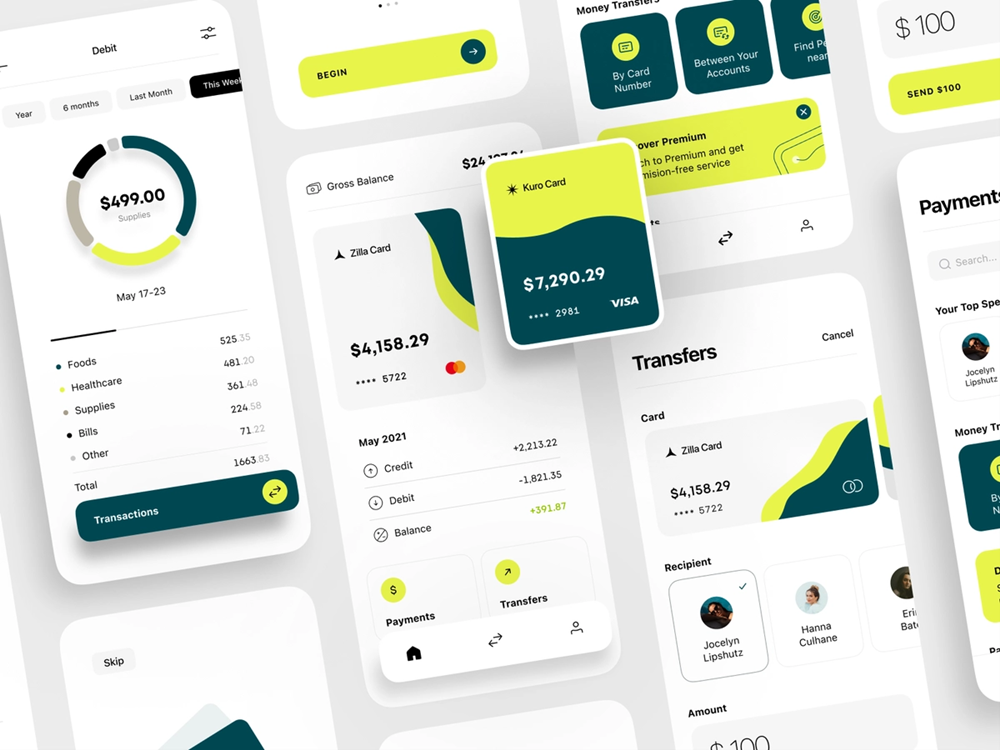 There can never be an article about trends without AI and Machine Learning. The thing is that both these technologies are popular among all tech industries, and online banking is no exception. 
Both machine learning and AI allow developers to bring more customization to mobile banking and help to provide a better customer experience, which is the most important thing, as we mentioned earlier. For example, you could use AI on the front-end technologies to mimic live employees via chatbots, voice assistants, or personal recommendations.
4. Big Data
Big Data is a technology that allows the collecting and processing of large amounts of personal user information. Similar to AI and ML, this is widely used for marketing, sales, or enhancing user experience. 
While a mobile banking app tracks users' activities in an app, by utilizing Big Data, the system may easily spot if something unusual happens. For example, if a significant amount of money has been cashed or deposited – or any other unusual behavior for a particular user.
5. No Code/Low Code Development
This one is probably a gold mine for early-seed fintech startups. Especially, when you have limited time and budget for development, the best thing to do is build the simplest version of the product. In other words, a minimum viable product. No code/low code programs help you make a product's MVP quickly and cost-efficiently and push the product to the market as soon as possible.
6. Personalization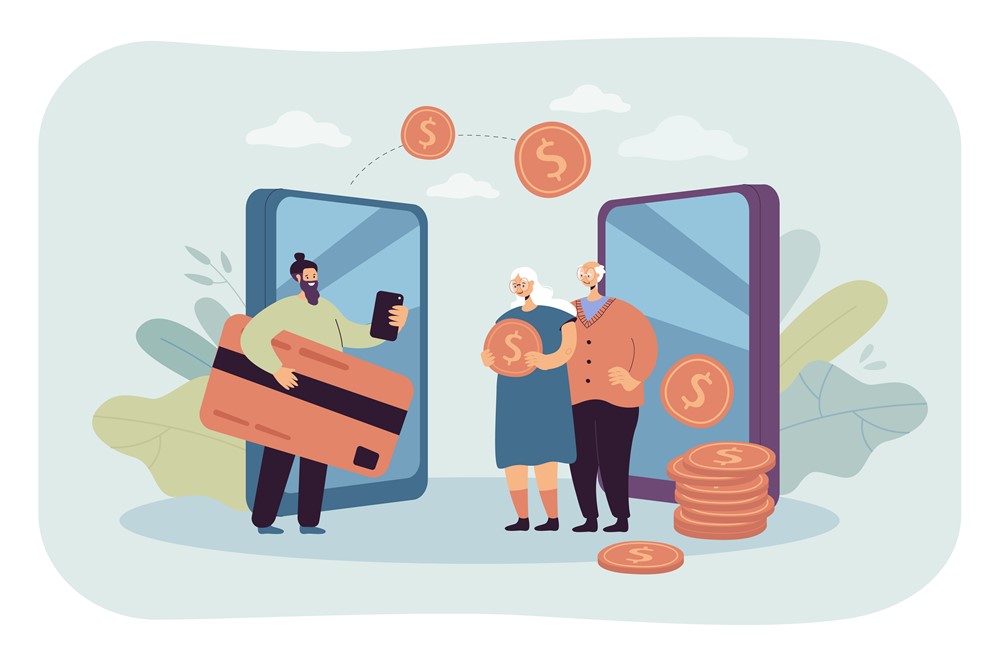 Personalization is a less apparent mobile banking trend but no less critical. Today it is not enough to build a mobile banking app that functions well. Making an app specifically for a particular group of people is also essential. For example, a particular group that uses your app can be gamers, athletes, or animal lovers. Giving them something as simple as a corresponding wallpaper could be a smart way to increase users' loyalty.
Have a Project Idea in Mind?
You are more than welcome to contact our Partnership Manager for a free consultation.
7. Gamification
Gamification in banking apps refers to the incorporation of game elements and mechanics into the user experience to make financial activities more engaging, enjoyable, and motivating. By leveraging game design principles, banking apps can enhance user interaction, increase customer loyalty, and drive desired behaviors. Here are some key aspects of gamification in banking apps:
Rewards and Points Systems: Banking apps can introduce reward systems, where users earn points, badges, or virtual currency for completing specific actions or achieving certain milestones. These rewards can be redeemed for various benefits, such as discounts, personalized offers, or access to exclusive features. The accumulation of points and the pursuit of rewards create a sense of achievement and incentivize users to actively engage with the app.

Progress Tracking and Visualizations: Gamified banking apps often provide visual representations of users' progress, such as progress bars, charts, or levels. These visualizations allow users to track their financial goals, monitor their spending patterns, and gain a sense of control over their finances. By making progress visible and tangible, users are motivated to continue engaging with the app and improving their financial habits.

Challenges and Competitions: Introducing challenges or competitions within the banking app can encourage users to achieve specific objectives or engage in healthy financial behaviors. For example, users may be challenged to save a certain amount within a given timeframe or reduce their spending in specific categories. Leaderboards or peer comparisons can be added to foster a sense of competition and social engagement among users.
8. Integration with Fintech Services
Collaboration with fintech companies is a growing trend in the mobile banking industry. By integrating your app with fintech services, you can offer users access to features like peer-to-peer payments, budgeting tools, investment options, and more. This integration enhances the value proposition of your mobile banking app, attracting a wider customer base and fostering innovation within the financial ecosystem.
9. Enhanced Security Measures
As mobile banking becomes increasingly popular, the need for robust security measures becomes crucial. Implementing technologies such as multi-factor authentication, encryption, and real-time fraud detection helps safeguard sensitive user information. Keeping abreast of the latest security trends and complying with industry standards builds trust among users and ensures the integrity of your mobile banking app.
10.
Biometric Authentication in Banking Apps
Biometric authentication is a technology that verifies the identity of an individual based on unique physiological or behavioral characteristics. In the context of mobile banking apps, biometric authentication has emerged as a highly secure and convenient method for users to access their accounts and authorize transactions. Let's delve into the topic in more depth:
Fingerprint Recognition: This is the most widely used form of biometric authentication in mobile banking. Users can authenticate themselves by placing their finger on the device's fingerprint sensor, which analyzes the unique patterns and ridges on the fingertip.

Facial Recognition: This method uses facial features, such as the shape of the face, eyes, nose, and mouth, to verify the user's identity. The mobile banking app captures an image of the user's face and matches it with the enrolled facial template to grant access.

Iris Scanning: Iris scanning technology captures the intricate patterns of the iris, the colored part of the eye, to verify the user's identity. It offers a high level of accuracy and is difficult to counterfeit.

Voice Recognition: Voice biometrics uses the unique characteristics of a person's voice, such as pitch, tone, and speech patterns, to authenticate their identity. Users can speak a passphrase or repeat a specific phrase to gain access to their accounts.
Fun facts: The History Of Online Banking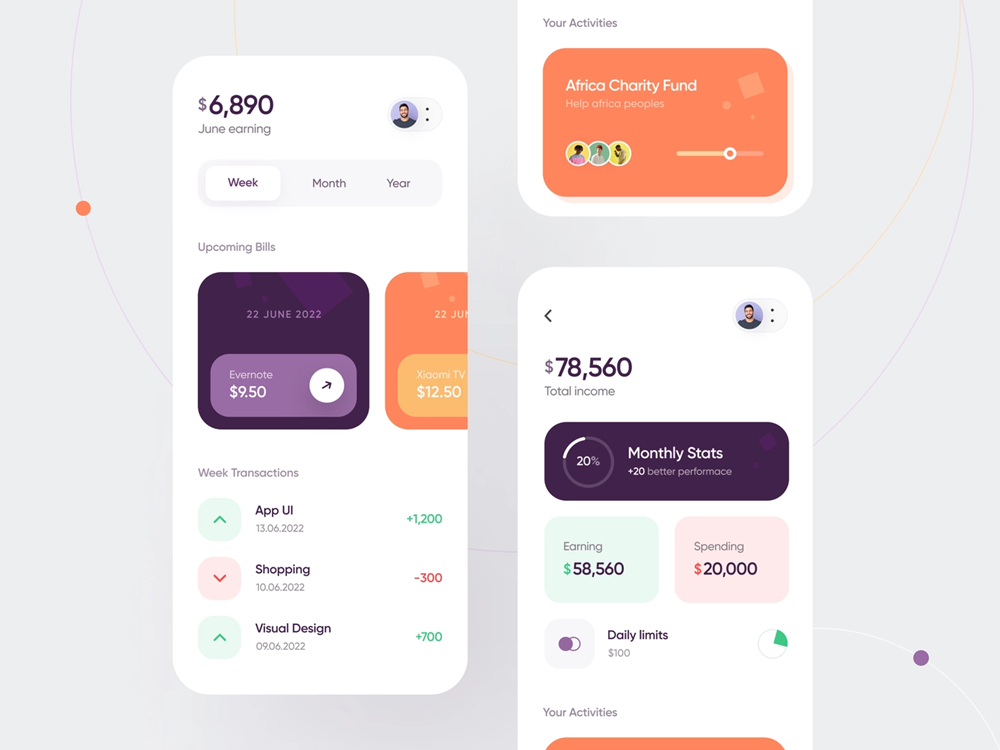 The history of banking app development can be traced back to the early days of the internet and the rise of online banking. Here is a timeline highlighting key milestones and developments in the history of banking app development:
Late 1990s: Online Banking Emerges – In the late 1990s, banks started offering online banking services through web-based platforms. These platforms allowed users to access their accounts, view transaction history, and perform basic banking functions such as transferring funds between accounts and paying bills online.

Early 2000s: Mobile Banking Begins – With the proliferation of mobile phones, banks began to explore mobile banking solutions. Initially, basic SMS-based services were introduced, providing users with the ability to receive account balance updates and transaction alerts via text messages.

2007: Introduction of the iPhone – The release of the iPhone in 2007 marked a significant milestone in the development of banking apps. The iPhone's touch screen and advanced capabilities paved the way for more sophisticated mobile banking applications.

2008: App Store Launch – Apple launched the App Store in 2008, creating a centralized marketplace for mobile applications. This opened up new opportunities for banks to develop dedicated banking apps for iOS devices, providing users with a more seamless and feature-rich banking experience.

2010: Android Market Expansion – As the Android platform gained popularity, banks started developing mobile banking apps for Android devices, catering to a broader user base.

2011: Mobile Payments and Wallets – The introduction of mobile payment solutions, such as Apple Pay (2014) and Google Wallet (2011), allowed users to make payments using their mobile devices. Banks integrated these features into their apps, enabling users to make purchases and transfer money conveniently.

2012: Responsive Design and Cross-Platform Support – To accommodate the growing diversity of mobile devices, banks began adopting responsive design principles and developing apps that could adapt to different screen sizes and resolutions. Cross-platform support became a focus, allowing users to access banking services on both iOS and Android devices.

2014: Biometric Authentication – With the introduction of fingerprint sensors on smartphones, banks started incorporating biometric authentication into their mobile banking apps. Fingerprint recognition provided a more secure and convenient way for users to access their accounts.

2015: Expansion of Mobile Banking Features – Mobile banking apps expanded their functionalities beyond basic transactions. Users gained the ability to apply for loans, open new accounts, manage investments, and access personalized financial insights directly from their mobile devices.

Present Day: Enhanced Security and Advanced Features – Current banking apps prioritize robust security measures, including encryption, multi-factor authentication, and real-time fraud detection. They also leverage technologies like artificial intelligence (AI) and machine learning (ML) to provide personalized recommendations, virtual assistants, and chatbot support.
Savvycom – Your Trusted Tech Partner
From Tech Consulting, End-to-End Product Development to IT Outsourcing Services! Since 2009, Savvycom has been harnessing the power of Digital Technologies that support business' growth across the variety of industries. We can help you to build high-quality software solutions and products as well as deliver a wide range of related professional services.
Savvycom is right where you need. Contact us now for further consultation:
The primary goal of banking app development is to provide customers with convenient, secure, and personalized access to banking services on their mobile devices. The aim is to enable users to perform a wide range of banking functions, including account management, transactions, payments, and financial planning, anytime and anywhere.
Banking app development often involves the use of technologies such as native mobile app development frameworks (e.g., Swift for iOS, Java/Kotlin for Android), APIs (Application Programming Interfaces) for integrating with banking systems, secure authentication protocols (e.g., OAuth, OpenID Connect), cloud services for data storage and processing, and data encryption technologies to ensure the security of user information.
Banking apps employ multiple security measures to protect user data and ensure secure transactions. These measures include robust encryption techniques, two-factor authentication, biometric authentication (fingerprint or facial recognition), device authorization, secure communication protocols (HTTPS), and real-time fraud detection algorithms. Regular security audits and compliance with industry regulations also play a vital role in addressing security concerns.
Personalization: Apps are offering personalized experiences by leveraging user data and AI-driven algorithms to provide tailored financial recommendations and insights.
Open Banking: APIs are enabling collaboration between banks and third-party providers, allowing users to access a broader range of financial services within a single app.
Voice and Chatbot Interfaces: Integration of voice assistants and chatbots allows users to perform banking tasks using natural language commands, enhancing the user experience and providing quick customer support.
Biometric Authentication: The use of biometrics, such as fingerprint or facial recognition, continues to grow as a secure and convenient method for user authentication.
Integration with Fintech: Banking apps are integrating with fintech services, such as budgeting tools, investment platforms, or digital wallets, to offer users a comprehensive financial ecosystem.
AI and ML are being utilized in banking apps to enhance various aspects, such as fraud detection, risk assessment, customer segmentation, chatbot interactions, and personalized recommendations. These technologies analyze vast amounts of data to identify patterns, detect anomalies, and automate processes, ultimately improving the overall user experience and operational efficiency.
Developers face challenges such as ensuring robust security, complying with strict regulatory requirements, maintaining a seamless user experience across different devices and platforms, integrating with legacy banking systems, handling large volumes of data, and keeping up with evolving technologies and user expectations.
Banking apps are evolving to meet changing customer expectations by offering intuitive interfaces, real-time notifications, personalized experiences, expanded service offerings, simplified onboarding processes, and seamless integration with other digital platforms. They are also embracing emerging technologies, such as voice assistants, chatbots, and AI-driven features, to deliver more engaging and user-friendly experiences.