Digital Transformation In Banking App Development: Why is it Required?
The banking industry is undergoing a significant digital transformation, fueled by advancements in technology. This article explores the impact of this transformation on banks, highlighting key trends, challenges, and benefits. From enhancing customer experiences to leveraging data analytics and embracing open banking, digital transformation is reshaping how banks operate and engage with their customers.
In recent years, digital transformation has become essential for banks to stay competitive, improve efficiency, and deliver exceptional experiences. By embracing digital technologies, banks are optimizing processes, adopting customer-centric approaches, and meeting evolving expectations.
1. what is digital transformation in banking?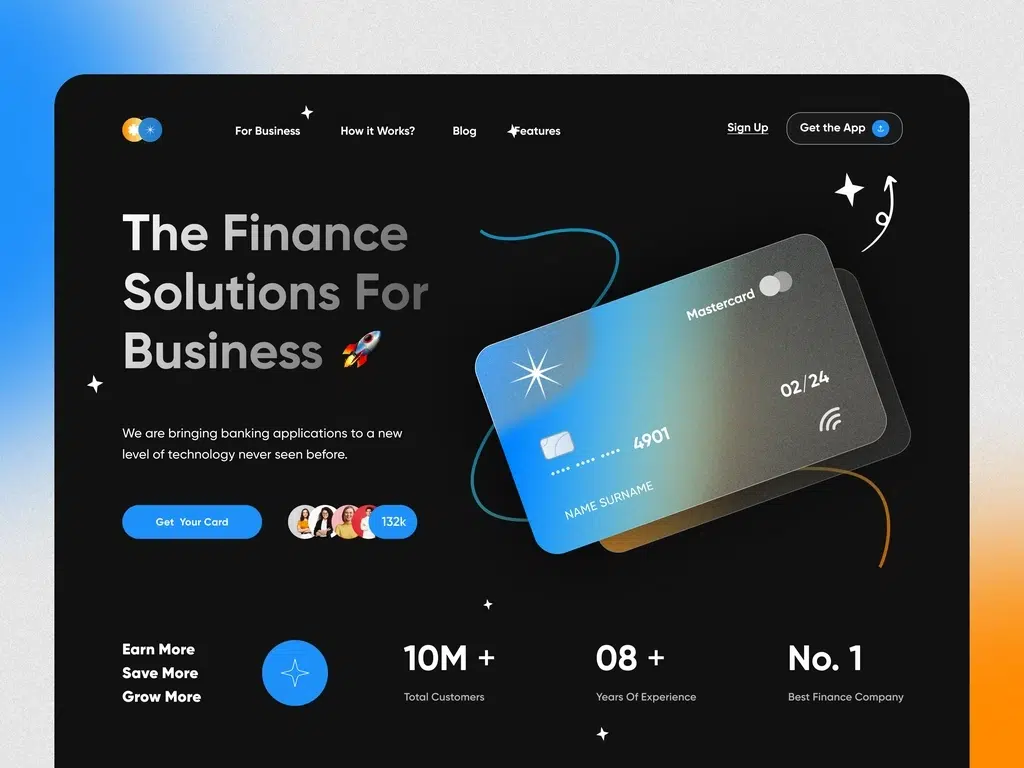 First things first. We start by defining what the digital transformation process in banking is. Many people, hearing the phrase "digital transformation" immediately imagine a conventional bank that develops its website and mobile applications, switching to providing its services remotely via smartphones, minimizing paperwork and bureaucracy. It is important to understand that in the banking industry, digital transformation implies not just a transition to newer equipment and the creation of digital products for the bank, but a complete revision of the entire corporate culture, customer service, and all related approaches.
So without further delay, these should cover important aspects of digital transformation in banking:
Enhanced Customer Experience: Digital channels, mobile apps, and AI-powered chatbots enable seamless, personalized, and convenient banking experiences, meeting customer demands.

Data Analytics: Advanced analytics and machine learning enable banks to gain insights, improve risk management, detect fraud, and develop targeted strategies.

Automation and Process Optimization: Automation streamlines operations, reduces costs, and accelerates decision-making through digitization and robotic process automation.

Open Banking: Secure data sharing via APIs fosters collaboration, innovation, and expands product offerings within a single platform.

Security and Trust: Robust security measures, encryption, and fraud detection systems protect customer data, ensuring trust in digital transactions.

Regulatory Compliance: Banks adapt to complex regulations to ensure data privacy, security, and compliance with evolving frameworks.
2. history of digital transformation in banking
The history of digital transformation in banking dates back to the emergence of the internet and the rapid advancement of technology. Here's a concise timeline of the key milestones in the digital transformation journey of the banking industry:
1980s-1990s: Online Banking Begins – Banks started offering online banking services, allowing customers to access their accounts, view balances, and perform basic transactions via internet banking platforms.

Early 2000s: Mobile Banking Emerges – With the proliferation of mobile phones, banks began exploring mobile banking solutions. Early mobile banking services primarily involved SMS-based notifications and alerts.

2007: Introduction of Smartphone Apps – The launch of the iPhone and subsequent development of mobile app stores provided banks with opportunities to create dedicated banking apps, offering more comprehensive functionalities and improved user experiences.

2010s: Expansion of Digital Channels – Banks expanded their digital offerings, introducing features like mobile check deposits, person-to-person payments, and bill payments through online and mobile platforms. Digital wallets and contactless payments gained traction.

2010s: Integration of AI and Automation – Banks started leveraging artificial intelligence (AI) and automation to enhance customer experiences, optimize operations, and provide personalized services. Chatbots and virtual assistants were introduced to assist customers and handle routine inquiries.

2010s: Open Banking and APIs – Regulatory initiatives, such as the Revised Payment Services Directive (PSD2), encouraged the opening of banking data through APIs. This facilitated collaboration between banks and third-party providers, enabling the development of innovative financial services.

2020s: Advancements in Data Analytics – Banks focused on harnessing the power of big data and analytics to gain valuable insights into customer behavior, improve risk management, and offer personalized financial recommendations. Machine learning and predictive analytics played a significant role in this transformation.

2020s: Embracing Blockchain and Cryptocurrency – Banks explored the potential of blockchain technology for secure and transparent transactions. Some institutions started offering cryptocurrency-related services, such as custodial services for digital assets.

Present Day: Continuous Digital Innovation – The digital transformation journey in banking continues, with an emphasis on further enhancing customer experiences, adopting cloud technologies, strengthening cybersecurity measures, and leveraging emerging technologies such as Internet of Things (IoT), 5G, and augmented reality (AR).
The history of digital transformation in banking demonstrates the industry's evolution in leveraging technology to provide convenient and personalized services to customers. The journey is ongoing, driven by customer expectations, technological advancements, and regulatory changes, pushing banks to innovate and adapt to the ever-changing digital landscape.
3. the pros and cons of digital transformation in banking app development
Obviously, any process has the opposite effect. An unsuccessful digital transformation can lead to serious losses and complete bank closure in the worst scenario. Despite the many advantages that digital transformation offers, this process has its drawbacks and risks.

3.1. drawbacks, risks & challenges
We start with the risks, challenges, and disadvantages of digital transformation in the banking sector.
Security and Privacy Risks: The reliance on digital channels introduces potential vulnerabilities and risks, such as data breaches, hacking attempts, and identity theft. Banks must continuously invest in security measures to mitigate these risks and safeguard customer information.

Technological Complexity: Digital transformation requires significant investments in technology infrastructure, skilled personnel, and continuous updates to keep pace with evolving technologies. Implementation challenges and integration complexities may arise, leading to potential disruptions and increased costs.

User Adoption Challenges: Not all customers may readily adopt or adapt to digital platforms. Older or technologically hesitant customers may face challenges in using banking apps, leading to a digital divide and the need for ongoing customer education and support.

Regulatory and Compliance Considerations: Digital transformation in banking requires adherence to strict regulatory frameworks, such as data privacy regulations and anti-money laundering laws. Ensuring compliance and navigating complex regulatory landscapes can be challenging.

Dependency on Technology: Banks become increasingly reliant on technology, making them vulnerable to system failures, cyberattacks, and technological disruptions. Contingency plans and robust disaster recovery mechanisms must be in place to mitigate such risks.
3.2. pros of Digital transformation to banking sector
Despite the obvious challenges and risks associated with digital transformation in banking, the benefits that can be obtained in the end overcome any doubts of stakeholders.
Enhanced Customer Experience: Digital transformation allows banks to provide personalized, convenient, and seamless experiences to customers through mobile apps. Customers can access their accounts, perform transactions, and seek assistance anytime, anywhere.

Improved Efficiency and Cost Savings: Automation and digitization of manual processes lead to increased operational efficiency, reduced costs, and faster decision-making. Tasks such as customer onboarding, loan processing, and compliance checks can be streamlined through digital platforms.

Expanded Service Offerings: Digital transformation enables banks to offer a broader range of services, including budgeting tools, investment platforms, and personalized financial recommendations. Integration with fintech services and open banking allows customers to access a comprehensive suite of financial solutions.

Data-Driven Insights: By leveraging data analytics and machine learning, banks gain valuable insights into customer behavior, preferences, and needs. These insights drive targeted marketing strategies, risk management, fraud detection, and product development.

Increased Security Measures: Digital transformation focuses on robust security protocols, encryption, biometric authentication, and real-time fraud detection systems. This ensures the protection of customer data, builds trust, and mitigates security risks.

Convenience and Accessibility: Digital banking apps offer customers the convenience of accessing their accounts and conducting transactions at their own convenience, eliminating the need to visit physical bank branches. This accessibility is particularly beneficial for individuals with mobility constraints or those residing in remote areas.

Real-time Financial Information: Banking apps provide customers with real-time access to their account balances, transaction history, and financial statements. This up-to-date information allows for better financial management and decision-making.

24/7 Availability: Unlike traditional banking hours, digital banking apps are available 24/7, allowing customers to perform transactions, pay bills, and seek support outside of regular banking hours. This flexibility caters to the diverse schedules and lifestyles of customers.

Cost Reduction for Banks: By transitioning to digital platforms, banks can reduce costs associated with maintaining physical branches, such as rent, utilities, and staffing. This cost-saving potential enables banks to allocate resources to improving digital services and offerings.

Personalized Financial Services: Digital transformation enables banks to gather and analyze customer data, allowing for the delivery of personalized financial services and recommendations. Customers receive tailored offers, savings plans, investment opportunities, and financial insights based on their unique needs and preferences.

Competitive Advantage: Embracing digital transformation gives banks a competitive edge in the market. Innovative digital services, user-friendly interfaces, and seamless customer experiences differentiate banks from their competitors, attracting and retaining customers in an increasingly digital world.

Environmental Sustainability: Digital banking reduces paper usage, as customers can access statements, bills, and documents electronically. This contributes to environmental sustainability efforts by reducing the ecological footprint associated with traditional banking practices.

Financial Inclusion: Digital banking apps have the potential to increase financial inclusion by providing access to financial services for individuals who may have limited access to physical bank branches or face barriers in traditional banking. This can empower underbanked or underserved populations to manage their finances more efficiently.
4. banks that have sucessfully adopted DX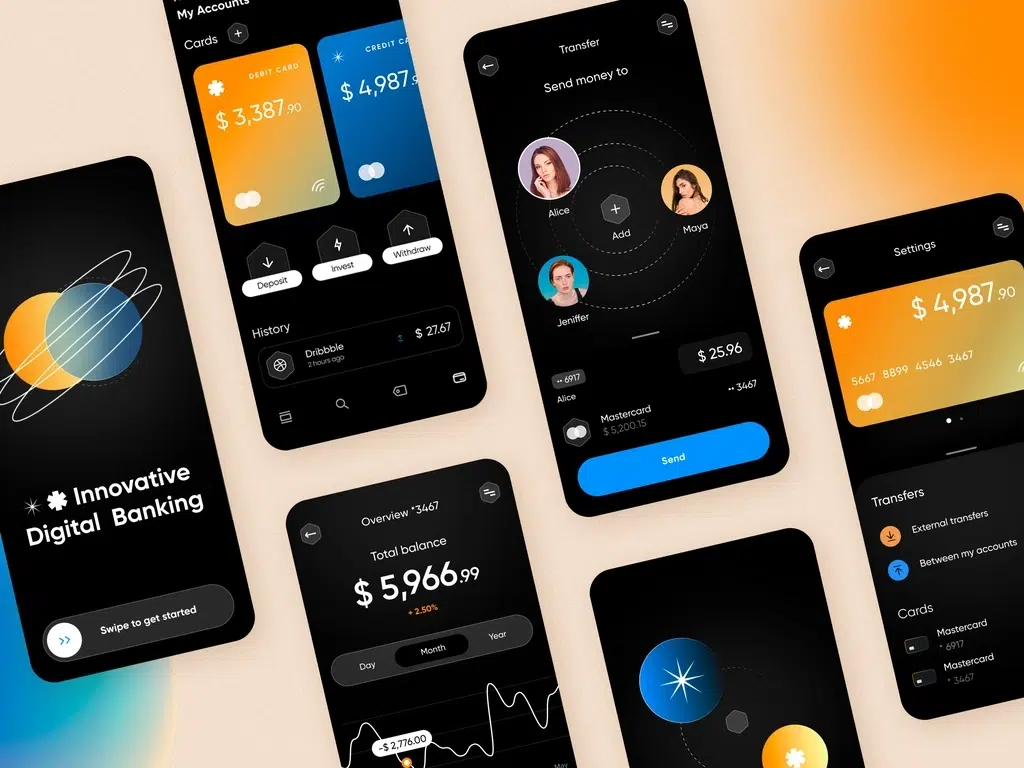 There are several notable examples of digital transformation in the banking industry. Here are a few examples that highlight how banks have embraced digital technologies to transform their operations and enhance customer experiences:
JPMorgan Chase & Co.: one of the largest banks globally, has embraced digital transformation to streamline processes and improve customer experiences. They have invested heavily in technology infrastructure, data analytics, and automation. The bank has developed mobile banking apps that provide customers with convenient access to their accounts, advanced security features, and functionalities such as mobile check deposit and person-to-person payments.

BBVA: a Spanish multinational banking group, has been at the forefront of digital transformation in the banking industry. They have developed a comprehensive digital banking platform called BBVA Mobile, which offers customers a range of services, including account management, payments, transfers, and personalized financial recommendations. BBVA has also established an open banking strategy, collaborating with fintech partners to offer innovative solutions and expand their product offerings.

Ally Bank: an online-only bank in the United States, exemplifies the digital banking model. They have built a robust digital platform that provides customers with intuitive mobile and online banking experiences. Ally Bank offers features such as remote check deposit, real-time balance updates, round-up savings programs, and a customer-centric approach to support and assistance.

DBS Bank: based in Singapore, has been a leader in digital transformation in Asia. They have transformed their services through initiatives such as DBS digibank, a mobile banking app that offers customers a wide range of financial services, including account management, funds transfer, and investment options. DBS has also incorporated AI-powered chatbots and virtual assistants to provide personalized customer support and financial advice.

ING Group: a global banking and financial services company, has embraced digital transformation to improve operational efficiency and customer experiences. They have developed a mobile banking app that offers customers a seamless and personalized banking experience. ING has also leveraged data analytics and AI to provide customers with tailored financial recommendations and insights.
5. examples of digital transformation in banking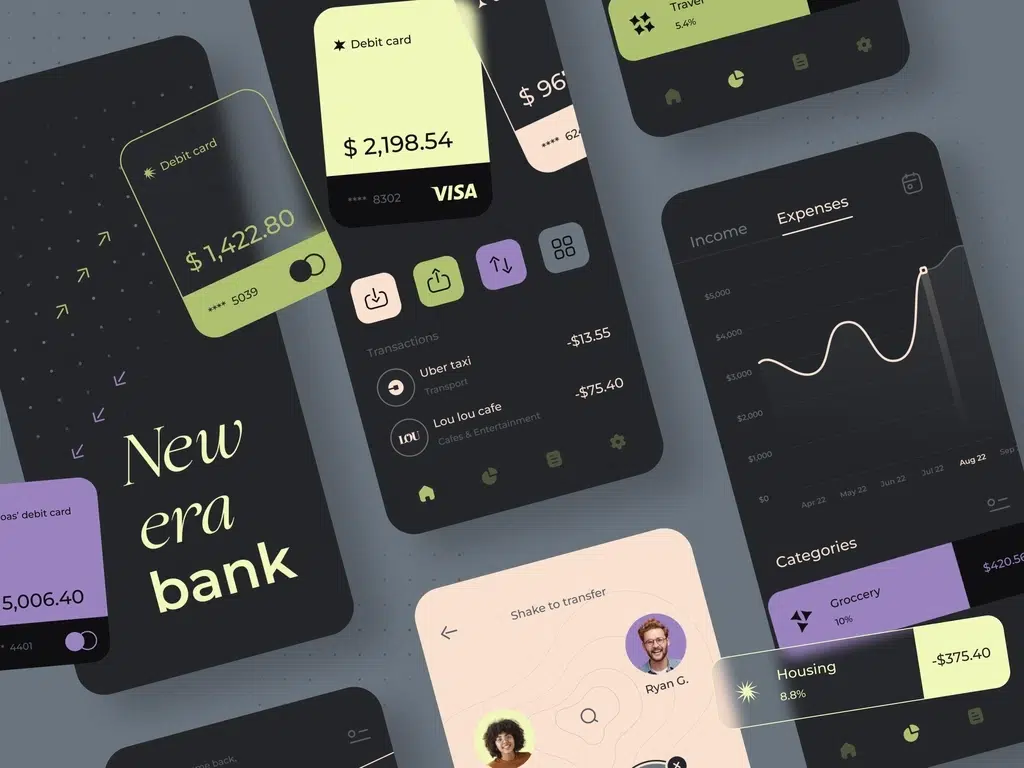 It's time to talk about specific examples of solutions that result from the process of digital transformation in banking.
5.1. Fraud detection system
As a result of the digital transformation process, a bank can gather a Data Scientist team to create a machine learning-based fraud detection system. The key task of such a system will be to track possible fraud, which means that it is worth training the system on the largest possible number of different data input streams. Thanks to the subsurface fraud detection system, representatives of the banking sector can significantly increase the quality of fraudulent actions detecting.
5.2. KYC software
Know your customer software is one of the key factors in attracting banks to the digital transformation process. Such software helps to identify customers and stay within the framework of current legislation, for example, the Patriot Act. This law requires banks to verify the identities of their customers in order to combat money laundering and counter-terrorism. In countries such as the United States, Know Your Customer initiative is a must, but in the digital space, such software is the most convenient mean of customer identification.
5.3. Big Data analytics platform
Without a doubt, due to their importance, banking institutions are the place where a huge amount of data is collected. The next stage in the development of a banking service can be reached by those banks that can quickly and efficiently analyze all this data for a better understanding of the pains of their customers and create more custom offers. In addition, Big Data analysis also improves the overall bank security and marketing activity.
5.4. Chatbots
Yes, you won't surprise anyone with chatbots today, but if you doubt that they are the future, think again. One of the main problems of offline banking is a long wait for a response from bank representatives and a long exchange of information even in the most simple questions. After all, there is a fixed working day. Moving to digital, every bank should definitely think about how to create a convenient and learning chatbot for its online audience. Ideally, a chatbot should handle 80% of user requests, and in the remaining 20% send their requests to a customer care specialist.
5.5. Predictive analytics software
Predictive analytics in banking derives from Big Data opportunities. Thanks to machine learning-powered analysis of large amounts of data, it becomes possible to predict future events and avoid the associated risks. So, predictive analytics in banking is associated with such frequent activities as Cross-Sell and Upsell, customer retention, account transaction management, fraud detection, cash & liquidity planning, and others.
5.6. Mobile banking
One of the main opportunities that digital transformation gives. Mobile banking is the most convenient way to receive and provide banking services today. By using hardware on custom devices, you can increase the number of innovative banking features provided, as well as introduce biometric authentication through a camera or fingerprint. Finally, everyone uses banking applications today and this is simply a must for any bank that goes digital. The banking app is definitely one of the current trends in mobile app development segment.
5.7. Blockchain
Cryptocurrencies can come and go, but the blockchain technology behind them will stay with us for a long time. This technology is the quintessence of crypto-encryption and distributed data storage, which is becoming more and more popular. Cryptocurrencies are accepted for payment in more and more places and even the largest banks are giving up and starting to provide services in the sector. Digital transformation does not oblige the bank to also touch the blockchain segment, but this can be a good investment for the future.
5.8. Cloud solutions
Someone goes to the cloud for the sake of increasing security, someone for the sake of freeing up time for their IT teams, and someone for the speed and flexibility that the transition to Cloud gives. In any case, banks today are facing enormous pressure and competition, and only those banks that will work quickly and smoothly will acquire their new customers. Cloud solutions are available for digital banking representatives in the form of a large number of cloud vendors.
5.9. APIs
Another important factor, which is often forgotten, but which helps a modern bank to squeeze out in a competitive digital environment, is the bank's ability to work with a variety of third-party programs. In order for this to be possible, the digital bank must have its own API (Application Programming Interfaces). The API allows the bank's software to interact with third-party software. Thanks to this, banks can accept requests from the mobile wallets of their customers, from third-party financial systems (PayPal and others), payment switches, etc.
5.10. Biometric technology
We have already mentioned this above, but it is worth highlighting this factor separately. Biometrical authentication is perhaps the most trusted way of custom identification and authentication. The introduction of biometric authentication into the work of the bank significantly increases the security of all transactions both on the part of the bank and on the part of the customer and helps to identify and avoid fraud.
Savvycom – Your Trusted Tech Partner
From Tech Consulting, End-to-End Product Development to IT Outsourcing Services! Since 2009, Savvycom has been harnessing the power of Digital Technologies that support business' growth across the variety of industries. We can help you to build high-quality software solutions and products as well as deliver a wide range of related professional services.
Savvycom is right where you need. Contact us now for further consultation: