Node.js features – Will they be better?
For Node.js developers, it is an earnest expectation to improve the function of this cross-platform, run-time environment. Not only the developers, everyone will be better off if Node.js features are enhanced as we wish for: businesses will save time and budget for other project developments, customers will have a better experience with the application.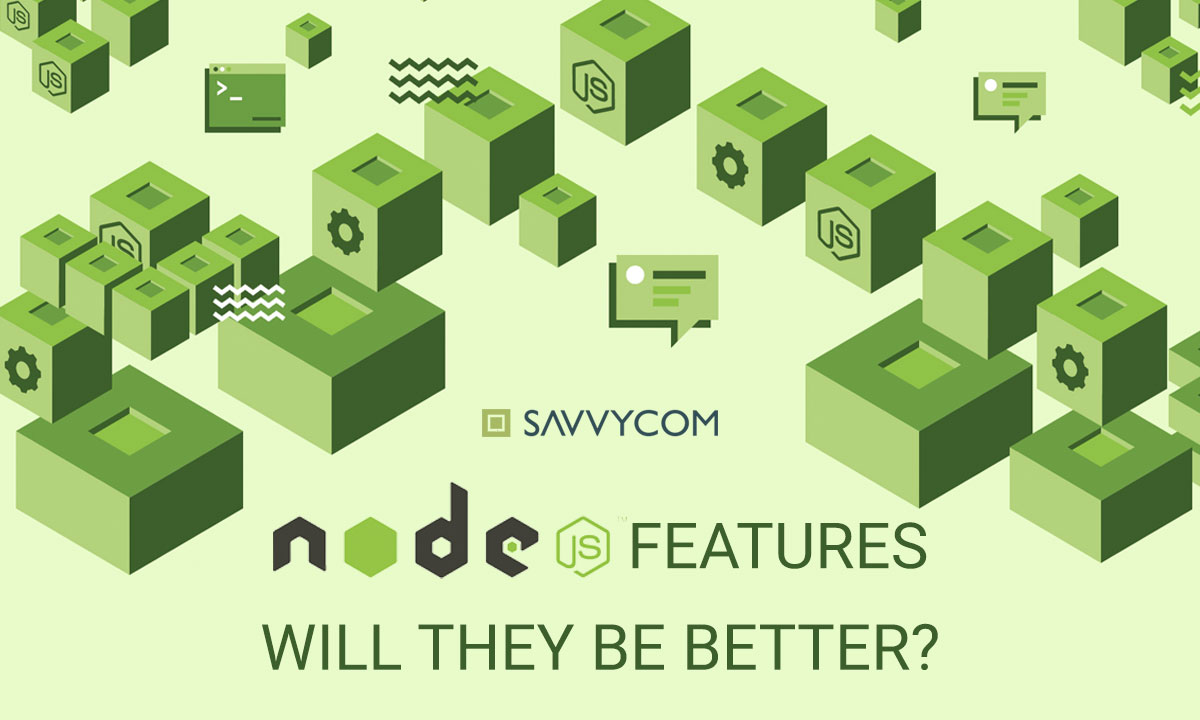 1. Node.js can connect directly to the database
At present, with the current developing state of Node.js features, it takes a longer time in the data process. Using a node/express application, instead of connecting instantly, you need to make calls to the database to continue the process. Sometimes it basically takes more than one occasion, even more than one module.
On the contrary, other platforms like JavaScript and Ajax allow developers to accelerate the speed of the data process by the offered capacity of the database connection. That's the thing Node.js developers had better take note to improve their efficiency soon.
2. There is nothing called "callback hell" anymore
One of the most heating debates about the ineffectiveness of Node.js programming is the so-called term among developers "callback hell".
JavaScript is asynchronous by nature, therefore the cross-platform environment executing JavaScript code – Node.js, relies labouriously on callbacks. A callback is a function that runs each time one task in the queue is completed. It is not the problem here, but the consequence of this step is really annoying. After keeping a number of queued tasks along with each callback of ones, the bad result is to directly impact the quality of code. To be clear, it's a "situation where callbacks are nested within other callbacks several levels deep, possibly making it hard to understand and maintain the code."
Yet, if you have a long-time experience with JavaScript and Node.js, you will not have a hard time to figure out how to solve this issue. Codes can be reconstructed and simplified with a few steps. But it's still more convenient that you don't need to think twice to simplify the codes in the beginning, right?
3. Performance bottlenecks with heavy computation can be resolved
Another disadvantage of Node.js features that developer community don't like at all is its deficiency in heavy computations. Node.js is still a single-threaded environment, which people don't consider as the most advanced technology at present. Some drawbacks reveal like the case a CPU-bound task (number crunching, various calculations) can block the event loop, coming up with few seconds of delay for all Node.js website users.
Depending on the consequence, the negative effects following after can damage the sufficiency of the business, more explicitly in the below example, user experience. In order to avoid these not-so-good outcomes, no one seems to recommend to apply Node.js programming to computation-heavy systems.
4. Node.js Tooling can reach to its maturity soon
Though the core Node.js modules are in its great stability, several tools in the npm registry (the registry of Node.js package manager) is in the state of poor quality or not precisely documented/ tested. Furthermore, the structure of the registry isn't decent and convenient enough to suggest us the tools based on their ratings and quality. So, it seems to be not easy to find out the best solution suited to your purposes when the platform itself hasn't been totally optimized for what we are looking for.
One of the greatest features of Node.js: open-source ecosystem, also reveals its deficit. In contrast with the fact that the quality of the core Node.js technology is supervised and justified by Joyent and other major contributors, the rest of the tools í out of this necessary supervision, therefore lack the quality and high coding standards set by global organizations.
5. Node.js Real-time with Socket.IO (WebSocket protocol)
First, let's get a clear definition of Real-time with an attached example. With the assistance of WebSocket, real-time is a totally possible option to connect a client to a server. Once 2 sides have been connected, the client is able to receive the data without continuously refreshing the website. Otherwise, the server will also be able to receive data in real time from the client in the same connection.
Socket.IO is one of the most well-known real-time engines for Node.js. It's great to implement this cutting-edge technology into your Node.js applications, right?
Socket.IO supports you in many tasks as the means of Node.js events: you can fire up a function when a new user connects to the server, listen for a connection event and emit a message over a socket and so on.
With its great advantages and functional benefits, a myriad of companies and developers chooses Socket.IO. Besides real-time analytics and monitoring, Socket.IO is the ideal tools for Instant messaging applications, streaming, document collaboration and many more.
To understand thoroughly how Node.js along with MySQL, MongoDB, Angular, PHP 7, Laravel 5 can elevate your business with the real-time application, let's take a few seconds to know Helo Livestream Mobile Application. It is the first-ever live media streaming application that facilitates us to showcase our gifted abilities by getting noticed by our respective industries.
Savvycom's engineering team apply the ultra-low latency live streaming video using RTMP. This application helps Helo Livestreaming Mobile Application to serve 300,000 users simultaneously, all data needed to be shown in real-time across a wide geographical area.
6. Node.js features: Supporting Community will expand more in the future
One sentence to sum up how great the Node.js Community is: "Not only the developers who contribute to Node.js make this platform so great, but those who create learning materials around it were also exceptional."
Here are the credential proofs to justify the below statement
Amazing useful community-curated lists
If you start stepping into Node.js field and want to gain useful knowledge as soon as possible, you can join Node.js Community to ask for helpful pieces of advice. There are so many articles containing practices and shortcuts that you can definitely enhance your skills by going through them.
There are many other great advantages I can list out such as:
Available insightful Case Studies
Well-covered Node.js Authentication & Security
API development with Node.js has been made even easier
Awesome new tools
Amazing Free Crash Courses
The community can attend great conferences, like Node Interactive!
For further information about
Node.js services
, feel free to contact Savvycom to book a meeting.
We're happy to discuss with you to find out the right Node.js web developer for your project or lend you our professional and expert developers.