How to Make a Social Media App? Must-have Features & Costs
Social media apps have already taken over a large portion of our lives and the app market, and their number continues to rise. In 2020, the global social penetration rate reached 49 percent, with East Asia and North America having the highest penetration rate at 71 and 69 percent respectively, followed by Northern Europe at 67 percent With the growing number of smartphone users worldwide, new opportunities for social media app development with more advanced features have emerged.
To say that social media is a global phenomenon is almost an understatement, as the number of worldwide social network users is expected to grow from 3.6 billion in 2020 to around 4.4 billion in 2025, around a third of the entire global population.
As a result, many entrepreneurs can't pass up the opportunity to participate in the booming market and are considering developing new social media platforms. Follow us as we will show you how to make a profitable social media app in this article.
1. Understanding Social Media & Social Media Apps Market
"Social media are interactive technologies that allow the creation or sharing/exchange of information, ideas, career interests, and other forms of expression via virtual communities and networks. While challenges to the definition of social media arise due to the broad variety of stand-alone and built-in social-media services currently available, there are some common features:
Social media are interactive Web 2.0 Internet-based applications.
User-generated content—such as text posts or comments, digital photos or videos, and data generated through all online interactions—is the lifeblood of social media.
Users create service-specific profiles for the website or app that are designed and maintained by the social-media organization.
Social media helps the development of online social networks by connecting a user's profile with those of other individuals or groups." – Wikipedia
The term "social media" refers to how people interact in virtual communities and networks by creating, sharing, and/or exchanging information and ideas.
With a total user base of 4.48 billion social media users worldwide in 2021, the social media and social applications industry is currently one of the largest. This equates to 56 percent of the world's total population. You can definitely find your niche with such a large user base. The most exciting aspect is that the number of users grows year after year, with a steady 13.1 percent increase in the user base. If the percentages don't impress you, consider this: 16 new social media users are added every second.
This industry, however, can boast of audience retention in addition to the number of users. These users spend an average of two and a half hours per day on social media. And 99 percent of users spend this time on their mobile devices using social media apps. As you can see, this is a rapidly expanding industry with a large user base, and the trend is unlikely to reverse in the coming years.

2. Types of Social Media Apps
Let's start by defining the different types of social media apps. This will assist you in determining which niche you will enter and which major competitors will be waiting for you there. The following are the most common types of social media to be aware of:
2.1. Social network apps
They're used to connect and communicate with other people over the internet. These social networking apps can be used for personal or professional communication (Facebook, Twitter) and LinkedIn).
2.2. Media sharing networks
Users of such social apps can share a variety of media files (photos, videos, GIF files, etc.). Instagram, Snapchat, YouTube, Vimeo, and Imgur are the most well-known examples of this type.
2.3. Networks for consumer reviews
Customers use social media apps like these to find and review businesses with which they have had dealings. One of the most well-known examples in this category is Yelp.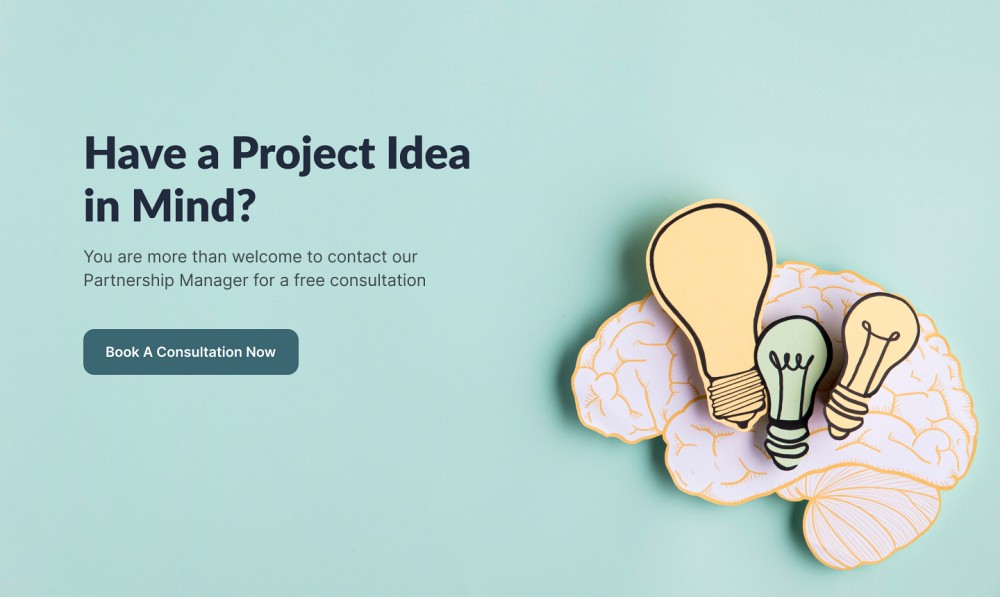 2.4. Community and discussion forums
These platforms are excellent for posing questions and receiving responses, as well as sharing news, ideas, insights, and experience. Of course, Quora and Reddit are the best social media apps in this category.
2.5. Bookmarking and content curation networks
These apps allow users to share their own content as well as discover and save the content of others. This category of social media includes apps such as Pinterest, Mix, and Flipboard.
2.6. Blogging and publishing platforms
Users can create their own blogs and post content on these social media platforms. Tumblr and Medium have become extremely popular in recent years, with thousands of people posting daily.
2.7. Interest-based networks
People with similar interests are brought together through this type of social networking. On such platforms, users can share their interests and experiences. Check out sites like Goodreads or Last.fm for some ideas.
2.8. Anonymous social networks
Teens particularly enjoy this type of social network because it allows them to communicate anonymously with one another. Whisper, Ask.fm, and Hiddenpost are some of the most popular social media apps in this category.
As you can see, social media apps come in a variety of shapes and sizes. These categories are important because they define the key features of the apps that belong in them. Once you've decided on a course of action, make sure you've thoroughly researched and analyzed your options.
3. Social Media App Development – Basic Features to focus on
To calculate the cost of social networking app development, you need to consider the required features since they affect the price significantly. These features should fulfill the expectations of your target audience and solve their problems. There are two main types of features — MVP and advanced.
Must-have or MVP features are basic functionality to satisfy user needs and offer them an appropriate user experience. Launching an MVP version of the social media app and first feedback before investing more money in the idea is expected. It allows understanding of what features need improvements. After that, you add several advanced features.
You have more chances to get investments with an MVP since a working social media app makes stakeholders trust you more.
3.1. Sign up
You should offer users several registration options. For example, you can integrate such options as email and password, phone number, and password. Adding the 'Forgot password' feature is necessary to make a social media app more user-friendly. In the case of technologies, developers can use Facebook or Google SDK. It's also possible to choose between signup via phone number or SMS verification.
3.2. User profile
Depending on a social app type, you should let users create various profiles. This screen should have such options as contacting other users and viewing their media files or posts. A thoughtful profile can make customers subscribe, so you need to consider user experience and page layout.
3.3. Search
Users need a comfortable search bar to find friends or bloggers to follow. For example, make it possible to search by tags, user names, and location.
3.4. Newsfeed
This feature helps users stay tuned. All updates and new information from friends and communities are located here. It's possible to integrate this feature as Instagram did. In this case, the news feed becomes a home screen of the social media app.
3.5. Chat
How to create a social media app and not fail? It's required to add a convenient chat feature. Sending messages, photos, or video files is vital for any social network. It's possible to integrate group chats and channels to let users chat with two users. It's common to use socket.io to develop scalable chats.
3.6. Add post
Such social media apps as Instagram or Facebook offer to create posts with different content (photo, video, or text). So, users need to have an opportunity to add photos or videos from the gallery or take pictures with a smartphone camera. After that, they can create a short description and post it on social media.
3.7. Push notifications
There are various push notifications users can get like a new pоst from the community they are subscribed to, a new message, a reaction or comment to their post, etc. Push notifications are suitable for user engagement, and developers choose FCM to develop push notifications.
4. Social Media App Development – Advanced Features to focus on
4.1. Augmented reality and face filters
The trend-setters here are Snapchat, Instagram and TikTok. The funny face filters are still popular, and they don't appear to be going away anytime soon. To make a social media app more unique, you can integrate various filters and effects into the photo or video. For example, Instagram and Snapchat have a bunch of AR filters, from the dog's ears to beauty masks. Exciting filters help attract users to your social networking app. To add AR filters to the social media app, developers need to use ML Kit and ARCore. AR technology offers a unique user experience.
4.2. Artificial Intelligence and chatbots
During the forecast period from MordorIntelligence of 2021-2026, the AI Market in Social Media was valued at USD 815.33 million in 2020 and is expected to reach USD 3,714.89 million by 2026, with a CAGR of 28.77 percent. One of the most important sources of customer intelligence data is social media.
4.3. Live streaming (Live Videos)
This feature is already available in the most popular social media apps. Users would rather watch live videos than read social media posts. Because people nowadays prefer to watch rather than read, video content is more popular than written content. It's due to their lack of time and the fact that visual information is easier to comprehend.
4.4. Story content
It's the type of content that stays on your feed for up to 24 hours before disappearing. Once again, Snapchat and Instagram are at the top of the heap. The amount of time people spend on these social media apps daily has increased due to stories. Isn't it an excellent way to attract users?
4.5. Editing
It's good to offer users to edit their pictures in your social media app. For example, you can provide such options as crop and rotate images, remove unnecessary objects, create a collage, and more.
4.5. Location-based content
One more exciting feature of a social media app is providing content according to the user's location. The app analyses the place and shows content posted by other users in the exact location. Also, users can add their whereabouts to the photo or video.
Looking For a Trusted Tech Partner?
We'll help you decide on next steps, explain how the development process is organized, and provide you with a free project estimate.
5. Social Media App Development
5.1. Social Networking App Basic Guidelines
If you've done your research and have all of the materials you'll need to build your own social network (a mind map, functional specifications), the first step you'll take with your development team is UX/UI design.
If you want to learn how to make a social media app that looks and feels good, you should first learn some basic design requirements for your future product. These are pieces of advice based on some industry trends, designers' experience, and related researches, if I'm not mistaken. Also check out how to make a voice over video for your unique social post!
Nowadays, all social media apps should follow these simple guidelines:
Use blue shades because this color isn't considered obnoxious.
On every screen where they are required, use the same navigation bar with search functions, notifications, and a profile icon.
For users to feel comfortable using the app on their device, the entire design of the app should be adapted to a specific platform (there are design guidelines for iOS and Android). At the same time, your app's key features should be consistent across all platforms. If a user switches from iOS to Android or vice versa, it is necessary to ensure a consistent user experience and feel.
To make the user experience similar on any device, a smooth transition from a web app design to a mobile app design is required.
Round profile images help to focus on a user's face, making it easier to remember or distinguish them from the crowd.
Posts can be scrolled indefinitely.
Simplicity in design and a focus on user content
Possibility of expressing oneself through design (custom opportunities like changing a profile picture, cover image, or even profile colors)
Users and relevant content can be found easily.
Quick sign in or app entry without registration in the early stages to allow users to learn more about your product.
Overall, the quality of your social network design will be largely determined by the designer you hire. Nonetheless, the aforementioned best practices will assist you in finding a happy medium between what you want and what your design should be.
Making designs for the full app version is a good way to design the first (basic) version of your custom app (social media apps included). It's critical to take a broad view of your project, plan for possible interactions, and create an appropriate app architecture. When your development team sees the big picture, it'll be clear how to make the social media app you want. They decide which features to save for later versions and which can be implemented in the first version of the app.
5.2 Features of Social Media App Development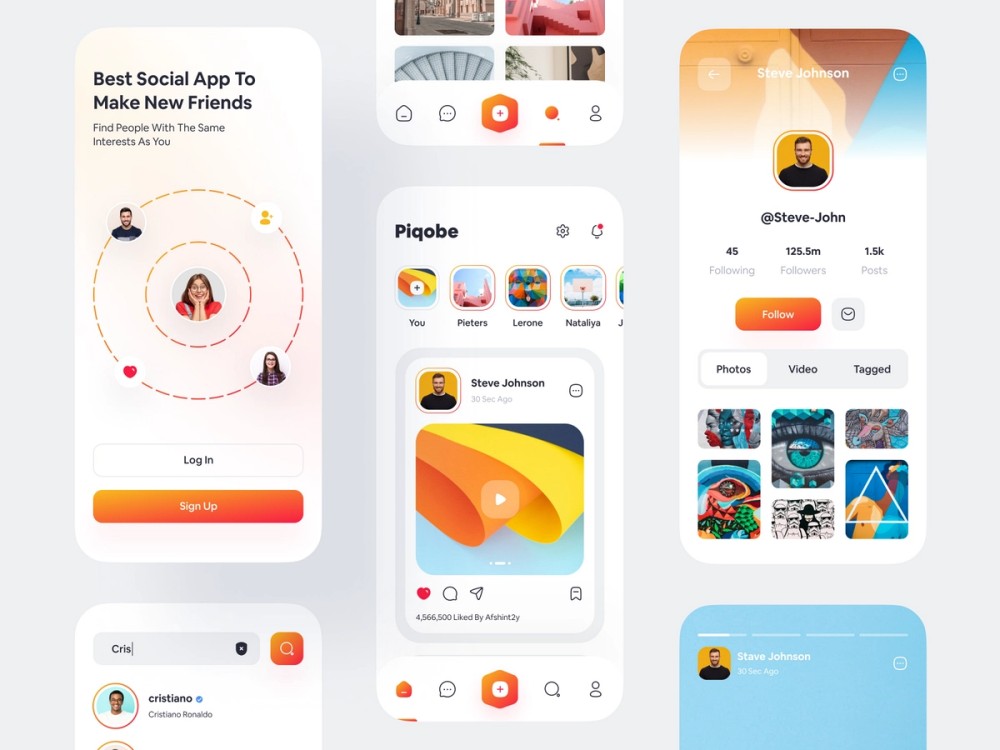 Even though every case is different and every social media app should have at least one unique feature to set itself apart from its competitors, there are a few essential functions that every social media app must-have. The following is a list of features that are recommended for creating a basic social media app:
Social Media App Feature
Description
Notes
Social authorization
Users can register/login via a social network

One social network – Facebook or Twitter or G+ (two or more networks influence the estimate)
Transfer of account photo and full name included
Creation of Facebook developer accounts (develop, staging, production)
Facebook review process and support communication are handled by a project manager and not included into the estimate

Feed
Users can see a feed with posts by one criterion/logic (basic)

Each next criterion/logic influences the estimate

Post creation
Users can create posts (basic)
Post likes
Users can like and unlike post
 
Social notifications
Users can like and unlike post

New likes, comments on your posts, new friends
Automatic refreshing of displayed data on the fly should be implemented additionally
Push notifications in background are not included (should be implemented additionally)

User profile
Users can manage a profile (basic)

Personal information (text fields, birthday, gender), one photo

Search
Users can search for one type of entity by one criterion

Each next entity influences the estimate

Chat
Users can chat (basic)

List of chats
Send a text message or image, list of messages (with time and a user avatar)
Push notifications for new messages and new chats

Push notification module
Integration of a module for push notifications (hidden for users)

Unsubscribe from push notifications if a user is logged out
Specific push notification implementation influences the estimate

Analytics
Basic integration with analytics (hidden for users)

One Analytics tool (except Fabric)
Flurry or Google Analytics/ Firebase or MixPanel
Basic SDK configuration (minimum analytics
OS versions, devices etc.), screen tracking for Android
Develop, staging, production

CMS: Admin authorization
Admins can register, log in, and log out
CMS: Admin management
Admins can manage other admins

CRUD on administrators
Full name, email

CMS: User management
Admins can manage users

Basic sorting, filtering and searching (by name, by email, by ID) included

CMS: Reported user management
Admins can manage reported users

One entity (a photo or user or post), each next entity adds % to the estimate
Can be removed
Sorting by amount of claims
6. How to Monetize Your Social Media App?
So, how do you monetize your social media application? To stay in the market for longer, you'll need a solid monetization strategy. To get you started, here are some techniques.
6.1. Direct Sales
Make direct sales to your social media audience if possible. You'll need to strike a balance between too much self-promotion and a good mix of interesting content and a good product. Consider direct sales if your product has a visual nature—and visual appeal, such as interior design, fashion, or real estate.
6.2. Video Marketing (Ads)
You can make money with video marketing in a variety of ways. Ad revenue from views, affiliate marketing, and influencer promotion are all examples of this strategy. The video content can be product-centric, resulting in high engagement and viewership, which aids in the development of a large audience and the creation of appealing brands. The videos on YouTube receive millions of views, implying that they generate passive income. Check out how you could make use of subtitling translation services for the best Video Marketing Post!
6.3. Lead Generation
Converting potential social media customers is another important monetization strategy. There are numerous ways to generate leads using social media, which can be overwhelming. Still, the most important takeaway is to provide something appealing, engaging, and valuable to your potential customers as they enter your sales funnel.
You can monetize your social audience in a variety of ways, and you can choose the ones that work best for you. With ever-increasing interests, occupations, and hobbies, new platforms to bring people together are needed. If you have a great idea for a social media app, now is the time to put your efforts together to make it a reality.
Check out our guide to learn about different mobile app monetization models. So go ahead and get started, and watch your social media app transform into brilliant digital solutions.
7. How Much Does It Cost To Build A Social Media App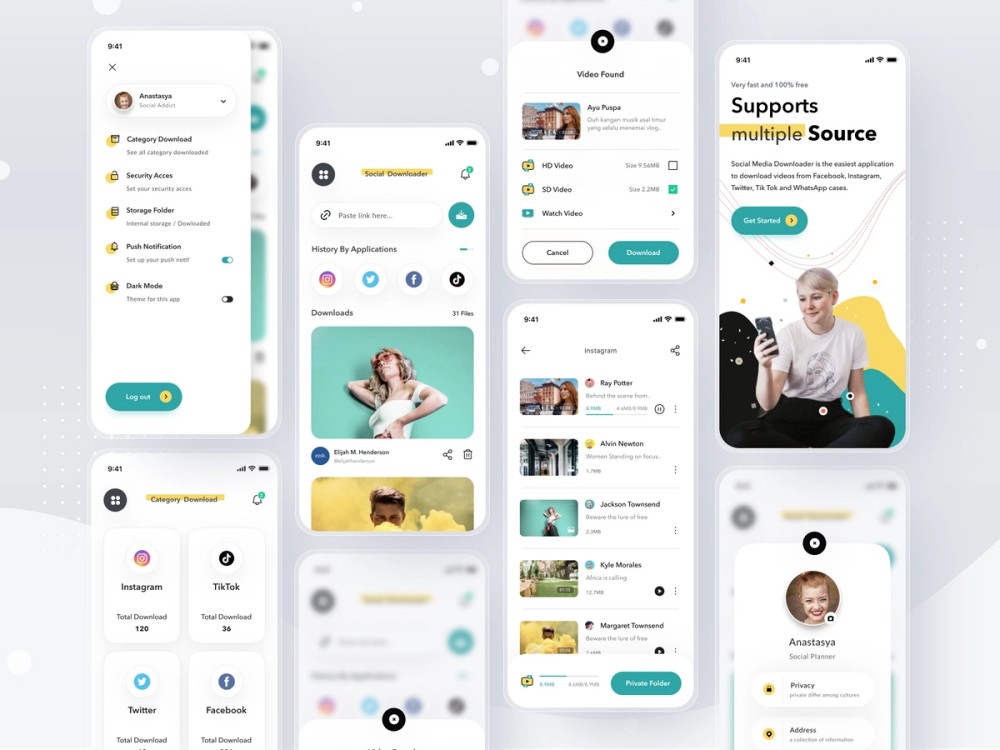 Budget estimation is probably one of the most crucial part of any software development and the costs of social media app depend on a few facets, such as:
Number of features
Technology stack
Timelines set
The project design (UI/UX design, custom development)
Project management
Quality assurance
Business analysis
|   | MVP App | Medium App | Sophisticated app (1+ Platform) |
| --- | --- | --- | --- |
| UX/UI Design | $5,000+ | $15,000+ | $25,000+ |
| Custom Development | $40,000+ | $95,000+ | $200,000+ |
| Quality Assurance | $5,000+ | $15,000+ | $25,000+ |
| Project Management | $7,500+ | $15,000+ | $35,000+ |
| Business Analysis | $2,500+ | $10,000+ | $15,000+ |
| Total setup | $60,000+ | $150,000+ | $230,000+ |
| Time | 3 to 6 months | 6 to 9 months | 9+ months |
Please keep in mind that these cost estimates for social media app development are estimates only. They only give you a general idea of how much you'll need to start a social network. Trying a lean approach is also considered to be one of the best practices to save money. As a result, you can create an MVP for a social media app. However, because each case is unique, it is best to seek professional advice, contact us now to get your free tech consultation and estimated quote.

8. Social Media App Development Company
Even if you know exactly how to build a social network from the ground up, that doesn't mean the process will be simple and quick. Famous social media apps such as Instagram, Facebook, and Twitter were not created overnight, so be patient and take small steps. Making a social media app and turning it into a successful product in this manner is a wise decision.
Our team has expertise in creating social network apps among which is Wanna Train project. This app is a fitness platform that helps to track, find trainers and share your gym, body building adventures with like-minded people. It allows logging your personal training logs, share them with friends. Wanna Train is available on both Android and IOS with core features. You may check the Case study of Wanna Train on our Behance Showcase and find there links to download the app on Google Play or App Store.