App Solutions 101: F&B business management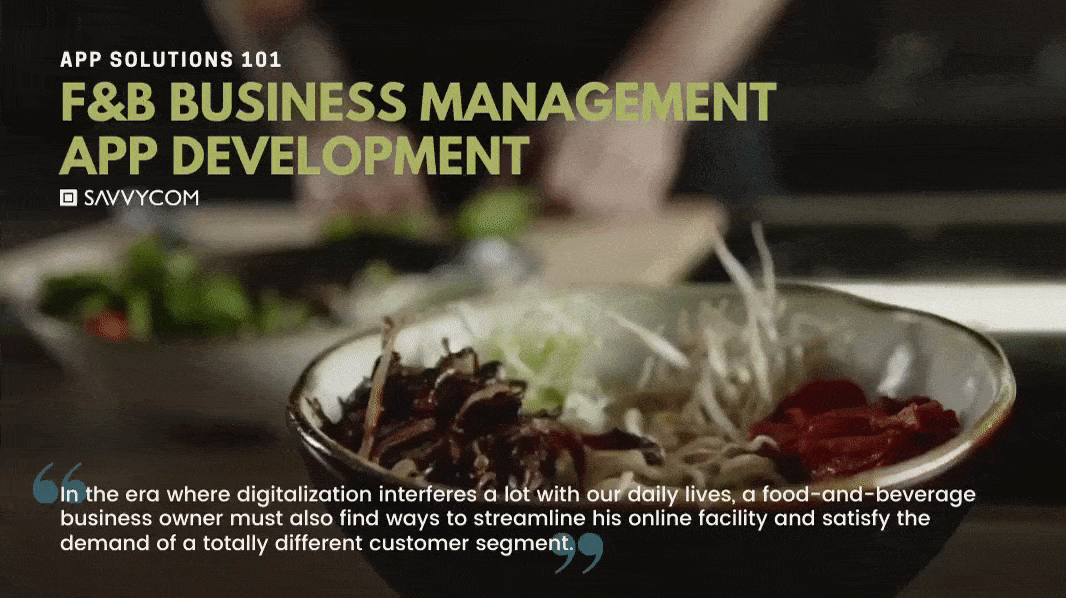 Do you have the right recipe for a highly profitable company?
If yes, that's great. You have it right on track.
If no, there's one key ingredient you might be missing: the right business solution.
The food and beverage industry has additional challenges of managing perishable products and navigating strict regulation, not to mention the ever-present danger of recalls and contamination. Plus, in the era where digitalization interferes a lot with our daily lives, a food-and-beverage business owner must also find ways to streamline his online facility and satisfy the demand of a totally different customer segment.
At times, it can seem overwhelming – that's where you need a business management solution that's built for your industry and specific customer needs.
Challenges to solve for a prosperous food & beverage business
There are 3 major challenges facing the food and beverage industry that a business shall manage. Addressing these challenges will help you figure out if your business is compliant, accountable, ready for recalls, and able to maintain consistent product quality.
Achieve compliance, while managing costs
Keeping up with stringent and changing regulation, especially the Food Safety Act, can be a headache for many food and beverage businesses – and no element of the Food Safety Act will have more impact than the "one step forward and one step back" traceability requirements. You need to invest in efficient and accurate tracking along your supply chain in order to comply, but this can be costly and time-consuming to implement.
Maintain consistency – even as the market changes
At the same time, customers expect consistency even as supply, demand, and the marketplace itself changes. This holds true that the industry now infuses E-commerce, driving the change in customer behaviours. It's challenging to stay in control, keep costs down, and retain flexibility for reacting to these changes, but you can overcome it with the right solution.
Technology is the right business solution in food & beverage industry
As told by the numbers:
95% of restaurant owners observed an increase in their business efficiency by embedding technology in their process.
73% of guests believe that technology adds more to their dining experience.
44% of consumers say they used a restaurant website or app to place a food order. This is true for both delivery and takeout food during the past year.
Over 80% of restaurants are turning to technology – like online ordering, reservation and inventory apps, and restaurant analytics – now more than ever to help them run their business successfully and efficiently.
We are a technology-provider that helps your food and beverage business serve your guests better
We are a software development company with extensive experience in providing technological solutions for players of the food & beverage industry. We know the anatomy of human psychology and the innovation to have each of our clients stand out in its own way. We aspire to make the world a loving place by having happiness shared and people connected through the camaraderie power of food and drinks.
We are also dedicated to helping our valued clients revolutionize the industry with expert-level technique and world-beating technologies, verified by our past successes:
We fuel your business solution with powerful technologies
We provide full-stack solutions that are customized to your specific needs, encompassing both online and offline universes
Restaurant finder app development
On-premise food order POS development
Food delivery app development
Food ordering app development
Online restaurant reservation app development
Restaurant membership app development
Restaurant discounts app development
Inventory management solutions development
We allow multiple integrations to improve customer experience
Attention-grabbing push notifications
We dive into your business model, market challenges and product positioning, and help you create a product that delivers unique value.
CRM and Accounting software integrations
We integrate CRM and Accounting software in your app – a holistic and convenient solution, allowing restaurateurs to manage the business efficiently.
Multiple platform compatible apps
Our apps are multi-platform and are compatible with different screen sizes, making them attractive for Android and Apple users.
Embeddable media content for visual delight
We facilitate embedding high-resolution images, videos, animations, and other media content into your app. You can add your restaurant pictures, nearby landmarks for easy navigation, food menu pictures, and images of special events in your restaurant to entice visitors. These make your app visually rich and delightful for users.
Referral feature for boosting loyalty
We allow users to send referral links to their friends and family for downloading and installing the app and earning bonus points that can be redeemed as per their convenience. You'll not only earn loyal customers but also more revenue by app download subscriptions.
Diverse payment options for an easy and secure dining experience
Our apps allow for cashless dining experience by providing numerous payment options: e-wallets, online transfers, card payments, or coupon redemption. Our aim is to make user experience as smooth and easy as possible to encourage repeated users.
Location integration for better takeaway and delivery
Our apps have GPS integration that lets the app pinpoint users' locations automatically and accurately. Then detailed instructions can be left regarding preferred delivery options and payment methods. Tailor-made and customizable for all.
At the heart of this connecting world, Savvycom is racing against time and innovation to deliver world-beating social apps to our valued clients. With our 10+ years of tech expertise, the endorsements from 100+ clients of 4 continents around the world and multiple successful partnerships with reputable global firms such as Apple, Amazon Web Services, Google Cloud, and IBM, we make serving our clients with the best services a promise.