Empowering your business during pandemic – It's possible!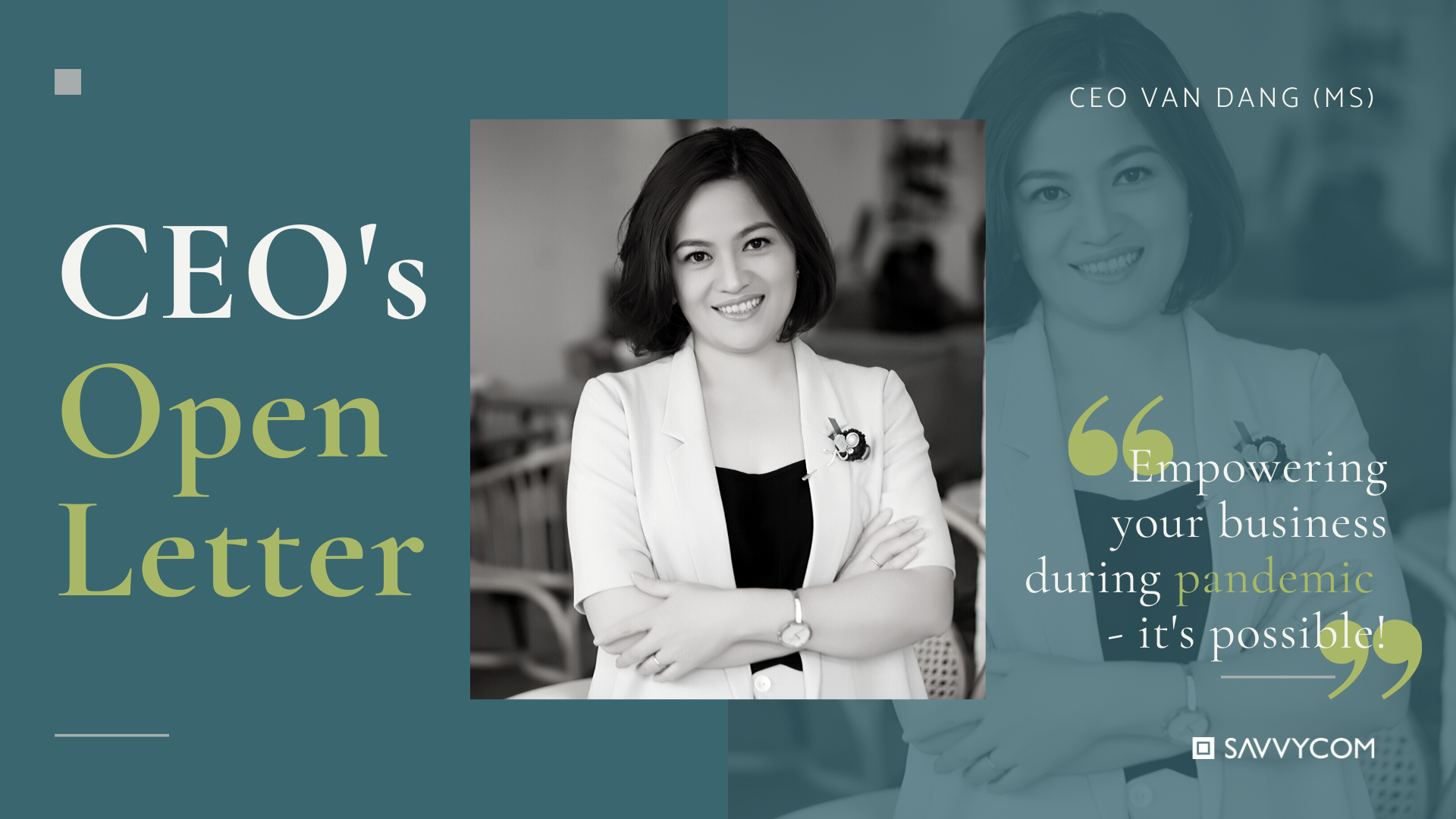 UNPRECEDENTED SITUATION BRINGS UP UNPRECEDENTED OPPORTUNITIES
Firstly, we hope that you, your colleagues, your business and your beloved ones are all well. 
The COVID-19 is honestly an unprecedented pandemic with such desperate impact on our life and work. Right actions need to be taken so that the governments do not have to resort to more intense methods, and we expect that the current closure is the beginning of more openness afterwards – the starting of your new ideas, new plans, and new opportunities.
In this social distancing situation, staying digitally connected is crucial – connected to customers, partners, colleagues, and communities – to get informed, instructed, supported, so that no one is left behind. And Savvycom can assure that we have such experiences, abilities, infrastructure, and proven processes to empower your and your business' connection with the society through this challenging time.
ASSURING CONTINUITY OF BUSINESSES
When the top priority is the health and safety of our society, businesses are advised to employ digital application to enable business continuity. Aligning to such spirit, Savvycom has implemented our pandemic-response action plan as follow:
Promoting our strengths as a Digital Service Provider/Global App Developer

: Savvycom is familiar with remote working, as it is the nature of our services. We have 10+ year proven processes in remote working, and it is time to adapt and utilize this advantage on other aspects of business management. 

Shifting 100% of our business-related activities to remote-working mode

: 1-on-1 business is initially challenging enough, but we have learned from our best example – our Developer Team, who have been working tirelessly with our clients from around the world despite any difficult situations.

Support policies for customers

: we understand the challenges your business is facing, and we commit to working more than 100% of our normal capabilities to provide our customers with beyond-required assistance. Pandemic-response policies would be carefully customized to best support each certain case.
And we want to do more! A rule by nature is that whenever there's a "down", the "ups" are awaiting ahead. Therefore, we hope to exploit what we have had in our capital to help your business going and to help all move on from this current situation. Your business is going to experience the "ups" much quicker once you are empowered with the right IT companion.
IT IS YOUR DECISION TO TAKE A STEP BEFORE ANYONE'S UNCERTAINTY
Amid the tension, there's a joke that goes, "The main factor that decides the digital transformation of your company in 2020 is neither CTO or CEO, but COVID-19." Hilarious as it may sound, it is true. To grasp the chance and empower your business with the advancement of technology, or to passively stay on hiatus and pray for the epidemic to go, it is your decision – business owner!
Warm regards,
Van Dang
CEO, Savvycom.
Want to know more? Contact us!