App Solutions 101 – Healthcare App Development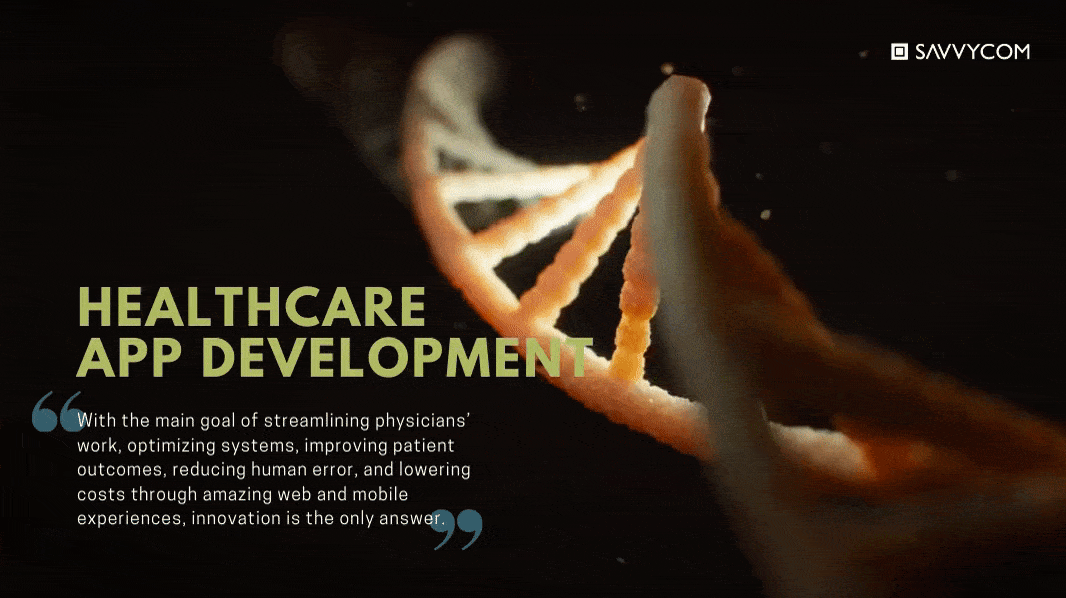 Digital transformation is driving the change in healthcare
The digital health market is expected to reach $206 billion by 2020. Many companies are already redefining themselves with digital transformation, changing the dynamics across the market and promising to soar higher in just the next few years.
However, keeping up with digital transformation in a traditional industry like healthcare can feel very overwhelming. Adapting to the digital era requires a shift towards a flexible and risk-taking mindset. It means letting go of outdated processes and trusting that disruption will yield big results.
With the main goal of streamlining physicians' work, optimizing systems, improving patient outcomes, reducing human error, and lowering costs through amazing web and mobile experiences, innovation is the only answer. These goals cover every aspect, every sector of healthcare, varying from equipment manufacturing, insurance, hospital and medical services to pharmaceutical. The vast coverage of it poses a challenge as to understand the core problem and accordingly decide which emerging technologies are worth investing in.
The digital transformation in healthcare is mainly driven by the need 2 key stakeholders – also the 2 parties that are in need of digital transformation the most:
Healthcare providers (hospitals, clinics, pharma): Healthcare providers have always been in the centre of overload, as they need not only their own problems solved (data storage, data transfer, bed management, diagnosis accuracy, real-time analytics on the results of medication testing…) but also the problems of patients (wait time, consultation reception,…). If digital transformation is leveraged, healthcare providers can multi-solving numerous problems at once and reduce the amount of pressure on their protocols, processes and personnel.
Patients/health-conscious people: The patients are the ones who receive the most if healthcare is transformed digitally, whether it is scheduling a quick appointment with the doctor, finding an appropriate specialist with hands on experience, viewing the medical test reports from labs online, purchasing medicines and other products at affordable prices or so on. With healthcare transformation, people can "plan" their health in a more efficient sense, geographically and financially.
Mobile healthcare apps are in the midst of the surging digital transformation
In correspondence to each stakeholder is a digital transformation trend that will likely to take off in the next 3 years:
AR/VR/MR: The global virtual and augmented reality in healthcare market is expected to reach $5.1 billion by 2025. They are considered the pièce de résistance of digital transformation in healthcare. Its myriad of applications are profoundly changing the way patients are being treated. By rendering 3D information on real-world scenes, these technologies permit surgeons and doctors to stay grounded in actual procedures while having ready access to all the data available through other emerging technologies. Doctors can compare data to what they're seeing in the real world in order to make more accurate diagnoses and plan for procedures; and patients can receive better healthcare services.
Mobile on-demand healthcare services: Mobility is the name of the game here, as more than 50% of all web browsing in the world occurs on mobile devices as of 2019, over four billion people globally are on the Internet, and 45% of the world's population owns a smartphone. Integrating healthcare services into a pocketable device like a smartphone helps people to capsule their time spent on healthcare, put in the context of this increasingly bustling world. Doctors themselves become on-demand healthcare providers to better meet the changing needs of their patients. Likewise, patients can keep track of their health in real-time and get access to doctors without long commuting and waiting in queues.
The Internet of Medical Things (IoMT): Various devices and mobile apps have come to play a critical role in tracking and preventing chronic illnesses for many patients and their doctors. By combining IoT development with telemedicine and telehealth technologies, IoMT has emerged and will grow even bigger in the future: between 20 and 30 billion IoMT devices are expected to be deployed by the end of 2020; the global IoT healthcare market is expected to grow at a CAGR of 29.9% to reach $322.2 billion by 2025. Using IoT with wearables connected, doctors can now keep track of patients' health indicators such as skin temperature, glucose level, blood pressure,..and suggest appropriate medication and treatment in a timely manner. It's a win for both sides.
We develop mobile healthcare applications to help you lead the trends
We are a software development company with extensive experience in mobile applications and healthcare industry. We provide custom healthcare app platforms and solutions for all healthcare providers (professionals, hospitals, clinics patients, pharmacists), patients and health conscious end-users. Our end-goal is to make healthcare easy, convenient, innovative and accessible to all stakeholders; as well as help our clients to revolutionize healthcare industries.
Visit our portfolio
Approach a vendor that thoroughly understands the dynamics of the mobile healthcare industry
Compliant: Mobile health applications should abide to international and local regulations and rules surrounding digital healthcare compliances. For example, Savvycom strictly follow HIPAA, FDA, HITECH, proving our integrity and responsibility to secure the information of end-users.
Comprehensive: The use cases of the healthcare app domain are massive, but everything boils down to how comprehensive the solution is for stakeholders. The app should be user-friendly, coherent and informative at some certain degrees.
Connected: A mobile health app solution that allows seamless, secure connection of patients with doctors and other healthcare providers is what the industry needs. Staying connected helps patients keep an eye on their health situation in real-time and receive timely treatment whenever a problem arises.
Confidential: Patients' information should be treated as a privilege that has to be treated as such. The data should be maintained confidentially to users' personal usage without being leaked to any other party.
We have the profession to build top-notch healthcare apps
As a company that has walked through 10 years of expertise, Savvycom has set foot on a certain number of milestones in healthcare:
10+
Global Clients
200k
Users Reached
$50M
Generated as Clients' Revenue
Our Healthcare mobile apps serve the demand of all stakeholders
Telemedicine: Our healthcare apps help bridge the geographical gap and between patients and doctors and reduce the cost pressure on either side. These apps level up the playing field of healthcare, allowing anyone to access the best healthcare at any time with less concentration on the travelling cost or wait-time in the hospitals.
Third-party integration: We add more values into the apps by allowing the presence of E-wallet, E-pharmacy, nursing services, mobile and wearable tracking devices, and so on.
Lifestyle Tracking: We develop apps that individuals use to monitor and track their daily physical activities to provide health information, such as height, weight, walking steps, heart-rate, BCG,… created in both mobile and wearable versions, our apps bring health to the user's fingertips.
Post-discharge plans: We provide "hospital to home" apps to help hospitals reduce the readmission rates by providing real-time remote monitoring of patients. We connect the app to wearable devices and other home-nursing services through IoMT so that doctors can better understand their patients' recovery and know when a medication change or other intervention can get a patient back on track.
Electronic health record: We develop HIPAA-compliant electronic health record systems that focus on usability and easy integration with the hospital/clinic's present system.
Prescription: In our role as a trusted healthcare app development company, we create mobile prescribing apps to store a patient's allergies, biometrics, and prescription data. Our apps help simplify prescription management while lowering medication errors.
Electronic health information exchange: We develop HIPAA – compliant Top Medical and Healthcare Mobility Solutions that allow all medical parties – doctors, pharmacists, and patients to view and share patient's medical information safely.
Lab test management: We understand the operational challenges that a laboratory faces. Therefore, we create customized solutions for information management depending on the lab size and their specialties.
Pharmacy integration: We develop apps that allow patients to order and have medicines delivered to homes in one touch. This functionality is especially helpful for caregivers who have difficulties going out since they have to always keep an eye on a sick person.
With innovative features, we guarantee your satisfaction
Booking
appointment
Personal
health record
In-app
video/Voice call
In-app
messages
Built-in
calendar
Extensive
dashboard
In-app
payment
Activity
tracking
Subscription
plan
Want to know more? Contact us!