App solutions 101 – Social Networking App Development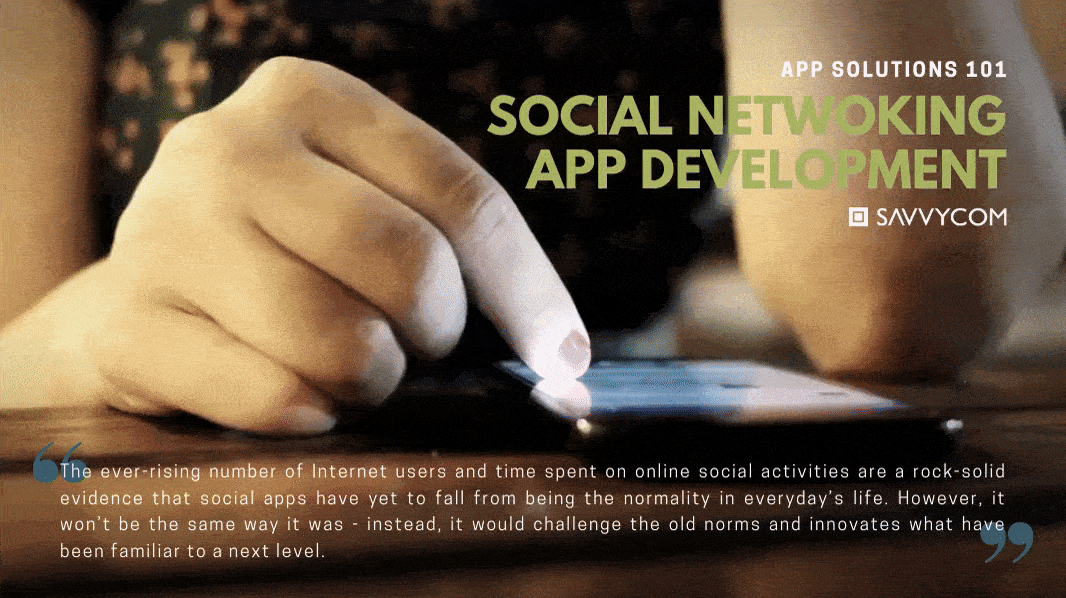 Humans are, by figures, social creatures
The number of people around the world using the Internet has grown to 4.54 billion, showing an increase of 7% (equals to 298 million new users) compared to a year ago.
Worldwide, there are 3.8 billion social media users in January 2020, with this number increasing by more than 9% (accounts for 321 million new users) year-on-year.
Across mobile devices and computers, GlobalWebIndex reports that we now spend an average of 2 hours and 24 minutes/person/day using social platforms, up by 2 minutes per day since this time last year.
The world continues being the playground for social apps – but it is elevating
The ever-rising number of Internet users and time spent on online social activities are a rock-solid evidence that social apps have yet to fall from being the normality in everyday's life. However, it won't be the same way it was – instead, it would challenge the old norms and innovates what have been familiar to a next level:
Niche social platforms: In recent years, we witness the explosion of several other social apps, which all have one thing in common: they focus on only one strategic type of content or audience For example, Instagram as a photo-pitstop for photography lovers, Tik Tok having an eye on short videos, or Twitch being a live streaming platform for gamers. Thanks to the huge success of such predecessors, we can expect the upsurge of more "unicorns" in this edge and be optimistic about future disruptions of these platforms.
Personalization: A recent research shows that nearly 74% of online users are frustrated with applications when content appears to have nothing to do with their interests, and just 20% of people are satisfied with the personalization they see now. Therefore, the doctrine of delivering the right content, to the right person, at the right place and in the right time is sure to be the top concern for improvement for a few more years.
Integration of frontier technologies: Frontier technology such as AI, AR, Blockchain, IoT or chatbots found new life in social apps. Through filters, effects and many other applications, these types of technology begin fumbling toward becoming a mainstream reality as users will experiment with and find ways to use these features. As Mark Zuckerberg, the co-founder, and CEO of Facebook predicted, social media is going to include much more of these high-level technologies in the coming few years, and that such applications will simplify people's approach towards life and the world.
Work with a vendor that knows the anatomy of social platforms inside and out
Versatile:

Social apps inherit the flexibility and fast-changing nature of a real-world society. Therefore, a good vendor shall be one who is able to adapt and ride ahead of the wave.

Cross-platforms:

Social apps are designed to connect people, and social accounts are what represent us as a member of the society. It is the depiction of a person's virtual identity, therefore, it shall also be used as a verification tool for other activities: online shopping, online payment, etc.

Comprehensive:

As an idea dedicated to every person regardless of their status, social apps must promise comprehension across all users. The app should be user-friendly, coherent and informative at some certain degrees.

Confidential:

Vendors shall enable a secure firewall to all users personal information. It shall not be a patchy solution, but rather a full-stack solution allowing features to be easily built in for app level security, application management and device facilitation.
We empower our clients with trend-leading social apps
We are a software development company with extensive experience in social app development. Our portfolio goes long, but among it we provide custom social platforms and solutions for players in every industry: entertainment, wellness, fitness, etc. Our end-goal is to turn social apps into a symbol of equality, where everyone regardless of age, gender, geography, social status, nationality and race feels connected and included. We aspire to make communication easier and accessible; as well as to build a meaningful community that keeps spreading the joy people deserve to receive.
We are also dedicated to helping our valued clients revolutionize the world portfolio of social apps with creative ideas, expert-level technique and world-beating technologies, varying from Chatbots to AI/AR to IoT and Blockchain.
Our expertise has been forged through the test of time
Over the course of 10 years, we have proceeded to being a professional service provider which leaves our marks on certain awards and honors, developing close partnerships with many reputable firms and delivering many creative and optimal solutions to our clients:
global clients
connected users fromall over the world
generated as revenuefor clients
We offer a wide array of solutions with state-of-the-art computing and personalized experiences
Custom social networking: Our team of social app developers excels in the development of custom social networking mobile apps, which makes it convenient for users to connect and be aware of all life happenings around them.
Analytics dashboard: We develop tools for our clients to get insights into how their social campaigns are performing, how users are interacting with their app, the experience they are enjoying and instances where they are leaving the app.
Messaging app: Our team understands that the future of social media lies in messaging and real-time chats. With this understanding, we develop platforms that enable instant connection in a safe, hack-proof environment.
Video-based apps: We specialize in the development of a range of different video-centric apps: short-videos, live streaming, video calls, etc; allowing people to connect with their peers even when they are miles apart.
Photo-sharing apps: By utilizing IoT and AI/AR solutions, we offer users with not only top-notch photography experiences but also create a special zone for any photography fans to share their work of art. We are also able to design a home for people to store every wonderful moment of their lives and take a flashback as they reminisce.
Mobile dating apps: Powered by the geolocation ability and a robust verification algorithm, we ignite your journey of love by giving users a simple and secure platform to form relationships.
Online review apps: Combining a seamless GPS system, the geography-expertise of Google Maps and other personalized tools, we create a place for buyers to share back on their past purchasing experiences, advocate their favorite sellers and pay it forward to the community.
We build a healthy community via friendly yet effective features
Profile
creation
Map
integration
Content
sharing
Push notifications
Interaction
tools
Real-time messaging
Image and video editing
API
Integration
Our technologies applied are diverse and futuristic
Chatbots: We are strategically using AI to build a highly personalized and intuitive user experience through tools such as chatbots and virtual assistants, making interactions between users and brands more engaging..
IoT: Our team offers IoT enabled social media tracking applications. We connect your smart objects that are optimized for social media, enabling automated posts and shares for being generated by the mesh
Blockchain: We use Blockchain to not just decentralize and make the Social Media Industry more transparent but also to create a fair reward system for content curators to earn what they deserve.
Artificial intelligence: By using the power of Artificial Intelligence for incorporation in tools like virtual assistants and chatbots, we are making the interaction between brands and users seamless and real-time.
Augmented reality: Augmented Reality is our solution to businesses aiming to improve their app engagement rates by giving the users enhanced interactivity: filter, photo effects, etc
At the heart of this connecting world, Savvycom is racing against time and innovation to deliver world-beating social apps to our valued clients. With our 10+ years of tech expertise, the endorsements from 100+ clients of 4 continents around the world and multiple successful partnerships with reputable global firms such as Microstrategy, Apple, Accelerance, IBM,…; we make serving our clients with the best services a promise. 
In case you need further consultation on how your social application should be developed, feel free to contact us via: