Outsourcing software development projects: Team-based or Fixed cost model?
While considering which types of outsourcing software development projects, you may come up with a lot of difficult questions. One of those is definitely: how to choose a suitable model for your business in order to optimise every resource as much as possible. In this article, Savvycom would love to help you get through all of these difficulties and manage to complete your planned purpose.
Now, let's check out every single detail of models: when to use, how to take advantage and any other interesting things related to the model.
1. Fixed cost model or Project services Model
When to use:
This model is applied to a budget-defined project that is created based on the detailed project requirements and man-hour estimation. Not only for short-term projects, long-term projects with a very clear purpose, an established project management process and a solid stable set of requirements can also apply this model perfectly. If you already clearly defined the requirement specifications, this model is highly recommended to help you control the budget very well.
This project model is a distributed environment that both in-house and external teams can thoroughly understand the details; additionally, they are well perceptive of each other's skills and capabilities, so they can easily cooperate and collaborate in a friendly working environment.
The requirements can become the expectation of guiding the team to reach the final goal.
As a client, if you make a decision to change the scope when the project is still in the process, your IT outsourcing partner may have to induce extra costs. Therefore, your business relationship with IT outsourcing partners as well as project management will be on the verge of the risky cliff. Those risks will get into your plan and your outsourcing software development project will deviate to risk management rather than focusing on the main business goal. This whole situation will end up with poor results at a much higher cost (more than other models).
If you and your IT partner intend to negotiate the target cost, target profit and profit adjustment formula, you two may want to consider Fixed Price with Incentive (FPI) model.
This model will benefit you to some extent: provide with an incentive and bonus for gaining significant metrics and critical milestones. Remember, an FPI contract comprises some basic elements I mentioned right last sentence:
Target cost
Target profit
Price ceiling
Profit adjustment formula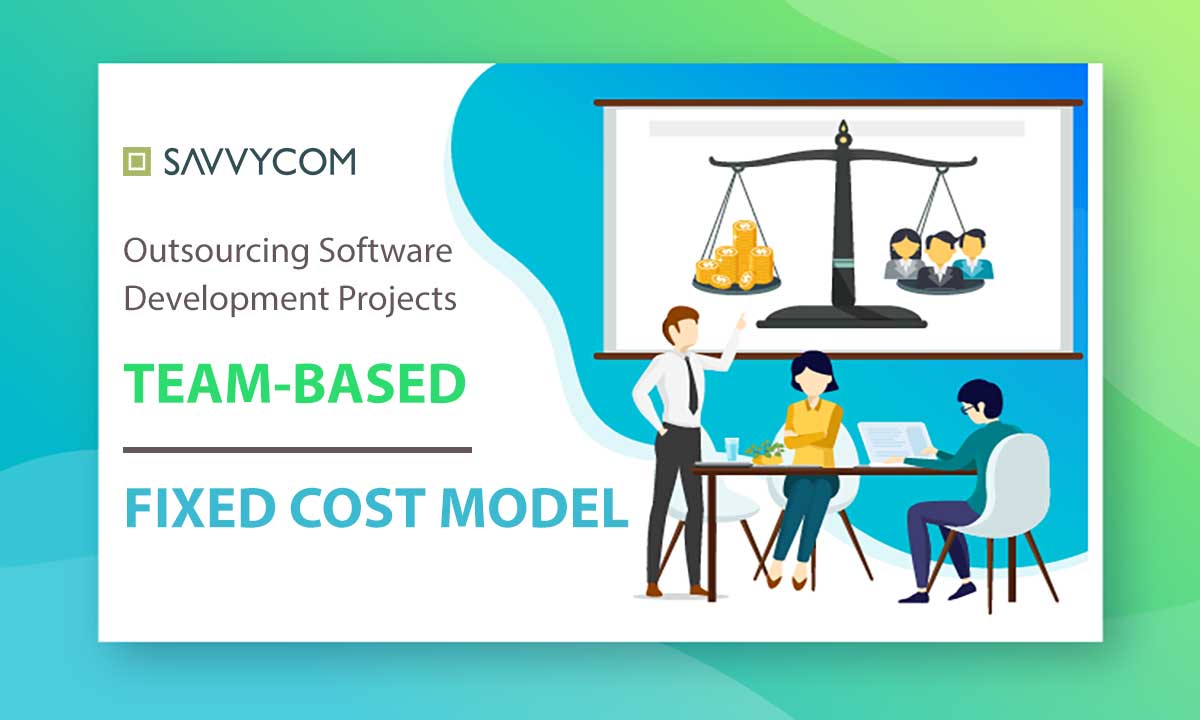 2. Team-based model or Team Services Model
This model can be the best option for long-term projects with more than a phase. In this model, a suitable team will be designed and allocated to the client. Savvycom highly recommends this if your specifications are not decided yet and the flexibility is required. Besides, if the development requirements are complicated and the order is periodic, the team-based model is much better than the fixed cost model for you.
About this outsourcing software development team services model, there are 3 elements that you should concern: cost per resource, management fee and hourly rate.
Cost per resource
It means the fixed-price that your business needs to pay to your IT partner, calculated for the assigned developer on a monthly basis. The engineer works on a single project and will be always ready to accept new tasks from the client and report him.
Management fee
Just a little different from cost per resource model in a positive way: more transparent. Besides the developer's actual salary, the client pays a so-called "management fee" on top, covering administrative, housing, social expenses of the contractor plus the remuneration.
If you choose this model, you had better partake in the screening, selecting and choosing people for the team from the candidate list provided by the contractor. This transparency gives a choice between both skills of the potential employee and his desired salary. By accepting the candidates with the best balance between cost and expertise, you can get more than you expect.
Hourly rate
It is not a new practice to convert the average working month into the 160 working hours. The key benefit between the cost per resource model and hourly rate approach is that the full-working month would be 20% more expensive on average.
With the hourly rate model, it is not necessary to pay for the time when his virtual employee sick or on his vacation.
Let's check out Savvycom's portfolio here and contact us for FREE CONSULTATION in any technology projects that you're looking for an outsourcing vendor.
As you may know, outsourcing software development project team-based model comprises of 2 forms: offshore and onsite; and offshore form is made up of 2 smaller types: outsourcing development centre and dedicated resources. Without further ado, let's take a look at one of these 2 types.
2.1. Outsourcing development centre
When to use:
For long-term projects with actively changing requirements, the unclear scope of work and varying workloads of the development team.
Basically, you can understand the Outsourcing development centre as an intermediary company connecting between your company (client having demand) and IT outsourcing company (provider are available to supply your service).
From that point of view, we can easily draft out some pros and cons of this model.
Pros:
Outsourcing development centre can find out your suitable IT partner in a short time based on your description. So, the more detailed your description is, the more proper and matched your future outsourcing partner is.
Various workloads can be distributed to many outsourcing companies. Therefore, your business will optimize time in the process to reach the goal sooner.
You can constantly be changing your scope of work without worrying about the relationship with IT partner. After the short-term contract with your partner in a certain phase, contact with outsourcing development centre to work with a new partner in the next phase
Cons:
The extra cost for outsourcing development centre. For a small and medium enterprise, it seems not to be the best way to IT outsourcing.
After a successful connection between 2 sides and complete the deal, outsourcing development centre doesn't take any responsibility about generating issues. So, you need to make sure about this decision.
2.2. Dedicated resources
When to use:
For long-term outsource software development projects with unclear requirements and continual scope changes.
For adding more manpower to own in-house IT team and operations by building an offsite team.
For opening new opportunities to acquire new knowledge throughout outsource software development projects when working with your foreign IT partner.
The project success rate within this model is very high due to the following factors:
Team management on a day-to-day basis via Skype meetings, face-to-face communication and/or virtual project management tools.
You can use the same productivity and quality metrics and incentives you normally apply to evaluate your internal employees.
Totally predictable costs and a better opportunity to meet the budget and/or plan further actions.
A loyal team of external developers committed to your project, fully aware of your business goals, sharing your company vision and really caring about your business success (unlike developers rotated from project to project and have very little understanding of the client's objectives and business situation).
For further information about team-based and fixed cost model or about the rate of each model, please do not hesitate to contact Savvycom to get the quotation.
We're happy to discuss with you to find out outsourcing software development project solution or lend you our professional and experts.