A Comprehensive Guide on How to Make a Banking App in 2023
Financial technology solutions have greatly simplified our lives in many aspects. About a decade ago, you would have to go to a bank branch and wait in the queue to make basic transactions like paying bills, transferring money, or depositing your funds. Complex deals like investing money or signing insurance contracts would usually take weeks or months. Compared to Internet banking, Mobile Banking Application Development is a far more convenient and user-centric.
Nowadays, with just a tap of your finger in mobile banking software, you can make your life a lot easier. In this article, Savvycom will guide you through Mobile Banking Application Development. Everything that you need to know before starting your project in a Mobile Banking App.
1. What Is A Banking App?
A banking app is a mobile app where you can access your bank account's details and complete transactions directly from your phone, tablet, or mobile device. Based on the bank you're accessing, you'll be able to complete a variety of actions via your banking app.
Most banking apps allow you to view your current balance and transaction history; deposit checks up to a specific dollar value. Another thing you can do is to initiate transfers to other bank accounts, schedule payments or pay your bills, send person-to-person payments, and locate ATMs that are free for you to use.
2. Why You Should Build A Mobile Banking App?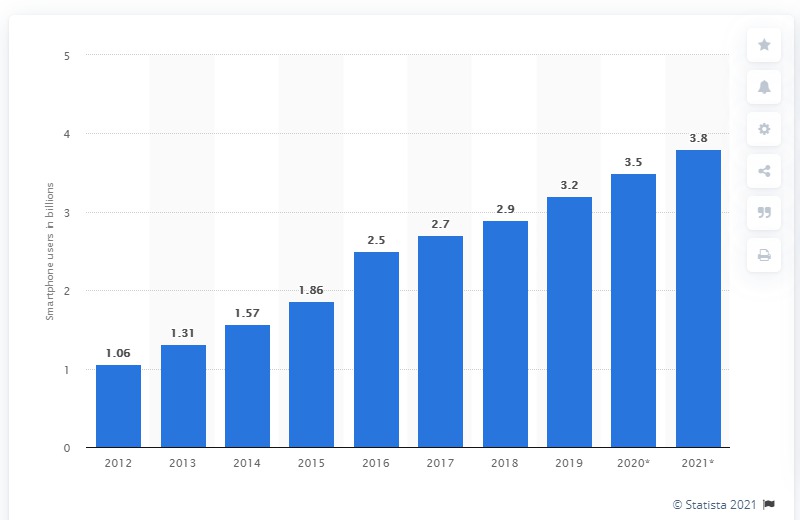 Number of smartphone users worldwide from 2016 to 2021 (in billions)
Imagine that almost one-third (32%) of the global population utilizes mobile banking software. Mobile Banking App is something that you cannot miss on your phone and here are the reason why:
In January 2023, mobile devices excluding tablets accounted for nearly 57% of web page views worldwide. – Statista
The worldwide number of mobile internet users is expected to rise by 908.4 million (+17.4%) between 2023 and 2028. – Statista
6 out of 10 mobile users prefer mobile apps over mobile websites and other platforms for account management. – Thinkwithgoogle
According to latest research, 90% of individuals use mobile banking apps to check their account balance, and 79% use mobile banking apps to monitor recent transactions. – Statista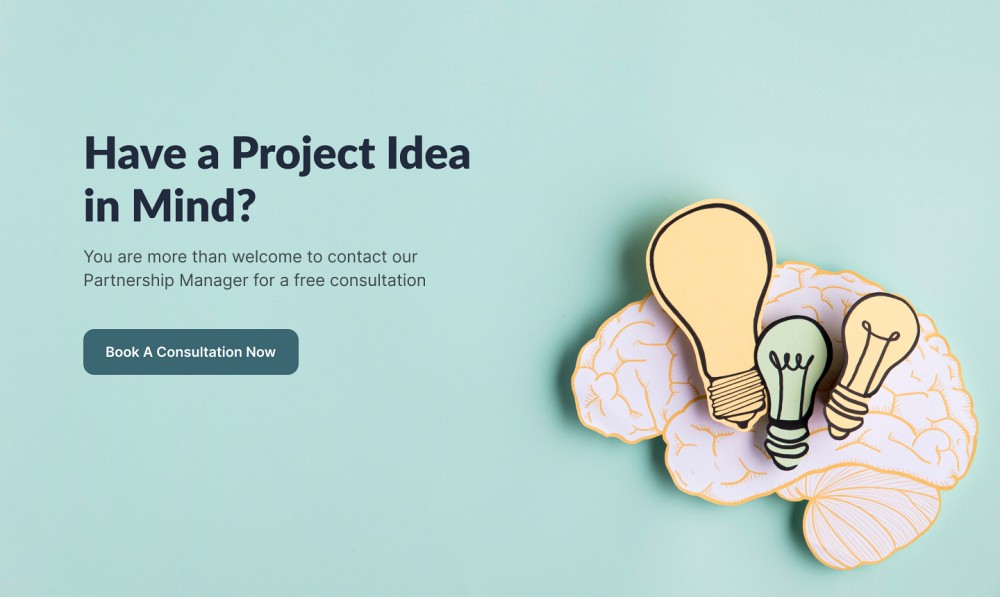 3. Benefits & Advantages of Mobile Banking Application Development
The benefits of banking app development are mutual:
Customers benefit from such applications since they provide ease, simple access to a bank account, security, and a slew of other valuable features, which we'll go over next.
Having a mobile app means lower staff costs, lower operational costs, and even going paperless, which is more environmentally friendly.
Reduced expenses
Banks save a lot of money by using mobile apps. Here's how it's done:
Expand your coverage. Your company is not bound by branches, regional centers, and so forth.
Handle heavy workloads. Requests cannot be processed 24 hours a day, seven days a week. They eventually weary and make mistakes, but automation does not have this problem.
Increased precision. Human mistakes and operational risks are decreasing.
Reduce the cost of customer service. You require fewer personnel and do not need to rent an office space or incur other connected costs.
Mobile transactions, for example, are 10 times less expensive than ATM transactions, costing only 0.08 cents apiece. In comparison, an ATM transaction costs 0.85 cents while a branch transaction costs $4.00.
Improved customer experience
Mobile apps simply provide more benefits to clients. They're more secure and convenient: you can't use fingerprint login with a chatbot or keep a PC in your pocket. Remember that 6 out of 10 people prefer using a mobile banking app over a mobile banking website.
Furthermore, mobile banking app development enables on-the-go 24/7 access to all banking services. Constant accessibility saves time. For example, you may monitor deposits, see recent transactions, schedule bill payments, and so forth, whether at home or when abroad.
Higher return on investment (ROI)
To make a mobile banking app concept a reality, much market research, time, money, and resources are required. Every company anticipates a positive return on their investment in the creation of a mobile banking app.
A mobile banking app owner might anticipate outcomes in a variety of ways. It might be in the form of higher user involvement, a larger customer base, increased revenues, or enhanced market reputation.
There are various case studies of top financial organizations that have seen excellent benefits from building and using mobile banking apps into their procedures.
Better security
Customers' security is one of the top priorities. Both internet and mobile banking have their own set of vulnerabilities, but added hardware security makes mobile banking more safe than online banking.
Banks utilize gesture patterns and biometric data such as fingerprint and retina scans in addition to standard passwords and two-factor authentication to maximize security. Almost all financial institutions employ encryption to safeguard financial information and privacy, ensuring worry-free mobile banking. Furthermore, because of the proliferation of platforms, malware is less likely to threaten an app. Even if your consumer loses their phone, their financial information is secure.
Additional Revenue Streams
According to Fiserv, mobile banking apps boost return on investment in a variety of ways. According to the survey, banks might see a 72% increase in income from mobile banking users when compared to clients who solely use branches. Customers are also more likely to raise the quantity and value of their debit and credit card, ATM, and ACH transactions after three months of utilizing mobile banking apps.
Banks may increase income with mobile apps by incorporating value-added offerings such as lending, insurance, or BNPL.
Advanced data analytics
Continuous data collection can yield fantastic outcomes. Using advanced data analytics in customer care, sales, and marketing may assist create individualized product offerings that appeal to individuals individually at certain moments.
Furthermore, intelligent data management and analytics provide businesses with valuable insights into their customers' problems and needs, allowing them to resolve them more accurately and quickly.
Better user engagement and retainment 
Push and in-app notifications provide several advantages to you and your users. They educate clients about appropriate offers and discounts, as well as higher credit limits or interest rate information.
Banks who have already put this option in place have a competitive edge over other financial institutions. For example, BNP Paribas reports that after implementing targeted push and in-app alerts, the bank's App Store rating increased by 60%.
In short, mobile Banking Application Development provides valuable advantages for both the bank and the client.
4. Mobile Banking Development Trends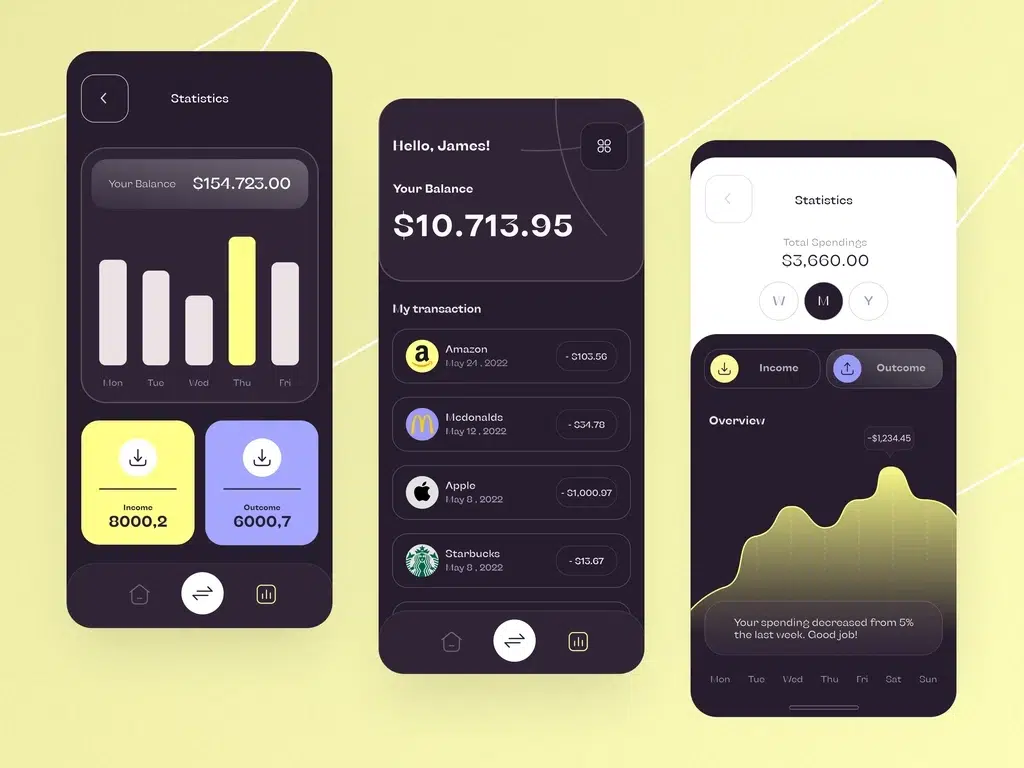 To get the best outcome from mobile banking application development, let's examine the current market tendencies, what customers demand from banking software.
4.1. Mobile Banking Trends
Removal of ATM cards for cash withdrawal
Cardless ATM withdrawals are one of the most popular next developments in mobile banking. This function has already been added to several banks' ATMs.
Debit cards won't be required going forward if this functionality is used. Users will be able to log onto their bank accounts and complete transactions using the Banking app. Around 70,000 banks will eventually allow cardless withdrawals in the US, according to a Small Business Trends survey.
Growth of Biometric authentication
The mobile banking future is concentrating on increasing the use of biometric authentication in mobile apps to protect your financial information and bank balance. Many banking apps have begun to implement these mobile banking trends 2023.
Instead of PINs or passwords, customers are expected to check in to the banking app using their fingerprint via the smartphone's touchpad. However, it will also necessitate the use of fingerprint-compatible devices.
AI-powered customer service
The application of artificial intelligence (AI) is one of the most recent advancements in mobile banking. Many financial services have begun to use Artificial Intelligence to answer to enquiries more quickly.
Furthermore, these AI-powered chatbots are intelligent enough to answer basic financial questions.
Voice banking facility
Voice commands are now a part of the current mobile banking trends, which answers the question, Will mobile technology affect the future of the banking industry?
Voice commands are being used as instructions to conduct app operations by banks utilizing technologies such as Google. Furthermore, voice commands can be used to add an extra layer of security. If activated, users will be required to use their voice to gain access to the information protected within their banking app.
A-B-C-D verification process
One of the most promising future mobile banking developments will be seamless Know Your Customer (KYC) verification. ABCD stands for artificial intelligence, blockchain security, cloud space, and data. Banking applications will acquire certain types of personal information throughout this procedure, such as transactions, ID, utility bills, and so on.
Furthermore, the data will be secured in a blockchain-protected cloud space. Finally, AI will provide a report on the user's eligibility for loans and other financial services.
Digital-Only Banks and Blockchain
Banks with no network/no brick-and-mortar branches are becoming increasingly popular. Virtual banks focus on cloud-based infrastructure and the benefits given by digital networks. These characteristics make current online banking systems ideal for blockchain deployment. This technology enables untrusted parties to reach an agreement on the status of a database without the use of an intermediary. Blockchain enables the provision of numerous financial services without the involvement of banks.
4.2. Target Audience of Mobile Banking Development
Nowadays, smartphones have become more accessible in almost every part of the world, thanks to low-cost budget phone series even from the most popular vendor like Apple with their iPhone XR or Samsung with their Samsung Galaxy A Series. These markets have started to invest heavily in mobile banking development.
The markets in Asia and Africa have had a boost of 50% among the inhabitants who utilize banking applications. The McKinsey mentioned above study notes that even impoverished people in the Philippines showed a surprisingly high interest in mobile banking technology.
These days, the highest growth in acceptance of modern banking can be observed in emerging markets, namely:
Southeast Asia

 – The number of users of digital banking has doubled over the past three years here. Countries like Malaysia, Singapore, Cambodia, Laos, the Philippines, and Vietnam, and Indonesia will adopt more mobile banking services in the nearest future.

Latin America

 – The market has not yet exploited the advantages of mobile banking. Banks have only just begun to digitize their services. The number of banking apps users is predicted to account for 47% of the population in 2019.

Eastern Europe

– The most adoptive market of financial mobile applications currently, and this trend is still growing.
There is often an assumption that the target audience of banking apps are tech-savvy millennials, but you might be surprised by the real result.
45% of Baby Boomers (People who were born from 1946 to 1964) between the ages of 50 and 60 actively use online smart banking apps. iPads and tablets are their second most used devices.
The younger generation is pretty demanding of technology and, at the same time, the most engaging group. In 2016, a poll conducted by MX Technology identified that 60% of users are prone to switch to another bank if a mobile banking service is inefficient.
So, what do users expect from mobile banking application development? According to a Federal Reserve Board report in 2016, the most common operations performed with apps for banking are as follows:
94% of users check their account balance and recent transactions
61% transfer money between bank accounts
57% receive alerts from their banks
48% deposit checks electronically with the help of a device's camera
48% use an app or banking website to pay their bills
40% find the closest ATM or bank branch
25% transfer money to another person's account
All in all, by 2017, the number of clients engaging with apps for banking or online banking had increased from 27% to 46%. This means that the financial sector has undergone changes characterized by reducing human interactions like visiting a branch or contacting a call center. And with the recent development regarding Covid-19 and the global pandemic, people are more likely to stay at home instead of going to a local bank.
4.3. Best Banking Apps of 2023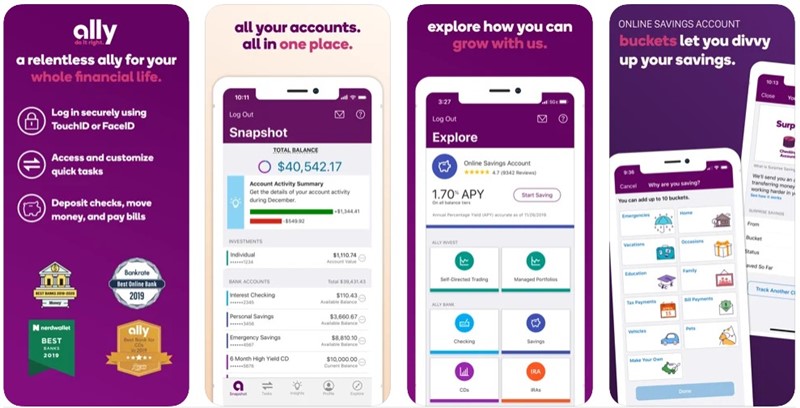 Ally Mobile puts everyday banking and investing tasks at your fingertips.
So what is now considered a cutting-edge mobile banking application? Some apps let you track accounts from different financial institutions. Others offer built-in financial wellness and budgeting platforms. Some even turn your mobile device into a digital wallet.
It's an exciting time in the world of mobile banking, and if mobile offerings are a deciding factor for you in choosing a bank, we've assembled this list of the best banking apps.
Ally Bank: Known for its user-friendly interface and robust features, Ally Bank's online mobile banking app offers a seamless banking experience. With intuitive navigation and a range of tools, customers can easily manage their accounts, transfer funds, deposit checks, and even access investment options. Ally Bank prioritizes customer satisfaction, making it a top choice for individuals seeking a convenient and efficient mobile banking solution.
Capital One: Recognized for its exceptional customer service, Capital One's mobile banking app goes beyond traditional banking features. With a strong emphasis on personalized assistance, customers can reach out to a dedicated support team directly through the app for quick and efficient resolution of any issues or inquiries. Capital One's commitment to delivering top-notch customer service sets it apart in the mobile banking industry.
Bank of America: Focusing on security, Bank of America's mobile banking app incorporates advanced security measures to protect customers' financial information. It employs multi-factor authentication, encryption, and real-time fraud monitoring to ensure secure transactions and safeguard against unauthorized access. Bank of America's commitment to providing a secure environment for mobile banking has earned it a reputation as a trusted institution in the industry.
Simple: As the name suggests, Simple's mobile banking app is designed to simplify money management. It offers robust budgeting tools, expense tracking features, and goal-setting options to help users gain better control over their finances. Simple's app provides a comprehensive overview of spending habits, allows for easy categorization of expenses, and even offers personalized financial insights to assist users in achieving their financial goals.
Wells Fargo: With a focus on investment monitoring, Wells Fargo's mobile banking app offers comprehensive tools for users to track and manage their investment portfolios. It provides real-time market data, personalized investment insights, and easy access to account information, allowing users to stay informed about their investments and make informed decisions. Wells Fargo's mobile banking app is ideal for individuals looking to monitor and optimize their investment strategies.
Chase: Recognized for its prepaid card features, Chase's mobile banking app is tailored for customers who prefer prepaid card options. It offers seamless integration of prepaid cards into the app, allowing users to manage their funds, track transactions, and set spending limits. Chase's mobile banking app is an excellent choice for individuals who rely on prepaid cards for their day-to-day financial transactions.
Chime: Chime's mobile banking app prioritizes user experience, providing a sleek and intuitive interface. It offers a range of features, including mobile check deposit, instant transaction alerts, and real-time balance updates, making it easy for users to stay on top of their finances. Chime's app aims to provide a hassle-free and enjoyable banking experience, catering to individuals seeking a user-friendly interface.
Discover: Known for its rewards program, Discover's mobile banking app offers a seamless integration of banking and rewards features. Users can earn cashback rewards on qualifying purchases, view their rewards balance, and conveniently redeem rewards directly through the app. Discover's mobile banking app is an excellent choice for individuals who value earning rewards while managing their finances.
PNC Bank: PNC Bank's mobile banking app stands out for its cardless purchase feature. It allows users to make secure payments at participating merchants without the need for physical cards. The app generates a unique QR code or numerical code that can be scanned or entered at the point of sale, providing a convenient and secure payment option for users.
Charles Schwab: Recognizing the need for managing multiple accounts, Charles Schwab's mobile banking app offers comprehensive tools to oversee various financial accounts. Whether it's checking, savings, investment, or retirement accounts, users can conveniently access and manage all their accounts through a single platform. Charles Schwab's mobile banking app is ideal for individuals with diverse financial portfolios and the need for centralized account management.
5. Functionalities for Mobile Banking Application Development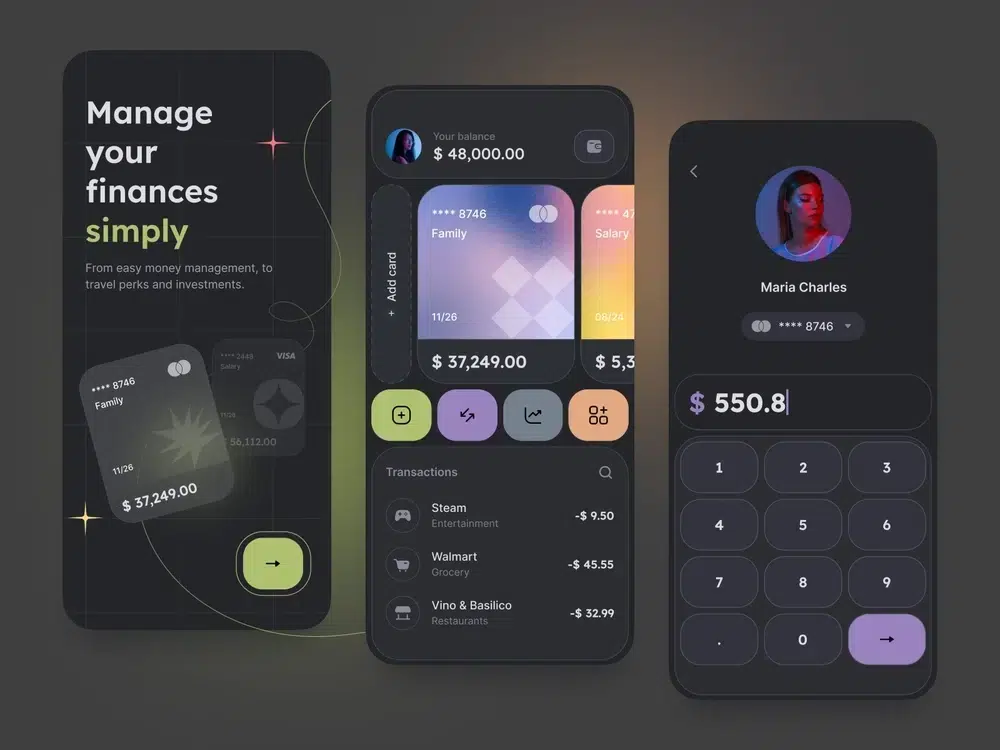 For efficient mobile banking application development, most users (86%) are interested in two features – checking balances and exchanging funds between accounts.
5.1. Essential Features of Mobile Banking
The general features used in mobile banking development that are hard-to-avoid are as follows:
It is imperative to build a secure and quick authorization process. Multi-factor authentication is a safe sign-in option but takes some time to fill in the necessary information.
Alternatively, biometric authentication using physical user metrics (appearance, voice, even gestures) is far quicker and even fun.
A MasterCard study indicates that users have become more willing to use personal biometrics as their passwords. The Wells Fargo app has a verification feature that scans the iris of their corporate customers.
This point may include a range of mobile banking features. Users can check their cards, bank accounts, review account balance and record history, etc.
It is even possible to implement some additional functionality. For instance, the ABN AMRO Bank in the Netherlands included a unique mobile banking feature for personalized account management.
This feature allows users to set a savings goal, create investment plans, and perform repeat payments.
Being able to provide constant support is one of the core mobile banking features, as the client should be able to address a bank representative and ask questions 24/7. Alternatively, it is possible to advance and personalize the user experience by using Artificial Intelligence in a chatbot.
ATM & bank branch locations
Mobile Banking Application Development should not skip this fundamental feature of mobile banking services. In order to improve the user experience, it is possible to apply VR technology. This is a unique feature of mobile banking implemented by RBC. It allowed the bank to increase the number of its app downloads tremendously.
Secure payments and transactions
P2P transactions, payments for services, and fund exchanges should be processed securely and conducted anytime and anywhere with the help of a banking app.
An alternative variant of this feature in mobile banking application development is using QR codes for goods and services payments. Scanning QR codes is a fast and easy way to conduct these operations inside the app. Only a few banks have offered this mobile banking feature to their clients.
Mobile banking application development should utilize reminders and alerts to increase customer engagement and app promotion. It is necessary to control this aspect and plan the communication strategy with your client in advance because most users would not appreciate receiving intrusive notifications.
5.2. Extra Mobile Banking Features
The app features mentioned earlier create the core of mobile banking application development. To increase user traction and interest, you should be thinking about some innovative mobile banking features which might ultimately be the deciding factor of your app likes:
Mobile banking development should focus on user needs, even if they are not explicit. This functionality can control personal budgets and set some goals for desired purchases. The system can create a customized dashboard based on user information, give necessary motivation, and inform users regarding progress.
Alternatively, users can set some scheduled payments and bills in advance not to miss an important transaction. This mobile banking feature is utilized in a significant way in the Simple App. The app is used to track spending habits, plan budgets, and save on each expense.
M-commerce sales increased to 300M in 2017, and the sum is expected to more than double in 2019. Therefore, with the cashback possibility, users are stimulated to use your bank account to pay for services and goods. This small feature or promotion can be an excellent foundation for your loyalty program. Soon, this mobile banking feature will be included in the majority of banking apps.
It makes sense to create special offers, discounts, or coupons with a mobile banking app. The opportunity lies in partnering with restaurants, cafes, coffee houses, and so on for the provision of particular discounts or coupons. This feature stimulates sales and, at the same time, engages the user with your mobile banking software.
Mobile banking application development can include other non-traditional services. These services can consist of purchasing tickets, ordering a taxi, reserving a table, delivery, and more.
For example, a Polish bank (Zachodni WBK) reached out to new users with the functionality of paying for public transport, shopping, and taxi-hailing directly from its mobile app.
Smartwatches have begun to substitute smartphones in many operations. Why not consider developing a banking application for these wearables?
The Australian Bank of Melbourne was the first to create a banking app for smartwatches. The functionality included payments for services and goods, receiving notifications, balance checking, and finding ATMs.
Visa research indicates that to attract Millenials, it makes sense to concentrate on mobile banking application development for budgeting. This mobile banking app may include sharing finances and splitting bills.
For instance, the app from Emirates NBD has a bill-splitting feature where each user has to include some sum and indicate the number of people participating in the operation via social networks.
Final recommendation: It is better to develop a couple of apps with distinct mobile banking features rather than complex software with lots of operations, details, and data. Try to ask your target users about their priorities in banking procedures and focus on providing a solution for them first.
6. Mobile Banking Application Development Processes

6.1. Conduct Research And Make A Plan
The preliminary stage is crucial and shouldn't be skipped at any cost. The first task is to conduct market research. You need to identify your competitors, check alternative solutions on the market, and learn what is popular among the crowd. Without doing this, you may go in the wrong direction.
Once you've got the research results, continue with defining your target audience. Your application may be for corporate clients, families, individuals, or institutions. Knowing your clientele will help you find out their pain points, which are crucial for sketching an app toolkit.
In this step, you should make a detailed plan for mobile banking development, including expenditure projections that will become a foundation for your budget.
6.2. Create A Prototype
Every Application starts with an idea in your mind. To turn it into reality, you need to create a sketch or prototype explaining in general terms the structure and order of design elements, visuals, and content. You may start with low-fidelity wireframing to sketch a home screen, users' accounts, personal dashboards, and the layout for a landing page.
As a rule, wireframes consist of boxes, lines, and texts made in the white and black color scheme. You can use an app wireframe to validate your concept and collect early feedback. Next, you can turn your wireframe into a hi-fi prototype that will include a graphic presentation of a product, layout, interface components, the color scheme, and micro-interactions.
Just like wireframes, use your app prototype to demonstrate its toolkit to your focus group, test functionality, and interface. You can add default texts, placeholders, and test data so that people can feel how your app works.
6.3. Make A Graphic Design
Be ready for hard work in this step as your app's design is its business card that should be recognizable. There are tons of tips on how to make a perfect design for a mobile application. We have created a shortlist of essential recommendations. Check them below.
Make sure that typography, icons, color palette, buttons, and forms of your solution match your corporate style and brand;

The navigation should reflect the logical architecture of your solution;

All the design elements – buttons, links, forms, icons – should be clear and comprehensive;

Choose colors, images, video files that evoke certain emotions and feelings;

Consider cultural differences if you're going to operate globally;

Adjust your app to iOS and Android standards to efficiently market it earlier on;

Your app icon should be unique and make your solution stand out;

Think about extra bells and whistles like sticker packs for messengers.
6.4. Choose A Technology Stack
When choosing a technology stack for your Mobile Banking App, you should concentrate on four areas: front-end, back-end, cross-platform frameworks, and other prerequisites such as robustness and security. Make a checklist that would include the following criteria
Project scope, complexity, and scalability;

The number of specialists and the level of their competence;

Necessary tools and software;

Outside solutions;

Docs and specs.
There are different kinds of applications: native apps, hybrid solutions, cross-platform applications. Each has its pros and cons and unique features. Native apps are robust and demonstrate high performance. They're ideal for an established business. Native apps allow specialists to use the native functionality of Android and iOS devices without utilizing third-party APIs.
Hybrid apps are developed using web technologies and can be built for different platforms thanks to a unified codebase. Based on HTML, CSS, and JavaScript, hybrid apps can function as progressive web apps.
6.5. Develop And Test
The benefits of Mobile App Testing include optimizing in-app experiences, boosting core metrics, and experimenting with the existing mobile app features in production
The most efficient mobile banking app development path you can choose from is contacting an outsourced team. If your idea is brand-new and requires a custom approach, you can't do it without external help.
The development process allows building a well-thought-out architecture, developing life-like user paths and journeys, creating a user-friendly interface that won't have analogs, and choosing a technology stack that suits best. The most challenging part is to get a team together, as the quality of work will influence the overall outcome.
6.6. Market Your App And Get Feedback
The most popular app marketplaces – Google Play Market, AppStore, and Microsoft Store – have different requirements for applications you should follow to avoid rejection. In case you opt for an outsourcing team, you can be sure that your off-the-shelf product will adhere to these standards by default.
6.7. Improve And Update
The app launch is just the beginning. To get valuable feedback and learn what to improve and update, ask the mobile audience for feedback, contact app review sources, ask influencers and bloggers to test your product.
If you focus on Apple users, you may submit your application to Apple's editorial team to get an expert review. Another good idea is to apply your app to Top Apps lists or mobile app awards.
Once you've got feedback, you can define the weak and vital aspects of your product and decide how to make it better.
7. Mobile Banking Application Development Cost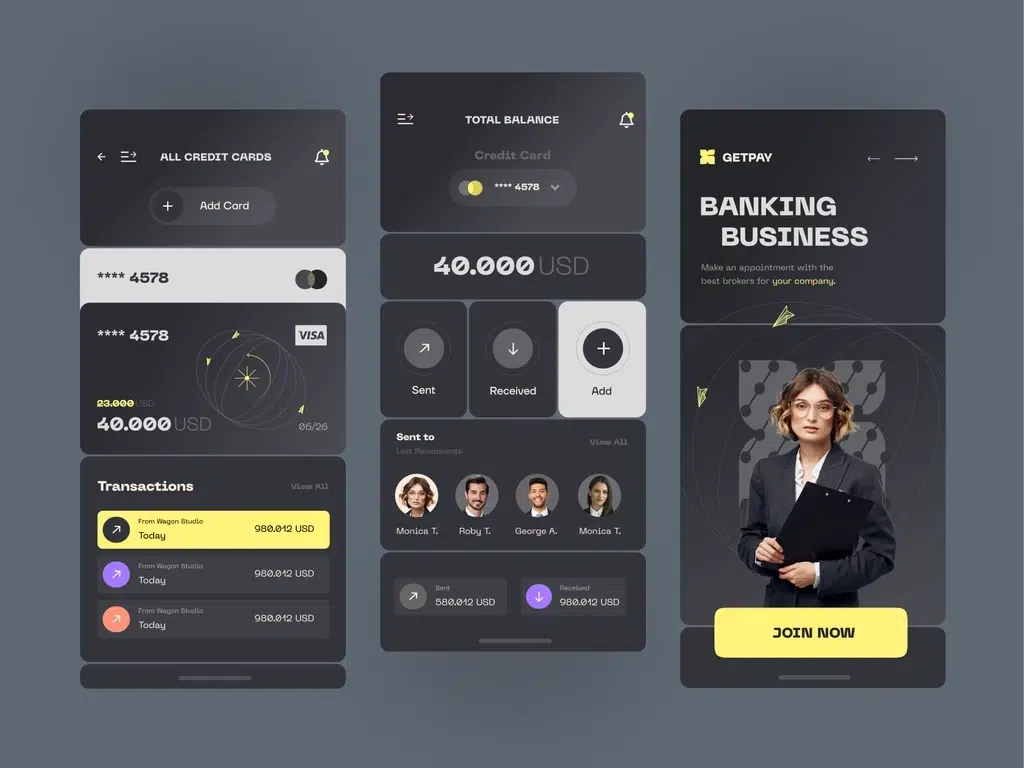 Clutch's study indicates that the cost of complex solutions, including mobile banking application development, ranges from $200,000 to $500,000
However, the cost of making an app depends on its processes and features. We will give you a rough estimation of how much it will take for you to build a mobile banking application.
You may wonder why banks are investing in mobile banking application development. This is the most efficient method of customer engagement, which definitely outweighs the traditional methods that still involve resellers, support staff, and agents. As well, mobile banking development acts as an effective communication point with the possibility to get up-to-date market insights and improve banking services.
7.1. Discovery
We conduct a thorough business analysis to determine how the app will work in detail, what users can do, and whether third-party services are required.
What you get: functional specification with user flows, diagrams, and wireframes.
Cost: USD 2,400 – 3,200.
7.2. UI/UX Design
Based on the user flows and features we determine during the discovery stage, we'll come up with user experience design to make sure we've covered all the business requirements and user needs at the same time. Then we'll produce a user interface design of the app that includes the visual representation.
What you get: high-fidelity prototypes ready for implementation, along with a style guide.
Cost: USD 16,800 – 24,800.
Looking For a Dedicated Team?
A Dedicated Team might be the best solution in your case. Get in touch with us and we'll help you choose the best IT outsourcing model based on your business needs and requirements.
7.3. Web Development
Mobile apps require administration and it's usually a web-based admin dashboard.
What you get: a user-friendly admin back-office with functionality to manage the mobile app.
Cost: USD 135,000 – 153,000.
7.4. Mobile Development
We develop an API to communicate with the server-based app developed in Phase 3.1 and put all things together: design, functionality, API.
What you get: a fully-working app ready to upload on Google Play Market or AppStore.
Cost: USD 45,000 – 64,000.
In general, mobile banking development and all mobile app development services can be split into two stages, Discovery and Development. The discovery stage includes all the preparatory work for the project performed by a business analyst, who is responsible for the development of your app from a business perspective, and a software architect, who aligns business aspects with technical implementation.
8. How to Create a Mobile Banking App Project Successfully
It is absolutely certain that the banking sector will only become more and more digital. Mobile banking application development allows the industry to increase efficiency in operations, reduce bureaucracy, and enhance customer experience while promoting banking services. So what makes a good banking application?
Applicable and user-friendly functionality that is secure and easy to access. These can include, but may not be limited to:
Checking the account balance without login
Integrations with device info and tools (e.g. address book)
User customization based on recent actions and regular transactions
Customizable offers
Creation of personalized and useful notifications
Application of advanced, innovative technologies like AI, Big Data, AR, VR, and Blockchain to enhance the user experience
Adding new functionality and scale software in accordance with upcoming mobile banking trends, namely:
Use of voice user interface (VUI) to increase customer engagement
Use of artificial intelligence and machine learning for self-service in banking industry
Use of advanced verification technology with biometrics to avoid data breaches
All this shows that mobile banking application development offers many opportunities to create a customer-centric experience in the banking sphere. This niche still has room for useful banking apps, so it is time to plan yours today.