Chatbot Integration For Automating Your Customer Support
Chatbots are becoming increasingly popular, especially since the introduction of ChatGPT. These chatbots are assisting and changing the world since they may be used not only for personal purposes but also in enterprises. A rising number of firms are utilizing chatbot as a customer assistance tool. They can provide exceptional customer service, boost customer satisfaction, generate more leads and sales, and interact with customers.
Are you attempting to employ chatbot integration to assist your customers but are unsure how to proceed? Then, in this blog post, we will go over all you need to know about chatbot integration.
What Is Chatbot Integration?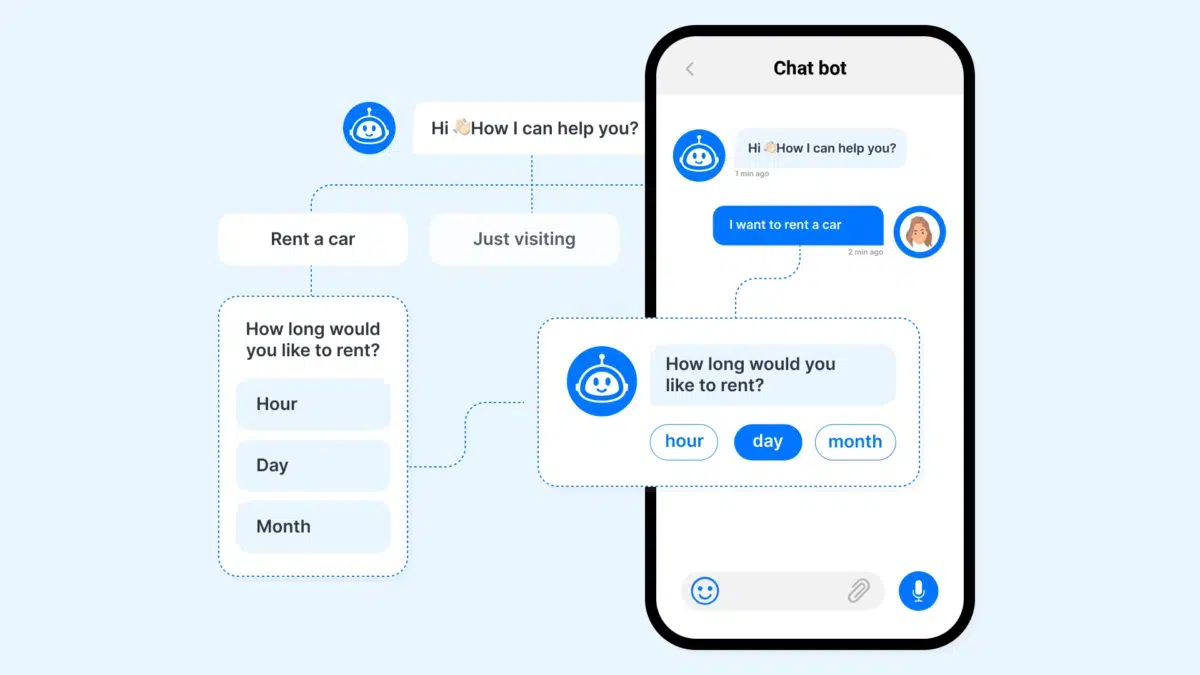 Chatbot integration entails linking the chatbot to other platforms. Deploying the chatbot with numerous platforms and applications is a lengthy procedure. To engage with visitors, you can connect the chatbot with many platforms like websites, apps, WhatsApp, Viber, Telegram, WordPress, Magento, Messenger, and others.
It is a computerized system that can perform the functions of a human agent via a chat interface. It uses artificial intelligence to replicate a human conversation, offer information, solve problems, and complete tasks.
There are two main types of Chatbot Integration: Rule-based and AI-powered
1. Rule-based Chatbot Integration
Rule-based chatbots reply to requests based on established rules. For example, if a customer asks a question about their account balance, the rule-based chatbot will check for keywords in the query and offer an answer based on those rules. Rule-based chatbots were fantastic five years ago, but in 2023 and beyond, they are outmoded since they can only answer limited, general queries and not personalized support.
2. AI-Powered Chatbot Integration
AI chatbot integrations differ from rule-based chatbots in that these bots use AI algorithms to analyze the conversation context and reply appropriately. AI chatbots are continually learning and adapting, allowing them to give more personalized customer care and more accurate answers and provide information based on the context. This type of Chatbot is now being deployed more than the rule-based ones.
What Are The Pros Of Chatbot Integration?
Chatbots provide seamless benefits to businesses. Utilizing artificial intelligence to develop customized and tailored messaging not only enhances client engagement but also gives your customers a better first impression of your company.
A chatbot is worthy choice to consider if you want to reduce the money you spend on operations and customer service. Let's take a look at some of the important benefits of integrating a chatbot into your website.
1. Fast Replies
The application of artificial intelligence within these technologies is intended to serve the objective of easing communication between companies and their respective clients. The reason why firms are investing in this field at the moment is because they believe that intelligent technologies will soon be able to answer queries about customer service 24/7, with speedy manner. Chatbots, according to a research conducted by Deloitte, have the potential to cut down on handling time by up to 77%.
When you incorporate Chatbots, the following information can be answered in seconds:
The frequently asked questions section.
Up-to-date information about the business, such as new products and services.
Cross-sell opportunities on other websites and platforms.
2. Lower The Cost Of Operations
Businesses are always trying to do more with less money. And in our fast-paced market, more and more companies, both big and small, are looking to chatbots as a way to streamline internal processes, sit down with customers, and give them great service. 57% of businesses say that chatbots give them a big return on investment with little cost (OUTGROW)
Consumer demand for chatbots is on the rise, and businesses are increasingly seeing the advantages the technology has for their company operations.
As more and more customers want personalized, interactive digital experiences, businesses have had to put more resources toward meeting these needs. Moreover, chatbots enable companies to scale their customer service team by lowering the number of employees required to handle customer support.
3. Enhances User Experience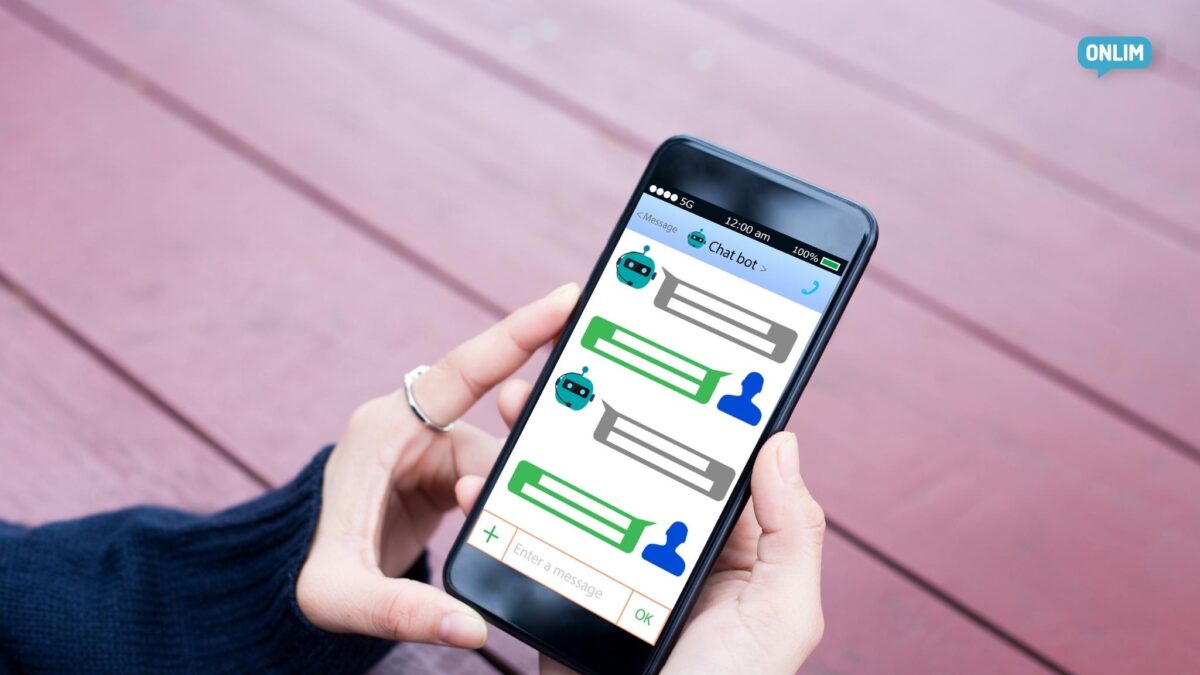 Customer support is frequently provided through the use of a chatbot, an artificial intelligence and instant messaging hybrid that simulates communication between humans and computer systems. When a complex response is needed but no one is accessible to address the customer's inquiries, this technique is utilized.
The demand for personalized is growing and you may provide your consumers a completely customized and human experience by using a chatbot. This is due to the fact that chatbots enable you to utilize the data that has already been gathered from your end users.
Hence, if you request your name, email address, and phone number during the registration process, the chatbot platform will have access to those details. This implies that you can engage with those clients more personally using the chatbot.
4. Increase Efficiency
To eliminate the need for customers to contact customer care, many companies have introduced chatbots on their websites. 
They can help clients locate what they're looking for more quickly, as well as with repetitious queries, basic ordering, scheduling deliveries, processing payments, providing shipment updates, and even supporting them in making purchases or reservations. This can increase satisfaction of the customers, which leads to a faster buying decision. 
According to reports from business experts, chatbot integration boost revenue by an average of 67% (OUTGROW).
Looking at these statistics, we are sure that chatbots bring various advantages for the businesses. But how are they used? Let's look at the next part!
Example Applications Of Chatbot Integration
In the last ten years, chatbots have become an important part of customer service, and for good reason. They are the perfect mix of convenience and efficiency, making it possible for companies to respond quickly without having to hire a large customer service team. Chatbot technology has changed a lot. It used to give quick answers to complicated questions, but now it helps customers find their way around a website. Here are 6 common ways to use a chatbot:
1. Help Desk Automation
Complex customer service workflows and tasks, such as account creation, ticket submission, and purchase processing, can be automated using chatbot integration. You can swiftly address client concerns, boost customer happiness, and cut wait times by automating your helpdesk.
2. Help With FAQs
Customers would save time and there will be no need for human agents if chatbots are trained to answer frequently asked inquiries (FAQs). When frequently asked questions are answered in a timely manner, both consumers and support personnel feel better.
3. Getting Leads
The use of chatbot integration is highly recommended for the collection of lead information including email addresses and other contact details. When leads are gathered using an AI chatbot, you have the ability to swiftly and automatically forward them to your sales staff, ensuring that no time is lost in the process.
4. Customized Suggestions
Chatbots that are powered by AI can make customized suggestions for products or services depending on the interests of individual customers. When a chatbot has enough information about a customer's requirements, it is able to make product or service recommendations that are highly pertinent, which results in increased conversions.
5. Product Search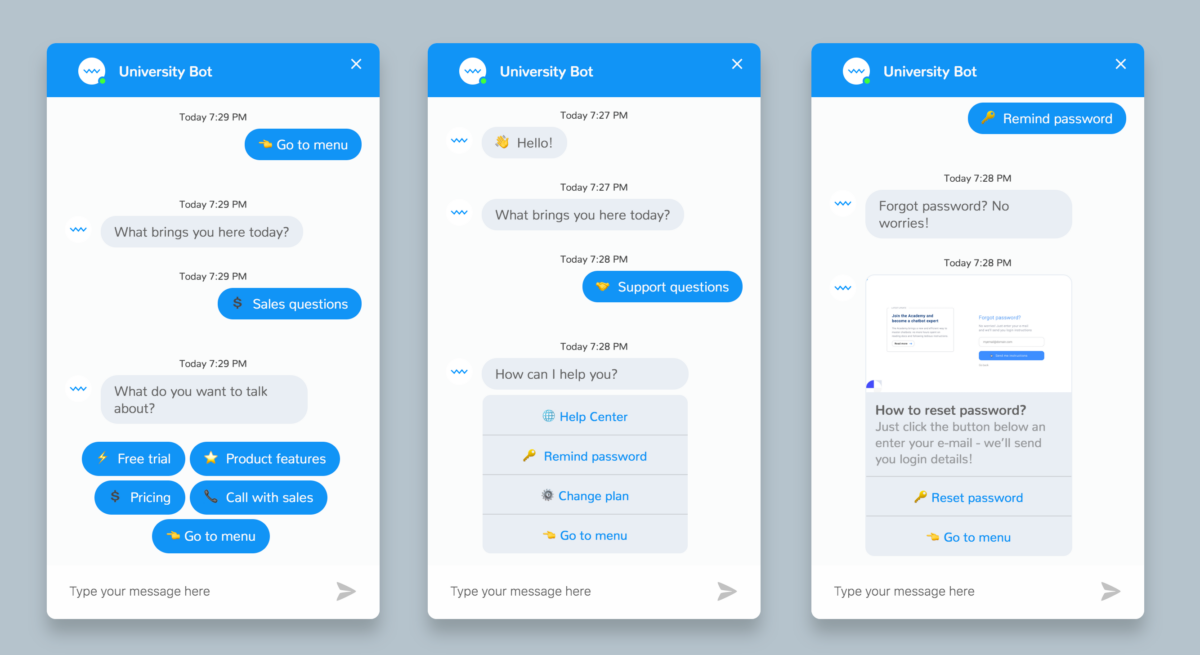 Customers can get assistance navigating a website from chatbots, which can also provide product descriptions and other information. This removes any room for misunderstanding and guarantees that clients can discover what they require in the quickest amount of time feasible.
6. Order Processing
Chatbots powered by AI are capable of processing orders, collecting payment information, and scheduling deliveries. Customers will have a better and more productive time purchasing online as a result of this.
How To Integrate Chatbots For Your Business?
Here are the five steps you need to do to integrate a chatbot into your product, website, or application:
 Determine chatbot-enabled customer service needs. It may be account setup, order processing, or FAQs. It's crucial to find an AI chatbot that suits your customer support team.
Choose a chatbot platform. A team should assess platforms for pricing, scalability, and chatbot integration.
Configure the chatbot's flow, including customer service triggers, keywords that activate automated responses, and customer-facing material like FAQs and product information.

Design the chatbot's interface. This includes creating the discussion interface, matching colors, typefaces, and images or videos to your brand.

Get client feedback and improve the chatbot. Most chatbots accept feature requests and UX/UI enhancements. Flexible chatbots are crucial.
Want To Integrate Chatbots To Your Business?
That is basically all you need to know if you want chatbot integration for your business. If you are still confused on how to do it properly, you can outsource a team. Savvycom is one of the top leading software outsourcing companies in Vietnam. We specialize in offering digital transformation consulting services and software solutions to domestic and international businesses in finance, healthcare, and retail.
With headquarters in Hanoi and three representative offices in Ho Chi Minh City, the United States, and Australia, our mission is to leverage engineering resources in Vietnam and empower businesses worldwide by leveraging the power of technology, with the goal of becoming the leading IT company in ASEAN and beyond.
Savvycom – Your Trusted Tech Partner
From Tech Consulting, End-to-End Product Development to IT Outsourcing Services! Since 2009, Savvycom has been harnessing the power of Digital Technologies that support business' growth across the variety of industries. We can help you to build high-quality software solutions and products as well as deliver a wide range of related professional services.
Savvycom is right where you need. Contact us now for further consultation: