GPT-4 vs. GPT-3: Which Model to Use for Your Growing Business
The popularity of Artificial Intelligence (AI) continues to surge with each passing year. As per IDC's projections, global expenditures on AI-focused solutions are anticipated to soar to $154 billion by 2024, marking a significant growth of 26.9% compared to the 2022 figures. This statistic highlights the escalating trend and the substantial investments in AI technologies across various industries.
In today's digital landscape, businesses rely on advanced AI models to enhance customer experiences and streamline operations. OpenAI's GPT-3 has gained attention for its remarkable natural language processing capabilities. As technology advances, the release of GPT-4 holds even more tremendous promise.
This article explores the transformative impact of GPT-powered chatbots on businesses, highlighting their significance and growth. Get ready for an insightful exploration of the competition between GPT-4 vs. GPT-3, focusing on their fundamental differences.
1. GPT-4 vs. GPT-3: Benefits for Businesses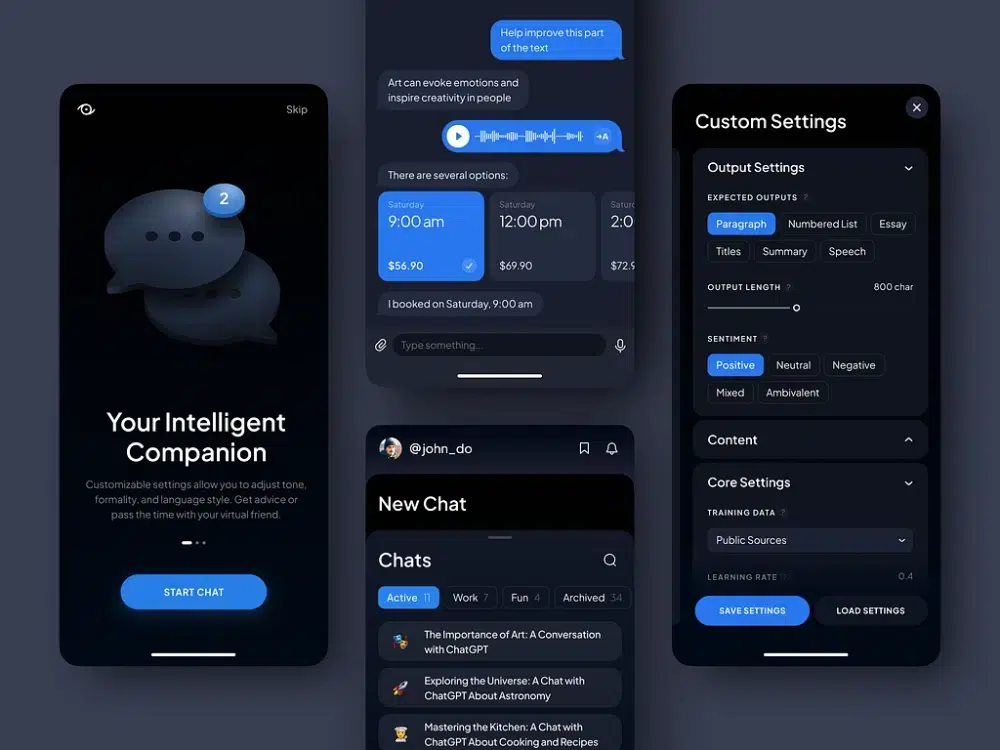 In this section, we will closely examine the benefits of GPT-3 for businesses and startups and the unique contributions of GPT-4, comparing the ups of GPT-4 vs. GPT-3.
GPT-3 offers the following advantages:
Text generation:

GPT-3 serves as a valuable tool for generating a wide range of content, from corporate slogans to professional emails. Although human verification is necessary, employing an AI text generator simplifies these processes significantly.

Customer chatbot creation:

Implementing automated chatbots powered by GPT-3 enables efficient handling of multiple customer inquiries simultaneously while maintaining your brand's tone of voice. This allows you to reduce costs associated with hiring additional customer support staff and achieve higher operational efficiency.

Data sorting and analysis:

GPT-3 is widely employed for summarizing and structuring large volumes of data, making it easier to comprehend and analyze for various business purposes. The model can break down extensive texts into critical points, facilitating the creation of meeting summaries and saving valuable time in highlighting essential aspects of texts and instructions.
While GPT-4 builds upon its predecessor, GPT-3, it introduces additional features and advancements. Beyond improved image input, enhanced accuracy, greater computing power, and more extensive data volumes, GPT-4 stands out with its enhanced analytical capabilities. This latest model excels in thorough data analysis, offering many new functionalities. Let's delve deeper into what GPT-4 brings to the table:
GPT-4 offers the following advantages:
Fraud detection:

GPT-4 leverages its advanced analytical skills to detect early signs of fraudulent and suspicious activities, empowering businesses to implement countermeasures swiftly.

Predictive maintenance:

With its more robust analysis capabilities, GPT-4 excels in predicting maintenance requirements for equipment. For example, GPT-4 can process data from various IoT sensors in logistics, facilitating efficient and planned repairs to avoid unnecessary expenses.

Financial advisory:

GPT-4's improved analytics provide valuable insights into market trends, predicting growth opportunities and potential investment risks. Its strong pattern recognition capabilities contribute to maximizing potential profits by leveraging market changes.

Personalized virtual shopping:

GPT-4 analyzes customers' previous shopping sessions and browsing history to offer customized product recommendations. By understanding customer preferences, GPT-4 can significantly enhance sales performance.

Educational assistance:

GPT-4 revolutionizes educational systems by creating custom approaches for individual students. By analyzing student scores, preferences, and attendance, GPT-4 tailors educational processes, improving overall performance and engaging learning experiences.

Quality assurance:

GPT-4's real-time analysis can identify early indications of quality issues or deviations during the product creation process. By promptly monitoring and alerting potential problems, this AI technology safeguards customers from unexpected bugs and errors.

Innovative recruitment:

GPT-4 simplifies the HR department's task of finding and selecting the best candidate among numerous applicants. Through comprehensive analysis of CVs and job requirements, GPT-4 swiftly identifies the most suitable matches, streamlining the hiring process.

Demand forecasting:

GPT-4 excels in predicting future product demand by analyzing market trends, sales data, and economic factors. This enhanced analytical ability empowers businesses to gain valuable insights into the market's future, giving them valuable time to prepare strategies or adapt existing ones.

Cybersecurity:

Beyond its quality assurance capabilities, GPT-4 can identify suspicious activities that may result in data breaches. With its pattern recognition capabilities, this AI-powered solution can proactively alert security teams, mitigating financial and reputational risks.
GPT-4's advanced functionalities offer businesses greater efficiency, improved decision-making, and enhanced protection against potential risks, making it a valuable asset across multiple industry sectors.
2. GPT-4 vs. GPT-3: Detailed comparison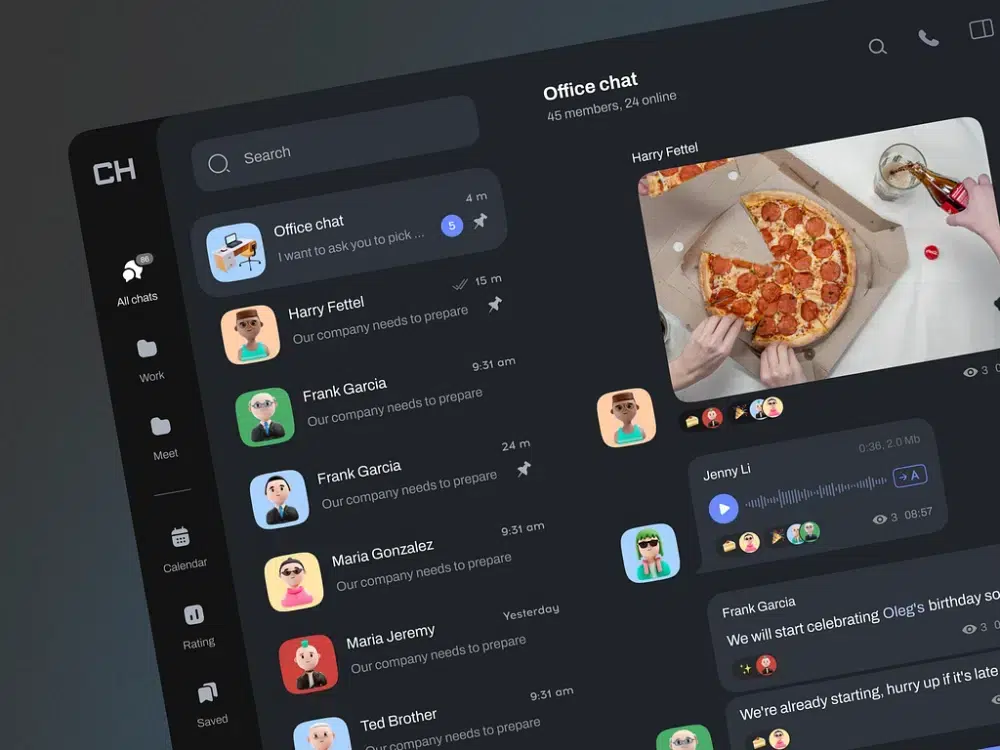 Now that we have explored how each model can address general business needs, let's delve into a more detailed comparison between GPT-4 vs. GPT-3, highlighting key distinctions:
Feature

GPT-3

GPT-4

Release Date

June 2020

March 2023

Accessibility

Commercially accessible

Accessible via ChatGPT subscription or API registration through the OpenAl waitlist

Parameters

175 billion

Rumored to be 1 trillion, without official confirmation from OpenAI

Data training

Text sources

Text and image sources

Dataset size

17 GB

Over 45 GB

Token limits

Up to 2,049 tokens

Depends on version: GPT-4-8K – 8,192 tokens; GPT-4-32K – 32,768 tokens

Input types

Text only

Text and images

Multilingual support

~40 languages

~40 languages, showing improved performance over GPT-3 in 24 of 26 tested languages

Context

understanding

Understands context and

adheres to the suggested tone

More precise in understanding and setting boundaries per request

Information cutoff

Up to October 2019

Up to September 2021

Test

performances

Scored in the 10th percentile for

Uniform Bar Exam (213/400)

Scored in the 90th percentile for Uniform Bar

Exam (298/400)
These distinctions highlight the advancements and improvements in GPT-4 vs. GPT-3. While GPT-4's parameters and dataset size are rumored to be significantly larger, OpenAI has not officially confirmed these details. GPT-4 also supports input types including images, demonstrates better multilingual performance, and offers more precise context understanding. Additionally, GPT-4 has an extended information cutoff and showcases higher test performance in the Uniform Bar Exam.
Have a Project Idea in Mind?
You are more than welcome to contact our Partnership Manager for a free consultation.
3. Existing GPT Model Integrations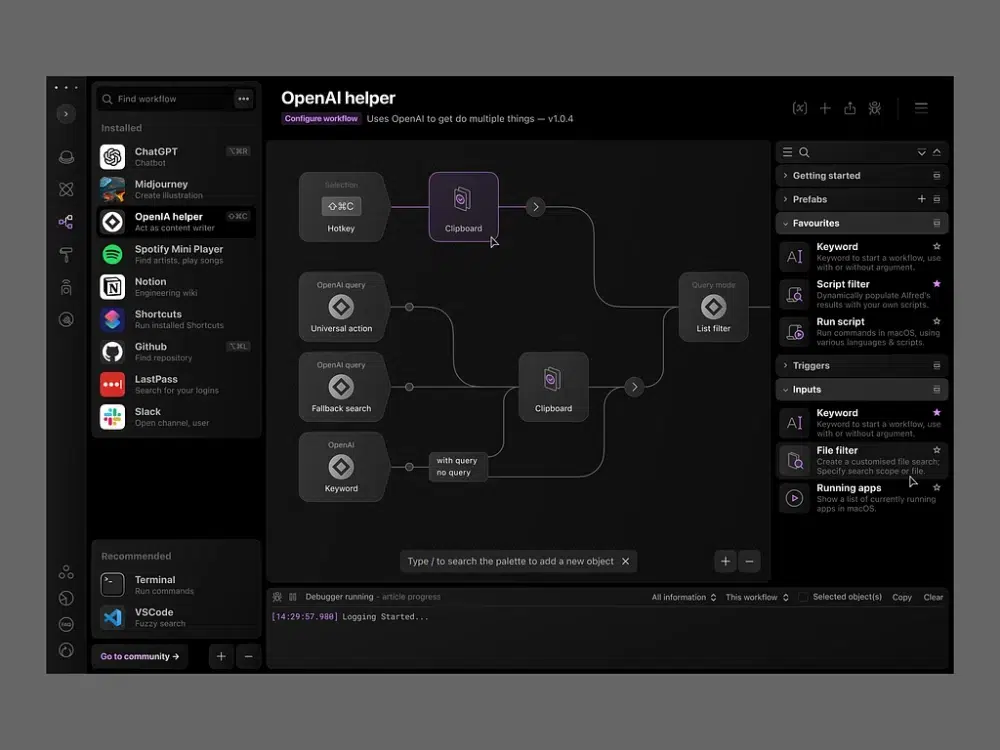 Having gained insights into the benefits of integrating GPT-3 or GPT-4 into businesses, let's now explore practical examples that highlight the impact of these models in two key industries: healthcare and logistics. At Mind Studios, we prioritize these sectors and have witnessed successful AI solutions in action.
Patient AI
One prominent use case is in healthcare, where the integration of GPT has revolutionized the industry. Notable, a leading intelligent automation company, made headlines in April 2023 with their groundbreaking project "Patient AI." This platform aims to enhance convenience and personalization in healthcare by harnessing the power of GPT. Here are the key capabilities that GPT enables for Notable:
Thorough data analysis:

Patient AI leverages GPT's deep analysis capabilities to continuously review vast volumes of medical records, combining them with third-party datasets. This allows Notable to save time and resources without human intervention and create unique approaches for each patient.

Automated issue detection:

GPT, having scanned extensive clinical documentation, is trained to personalize alerts regarding missed diagnoses, lapsed insurance, or incorrect patient information.

Generating personalized recommendations:

Based on the analysis, Patient AI creates accurate recommendations tailored to each patient's daily needs. This personalized journey guides clients towards actions to improve their health or seek assistance for complex requests.
To illustrate the depth of Patient AI's data analysis and structuring capabilities, Notable presented the following scenario:
"A person with lung cancer is unable to attend appointments due to transportation issues."
In response, Patient AI generated personalized solutions based on the patient's diagnosis and attendance, such as:
One-click ride booking with preferred service.

Rescheduling multiple appointments to a single day.

Requesting a medication refill predicted to expire.

Providing case-related information to educate the patient about their treatment and potential symptoms.
These examples demonstrate how GPT-powered solutions like Patient AI revolutionize healthcare by leveraging deep data analysis, automation, and personalized recommendations to improve patient experiences and outcomes.
DHL
Logistics is another industry reaping the benefits of adopting GPT, as exemplified by the renowned transportation company DHL. They have successfully implemented AI technology in several areas:
Route optimization:

GPT-powered AI analysis swiftly identifies unexpected route issues, pinpointing the exact location and devising an optimal route. This enables DHL to ensure the timely delivery of goods despite any unforeseen events.

Load optimization:

DHL's AI solution, "OptiCarton," addresses the issue of empty space in packages. By analyzing product characteristics, OptiCarton creates better-fitting boxes, minimizing wasted resources and maximizing shipment efficiency. This not only saves time but also significantly reduces CO2 emissions.

Warehouse management:

Leveraging AI capabilities, DHL has developed an improved warehousing system. Algorithms calculate the shortest routes to orders, enabling quick prioritization and streamlined operations.

Advanced customer service

: DHL automates processes such as shipment tracking and customer inquiries. Chatbots powered by GPT monitor and notify customers about shipment statuses, handleless complex inquiries, and enhance overall customer experience.
This shows how GPT-powered AI solutions enhance efficiency, sustainability, and customer satisfaction in logistics. By optimizing routes, improving load management, enhancing warehouse operations, and automating customer service, businesses can achieve significant operational benefits and deliver exceptional client experiences.
Looking For a Dedicated Team?
A Dedicated Team might be the best solution in your case. Get in touch with us and we'll help you choose the best IT outsourcing model based on your business needs and requirements.
4. GPT-4 vs. GPT-3: Costs Comparison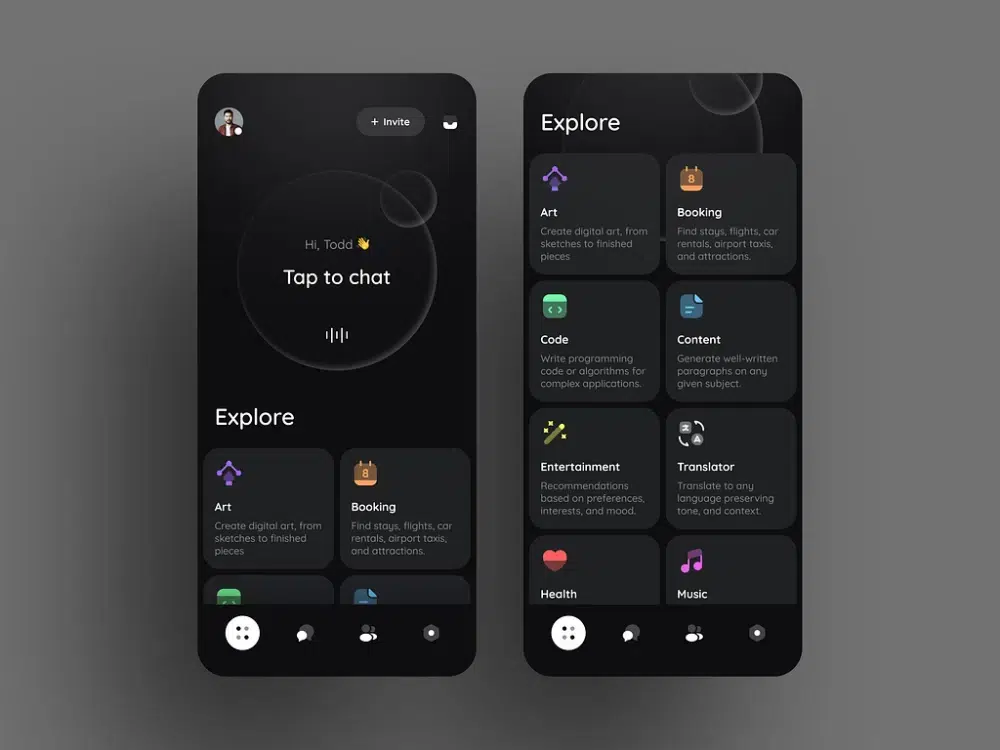 To fully comprehend the comparison between GPT-4 vs. GPT-3, it is crucial to consider the pricing of each model. Now that you have a better understanding of the potential benefits for your business, you may be wondering about the implementation costs. Let's explore the pricing associated with these generative AI technologies.
When adopting GPT-3, you have the option to select a language model from OpenAI's offerings. Each model has its unique features and specializations, resulting in distinct pricing structures based on your selection. Here are the available models: Ada, known for its speed; Babbage, Curie, and Davinci, recognized for their power. The model with the highest processing speed, Ada, offers the most cost-effective pricing for those requiring lower computing power. Conversely, Davinci, which serves as the core of ChatGPT, comes at a higher cost due to its exceptional capabilities.
| | | | | |
| --- | --- | --- | --- | --- |
| Models | ADA | Babbage | Curie | Davinci |
| Pricing ($/1k tokens) | 0.004 | 0.0005 | 0.0020 | 0.0200 |
The price is given per 1,000 tokens. To put it simply, a token stands for 4 characters or ¾ English words. This means that 100 tokens are equal to 75 words.
By performing a simple calculation, we can determine that adopting Ada will provide you with 250 million tokens for $100, enabling the processing of approximately 187.5 million English words. However, there is an important aspect to consider within these numbers.
The aforementioned 187.5 million English words encompass the model's responses and the user's questions and instructions provided to the AI.
In contrast, GPT-4's pricing list distinguishes between prompt tokens and completion tokens. Unlike its predecessor, GPT-4 does not offer a selection of language models. Instead, it allows you to choose the appropriate context volume, ranging from 8K to 32K tokens per request.
| | | |
| --- | --- | --- |
| Model | Prompt | Completion |
| 8K context | $0.03/1K tokens | $0.06/1K tokens |
| 32K context | $0.06/1K tokens | $0.012/1K tokens |
If you opt for an 8K context in GPT-4, assuming around 30% of prompt tokens and 70% of completion tokens in your use case, a $100 investment will provide you with approximately 750K English words of prompt text and around 875K words of completion text.
5. GPT-4 vs. GPT-3: Which OpenAI model should you choose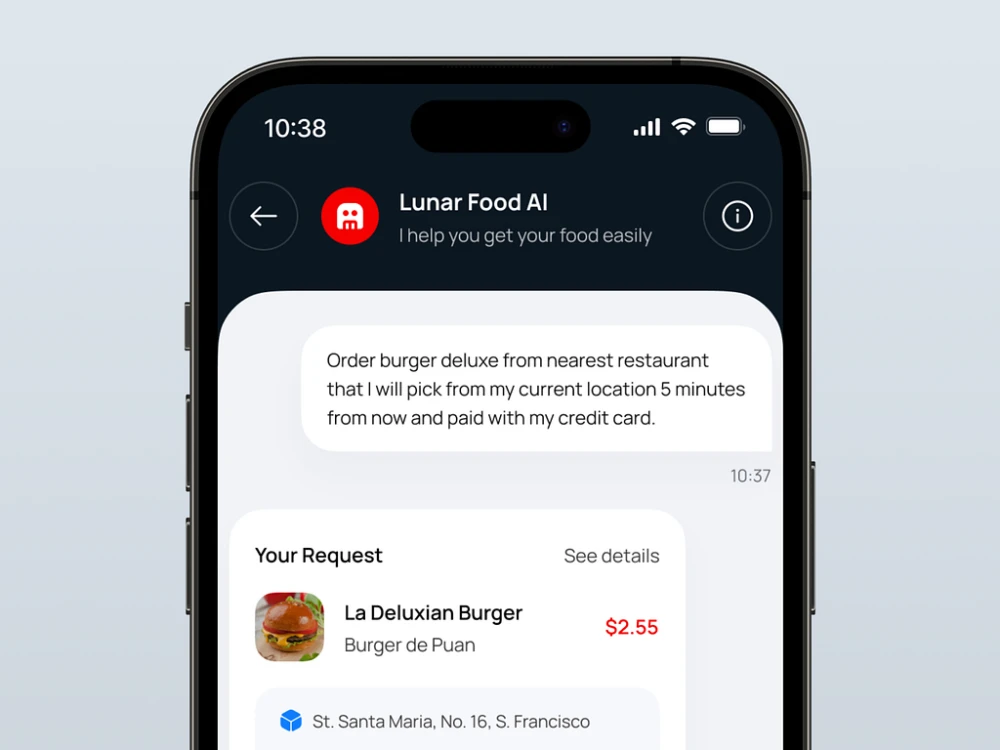 In all honesty, no single OpenAI model can be considered a universal solution for every use case. However, there are some noteworthy considerations regarding which GPT solution is typically employed for specific types of businesses:
| | | |
| --- | --- | --- |
| Use Case | GPT-3 | GPT-4 |
| A healthcare business seeks to provide first-aid recommendations based on injury photos |   | x |
| A logistics company requires a chatbot to offer basic information about delivery statuses | x |   |
| A startup aims to automate the generation of business-style emails. | x |   |
| A warehousing company wishes to optimize its storage system by utilizing available space effectively. |   | x |
| A healthcare company needs a secure alert system to monitor medication expiration and facilitate convenient customer scheduling. |   | x |
| An entertainment company wants to automate chatbots to provide customer support with the persona of selected fictional characters | x |   |
6. Conclusion
In conclusion, there are many parameters that differ between the models that we looked at. Naturally, GPT-4 is more effective, accurate, and powerful than GPT-3. Everything about the price is reasonable as the GPT-4 model, despite being more powerful, costs more than the GPT-3, which is less expensive.
Your business needs and goals will determine which of these models you should use. There is no need for you to overpay for the computing power you won't use if you need to maintain low-capacity processes like alerting or monitoring medium volumes of data. And vice versa, the GPT-4 will unquestionably fit you better if you need to process large amounts of data and receive in-depth data analysis from various sensors.
Please feel free to get in touch with us if you have any additional questions or require assistance choosing and integrating the best AI solution. Our team is here to use our skills and knowledge to assist you in achieving your business goals.
Savvycom – Your Trusted Tech Partner
From Tech Consulting, End-to-End Product Development to IT Outsourcing Services! Since 2009, Savvycom has been harnessing the power of Digital Technologies that support business' growth across the variety of industries. We can help you to build high-quality software solutions and products as well as deliver a wide range of related professional services.
Savvycom is right where you need. Contact us now for further consultation:
GPT-3 (Generative Pretrained Transformer 3) is an autoregressive language model that uses deep learning to produce human-like text. It is developed by OpenAI and has 175 billion machine learning parameters.
GPT-4 is the successor to GPT-3, built on the same fundamental architecture but with a significantly larger amount of parameters. While the specifics about GPT-4's capabilities and parameters are not available due to my knowledge cutoff in September 2021, it's safe to assume that it provides even better text generation and understanding capabilities than GPT-3.
GPT-3 and GPT-4 use a machine learning technique called Transformer neural networks. They predict the next word in a sentence by looking at the context provided by the preceding words. The models have been trained on a diverse range of internet text.
They can be used for tasks like translation, answering questions, writing essays, summarizing long documents, and much more. They can also be fine-tuned for specific tasks, such as legal document review or medical consultation.
As of my last update in September 2021, OpenAI provided access to GPT-3 through an API, which developers can use to build their applications. For updates about GPT-4, you would need to refer to OpenAI's latest announcements.
Yes. While GPT-3 and GPT-4 are powerful, they don't actually understand text in the way humans do. They generate text based on patterns they've learned from data. They can sometimes produce incorrect or nonsensical responses. Also, since they're trained on internet text, they may inadvertently generate inappropriate or biased content, which OpenAI has put measures in place to mitigate.