An Insight into the Technology world.
Analysis and Insight from Savvycom Team.
10 years is not a long period of time, but definitely not a short one. Ever since the dawn of the company, Savvycom has always been striving towards one simple vision: A beautiful life enabled by technology, and pouring our hearts and souls into making it a reality has always been the mission we pledge our life to follow. 
Throughout the past 10 years, despite lots of ups and downs, we have still been doing our best to step closer to our dreams and were lucky enough to accomplish such spectacular achievements.
From a total newbie in the technology field, after 10 years, now we have been able to raise quite a voice in the industry. In 2014, Savvycom was nominated as one of Top Brands in Vietnam, marking the point of viral development. Taking that as a motivation, the company continued being awarded as an Emerging IT Outsourcing Enterprise by Vietnam ITO Alliance (VNITO) and obtained ISO 9001:2015 Recertification for meeting all quality management system requirements in the next 2 years. Savvycom also received Sao Khue Award for "Software Outsourcing Service 2017" and landed at #6 in Leading B2B Companies in Asia 2018 on Clutch in 2017 and 2018. Especially, this year, Savvycom is proud to receive Vietnam's 50 Leading IT Companies Award for the 4th time, assuring the quality delivered to the customers that stands the test of time.
 "If you want to go fast, go alone. If you want to go far, go together"
We understand from the very start that we would have a long way to go, and we would need more than ourselves to reach that holy mountain. That being said, we couldn't have made such wonderful achievements without the joint efforts of our wonderful customers, partners and beloved employees. 
Throughout the past years, we have supported more than 100 customers from 4 continents to excel their business performances, created decent occupations for 150+ people, established partnerships for the goals with various reputable organizations and companies worldwide such as Microstrategy, Apple, TomoChain, CY Global, etc. We have conquered many challenges together, and the power all of you handed over to us has become a precious driver to rise above the water.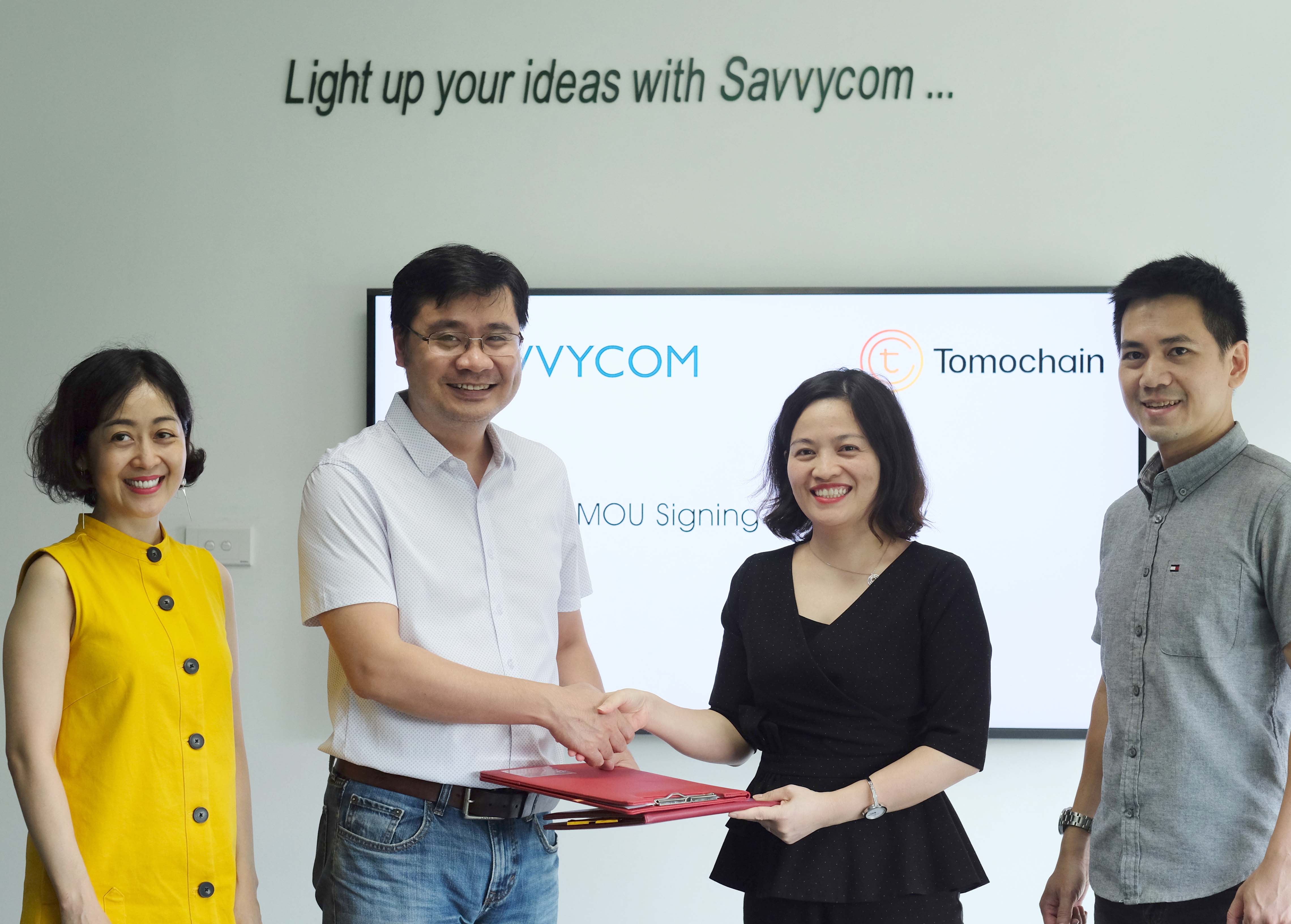 To our innovative partners, we would like to thank you for choosing us as your strategic companion and as your sidekick towards the common goals. We have done lots of magnificent things together, and we couldn't help but be grateful for the trust and support you have given us until this day:
"Partnership is not only about the single benefit of each company. It's much bigger than that. Through cooperations among companies, we create job opportunities for many young people, pave the way for countless creative and brilliant products as well as deliver more values to the customers.
As parts of Vietnam technological circle, we are dedicated to taking the national technology to the next level as well as bridging the gap among countries all over the world. In so doing, Savvycom is more than grateful to have the like-minded friends on the way to materialise such a tough yet meaningful vision"
(Quoted from Mr Tue, Savvycom CTO)
Still, partnerships mean little if it were not for our treasured customers. Savvycom – once again – would like to send the sincerest appreciation to our customers, who put your faith into our hands and acted not only as our ends but also our great inspirations to create world-beating apps, thus climbing towards the summit of frontier technology. No matter where you are standing today, no matter whether your current success aligns with our past partnerships or not, may we wish you a continuum of luck and prosperity. We will forever embrace those blissful cooperations with our customers and promise not only to deliver the best software and applications, but also to be a reliable friend on your road to triumph.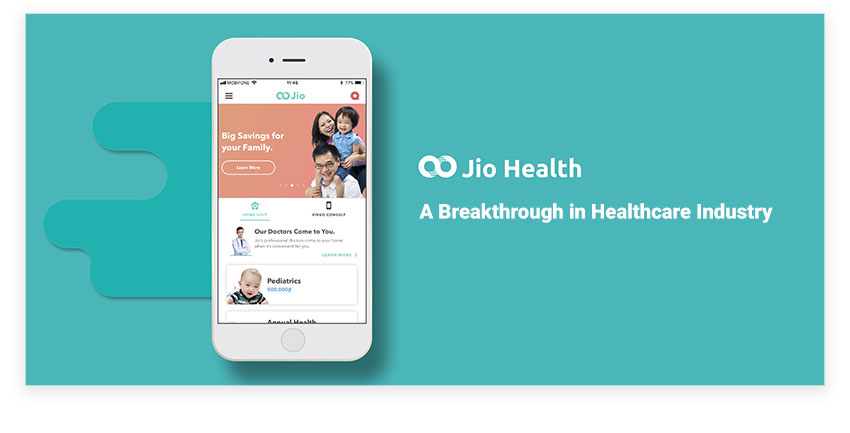 Last but not least, on the devotion of our treasured cherished employees to the growth of the company, Ms Van Dang – Savvycom CEO expressed her greatest gratitude:
"Without you, Savvycom-ers, this moment cannot feel this fulfilled. My desire is to create an environment that resonates with everyone, where everyone has the opportunity to develop and equip themselves with necessary skills, therefore be more confident in the world full of challenges – and somehow that wild dream has come true. As the head of this organization, I'm really proud of my colleagues and are happy to witness the progress each person showcased along their way to excellence.
I'm so grateful that you have brought youth, enthusiasm, laughter to this organization; and moreover, have built a dynamic, united team to create excellent apps and to affirm Vietnam's position on the world technology map. 1 or 10 months, 1 or 10 years, no matter how long you spent your precious time with us, I hope Savvycom has been the pride to you all. Be proud that you've got to have good colleagues and sincere friends. Be proud that you've got to smile even in the darkest days and overcome all the hardships together. I am happy to have you as our family".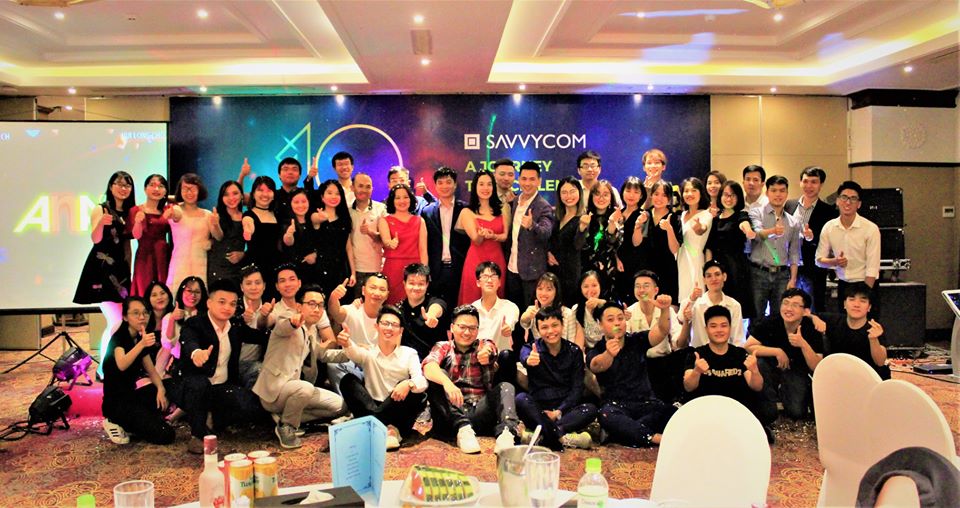 The endeavour we and our fellows invested in, as well as the milestones we have recorded along the past 10 years were, are and will always be a momentum for us to shoot for the furthest stars. 
SAVVYCOM 10 YEARS – A JOURNEY TO EXCELLENCE