Everything You Need To Know About SaaS Application Development
In recent years, Software as a Service (SaaS) has emerged as a game-changer, revolutionizing the way businesses access and utilize software applications. By offering cloud-based solutions that are easily accessible and scalable, SaaS has transformed traditional software development and deployment models. As we step into a new era, the demand for innovative SaaS applications shows no signs of slowing down.
SaaS app development has become a crucial aspect of the software industry, enabling businesses to streamline their operations, increase productivity, and unlock new opportunities for growth. From small startups to large enterprises, organizations of all sizes are recognizing the immense potential of SaaS in driving operational efficiency and delivering exceptional user experiences.
Join Savvycom and delve into the exciting world of SaaS app development, exploring its key benefits, challenges, and the trends shaping this dynamic landscape. Whether you are a business owner, a software developer, or simply an enthusiast curious about the future of software solutions, understanding the nuances of SaaS app development will empower you to make informed decisions and leverage this transformative technology to its fullest potential.
1. What is SaaS app development?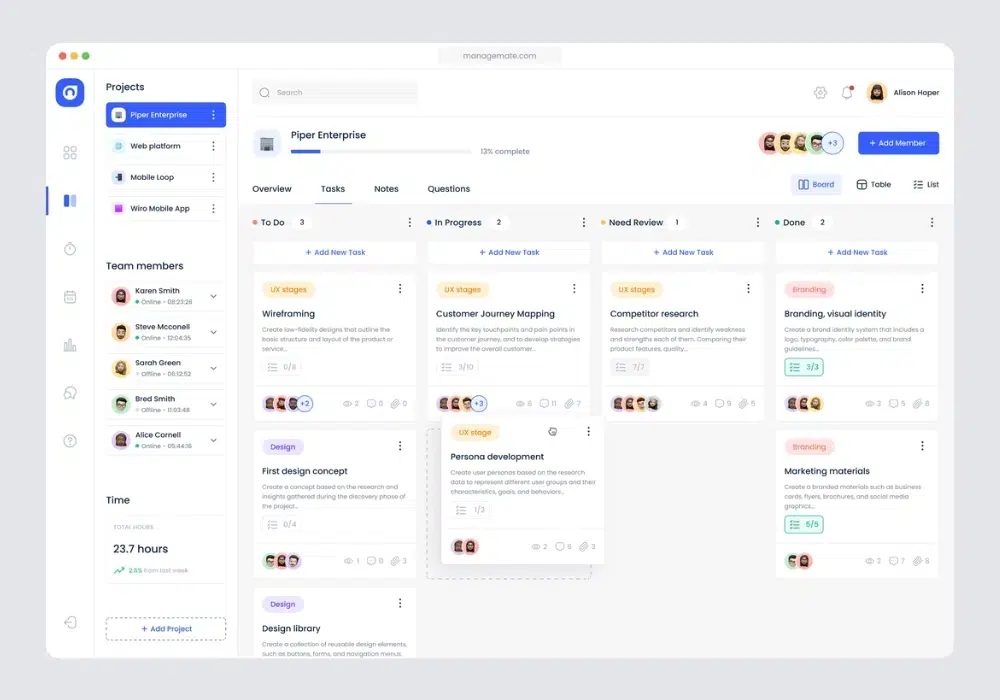 Software as a service (SaaS) is an approach to obtaining access to applications via the Internet. Unlike the traditional model, applications are stored in external cloud storage that is accessible via the web or an API. Web-based software, on-demand software, and hosted software are other terms for SaaS applications. Such items, whatever we call them, are stored on the servers of providers. The vendor manages software access, including security, availability, and operation. And it is the main difference between developing SaaS apps and traditional ones.
Developers keep working on a SaaS product even after it has been released. Regular service updates are required to attract new consumers and compete within the market.
There are a number of SaaS solutions available, ranging from office software (Google Workspace) to workplace messengers (Slack). Moreover, companies like Box, Salesforce, and Amazon have development teams that keep their solutions updated.
2. Types of SaaS software
SaaS apps can also be classified into the following categories depending on the industry which they are developed for:
CRM (customer relationship management): CRM systems, like Salesforce, handle customer data and operations and are perfect for B2C and B2B eCommerce enterprises.
ERP (Enterprise Resource Planning): Businesses can pay as they go (PAYG) and customize functionality depending on current company needs with (ERP) systems provided under the SaaS business model.
Billing and accounting: SaaS apps for billing and accounting aren't often made for the corporate sector. Instead, they provide customizable subscription plans, allowing each business to pick the best one for them based on its size, personnel, clients, and partners.
Project and task management: Jira, ClickUp, and Monday are just a few examples of the software-as-a-service (SaaS) project management and collaboration applications on the market. 
Communication tools: One of the most well-known communication applications created using the SaaS business model is Slack. It enables selecting a subscription plan based on the size of the team and switching to a more sophisticated one as the team grows.

3. Requirements of SaaS app development
When developing SaaS-based applications, it is important to take an individual approach that is different from that of other online services and platforms. This approach is necessary to provide a comprehensive experience. The following are the primary characteristics of SaaS applications, driven by their nature.
Technical requirements
SaaS development demands the application of a powerful yet simple programming language that can help develop a current and progressive solution. It's no secret that choosing a language from the vast array of available options can be challenging. Although JavaScript and SQL are fantastic, Python has several advantages for SaaS development due to its adaptability and readability.
Every successful SaaS product has to have a secure database. Its key distinguishing feature is its small size and capacity to store data divided by using it with greater flexibility. Furthermore, the database can be optimized using cutting-edge technologies like Python.
MongoDB's automatic sharding capabilities may make it your primary database. It provides high scalability and quick and efficient execution of numerous assignments.
The Communication protocol, the software architecture's warp, is also known as a queuing system or message queuing (MSMQ) technology. It allows the software to communicate with third parties such as APIs and servers. A message queue system saves and transmits messages from applications.
RabbitMQ has been featured in this list because it is stable and scalable. Furthermore, this system is open-source, free to install, and can effectively collaborate with a variety of operating systems and programming languages.
Cloud computing services and CDN 
A crucial component of any SaaS development platform is a cloud computing service that enables the implemented features to function. Currently, one of the best options available is AWS (Amazon Web Services), a highly versatile and sophisticated technology. Its capabilities include secure database storage, content delivery, and other features that are beneficial for business growth. Files stored on AWS are accessible from any device with an internet connection.
AWS works well with Elastic Compute Cloud (EC2), which brings scalable cloud computing power and increased technology resources. With EC2, you can choose where your servers are located. Consider using a content delivery network (CDN) as well – this tool is useful for managing and modifying software content.
When describing your project, creating a list of required features for SaaS application development is important. Business analysts can then prioritize these features by dividing them into essential and advanced categories.
Third-party service integration
To enhance the functionality of any software or SaaS app, it is important to implement additional features using specific systems that cater to the purpose of the features. For example, to enable in-app purchases in a SaaS product, you need to integrate suitable payment systems.
There are two options for expanding the functionality of the software, each with specific time and investment requirements:
– Integrate third-party systems: This involves gateway integration for in-app purchases. It reduces time-to-market and costs, as it includes services provided by PayPal, Stripe, Braintree, or other payment systems in your software.
– Build custom solutions: The software development team may build custom solutions from scratch if the function has specific requirements. This requires building and designing, which increase both the time to market and development costs. The team must ensure secure payment services for payment systems, which is a complex process.
Non-technical requirements
Software-as-a-Service applications require more than just technical expertise to succeed. Here are some essential non-technical factors to consider.
To ensure the success of a SaaS application, an in-depth market study is required to ensure that the product meets the expectations of potential customers. Setting achievable goals based on this insight is important for progression.
Successful SaaS projects must focus on providing outstanding customer service in addition to delivering a high-quality product. It is critical to be aware of changing customer demands and expectations and to try to satisfy them as soon as possible.
Offering several subscription packages can make a SaaS pricing plan more flexible and appealing to a broader variety of clients. This enables customers to change their subscriptions based on their financial state without losing access to the SaaS product.
Looking For a Trusted Tech Partner?
We'll help you decide on next steps, explain how the development process is organized, and provide you with a free project estimate.
4. Benefits of SaaS app development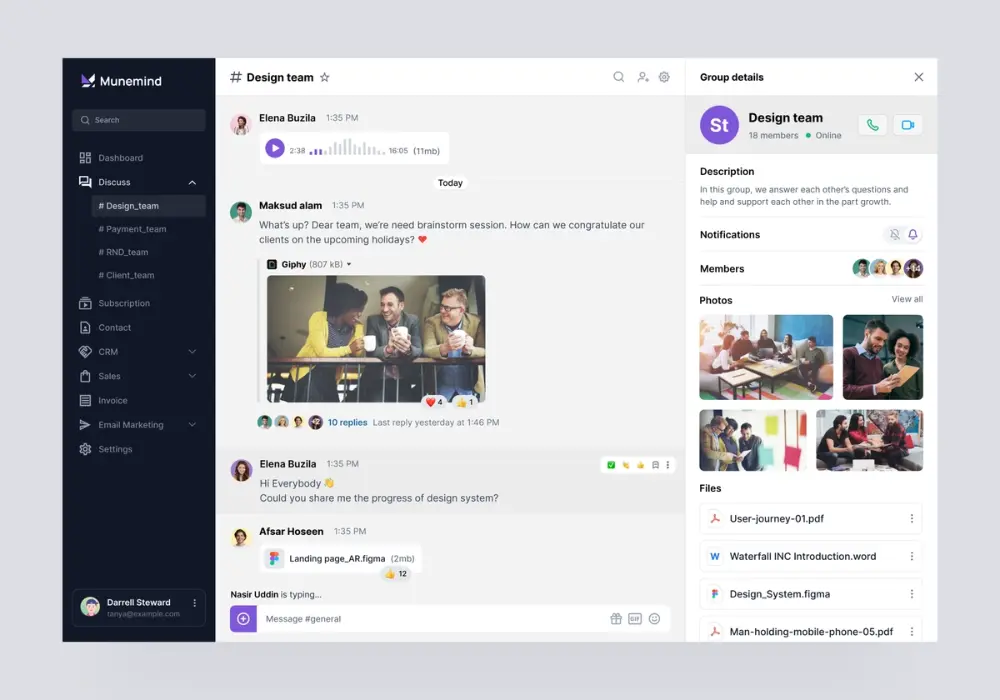 The following are the cutting-edge benefits that make SaaS app development a great business idea in 2023.
Using a SaaS service, businesses can avoid purchasing and maintaining costly hardware. Unlike the conventional model, SaaS programs are hosted in the cloud for hardware and software licenses at a lower cost. Paid subscriptions are a popular feature of SaaS app development solutions. As a result, the corporation pays for the required capability and can cancel the paid membership if the service is no longer required.
Nevertheless, the benefits and cost-effectiveness of SaaS solutions are best revealed when you turn to reputable outsourcers that will examine your final product requirements and select the most effective and lucrative solution that works for your budget.
SaaS refers to a cloud-based system. A cloud is a network of services that can be hosted anywhere in the world. SaaS products continue to function even if one server fails. As a result, software with such great stability keeps working.
Typically, SaaS software is hosted in scalable cloud settings that can integrate third parties for SaaS products. The primary distinction of this approach is that it won't require the purchase of another server or software. Businesses can use subscriptions to pay just for the services they need. If your demands change, you can easily upgrade the subscription plan with a few mouse clicks. Thanks to the adaptability provided by cloud environments, SaaS solutions can be scaled in accordance with corporate expansion.
Security issues are one thing that all cloud service providers have to take them seriously. They make significant investments to ensure excellent services with the highest level of security. That way, all information is secure and kept in a safe place. However, in some circumstances, cloud providers cannot meet all of the company's security needs. Hence, it's critical to keep an eye on potential problems.
No hardware and maintenance
As previously stated, a significant advantage of SaaS applications is eliminating the need for substantial hardware, configuration, and local software operation expenditures. Asides, businesses don't have to deal with app maintenance, support, or licensing. Instead, providers handle the time-consuming processes so companies may focus on what they do best. After the subscription is approved, the app is activated and ready to use.
The cross-platform feature dictates that SaaS apps can be executed through the browser, which is available on every modern device. This makes all data accessible regardless of location, making such programs convenient and productive.
While users of mobile and desktop apps must still download new software versions to upgrades, SaaS web apps offer a significant benefit. Web apps are automatically updated, so users don't even notice when and how apps are updated – they always access the newest version of the software.
Large number of providers
Business owners can choose from a wide range of SaaS vendors and switch between them to discover the one that best meets their requirements. Enterprises have a SaaS subscription cancellation plan in place in case the quality of the services does not reach their standards or they no longer require them. In practice, the changeover process is complicated but still possible.
APIs enhance the capabilities of SaaS software by connecting it to third-party platforms. Thus, businesses may integrate their own systems with SaaS vendors. The present SaaS vendor industry is brimming with those who guarantee improved integrations with other systems.
5. Step-by-step to build a SaaS platform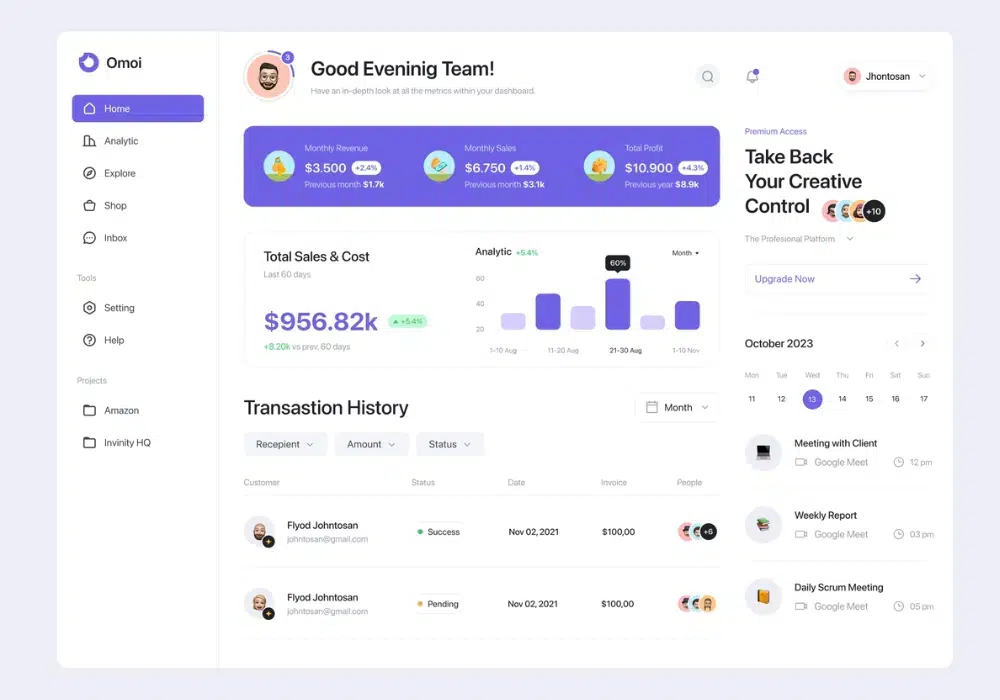 How do you start building a whole SaaS application? We've identified the 8 steps to creating a SaaS product:
Determine the value that your app provides to users
Conduct market research to understand your target audience better.
Find experienced SaaS developers to help you turn your SaaS concept into a reality.
Assemble project specifications to define the scope of your app.
Pay great attention to your app's UI/UX design.
Create a price plan that is in line with your value proposition.
To maximize product quality, consider elements such as scalability and security.
Development and testing.
Deploy and maintain the product.
Next, we will look at each step in more detail.
Step 1. Consider the value your app will bring
To gain customers for your SaaS product, providing a valuable and reliable solution is crucial. Customers want to understand its value before subscribing and paying for your product.
One way to demonstrate the value of your product is by offering a free trial for a specific period of time. This way, customers can appreciate the benefits and effectiveness of your SaaS service. Another option is to offer a pay-as-you-go model for users who don't require the service frequently.
To ensure the effectiveness of these strategies, it's recommended that you answer the following questions:
Will your product be compatible with your company's goals and objectives?
Do you already have the required experts and resources, or will you hire a development team?
How does this project fit in with your company's other initiatives?
How much will the project cost? What is the best pricing strategy?
Step 2. Run market research and study your competitors
When developing SaaS software, you must first understand the market and your target audience. Researching competitors, their solutions, business models, and so on is helpful.
After analyzing the market, you will understand how to differentiate your SaaS service from the competition.
Step 3. Find a reliable tech partner
During the next stages, you should look for and work with a reliable technology vendor. It is critical to complete the SaaS deployment with an experienced IT partner, as you will be able to entrust the technical side of the project to a team of competent experts. Here is some advice on how to make an informed choice and what to look for:
The company's knowledge and experience. Investigate the tech vendor's experience in your industry, the technology it employs, and the services it offers.
Portfolios and case studies. Examine the provider's portfolio and case studies of previous projects. This will assist you in determining the company's level of knowledge and background.
Quality and assistance. Ascertain if the provider offers a high-quality product and is prepared to provide adequate help in any technical difficulties.
Step 4. Define project requirements
Before proceeding directly to creating a SaaS application, you have to gather your detailed project requirements.
It's necessary to create a list of features. They can be different. It's common to divide app features into two main groups: basic and advanced. MVP or basic features stand for features that are required to satisfy the user's needs. As for advanced, they add some exciting functions to engage more users.
Here are some questions you should answer to execute this step:
Who will use the solution and why?
What problem does the software solve?
What kind of input and output data does the project require?
How will privacy and security be dealt with?
Do you require the integration of APIs or other third-party tools?
Step 5. Work on UX/UI design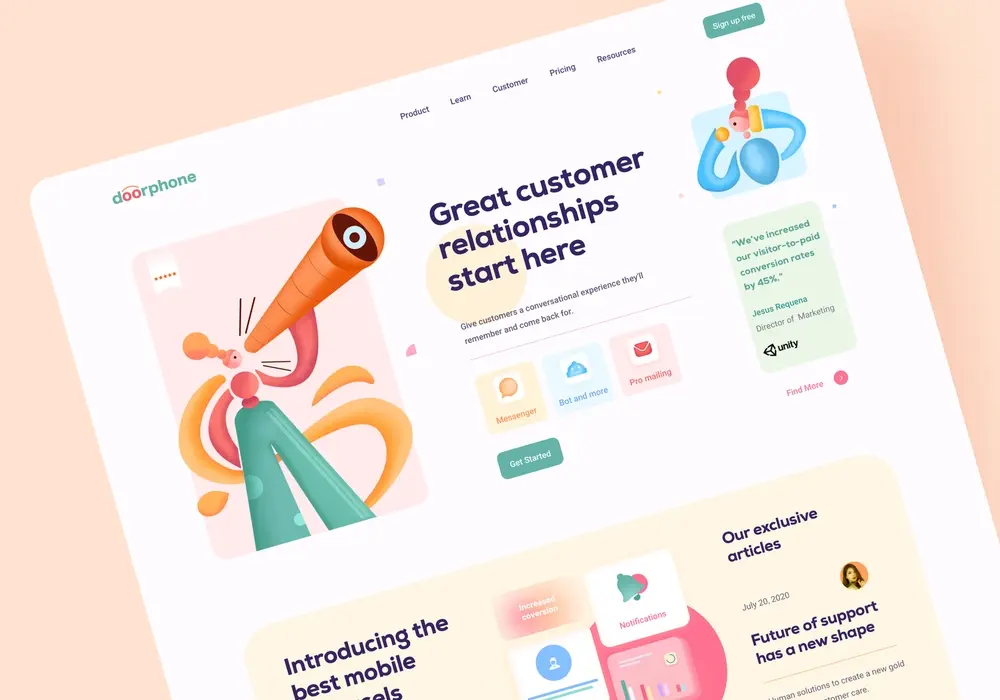 After you've compiled a list of essential features, it's time to create a fantastic UI/UX design for your SaaS application. Users nowadays are more likely to abandon websites and apps with unappealing and illegible designs. So, to make a SaaS app profitable, it must have a user-friendly design.
Creating a design requires both time and money. Wireframes serve as the foundation for the design, representing the layout of objects on the app interface. These wireframes are usually monochrome and show the connectivity of the screen.
Designers will then establish a visual style for your future app. They choose the right colors, fonts, and other graphic elements.
It's time to start designing. All app displays and conditions are created by designers. They then create a clickable prototype. The final step in the UI/UX design process is sending the design to SaaS application developers.
Step 6. Decide on your pricing strategy
When it comes to SaaS, offering tailored subscription plans is key for a successful pricing strategy. Creating multiple options is important to cater to different user needs and preferences.
It's also a plus if your SaaS application developer includes a few free features or offers a free trial period. Google Drive, for example, offers free 15 GB storage space. If you require extra storage, you can buy a monthly subscription.
Furthermore, SaaS development companies provide subscriptions for different numbers of users for SaaS application development. Accounts might range from 3 to 1,000. At this point, the entrepreneur must decide on the system he or she will build, how it will stand out from competitors, who the target market is, and their pricing strategy and marketing mix. For example, they could choose from the following SaaS pricing options:
This is one of the most popular, particularly among startups. To earn a profit using this SaaS strategy, you sell your items for more than it costs you to produce them. To make a profit, you could, for example, add a 15-20% profit margin to the cost of building a SaaS product.
Pricing depends on the value
You can use this pricing strategy to match the cost of your SaaS product to the benefits it offers users. Rather than only estimating prices, you should research your target market to understand their wants and needs and which features of your SaaS product they value the most.
Pricing based on competitors
Using this pricing method, you may establish your product's price based on your competitors' pricing without conducting extensive market research or estimating your business expenditures.
Step 7. Choose your tech stack
Selecting technologies for your SaaS app is a difficult task. You must provide the developers with the project's needs, features, and design. They can choose the technology necessary to build a SaaS application.
To ensure the growth of your solution, it's important to keep it up to date using tools that support its development. Additionally, choosing the right technology stack for your app is crucial.
Step 8. Develop and test
SaaS developers work on the front end and back end of your application during this stage. Simultaneously, quality assurance (QA) engineers ensure that each piece of functionality functions properly, both in isolation and as part of a larger system. Many teams will employ the Agile methodology here.
SaaS developers do not create the whole application at once. Rather, they begin with a minimal viable product (MVP) that comprises only the most necessary elements to meet your target audience's basic demands.
After the MVP is released, you can gather feedback and make improvements. The iterative process will be finished once most features are fully developed and meet your audience's needs.
Step 9. Deploy and maintain
When your MVP is available for users, focus on evaluating its performance. During this step, you should collect user feedback, analyze it, identify what needs to be changed, and determine what new features your users require. Simultaneously, SaaS developers on your team can assist you in fixing existing problems and planning future features.
Challenges when building a SaaS application
There are many advantages to using a SaaS platform, but creating one can be a complex process. Here are some technical factors to keep in mind before starting a SaaS app development project.
Choosing a solution stack to apply for this purpose is one of the most challenging issues you will face during the SaaS app development flow. It may be challenging to specify the one with which all of the features and functionality elements will fulfill your needs, especially if you lack a technical background.
However, coming up with the technologies to be used is critical because they define how well the app will complete the assigned tasks. To solve this problem and avoid failure, it is preferable to seek the assistance of specialists who will put together the essential solutions tailored to your specific situation.
Let's face it: you're wondering how to launch a full SaaS application development effectively. Thus, you'll need to select a scalable tech stack. Each layer of a complex solution must be tailored.
As a result, developers should take the following factors into account: Interface; Integrations; Lists of features; Page templates; URL organization.
Scalable products will allow you to attract users while also adding value in the long run. An unscalable solution stack makes it impossible to grow and improve your company. It may become a problem for businesses (due to poor performance with an increasing number of customers and, consequently, workload) and clients (who will be unable to utilize the solution in the event of application failure and inability to cope with a greater burden).
SaaS solutions frequently work with business segments and process/store a large amount of sensitive information. As a SaaS vendor, you must ensure your users' data privacy.
Because of a lack of protection, information such as bank, personal, and customer information may leak. It will cause you to lose customers and their trust. You may also be fined heavily. Before granting access to such data to external systems, you should investigate the service's credibility and stability. Furthermore, access management and identity management should be prioritized. You should take strict precautions before making any confidential data available to a service vendor.
The program runs on physical servers in a specific region, and the app may fail if they are damaged (by fire, water, explosion, etc.).
In terms of credibility, the AWS platform is advantageous because it keeps hardware regularly and is concerned with data protection and backups. It also excludes your SaaS app's overload and failure. Furthermore, you can upgrade your plan if your company demands increased resources for SaaS application development.
Gaining trustworthiness is another challenge. Consumers' confidential data is stored in the SaaS application. Therefore they certainly want to know that the platform is dependable and secure. You will draw a committed audience if you establish the brand and work hard to establish a positive reputation. This should be assisted by your logo, brand color palette, and UI elements. It is also a good idea for entrepreneurs to advance their SaaS products in order to build consumer trust.
Every SaaS-based app development project necessitates an array of third-party connectors such as Google Maps, PayPal, and others. As previously said, any new capabilities added in SaaS-based application development necessitate third-party integration. A well-developed SaaS application necessitates a great deal of skill and work. Furthermore, the number of integrations influences the final pricing.
When third parties are used to create a product, SaaS vendors offer a variety of software solutions, which may cause issues in integrating services into an already created in-house application. There is a chance that data structures and APIs will not respond correctly to external services. To avoid this problem, be sure that the third-party services you choose are compatible with the structure of your product.
Many people apply to create SaaS products to cut costs. The subscription fee for the provider's services has to be affordable and shouldn't exceed the cap. To make money from your software, you should research the financial standing of the people you create Saas applications for. As a result, it will be simpler to develop the best monetization plan when the audience's subscriptions include software updates and support.
SaaS app creation should fundamentally take into account adherence to your app's privacy policy and terms of service/use agreement. Both of those recommendations have distinct objectives.
Although not yet required by law, the initial action is strongly advised. It acts as a contract that is enforceable in court between you and your clients. To use your SaaS product's service, your clients must abide by the rules you create.
6. What does it cost to develop a SaaS platform?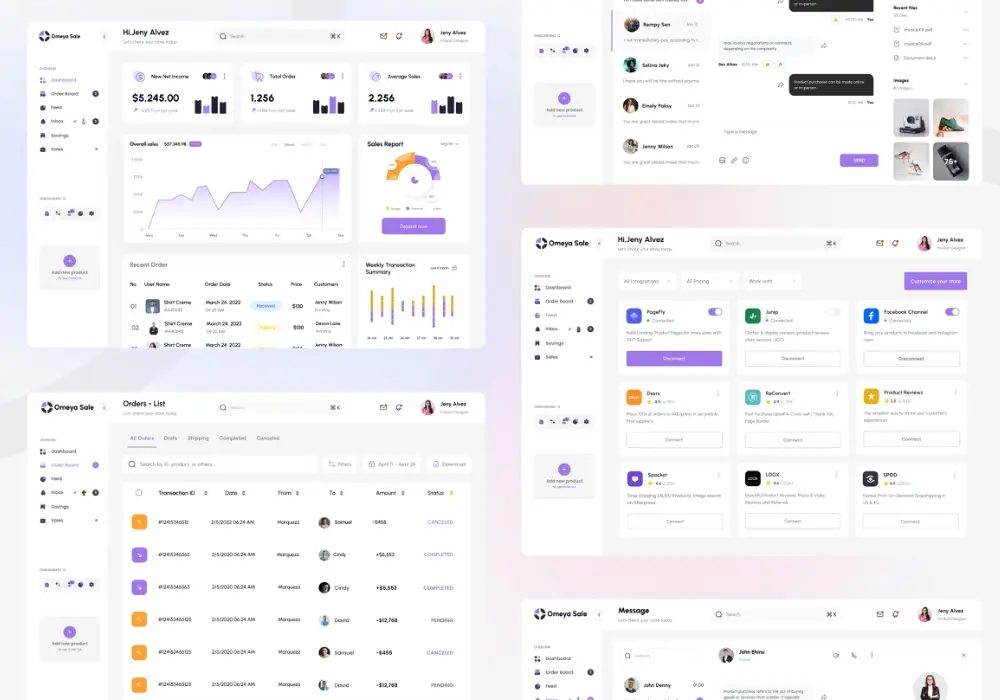 After understanding the development process and potential difficulties, it's time to assess the cost of SaaS apps. The following variables affect how much it ultimately costs to construct a SaaS product.
Feature complexity
How much does it cost to create a SaaS application?
The amount of time required for development must be multiplied by the developer's hourly fee.The complexity of the features affects how long it takes to develop. Developers need more time to implement more sophisticated features. Consider Slack as an illustration. You need at least 2632 hours to produce the MVP version of an app like Slack.
| | |
| --- | --- |
| Type of work | Development time |
| iOS | 852 hours |
| Android | 852 hours |
| Backend | 768 hours |
| UI/UX design | 80 hours |
| Total hours | 2632 hours |
We've calculated the average costs to produce an iOS and Android app similar to Slack in different regions of the world:
Southeast Asia: $65,800 (based on $25/hour)
Eastern Europe: $131,600 (based on $50/hour)
Western Europe: $263,800 (based on $90/hour)
North America: $263,200 (based on $100/hour)
Australia: $263,800 (based on $90/hour)
Hiring options
Let's first outline the typical team structure to develop a SaaS application before delving further into the available recruiting possibilities you may select from. The following specialists are often included:
Project Manager
Business Analyst
UI/UX designer
Backend developer
Frontend developer
QA engineer
The three most common ways to hire software engineers are working with a freelance developer, building an internal team, or finding a reliable vendor.
These days, many people work as freelancers. However, SaaS development necessitates long-term collaboration, which can be challenging with independent engineers. They may switch to a different project and miss deadlines. Furthermore, unless you're a computer expert, it might be difficult to evaluate the expertise of a potential SaaS developer.
Starting your own development team might be highly profitable if you've previously sold the product and made some money. For instance, you need to enhance the app since multiple investors are interested in your solution.
Due to several extra costs like office rent, technology, software, taxes, and so on, this employment choice is often pricey. Because of this, it works best for established businesses that need to grow their personnel. Additionally, you should hire a tech-savvy person or hunt for professionals skilled in SaaS application development.
Outsourced SaaS development vendor
Due to competitive hourly rates, skilled programmers, and high-caliber output, outsourcing is becoming increasingly common.
You may employ SaaS app developers for your project from anywhere globally because there are so many offshore software development organizations. Here are the key benefits that organizations that outsource software development offer: cost flexibility; scalability; shorter development time; rich talent pools; diversity of technologies. 
Hourly rates
Developers usually have an hourly rate. They may vary depending on two things:
Hiring options
Qualification
For instance, independent developers get paid less per hour than internal team engineers. Additionally, the region is significant. North American and Eastern European developers charge substantially more than Southeast Asian developers.
| | |
| --- | --- |
| Region | Developer's hourly rate |
| Southeast Asia | $20-$40/hour |
| Eastern Europe | $25-$49/hour |
| Western Europe | $50-$149/hour |
| North America | $150-$200/hour |
| South America | $25-$49/hour |
| Oceania | $100-$150/hour |
The estimated figures are made up for your guidance and are only approximate. Keep in mind that by applying to a reputable software development vendor from a reputable outsourcing zone, you may always reduce your costs without sacrificing quality.