A Celebrity Mobile App connects you and Jesinta Franklin to a deeper level
HIGHLIGHTS

A content platform that connects the celebrity and fans, enabling users to view, share and save stories published by their favourite celebrity.
Offers users a monthly subscription plan to unlock premium content; allows deeper celebrity-fan engagement with the "Ask me" feature.
A high-performance app with a modern and intuitive user interface and frictionless user experience.

What is the challenge?
Celebrity app was a booming trend in 2014, quickly taking the celebrity world by storm and attracting numerous A-list stars to launch their own inclusive platform where they interact with their fans. Many of these apps were short-lived, however, waning as fast as they emerged.
Within the year 2019, some high profile deletions took place, with both the Kardashians and Taylor Swift announcing to shut down their apps.
So what makes Australian model-turned-businesswoman Jensita Franklin decide to launch her own mobile app?
The answer lies in her struggle to have a deeper connection with her fans on traditional platforms such as Facebook or Instagram over which she's unable to have complete control.
Between the frustration of shallow interactions that don't go beyond pretty pictures and videos and the desperate want for substance in her online presence, Jesinta Franklin came into life as the remedy for meaningful celebrity-fan interactions, crafted by the creative and dedicated team of Savvycom developers combined with the use of leading-edge technologies.
A solution for Jesinta to connect with her fan is an app 
We create Jesinta Franklin to provide a personalised platform where Jesinta shares her self-developed content that is otherwise hard to access on mainstream social media platforms. As for the users, we work to make sure that they have the best experience using the app with intuitive design and smooth app performance. The app enables many useful functions such as user profile, user subscription, push notifications, email updates, story and quote management.
Jesinta is built on both iOS (version 9.0 to 12 supported) and Android (version 5.0 to 9.0 supported), ensuring its seamless functioning across both platforms. The Admin dashboard is a web application which supports IE11, Firefox and Chrome. The combination of NodeJS and MySQL offers quick processing, proven reliability, ease and flexibility of use.
The interface is designed such that it represents Jesinta in every way: simple yet elegant, with a touch of modern flair. The simplistic layout ensures ease of navigation for users. Every element of the design is carefully brought together, giving users the impression that they're leafing through a lifestyle magazine.
Savvycom highly values the power of effective communication. To deliver a quality final product, Savvycom team maintains constant communication with our client via online pitching and discussing, back and forth emailing throughout the course of the project. Mutual exchange of ideas, regular use updates on work progress- all for the purpose of understanding and fulfilling our client's requirements.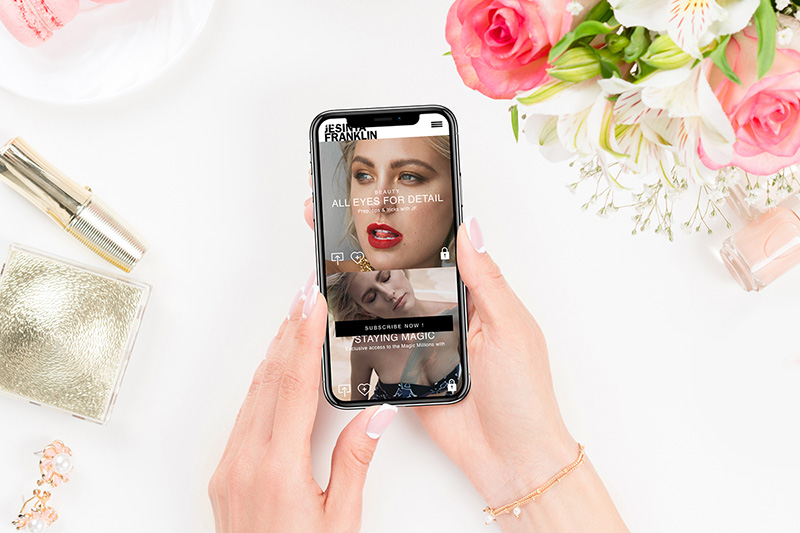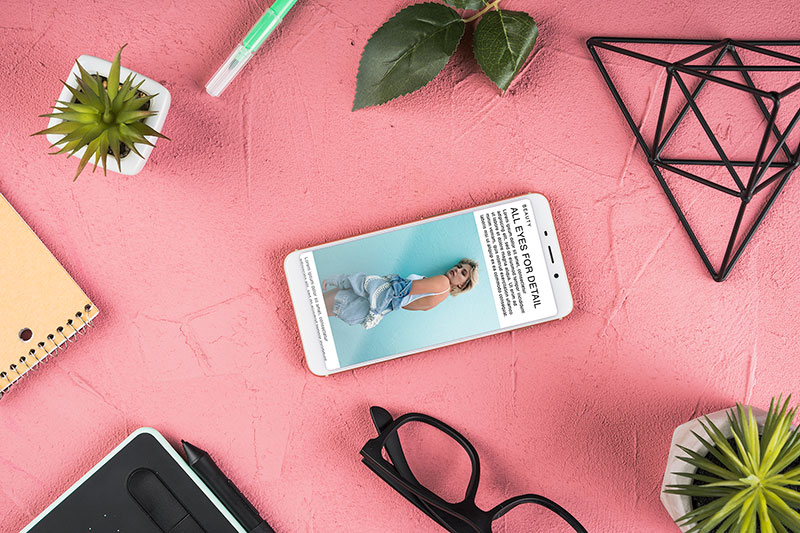 An app with simple yet powerful features
With Jesinta, users can stay updated with the latest content uploaded onto the app. They can choose to either access the app as an anonymous user or register an account. Anonymous users can view and share free stories. They can also get in touch with Jesinta using the "Ask me" feature.
For paid content, users can register using their email and sign up for a monthly subscription. A 14-day free trial period is offered before the subscription is charged. Paid membership enables users to unlock and save all kinds of content available, including all stories, thought of the day, recipes, fitness tips and behind-the-scenes content.
Updates will be sent via users' email and notification.
An experience like no other celebrity mobile apps
Simple Set-up
To Jesinta app users, the installation can't get any more straightforward. All they need to do is to download the app directly from Google Play or the Apple App Store. Sign up with an email, and then users are off to discover the amazing stories by Jesinta.
Intuitive navigation
A simple-to-use app that anyone can instantly enjoy with little to no learning effort.
Save your favourite stories
Users can save and manage stories of their choice, covering a wide range of topics including fashion, fitness, health, wellness, travel and recipes. They can also subscribe for a 14-day trial free of charge.
Get in closer touch with the celebrity
Using the "Ask me" feature, users can send their thoughts and questions to the celebrity and engage in meaningful exchange with their favourite star.
Contact us
[widget id="book_consultation-2″]