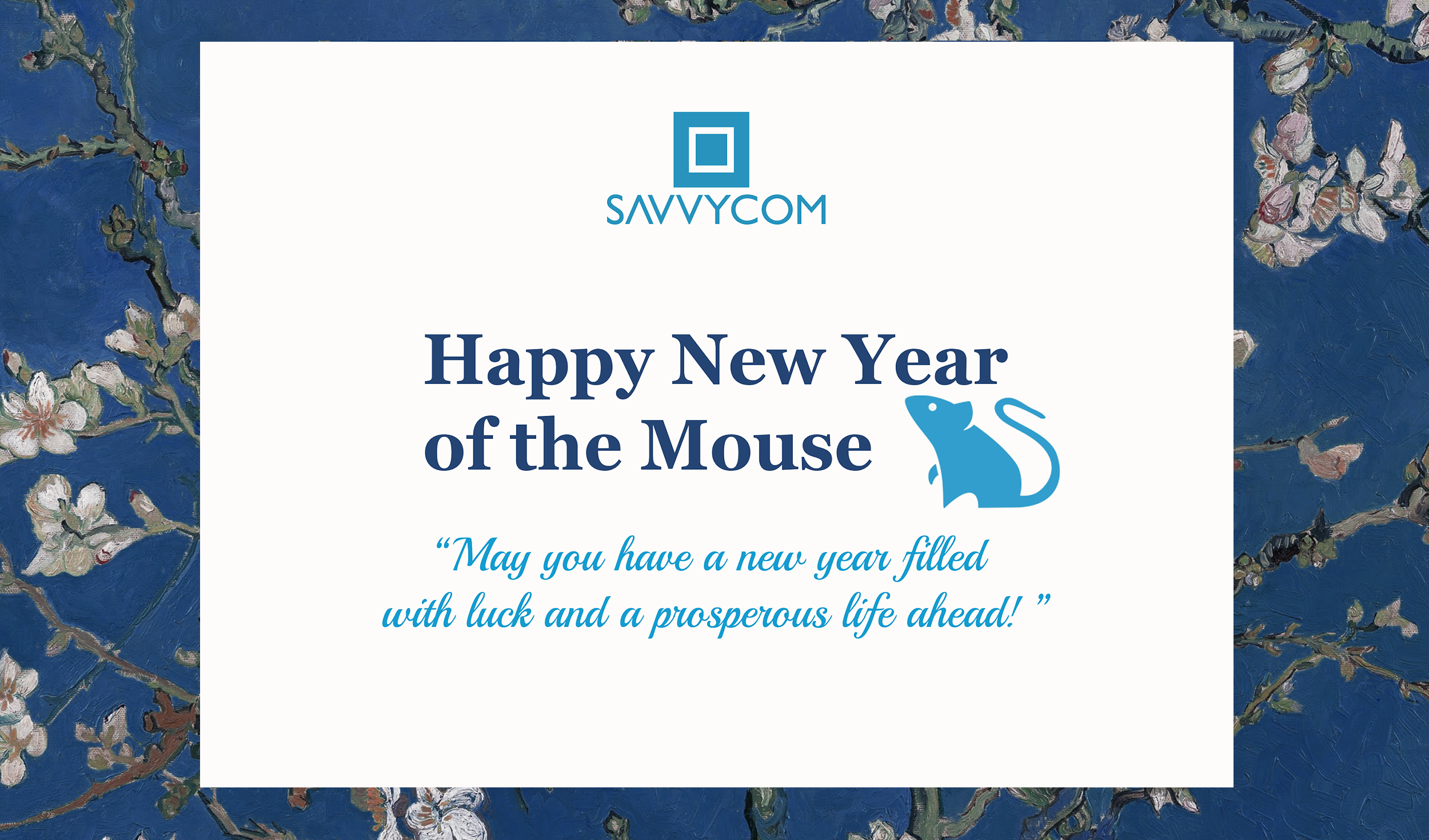 Dear our valued Clients, Partners, and Savvycom Staff,
2019 marked the end of a splendid decade for our humanity when countless technological advancement was successfully discovered and delivered. 2019 was also the end of an excellent decade for Savvycom, when multiple milestones were made, lots of tears and laughter were burst into as we thrived to actualise our dream: creating a better world enabled by technology. 
As another chapter is coming to its closure, I would like to send my sincerest gratitude to every Savvycom's employee, partner and client for accompanying Savvycom throughout those long years. We have conquered many challenges together, and thanks to you, the company has stood up from scratch and rose far beyond our expectations. Without you, Savvycom couldn't have gone this far, and the last year could never be such a success.
Today, on the threshold of a new year as well as a new decade, may I wish you happiness and prosperity in 2020. May you be well assured in each of your life decision. May the future grant us more opportunities to work and grow together with our wonderful Clients, Partners, and team members.
Cheers to the new year, and to many wonderful years to come.

Dang Thi Thanh Van – Savvycom CEO
Corporate culture has always been one of Savvycom's pride. With an average employee retention rate of 90% annually, the company positioned itself as a home for every creative and techy and guarantee to deliver the finest values to all stakeholders. Thanks to the relentless endeavour of our people, the company has gradually made it to the top. Therefore, ever since the company establishment, HR has been the investment we never regret making.

Such cultural success was a result of 10 years relentlessly looking beyond employee cognitive needs to find out their hidden demand and serve them right: Right people, at the right time, in the right place. The recipe was simple, but also required a lot of strategic moves to create a consistent system throughout the company.
In this article, we are going to share our 4 best HR strategies, the keys to our last 10 years of excellence – and still counting. Take your pen out, cause' there will be some good insights to note down!
Goal-setting is not solely board of director's task
Many people have a misconception that goals must be top-down instead of bottom-up. Although it's not wrong, it doesn't tell the whole story. Traditional goal setting, where goals are set at the top level of the organization and then broken into subgoals for each level of the organization, might be convenient and easy to execute – yet it lacks transparency and unity among different levels in the company. 
Also, because traditional goal-setting fixates on the assumption that top managers know what is best because of their ability to see the "big picture", it passes on the dimensionality of the problem. Therefore, the top management fails to engage everyone with the same motivation, hence, result in the increasing resistance as the goals pass down.

In order to prevent the germ of collapse resulted from the ineffective corporation goal-setting, Savvycom has switched from the traditional strategy to MBO (Management by Objectives), where specific performance goals are jointly determined by employees, in association with  BSC (Balance scorecards) to maximise the efficiency of company goal accomplishments. 
That being said, employees are then allowed to contribute to the overall wealthiness of the company – directly. This leads to 3 major impacts to both employees and the company, which happens to lie in 10 most important reasons why employees will stay, as per
Nielsen
research:
Transparency of strategy from upper sits to lower-level positions.

A sense of leadership, a feeling of inclusion, a deeper level of commitment.

Empowerment.
Right after applying MBO, Savvycom's employee satisfaction, as recorded and reviewed by internal surveys, recognised a new record of 83%. The speed towards goal achievement was also 18% faster than that of traditional goal-setting. The figures continue to improve up til' today, after 10 years of development and 4 years since goal-setting strategy alteration.
Off-the-job behaviours are of concern
There is always a blur, grey line between work and life. Lots of psychological research has pointed out the link of behaviour among different circumstances – that includes workplace ones as well. For example, a woman who tends to binge eating at home has a high possibility to also binge eating at work, regardless of how she argues that she only overeating at home because she has nothing to do since her habit is probably bound to be. Therefore, managers shall also roll their eyes to employee's off-the-job behaviours in order to create a comfortable working environment and smarter task allocation, to which their daily habit may align. 
Understanding such a connection, Savvycom encourages managers from all departments to care more about the off-the-job behaviours with an aim to generate more values to the employees. 
Still, we keep in mind that caring about their out-of-office convention and sneaking into their personal life are two different stories. A tactful manager knows how to analyze normal office gossips and combine them with employees' behaviours at work to derive essential information without causing them a sense of being overcontrolled. Therefore, Savvycom managers always try to show that we truly care about our employees instead of caging them to give them senses of comfort.
After applying the tactics, Savvycom employees' task completion rate shows a significant improvement as they finished the tasks faster and more precisely.
Learning – together
Knowledge and skills are, by figurativeness, food for our souls. Humans need foods to survive, and know-how to grow. However, they are also social creatures that depend heavily on their community to act actively and efficiently. According to research, nearly 70% of people show more impressive results at work under "group learning", which proves the power of learning together in corporative contexts. 
Given the finding, Savvycom HR team started to engage employees with weekly workshops, where they are encouraged to share their knowledge, discuss multiple technological trends in the world and learn new skills in order to broaden their views. The company also focuses on organising in-depth supplementary classes with an updated syllabus and recent intelligence – using group discussion and mock projects as the main teaching method – for employees to co-learn and compete with each other to excel new skills. 

It's also a good activity to improve employees' ability to confront and absorb new ideas – even the opposing ones, as well as to accept that their solid beliefs could be wrong and welcome intellectual humility. Those skills will eventually benefit them in communicating and negotiating with our clients, who often pose contrary opinions against development teams. The partnership will, therefore, be strengthened and later result in excellent product delivery.
"The most impressive thing about Savvycom is that they satisfied all requirements we expected our outsource company to be: skillsets, culture, communication and the desired partnership. It's collaboration. I really don't look at it as I'm dealing with a vendor but a partner."
David Cheng – iHeart Local founder
Physique and intelligence are equally prioritised
Finding that software development is somewhat the "unhealthy" type of work that requires intense focus and extensive hours of working, Savvycom applies the philosophy that "Physical stamina is the energy to reduce the toxin of the hard work" into building the company culture. Savvycom upholds not only a tradition of "brain sharpening" as manifested by weekly workshops and learning subsidiaries, but also a culture of physical wellness.
As such, Savvycom spares a large amount of budget in organizing gym activities in order to create a "physical training" commotion within the company. The activities include periodic outing days, sponsoring gym membership and weekly "happy Friday" where employees are regaled with fruits and clean food. By doing so, Savvycom expects all employees to be healthy – inside and out, therefore, contribute more to their jobs and the development of the whole company. 

Up til' today, more than 50 outing events have been organized, each delivered different health-improving games that satisfied over 95% of employees as recorded by internal satisfaction surveys. The "gym club" of Savvycom, after running for 4 years, has attracted more than 60% of employees to register and training together on the company subsidiary. A reward system is also developed in order to recognise people who actively engaged in the company's wellness movement, so that they have the motivation to commit more.
Savvycom keeps the faith that humans are the one thing leading the company to sustainability. No matter how many times the products may fail, how many crises the business may be snowed under – as long as our people are there, we can always see the light. Therefore, treasuring our talents and nurture them through proper "watering" to solve complex problems for clients will always be our doctrine for excellence.
Contact us for job opportunities and sustainable partnerships:
This week, CommunicAsia was held from 23 May to 25 May 2017 at the Marina Bay Sands in Singapore. This event showcases products like the immense presence of 3D printing technologies, cloud computing services, connected devices, content management, mobile applications and services, smartphones, satellite technologies and other products and services etc. in the Computer Hardware & Software, Telecom Products & Equipment industries.
As a member of VNITO, Savvycom joined CommunicAsia 2017 with the goal of fostering collaboration between Singapore and Vietnamese technology companies. Based on two main reasons: Vietnam is an attractive market for IT companies in Singapore as well as a good resource of engineering talents for Singapore Smart Nation, Savvycom and VNITO delegation always tried their best to introduce Vietnam IT services to the global market.
Let's check our journey here:
For further enquiries, please do not hesitate to contact Savvycom at:
The Industrial Internet of Things (IoT) will redesign companies and countries, opening up a new era of economic growth and competitiveness.
The IoT has emerged as a driving force behind connectivity demands in a number of industries – from utilities to industrial and manufacturing. Many companies need to have an overview of IoT and a proper plan to keep up with the competition according to some of the findings in surveys by the Business Performance Innovation Network (BPI Network) and the Eclipse IoT Working Group.
Still got questions? Ask us: