Getting The Right Estimate For Healthcare App Development Cost
In an increasingly digital world, healthcare is one sector that's witnessing remarkable transformation through mobile apps. Whether you're a medical practitioner aiming to provide efficient care or an entrepreneur looking to tap into the lucrative healthcare industry, going for healthcare app development is the right decision. But how much does it cost to develop a healthcare app? That's the question we're going to answer in this comprehensive guide.
The shift towards digital health has been nothing short of revolutionary. Today, we live in a world where you can monitor your heart rate with a simple tap on your screen, schedule a doctor's appointment in seconds, and have prescription medications delivered to your doorstep, all thanks to healthcare apps. These advancements have not only made healthcare more accessible but also more efficient, saving time for both patients and healthcare providers.
In this article, Savvycom will delve deep into the details of healthcare app development costs, providing you with a thorough understanding that can help you make an informed decision. Let's pave the way for a healthier and more connected future.
Healthcare app market overview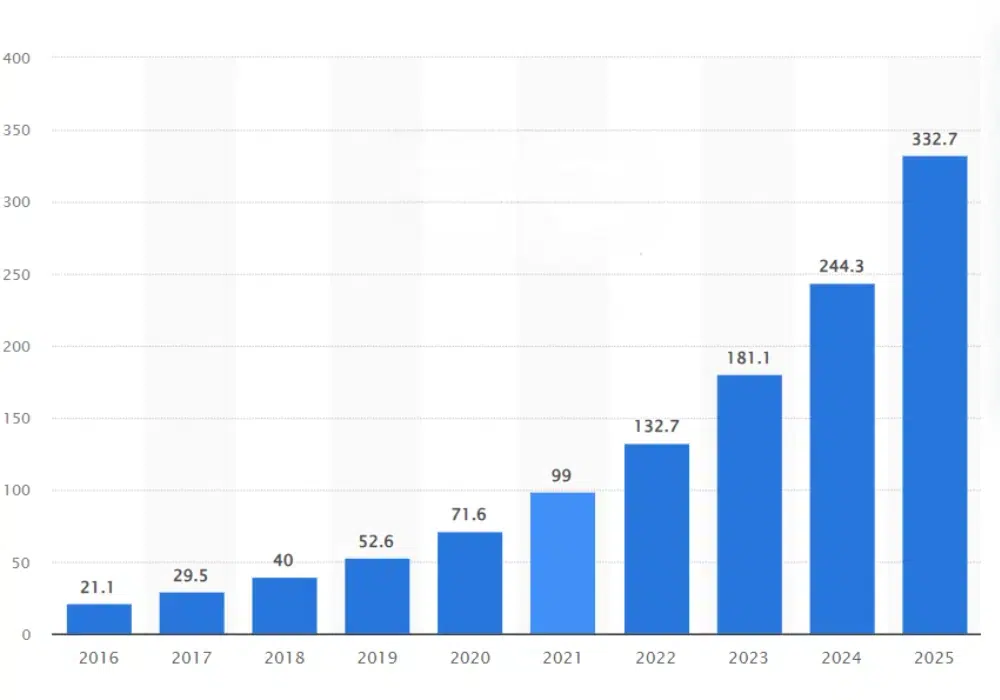 Total global mHealth market forecast 2016 – 2025 (Statista)
Healthcare apps are now essential tools for both patients and healthcare professionals due to the rising need for affordable and effective healthcare services.
The digital health market is expected to hit 660 billion USD by 2025. (Statista)
The total global mHealth market forecast in 2025 will reach 332.7 billion USD (

Statista

), with a CAGR of 11.6% from 2023 to 2030 (Grand View Research).
User penetration will be 13.42% in 2023 and is expected to hit 16.25% by 2027. (Statista)
Telehealth will have a whopping 83% increase in total annual revenues in 2021 compared to 2019. (McKinsey)
Two-thirds of the largest US hospitals offer mobile health apps. (Accenture)
90% of physicians now use mobile phones at work to access electronic health records, connect with other doctors, look up information, or manage their schedules. 
Half of health app users use the app once per day (23%) or multiple times per day (27%). (Morning Consult's)
Wearables and other mHealth solutions assist 74% of patients in dealing with and controlling their conditions. (Boston Technology Corporation)
Factors influence healthcare app development cost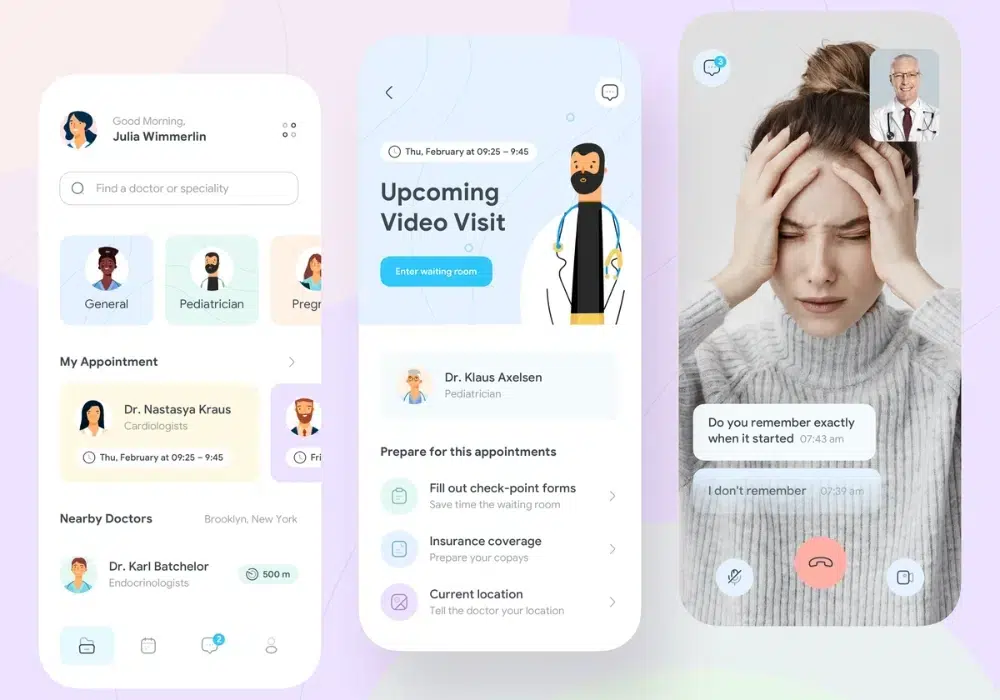 Similar to other apps, healthcare app development is also influenced by certain factors. You should be aware of all these factors before heading to the cost estimation.
1. App purpose & complexity
When estimating the cost of a healthcare app, it's crucial to take into account its specific functions. Apps designed for patients, for instance, may need extra features like secure logins or payment processing, which can increase the time and cost of development. More intricate apps will naturally require more resources to create than simpler ones, like appointment booking or medication reminder apps. Specific hardware components may be required for apps that serve specific tasks, increasing prices based on the size of the project.
2. Mobile platform choice
The choice between iOS, Android, or cross-platform development will significantly influence the cost. Native apps (separate apps for iOS and Android) typically cost more to develop because you essentially build two different apps. Cross-platform tools like Flutter or React Native can reduce cost but might not deliver the same performance or user experience.
3. Functionality test
The cost of developing a healthcare app is influenced by the number and complexity of requested features. Advanced features that utilize AI for symptom assessment, telemedicine options, and interaction with IoT devices require additional resources and result in higher development costs.
| | |
| --- | --- |
| Core functions | Advanced features |
| User profile | AI-powered symptom checker |
| Geolocation | Remote patient monitoring |
| Appointment booking | Prescription renewal |
| Health tracking | Health analytics |
| EHR integration | Electronic prescription service (EPS) integration |
| Push notifications/reminders | In-app consultations |
| Emergency assistance | Wearable device integration |
| Online consultation | Lab test results |
| Health tips & education | Insurance integration |
4. UI/UX design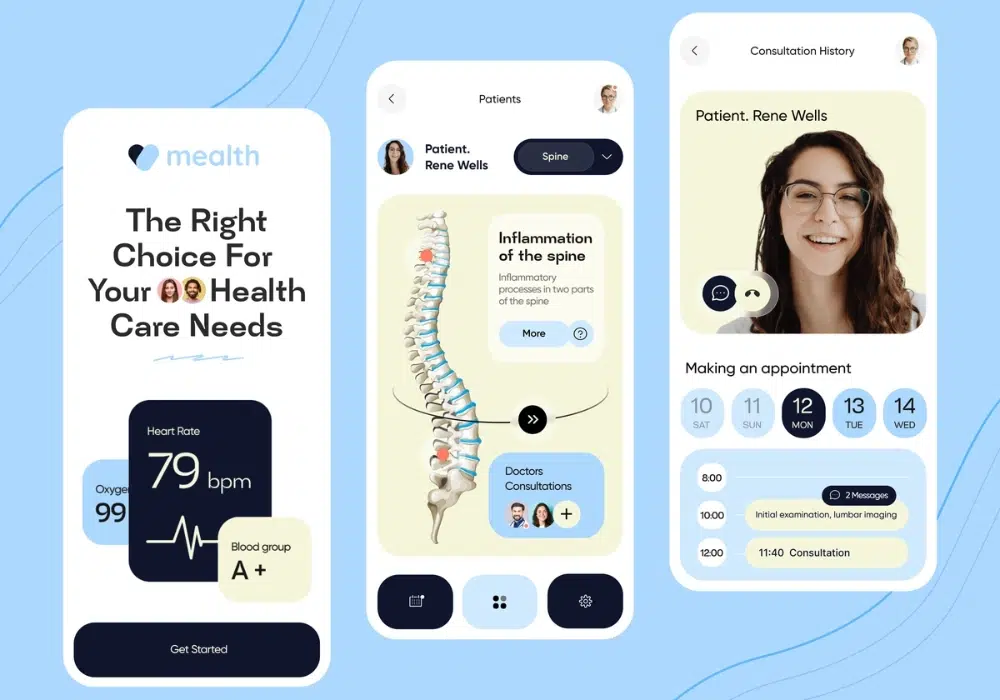 The design of an interface is critical to the success of a healthcare mobile app. Its primary goal is to create an interface that is easy to use and aesthetically appealing, increasing the user experience.
The design service cost is impacted by the following factors:
Design complexity
Number of screens
Customization & branding
User research & testing
Responsive design
Collaboration & communication
A user-friendly and easy-to-navigate UI/UX design matters most for healthcare mobile applications. The two principles affect user satisfaction, engagement, and performance. Our designers understand healthcare app design standards and best practices, allowing them to construct an interface that matches your company's demands.
5. Development team
The method of collaboration adopted may have an effect on the costs. Hiring an internal development team will incur startup costs like pay, benefits, and facilities. However, if you opt to outsource healthcare software development, you may reduce your app-building costs while still receiving a high-quality product from your vendor.
If you seek assistance from an outsourcing healthcare software developer, you should be aware that their service payment calculation is based on hourly earnings, which vary depending on the outsourced destination. The following are the average hourly rates for outsourcing the services of healthcare app developers:
| | |
| --- | --- |
| Popular outsourcing region | Hourly rate ($/hour) |
| Southeast Asia | $20 – $50/hour |
| Western Europe | $72 – $500/hour |
| Central/North Europe | $50 – $60/hour |
| North America | $50 – $200/hour |
| Africa | $20 – $45hour |
Looking For a Dedicated Team?
A Dedicated Team might be the best solution in your case. Get in touch with us and we'll help you choose the best IT outsourcing model based on your business needs and requirements.
6. Developer expertise 
Evaluating a developer's experience, skill, and familiarity with healthcare industry standards and regulations is essential when selecting them for a project to create a healthcare app. A professional and diverse team of developers capable of providing technical advice can improve the development process and provide a healthcare app that satisfies specific needs.
The cost of developing a healthcare app is also affected by the developers' experience. Your team can include junior, mid-level, and senior developers.
You should understand that developers are not the only team members that should be assembled to create a healthcare application. The following people should be on the project team: Project Manager, Business Analyst, UI/UX Designer, Frontend Developer, Backend Developer, Mobile App Developer, QA Engineers, Solution Architect, and DevOps Engineer.
7. Compliance & regulation
The creation of healthcare apps is highly regulated and subject to strict compliance criteria. Creating a healthcare app requires an extensive understanding of the regulations that govern the business and an awareness of how they must be applied in practice. In the United States, this entails adhering to HIPAA standards (as well as GDPR requirements in EU regions), which govern, among other things, how protected health information should be handled.
In addition to comprehending the regulations, healthcare app developers must factor in compliance costs when pricing their services. These expenditures include fees for getting certification from regulatory bodies such as the Office for Civil Rights (OCR) and completing other legal obligations. They may also include costs for continuous maintenance and upgrades to the healthcare app to maintain compliance.
8. Maintenance and Updates
After the initial launch, your mobile application will require ongoing maintenance, updates, bug patches, and possibly even new features, all of which will contribute to the total cost of the product over its lifetime.
healthcare app development cost estimation by types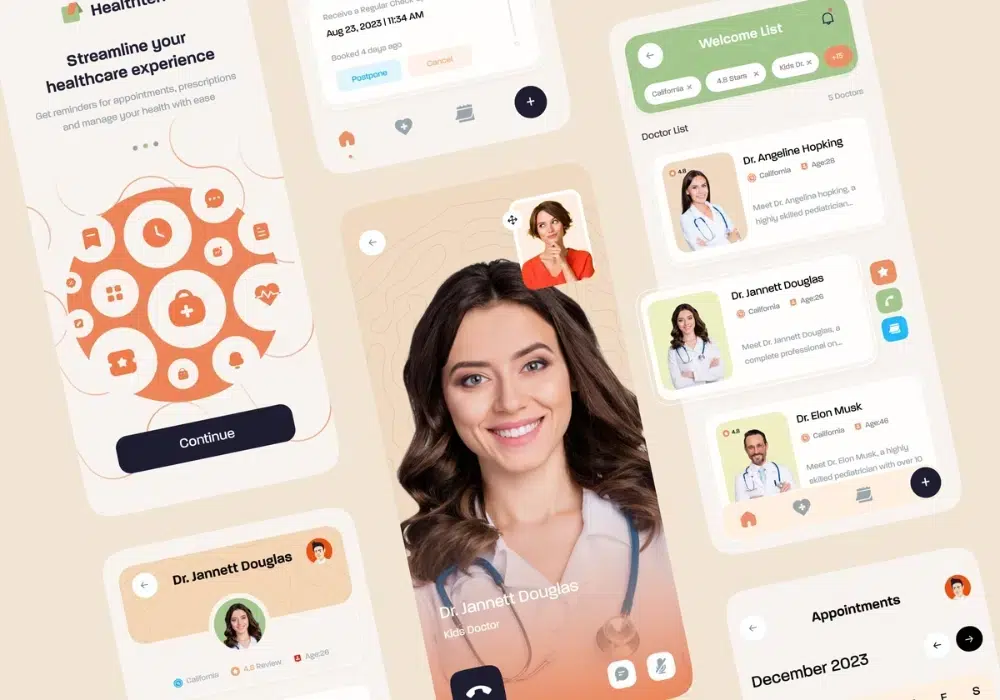 Now that we've discussed the factors that influence healthcare app development costs, we'll provide estimates for each type of healthcare app. You should expect a huge variance amongst the six most popular app kinds.
1. Telemedicine applications
Telehealth applications connect patients and healthcare providers via smartphones, tablets, or laptops, allowing for easy remote consultations. Thanks to such revolutionary virtual visits, patients and physicians may connect effortlessly for diagnosis, treatment, and medication delivery.
A typical telemedicine app can have these features:
Doctor profiles to assist users in selecting a doctor

Appointment scheduling enables patients to plan virtual meetings with physicians

Real-time video consultations to facilitate distant examinations and conversations

Automated alerts with appointment reminders or medication regimens, as well as secure chat to connect with doctors

Online doctor's prescriptions

Secure payment gateways allow for smooth transactions for supplied services, for example.
When creating telemedicine software, it's important to explore established apps like Babylon Health and Doctor on Demand. It may cost from $75,000 to $250,000 to build these solutions. 
2. EHR/EMR systems
Electronic health record (EHR) or electronic medical record (EMR) systems enable healthcare practitioners to develop, retain, and retrieve patient health information electronically. These systems serve in place of traditional paper-based medical records while providing a more simplified and effective way of handling healthcare data. The only difference is that EHR data is designed to be used by physicians from several clinics, whereas EMR data is intended to be used by clinicians from a single medical organisation.
The following features are required in an EHR or EMR system:
Data management for patients (e.g., medical history, allergies, prescriptions, and test results)
Electronic charting is used by doctors to keep track of their patients.
E-prescribing facilitates and ensures the accuracy of prescriptions.
Integration with medical imaging systems, such as PACS, for viewing and storing diagnostic pictures.
Simple management of testing findings and reports
Clinical decision support (e.g., alerts, reminders, and recommendations for diagnosis and therapy), etc.
To develop a system like NextGen Healthcare or eClinicalWorks, you need to pay around $100,000 – $500,000.
3. Mental health apps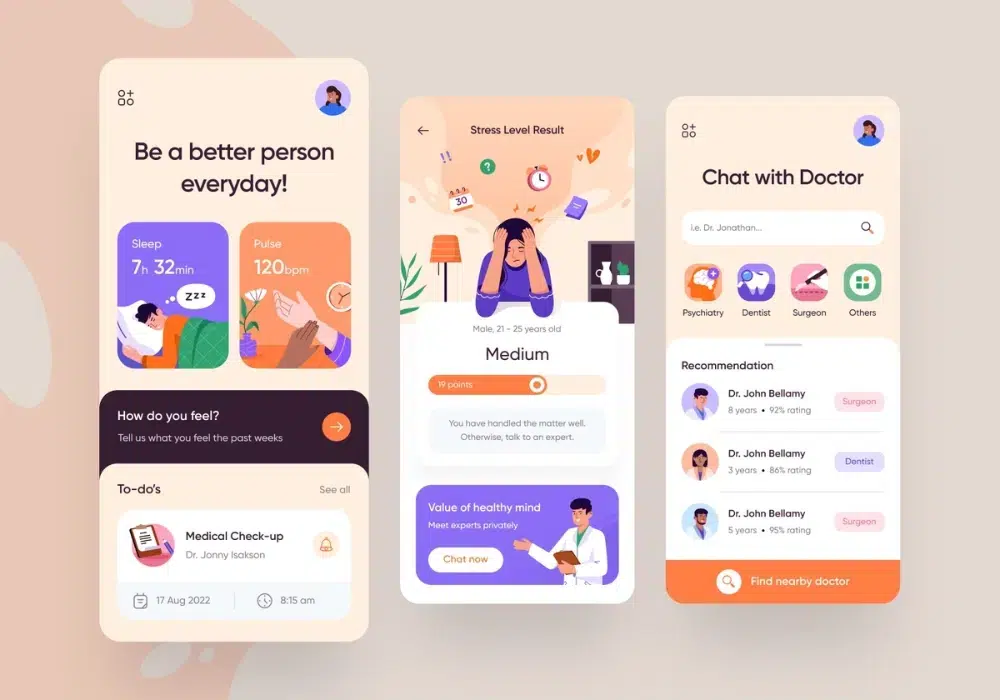 A mental health app is a piece of medical software that helps people manage their mental health by providing resources, tools, and support for self-care, treatment, and emotional well-being.
Consider the following features for a mental health app:
Interactive self-assessment tools allow users to monitor their emotional and mental health
Functionality for recording and monitoring daily moods, emotions, and pertinent elements
Guided meditation and mindfulness techniques for stress reduction and relaxation
Access to licensed therapists or counselors via encrypted chat or audio/video sessions, as well as crisis support services for rapid help
Educational information on mental health subjects, as well as forums for people to interact, exchange experiences, and give mutual support
Reminders and notifications that may be customised to promote self-care, medication adherence, and therapy sessions, among other things.
The budget to build a solution similar to Calm, Woebot, ranges somewhere between $60,000 – $150,000.
4. Remote monitoring apps
Remote monitoring systems (such as Medtronic MyCareLink and Phillips eCareCoordinator) are software solutions that enable healthcare providers to collect and transmit patients' health data from remote locations to facilitate timely interventions.
A remote monitoring app will often include:
Monitoring health indicators such as heart rate, blood pressure, and glucose levels
Secure transfer of health data for continuous monitoring and analysis
Customizable notifications for prompt responses based on aberrant health data changes, as well as tools for analysing and visualising health data to discover trends and dangers
In-app messaging and video conferencing for distant contact with healthcare providers
Personalised care planning and goal setting for continual monitoring and progress tracking
Strong security measures to safeguard patient data and assure compliance, and so forth.
The cost of a remote monitoring system is determined by the complexity of the software, the services it offers, and the team's location. As a result, the price might range from $50,000 to $500,000+.
5. Patient portals
A patient portal is a computer program that allows patients to access their health information, which includes medical records, personal profiles, health billing management, and healthcare service histories. It is designed to promote self-care, improve health literacy, and facilitate communication between patients and medical service providers.
When building a patient portal, consider the following features:
Complete personal health information via PHR
Effective appointment scheduling with healthcare providers
Secure messaging for communication and guidance
Convenient prescription refill requests
Patient awareness education materials
Convenient billing and payment handling
For sample apps, see successful apps like NextGen Patient Portal and Follow My Health. The cost will span from $75,000 to $250,000 to build a similar solution.
6. Hospital & clinics management apps
A cutting-edge hospital and clinic management tool will change how you run your healthcare organisation. Difficult administrative duties are a thing of the past as a result. This robust tool enables healthcare practitioners to organise patient appointments, keep medical data, arrange staff schedules, handle billing and invoicing, and communicate seamlessly between departments. Hospital and clinic management systems include eHospital Systems and SoftClinic.
Below are the features that help a management app runs well:
Streamlined patient appointment scheduling
Storage and access to digital medical records
Tools for managing employees' schedules, shifts, and assignments
Creating precise invoices and simple payment processing
Effective communication with encrypted chat and in-app messaging
Smooth lab and pharmacy integration for efficient test ordering, result retrieval, etc.
On average, one will spend between $100,000 to $300,000 to build hospital management software.
How do healthcare app make money?
Healthcare apps can generate revenue in several ways, depending on their specific business models. Here are some common ways healthcare apps make money:
Subscription Fees: Users can pay a monthly or annual subscription fee to access the app's features. This is common for telemedicine apps, digital health record systems, and premium wellness and fitness apps.
Pay Per Consultation: Some healthcare apps charge a fee for each virtual consultation with a healthcare professional. This fee could be fixed or could vary based on the type of professional (e.g., general practitioner vs. specialist).
In-app Purchases: Certain features or functionalities might be available for purchase within the app. This might include premium content, personalized health plans, or special services.
Partnerships with Healthcare Providers or Insurers: Some apps make money through partnerships with hospitals, healthcare providers, or insurance companies. For example, an insurance company might pay the app to encourage policyholders to use it for virtual consultations.
Selling Anonymized Data: If privacy regulations permit, healthcare apps can sell anonymized, aggregate user data to third parties such as pharmaceutical companies or research institutions. This data can be valuable for research or for developing new healthcare solutions.
Advertising: Though less common due to privacy concerns and regulations, some healthcare apps may feature advertisements or sponsored content. However, any such advertising must typically adhere to strict guidelines to ensure it is not misleading and does not compromise user health or privacy.
Commission on Pharmacy Orders: Apps that have partnerships with pharmacies can earn a commission on orders placed through the app. For example, if the app facilitates prescription refills and the order is filled by a partner pharmacy, the app might receive a portion of the proceeds.
Hardware Sales: Some apps are tied to specific hardware like health tracking devices. The app itself might be free, but the company makes money by selling the associated hardware.
Conclusion
Understanding the cost of healthcare software development is important, as it can differ greatly depending on factors such as the app's complexity, the technology stack used, the development team, and the timeline. To ensure accurate cost estimates, it's crucial to clearly understand your project needs and work with a reliable and experienced software development company. They can guide you through the process and provide an estimate of the expenses involved.