How to Build A Successful Healthcare App: In-Depth Guide for Founders
Healthcare has undergone an important transformation in an era of technological developments and the rise of mobile applications. Healthcare apps have evolved as a potent tool for bridging the gap between medical services and patients, providing many advantages to individuals and healthcare providers. They have transformed how we approach medical care by making information more accessible, increasing patient outcomes, and expediting healthcare processes. Healthcare apps, from telemedicine to personalized health monitoring, have become essential to modern healthcare ecosystems.
This guide covers the benefits of healthcare apps, explores types and use cases, highlights essential features, provides a step-by-step healthcare mobile app development roadmap, and discusses cutting-edge technologies for a seamless user experience.
1. What is healthcare mobile app development?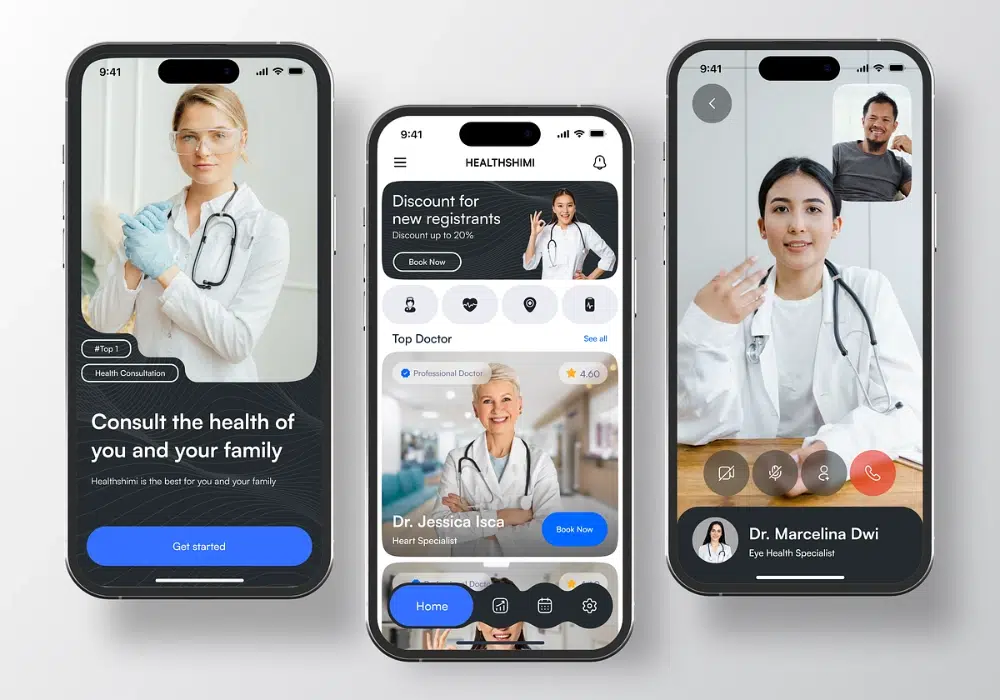 Healthcare software development, often known as healthcare app development, is the process of creating an app for mobile devices that allows users to track and follow their health conditions in real time.
The creation of healthcare mobile apps serves several purposes:
Doctors and medical workers benefit from it in terms of monitoring, patient tracking, staff administration, appointment scheduling, and so on.
Patients can use mHealth app development to track their health, seek medical advice, and schedule visits.
The market for healthcare mobile app development services is burgeoning and presents a substantial opportunity. The following key statistics underline the relevance and growth of this sector, particularly pertaining to wellness app development:
As of now, Apple's App Store boasts a staggering 45,478 healthcare-related applications.
The Google Play Store is also a significant player, hosting approximately 43,285 health-centric applications.
The mobile health (mHealth) sector experienced an impressive infusion of $13.7 billion globally in 2019.
A survey by leading consultancy firm Accenture underscored the growing awareness among patients about these health-oriented apps, with roughly 75% recognizing their significance.
Future projections indicate an upwards trajectory as well. It is estimated that by 2026, the telemedicine application market will achieve a valuation of $17.14 billion.
This data emphasizes the compelling potential for growth and investment in the healthcare mobile app development industry.
2. Healthcare app's benefits
For medical professionals 
The construction of a healthcare application is an intricate and potentially costly endeavor, but the benefits it delivers to its funders and stakeholders are manifold:
Prompt Decision-Making – Integrated patient medical records through healthcare apps facilitate quick judgments and prescriptions by medical professionals.
Reliable Diagnosis – Precise diagnosis leads to improved treatment strategies, timely medical care, and favorable results. For example, VisualDx stands out among diagnostic support systems and healthcare apps for personalized advice.
Enhanced Connectivity – Telehealth applications provide a platform for physicians to engage in crucial consultations and dialogues remotely.
Diminished Stress and Burnout – The development of healthcare apps and software alleviates routine tasks, thereby boosting the trustworthiness of medical systems and operations. The elimination of paperwork in hospitals and medical centers surprisingly led to a 61% surge in productivity among physicians and staff.
Superior Service and Equipment Oversight – Contemporary technologies enable healthcare entities to monitor equipment in real-time and adjust its usage as needed. For example, creating a healthcare app to keep tabs on all active ventilators on the premises.
Comprehensive Healthcare Provision Cost Reduction – The accumulation of all the above advantages culminates in a significant decrease in healthcare provision and service expenses.
For general users
General users also have specific advantages by using a healthcare app:
Superior Care Quality – Coupled with automation facilities for providers, users can obtain personalized health strategies and solutions designed with their unique medical requirements in mind.
Accessible Medical Information – A mobile healthcare app can effectively distribute medical records, sharing them with medical services for improved supervision. An example of this is UpToDate, a healthcare mobile app that monitors workflow, medical news, HealthKit, and users' daily accomplishments.
On-demand Accessible Care – Healthcare app development brings on-demand medical services within easy reach. This is comparable to ordering sushi from local restaurants with just a few clicks. This implies faster delivery of care, including medication delivery and prescription services.
Secure Transactions – In-app payments via credit cards are both feasible and extremely secure, thanks to healthcare software development. Regarding security, blockchain technology can also be employed for transactions in the healthcare field.
Enhanced Patient-Provider Communication – Certain medical apps are used exclusively within hospitals to maintain real-time communication with patients. For example, the "YouCoMM health app" is a multi-request platform designed for in-hospital patients, enabling them to reach out to nurses for basic assistance.
3. Healthcare app vs medical app
While both healthcare and medical app development aim to improve people's health, there is a delicate line between the two. The development of healthcare mobile applications strives to deliver health-related solutions for all types of smartphones and communication devices. For instance, apps for physical activity tracking, yoga and meditation; nutrition; searching for medical assistance nearby, etc.
On the other hand, medical app development entails developing a software solution for mobile devices that clinicians may use to regulate their medical devices. For example, apps for telemedicine, remote patient monitoring, patient data collection and management, chronic disease management, etc.
| | |
| --- | --- |
| Healthcare App | Medical App |
| These apps are available to the general public and can be used by anyone. | Medical apps are designed solely for medical practitioners. |
| Healthcare apps concentrate on medications and medical information depending on a certain health condition. | Medical apps use analytical data to make diagnoses. |
| Healthcare app development can handle any situation without needing a process or claim. | Because medical app development is based on medical evidence, it must comply with the testing and adherence methodology. |
| These apps allow users to get daily health-tracking data. | These apps offer assistance and access to medical devices as well as information such as EHR. |
| Development of mobile healthcare applications typically costs less, depending on a number of criteria. | The process of creating medical apps can be expensive. |
4. Types of healthcare mobile apps
Type 1: Professional Solutions
These healthcare apps are created more complexly with cutting-edge and dependable features to add value to medical personnel, facilities, doctors, and physicians.
Medical Networking App: Despite their hectic schedules with patient care and consultations, medical professionals and specialists must connect with one another and share knowledge to enhance the communication process as a whole. Medical networking apps are used for this communication.
Telehealth App: Using in-app messaging and video conferencing, these apps allow doctors to set up appointments and conduct medical consultations. Since they help prevent physical contact and allow care to be given in the comfort of their home, telehealth app development is practical for doctors and patients.
Medical Record App: Medical record health apps make collecting and updating patients' medical data easier. Blood pressure, temperature, medical tests and diagnoses, medications, appointments, and other criteria for tracking medical health are included in the data records.
Medical Prescription Apps: Prescription healthcare apps assist doctors in selecting the best drug for their patients, organizing it into a list, and tracking usage and time. Some medical apps even allow patients to print prescriptions to show at a nearby pharmacy.
Type 2: Apps for patients
Mental Health Apps: Mental health apps aim to make therapy more accessible, adaptable, and efficient for all users. These apps typically help with anxiety, sadness, and sleeplessness by utilizing various pre-recorded sessions, gaming components, breathing exercises, etc.
Health Monitoring Apps: Many healthcare mobile app development companies invest in health monitoring apps since they are in high demand. These health monitoring apps aid in the tracking and management of chronic illnesses such as diabetes and blood pressure.
Medical Education Apps: Medical education apps aim to maintain a reliable database of up-to-date medical knowledge for doctors, students, and medical users.
Health Lifestyle Apps: This mobile healthcare app development category for patients includes various programs that help us attain a healthy lifestyle, such as fitness apps, self-improvement apps, weight reduction apps, mind training apps, and many more.
5. Use cases for a healthcare app
To provide a product that is relevant and in demand, you should first establish the sort of application that matches your demands and aims. You must monitor and implement industry trends to develop the most effective healthcare application.
Today's healthcare sector offers a wide range of healthcare app use cases.
Use Case #1: Telehealth & Telemedicine: These days, there is a high demand for telehealth and telemedicine software that connects doctors and patients. These applications have become increasingly popular during the COVID-19 pandemic and social isolation. These technologies allow medical professionals to offer remote medical services, communicate online, and provide more efficient medical treatment.
Use Case #2: Electronic Health Record (EHR/EMR): EHR/EMR systems allow you to track, save, update, and collect all of your patient's medical information on a single platform. This saves time, reduces manual errors, and allows patient data to be transferred between institutions.
Use Case #3: Health Informational Exchange (HIE): Critical indicators such as body temperature, blood pressure, heart rate, and so on must be monitored in order to make an accurate diagnosis and preserve patients' well-being and quality of life. The HIE solution enables easy and quick measurement of a patient's vital parameters using only a smartphone's verification. This allows the system to transport data faster, and clinicians can simply monitor and evaluate the required data.
6. Essential features of a healthcare app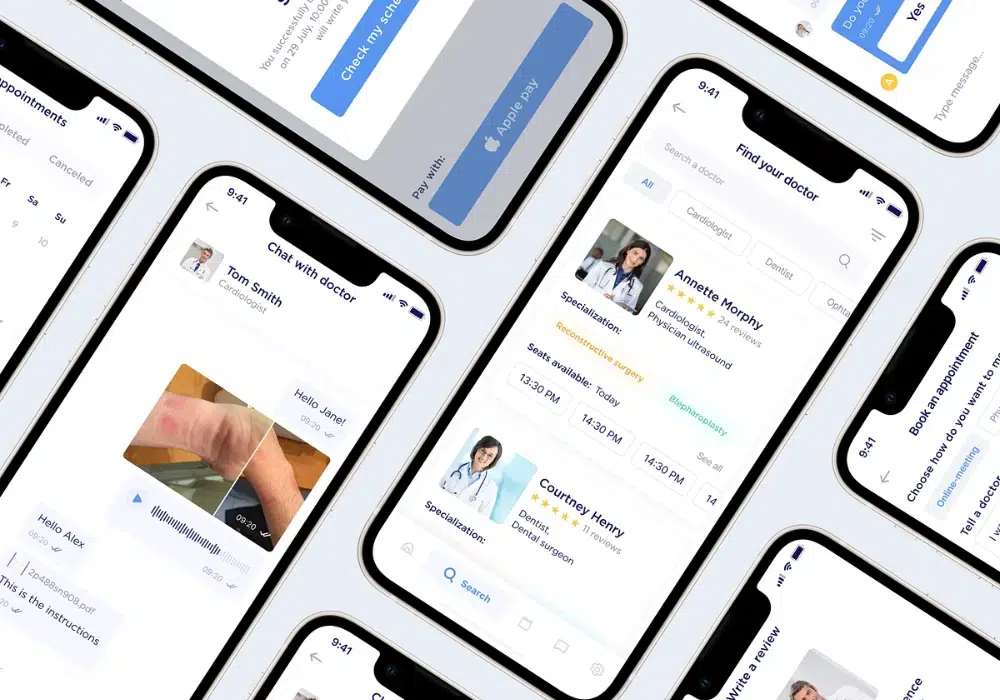 To create healthcare applications that people would use, include features that engage users and provide tangible advantages. Surely, the features you choose will determine whether you want to design a mobile medical solution for health tracking, fitness, or remote patient monitoring. Nonetheless, there are certain components that every health application must have to succeed.
User profile – Healthcare solutions, like any other mobile application, typically feature a user profile. After creating an account, patients can enter their personal information (name, age, chronic conditions, insurance, etc.). This type of account may additionally save their health data and offer a customizable dashboard.
Tracker – This is the most critical element of a healthcare mobile app. It measures a patient's blood pressure, heart rate, calorie consumption, pulse, and glucose level. This capability is made feasible by integrating wearable devices such as heart rate monitor trackers, glucose meters, and other solutions.
Scheduling – This feature allows users to simply schedule a doctor's appointment or appointments with healthcare professionals. It is also possible to arrange a drug prescription, sleeping hours, water intake goals, and so on. Physicians can easily manage their timetable and track how patients follow doctors' prescriptions.
Database – A database for patients can be developed as part of healthcare application development. As a result, clients can save their medical information, including the results of any analyses, x-rays, reports, and other files, within your solution. This function is also useful for doctors because patients can upload their data and receive recommendations remotely.
Real-time chat – The ability to communicate with a doctor through an app will speed up services and aid in the development of trusting relationships between people and healthcare providers.
Video call – You may enhance the communication aspect of your application by incorporating video conferencing into the healthcare application development process. Telemedicine application creation is prevalent because not all patients can visit doctors in person. Video conferencing allows patients to have an in-hospital experience and visit the doctor's office without leaving their homes.
Geolocation – This is another feature to think about for your project. The presence of this function can assist patients in locating a doctor in a nearby place.
Payment gateway – Mobile payment integration is becoming more popular. Users can use payment options to pay for healthcare services or insurance. Regular bills for doctor visits, emergency rooms, hospital admissions, and so on may also be paid. Online payment with just a few clicks provides excellent consumer satisfaction.
Rate and review – This feature will be useful for apps that provide access to information about healthcare staff. To begin, any patient can share their experience with a doctor and assist other patients in making decisions. Second, this will increase personnel engagement in developing loyal relationships with customers.
Never Miss a Deadline with Savvycom
Get in touch with Savvycom for a free consultation. We'll help you decide on next steps, explain how the development process is organized, and provide you with a free project estimate.
7. How to develop a robust healthcare app?
When discussing the process for developing a healthcare mobile app, we can identify the following stages:
Identify a problem
Decide the platforms and technologies
Select your app's launch location
Focus on UI/UX
Hire a healthcare app development company
Determine your app monetization model
Build and validate the MVP
Test your app
Launch and monitor the app's performance
Now, let's go and figure out what you need to do for each step.
Step 1. Identify a problem
Addressing end-user's demands is a crucial element of the healthcare app development process. Understand their issues with the current solution and how your application may improve it. Define the user persona as precisely as possible and their desire to proceed with your solution or choose one already on the market for their medical needs.
It can also be useful at this stage to delve deeper and select a healthcare field to launch your app.
Step 2. Decide the platforms and technologies
Another critical aspect of the healthcare development process is deciding whether your application will be delivered on Android, iOS, or the web. Consider integrating a home assistant device to ensure that your application is only a voice command away.
Remember that while younger patients are more comfortable with apps and speech devices, elderly patients typically prefer visiting websites. Your market study will be useful when selecting your application's platforms.
Step 3. Select your app's launch location
When releasing a new app, the most common approach entrepreneurs, business leaders, and tech chiefs take is designing it for their nationals.
Suppose you or your board members choose to go a different route and launch your app abroad. In that case, you need to assess the country-specific difficulties and user personas and the relevant legislation governing the production and deployment of medical apps.
Step 4. Focus on UI/UX
UI/UX design is an integral part of healthcare mobile app development. Older individuals prefer easy navigation and larger letters, whereas younger people prefer a colorful UI with unique and improved functionalities. The design will also be influenced by whether your target audience comprises healthcare professionals, patients, or the general public.
Aside from the visual aspect, take into account how the app will appear on different devices. This component is determined by the platform you aim at. 
Step 5. Hire a healthcare app development company
Hiring reliable mobile healthcare app developers or a development team will ensure that your app contains all of the latest functionalities and features at an affordable price. They would provide a comprehensive overview of building and developing a scalable healthcare application.
Your healthcare app mobile development team will consist of:
Project manager
App developers
Business analyst
UI/UX designer
Tester
Step 6. Determine your app monetization model
The goal of all applications, regardless of genre, is to make a profit. When it comes to how to make money from an app, the healthcare industry typically falls into two categories:
Subscription-based model
Freemium model with paid access to premium services.
Step 7. Build and validate the MVP
To ensure a successful market entry, consider creating an MVP for your healthcare software solution first instead of an entirely functional app. This approach allows for thorough testing and verification of the product's major USPs and essential features. By collecting feedback from early customers, you can gain insights into what additional features to add to your product.
Additionally, presenting your MVP to investors alongside a clear future strategy can demonstrate the demand for your software and attract potential investors.
Step 8. Test your app
When developing healthcare solutions, testing is one of the key phases. Everything from user experience and user interface to content has to be tested. Proper testing will help you reduce development time and costs, detect errors, and greatly improve your reputation as a service provider.
Step 9. Launch and monitor the app's performance
Once your application has been tested, time to introduce it to your users. After launching your app, track its success using the in-app analytics tools established throughout the development phase, handle user complaints and requests, and bring updates to keep users interested. While this was the standard healthcare application development process, the concept and features of your healthcare app can make it stand out from the crowd.
8. How much does healthcare mobile app development cost?
The total cost of a healthcare app development is influenced by various factors, including the number of app features, app platforms, tests, UI/UX design, development team, compliance, and maintenance.
8.1. App features
Features and functionalities have an impact on the final cost of healthcare application development. The more features and functionalities you include in your health app, the higher the cost of app creation. So, it is best to focus on the main functions in the first version of the app. It will assist you in providing an excellent customer experience at a reasonable cost.
8.2. App platforms
The decision between iOS, Android, and cross-platform development will have a substantial impact on the cost. Native apps (separate apps for iOS and Android) are often more expensive to design because you are essentially building two unique apps. Cross-platform solutions like Flutter or React Native can save money but may not provide the same performance or user experience.
8.3. UI/UX design
Creating a simple yet distinctive UI/UX app design necessitates some additional expenses. To make a good impression on your users, you should integrate UI/UX components like iconography, customization, and push notifications into the app. A decent mobile app design will entice your users to download and use your app more frequently rather than abandoning it in the long run.
8.4. Development team 
When creating a mobile healthcare app, there are three development service options available to you.
First, you can choose to employ an in-house team. This option will provide you with high-quality output but can be costly. In fact, it may cost between $100 and $200 per hour, making it less cost-effective, especially for those just starting out.
The second option is to outsource to freelancers from all over the world. This is a good way to save money, but quality is not always guaranteed when working with freelancers.
The third option is to outsource to a reputable mobile app development company. This is the most likely option to provide you with a high-quality app at a reasonable cost.
The hiring cost for your outsource team is influenced by their location. This cost is typically determined by multiplying the hourly rate charge by the development time in hours. We'll examine the rates of various popular outsourcing destinations and use this data later to estimate the total cost of developing a healthcare app.
| | |
| --- | --- |
| Popular outsourcing region | Hourly rate ($/hour) |
| Southeast Asia | $20 – $50/hour |
| Western Europe | $72 – $500/hour |
| Central/North Europe | $50 – $60/hour |
| North America | $50 – $200/hour |
| Africa | $20 – $45hour |
8.5. Regulation compliance
Healthcare apps must adhere to strict regulations. Developing a healthcare app necessitates a thorough understanding of business regulations and their application. HIPAA and GDPR regulations govern how protected health information is handled in the US and the EU.
Healthcare app developers must consider compliance costs when pricing their services in addition to understanding the rules. These costs include certification fees from regulatory agencies such as the Office for Civil Rights (OCR) and other legal duties. Costs for ongoing maintenance and improvements to the healthcare app to ensure compliance may also be included.
8.6. Maintenance
Following the initial launch, your mobile app will require continuing maintenance, updates, bug fixes, and maybe new features, all of which will add to the overall cost of the product over its lifetime.
After assessing the elements influencing your mobile healthcare app development time and cost, below is an estimate of the features and their cost. In this table, we will use the hourly rate of Southeast Asia – the most affordable outsourcing location, ranging from $20 – $50/hour.
| | | |
| --- | --- | --- |
| App features | Est app development time (in hours) | Est app development cost (in USD) |
| Registration, login | 70 – 76 | 1,400 – 3,800 |
| Search, filter options | 100 – 120 | 2,000 – 6,000 |
| Profile screen (Doctor+Patient) | 80 – 85 | 1,600 – 4,250 |
| Voice and video calls | 100 – 140 | 2,000 – 7,000 |
| Appointment scheduling | 180 – 190 | 3,600 – 9,500 |
| Online chat | 110 – 120 | 2,200 – 6,000 |
| Payment options | 30 – 40 | 600 – 2,000 |
| Backend framework | 1,000 – 1,200 | 20,000 – 60,000 |
| Admin Panel | 250 – 280 | 5,000 – 14,000 |
| Code documentation | 10 – 20 | 200 – 1,000 |
| Total | 2,000 – 3,000 | 40,000 – 150,000 |
It should be noted that they only include app development time and do not include other aspects of the project such as QA and management.
Here is a full cost estimate for a healthcare app development service.
| | | |
| --- | --- | --- |
| Function | Est time (in hours) | Est cost (in USD) |
| App development | 2,000 – 3,000 | 40,000 – 150,000 |
| Project management | 150 – 180 | 3,000 – 9,000 |
| Quality Assurance | 130 – 150 | 2,600 – 7,500 |
| Total | 2,280 – 3,330 | 45,600 – 166,500 |
9. Next-gen features to consider for healthcare mobile apps
AI & ML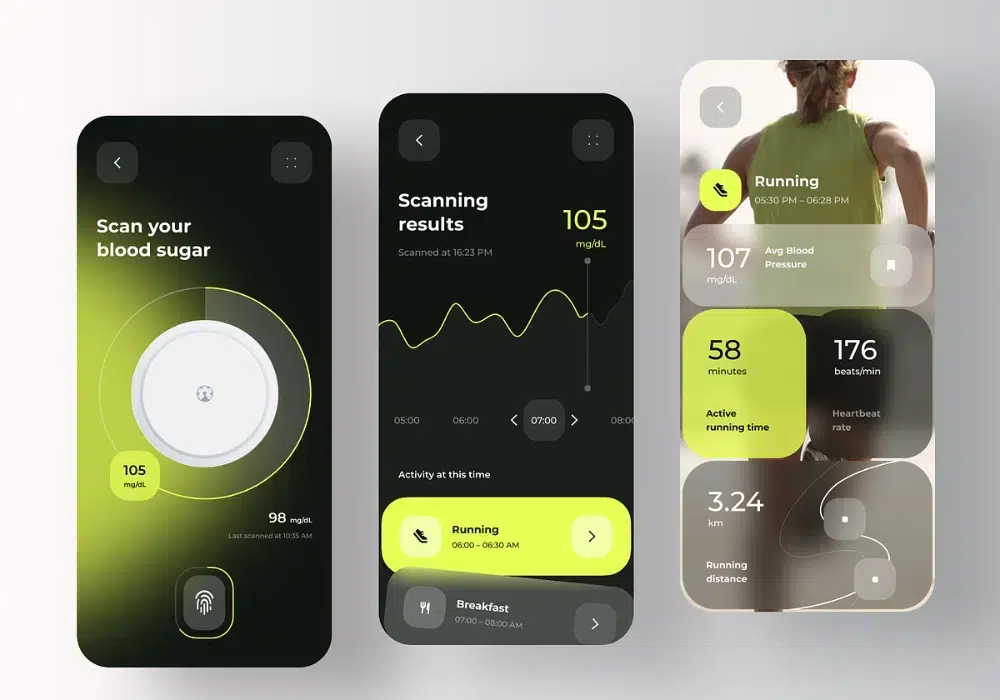 AI is becoming increasingly important in a variety of medical fields. Today's healthcare software, which includes ML algorithms, assists in early diagnosis, recognizing health patterns, and evaluating large amounts of health data. As a result, doctors may make decisions and alter patient therapy more quickly, adapting to their specific requirements.
Intelligent chatbots learn about the patient's condition during a conversation

Medical imagery analysis and patterns identification

Symptom tracking and analyzing apps

Real-time posture detection

ML algorithms fostering discovery and development of new drugs

Preventive medicine

Patient flow optimization
Blockchain
Another emerging technology poised to impact the medical industry is blockchain. One of the most significant benefits of blockchain is that it solves the interoperability problem.
Integration with multiple EHR systems

Medicine tracking in supply chains

Decentralized patient portals where each patient owns and controls access to her data
Internet of Things (IoT)
As technology advances, additional applications for this cutting-edge solution arise. Modern IoT solutions in healthcare go well beyond simply monitoring a patient's vital signs. Aside from remote patient monitoring, IoT aids in medical inventory management, surgical assistance, and pharmaceutical management.
Smart medical appliances

Wearables supporting advanced sensors like ECG and EDA

Traceable medicine
Big Data
Because AI and IoT presuppose the development of massive volumes of data, a system to process all of this data is required. Thus, designing datasets capable of handling millions of calculations in real time goes hand in hand with implementing ML and IoT features in healthcare.
AR & VR
Despite the fact that AR and VR are frequently dismissed as technologies only fit for video games like Pokemon, both have several practical uses in medicine. The first thing that springs to mind is therapy sessions in a virtual setting, especially when done remotely. AR also allows surgeons to train safely and teach trainees necessary skills, and it can be used for indoor navigation in clinics.
Conclusion
In conclusion, healthcare app development presents a transformative opportunity to revolutionize medical services. However, to unlock its full potential, it is imperative to partner with a reliable and experienced tech team. A competent tech partner will navigate the complexities of healthcare regulations, ensure stringent security and privacy measures, and guide the project from conception to fruition.
By collaborating with a seasoned tech partner, entrepreneurs and healthcare organizations can create user-centric apps with essential features and seamless functionality. These apps can improve patient outcomes, enhance accessibility to healthcare services, and pave the way for a healthier future. Finding the right tech partner is the key to unlocking the power of healthcare apps and making a positive impact on the lives of patients and healthcare providers alike. Let's join hands with visionary tech experts to build a brighter and healthier world through cutting-edge healthcare app development.