An Insight into the Technology world.
Analysis and Insight from Savvycom Team.
You can never delivery a successful IT Outsourcing project without a strong and effective software development team. While it's undeniable that each team and each company has their own working style, there are some standards that have been proven true throughout a variety of companies in hundreds of studies done around the world.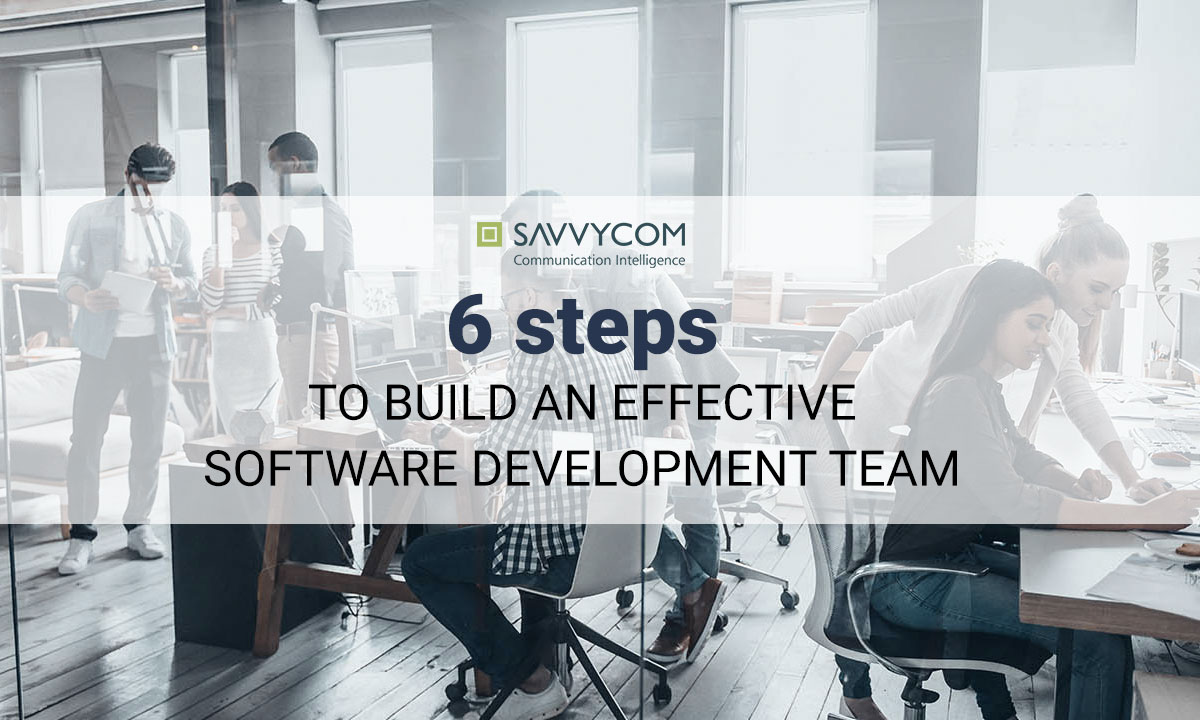 When it comes to a team, size does matter. Teamwork affects team process and the outcomes. Productivity is one of the main reasons why teams are created. Some specific works can only be fully carried out when a team is working on them versus an individual trying to accomplish the same task.
Let's check out 6 steps to build an effective team for your project.
Step 1 – Defining the goals for your team
Unclear instructions and miscommunications are the cause of many problems while teamworking. Different organizations have their own needs. Each team should know exactly what they're working toward including what goals and when they need to be hitting. Is the project about Android app, iOS app or web design? With a long-term and complex project, how many employees would be the most effective? Once you've determined what you want to achieve, start by setting goals for the team.
A meeting for every member of the team would be needed. Team goal helps everyone stay focus and support the team objectives. Setting a deadline is also important as some people might work more effectively under pressure. Deadline additionally reminds everyone to stick to their task, therefore, avoids slowing down the working progress of the whole team. Finding the answers to these questions will lead you to the most ideal team size.
Step 2 – Do you know that team size also affects productivity?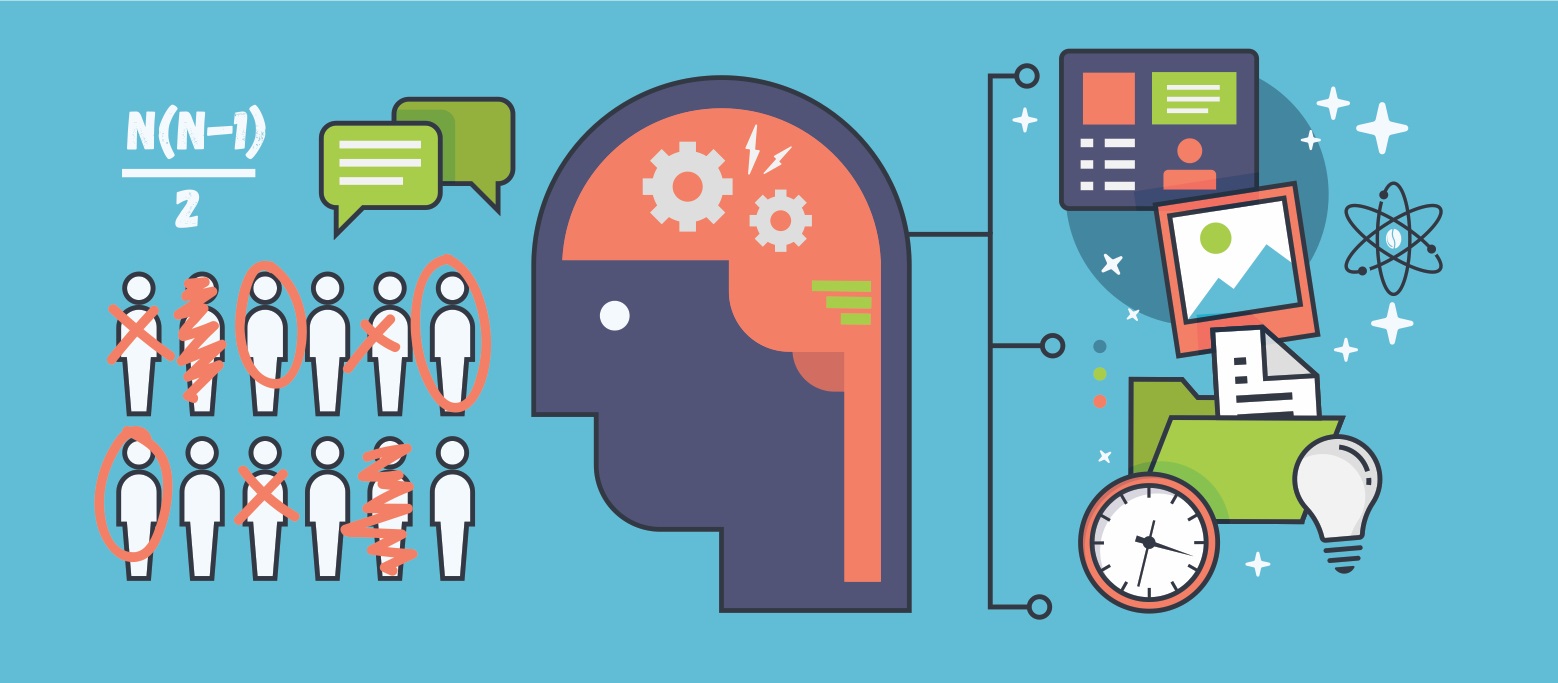 According to a poll on HackerLife, the most optimal size for an IT project is within 4-5 people and on average the team comprises of around 6 people. This conclusion is proven by an experiment called the Ringelmann effect, also called social loafing phenomenon. The experiment involves increasingly large groups of people pulling a rope, Ringelmann deduced that for every person added beyond 5-6 people, individual contributions to the group became smaller. In simple words, the bigger the team are, the less effort the workers put into common tasks as their contribution are less visually recognised. Yet, if a team is too large there is a potential risk of productivity of each individual employees decreasing while the composition of the team gets bigger.
Notwithstanding, some specific tasks require a large number of software development team members. For example, sports teams composed of a different number of players. 11 players for a football team, 6 players for a volleyball team and etc but on average not more than fifteen. Members of small teams are more devoted to others and everyone's success. Still, in software development, larger software applications take more effort to develop than smaller ones. There are a lot of approaches to managing huge software development teams. A long-term outsourcing development project may require up to 20 members. However, whether a project is successful depends mostly on the human factor. IT development teams often conquers several problems like human resources management, lack of communication, and motivational loss.
Step 3 – Choosing the right person with the right role and responsibility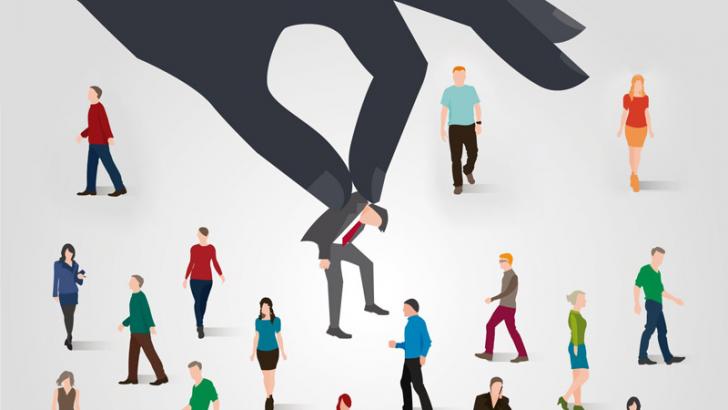 To avoid having too many people with similar job skills and roles on the same team as they will begin to lose motivation and productivity, you should first list a number of candidates with regard to their technical background. Then, trying to evaluate their soft skills and finally, make a decision based on some extra factor like working style, personal characteristics and logical thinking.
A web development team must be composed of UX/UI designer, quality assurance (QA) tester, server administrator and project manager (PM). In a mobile development team, developers should have experience in working with a platform of choice and its languages: Java/Kotlin for Android, Objective-C/Swift for iOS and C# for Windows Phone. For every IT project, these roles are indispensable.
Step 4 – Encouraging communication
Communication is a two-way street and employees should feel like they can add to the conversation both with superiors and co-workers. The more the team communicates, the sooner the goal may achieve. Before starting a big project, you could plan a casual meetup beforehand that allow colleagues to get coffee or dinner with each other. Coffee time or tea break also boost team members to get to know each other on a more personal level to increase mutual trust, respect and understanding each other's characteristics and strength.
When people build trust on a personal level, the benefits carry over into work projects. On the other hand, the workers would not hesitate to give feedback about their works. In turn, group efforts have a higher likelihood of success. Praising and recognising team and individuals who have the best performance will boost confidence and morale, encouraging teams and individuals to keep up the good work as well.
Step 5 – Helping developers grow professionally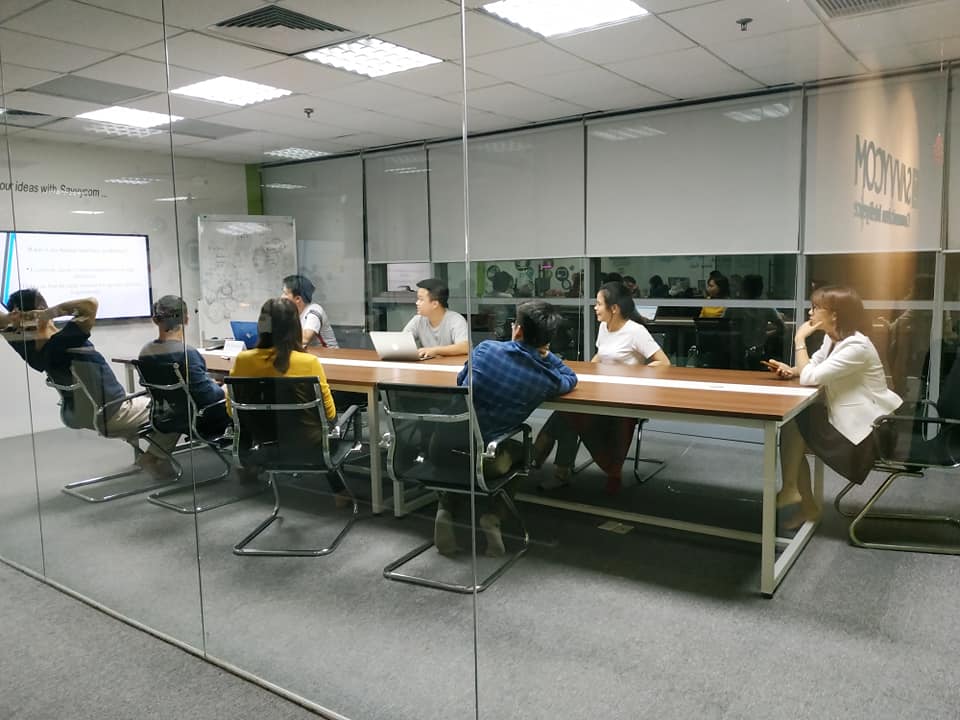 Technology is a competitive world. This world requires developers to constantly upgrade themselves and desire for new innovation. Attracting competent developers is a challenge, retaining them is even more difficult. That is why HR managers and company leaders are paying so many concerns about developing employees. When you invest time and money in your developers, not only do you boost their loyalty, you also help them cultivate new skills that will benefit your business.
Some companies introduce mentoring programs, which pairing employees with mentors. Employees would choose to pair up with a person who they feel the most comfortable with and want to learn more from mentors. Other companies offer workshops, where they share working experience, tips for work and anything that is helpful to the audiences. These workshops and mentoring efforts not only improve employees skills but also strengthen bonds between team members.
Just like in Savvycom, internal workshops are remained monthly to keep our developers updated with new technologies or to share each other's experience and to train new skills. Besides, Savvycom leaders often send our developers to external training to improve their skills with giant technology firms like AWS, Google or Apple.
Step 6 – Applying Agile Methodology and developing a Scrum Team
With nearly 10 years of bringing the most advanced technology solutions into the business world, Savvycom is proudly confident to provide you professional working process. Every product designed by Savvycom is constituted of careful planning and collaboration of the project's team members.
Let's have a closer look at an IT Outsourcing company like Savvycom to find out how the teamwork delivers a successful software development project. In this article, we will only focus on team development but no stakeholders, who are responsible for delivering an ideal software product.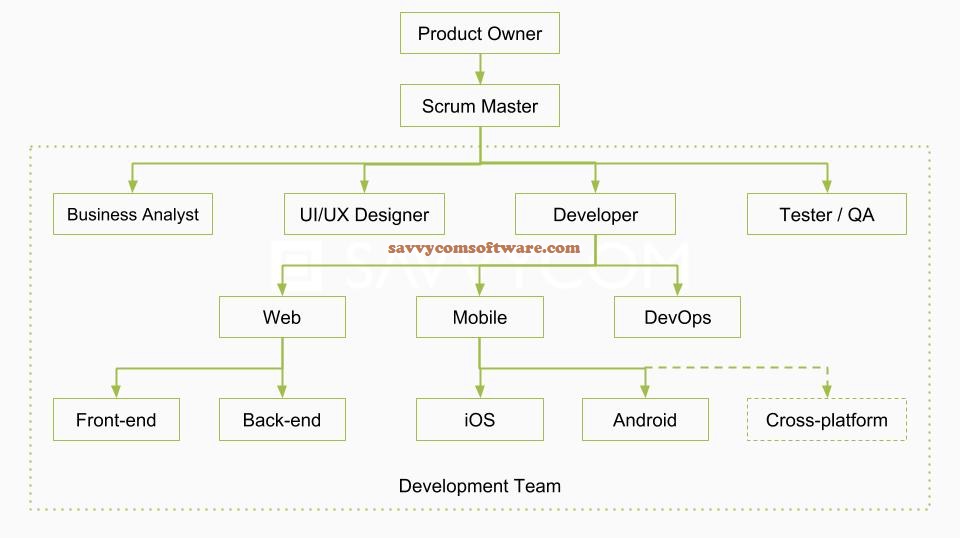 Firstly, a Product Owner, in case of an outsourced company, could be the company's client. He/she has a vision of what their product is, whom it serves, and how it should be. Commonly, they will give the project manager a set of product requirements and expectations that he/she desires their products will have.
Leading and managing the whole team is a Project Manager (PM), who identifies where and how the team members will go to achieve their goals. He/she is in charge of optimising the work efficiency and ensuring the product meets all the requirements. The PM will recruit team members, identify their strengths and weaknesses to assign prosper tasks for everyone in the team. More importantly, he/she will track the team members' workflow and make sure they strictly adhere to the timeline.
At the lower level, business analysts (BA) acts as a bridge to connect business challenges with technology solutions. Their role is making a set of questions to ask their clients in order to have a deeper understanding of the project. This can be done by an array of assignments such as asking clients for explaining requirements for developers, gathering comprehensive information about project needs and conducting user acceptance test.
In general, after thoroughly understand user requirements, UI/UX designer will illustrate design ideas using process flows, storyboards, and sitemaps as well as design graphical user interface elements like menu, tab, and widgets.
On the premise of UI/UX, developers will use an appropriate programming language/required technologies to create clean, efficient codes based on specifications. The team members must collaborate well with each other to build and implement ideal functional programs. In this phase, we have to differentiate three kinds of developers, they are web developers, app developers, and DevOps. These two first terms are simply distinguished by their platforms.
Web application developers engage in developing and designing web/network applications and make sure they work well on the internet. As a web contains both the interface – what users can see and the code – which is only be seen by the developers, it is typically divided into Front-end developers and Back-end developers. Front-end developers manage everything that users visually see first in their browser or application, in other words, they are responsible for the users' sense. Whereas, Back-end developers manage the server side of an application and everything that communicates between the database and the browser.
Mobile applications developers include iOS and Android developer teams, sometimes could be cross-platform developers who can play well on both iOS and Android system.
Another essential part of a software developer is DevOps. They are a combination of Development & Operations team. The main goal of DevOps is to increase the quality of the product to a great extent and to increase the collaboration of Development and Operation team as well so that the workflow within the organisation becomes smoother.
After having the first version of the product, the Quality Assurance (QA) department will implement testing whether the draft has any bugs or not. They convert requirements and documents into a set of testing cases and scripts, which can be used to verfìy if the application meets the client's expectation. These testing cases will be applied continuously until there is no unexplained error found in the system.
As strength in building an effective software development team, Savvycom has rapidly raised our flag in the IT outsourcing industry, delivering hundreds of projects to many businesses across the world and became a trusted partner with worldwide clients.
—————————
If you have any requirements in software development outsourcing, please do not hesitate to contact us to get a FREE CONSULTATION with our experts, or keep subscribing us to get more updates in the technology world.
Phone: +84 24 3202 9222
Hotline: +84 32 657 2886
Email: contact@savvycomsoftware.com
Head Office: 12th floor, Viet A Tower, Duy Tan Street, Hanoi, Vietnam