Integrating AI into Healthcare Software Solutions: Benefits & Use Cases
The presence of artificial intelligence in healthcare has spread as healthcare providers come to acknowledge the benefits this technology may bring. And organizations are not the only ones to benefit from AI solutions; so do their patients. By integrating AI solutions into their systems, businesses tap into the chance to optimize efficiency while patients receive higher healthcare quality. Isn't that incredible? While you may be aware of the capability of AI, the key question is how organisations can use such power and incorporate it into their operations. This article explores the integration of AI into healthcare software solutions, its benefits, and a few striking use cases.
So, if you find yourself asking the same question, join us. You will gain a better understanding of the process of efficiently integrating AI solutions, use cases for them, and several real-world examples of organizations that succeeded with AI healthcare implementation.
According to research and markets, the healthcare artificial intelligence industry would be worth USD 44.5 billion by 2026, with a spectacular CAGR of 46.21% globally. The global healthcare AI market would be worth almost 188 billion U.S. dollars by 2030. (Statista)
36% of organizations implemented natural language processing software.

According to a Deloitte survey of 1,100 US executives whose companies were already exploring AI, 63% of those polled were using machine learning in their operations.

AI is capable of accurately diagnosing diseases in 87% of cases. On the other hand, human detection of health conditions had an 86% accuracy rate.
1. Understanding AI in Healthcare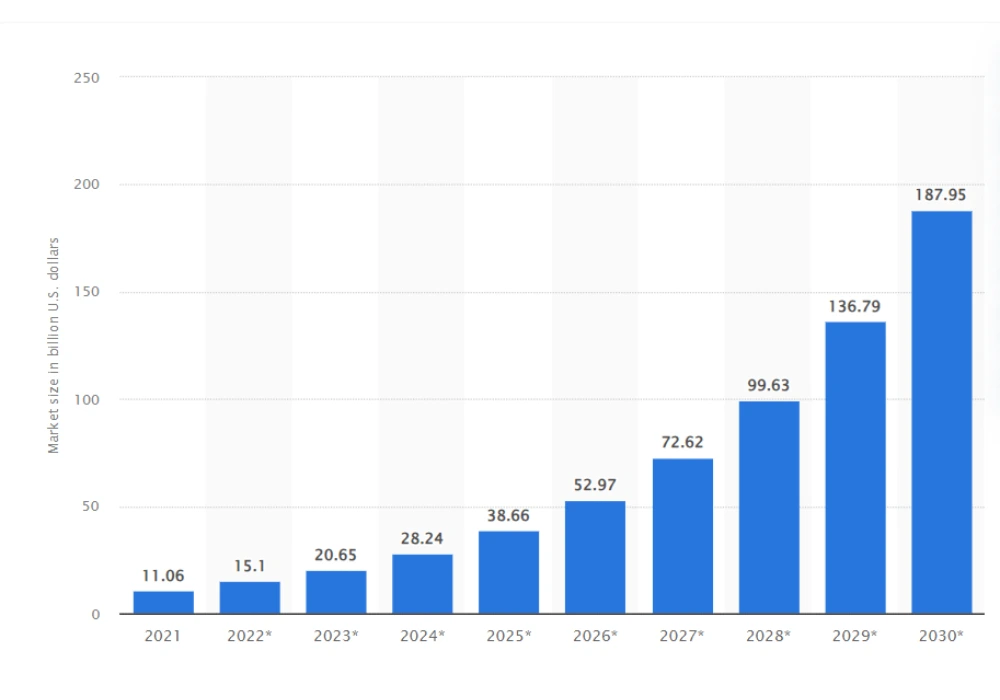 In the realm of healthcare, AI involves programming computers to "think" and learn like humans, supporting professionals in interpreting intricate medical data. The types of AI that have found substantial applications in healthcare include:
Machine Learning (ML): ML algorithms are instrumental in predictive modeling, enabling early detection of diseases such as cancer. A report by McKinsey Global Institute projects the use of ML in healthcare could create $100 billion in value annually across the US healthcare system.
Deep Learning (DL): DL, a subset of ML, excels in processing vast and complex datasets like imaging data. It is expected that the DL market in healthcare will reach $5.2 billion by 2026.
Natural Language Processing (NLP): NLP helps in analyzing patient records, medical notes, prescriptions, and deciphering unstructured data. According to Gartner, NLP will be a standard feature of 90% of data and analytics platforms by the end of 2025.
The adoption and implementation of AI in healthcare have been witnessing an upward trajectory. As per MarketsandMarkets, the global AI in healthcare market size is expected to grow from $4.9 billion in 2020 to $45.2 billion by 2026, exhibiting a Compound Annual Growth Rate (CAGR) of 44.9% during the forecast period. These statistics point towards a promising future for AI in healthcare.
2. Benefits of AI Integration in Healthcare Software Solutions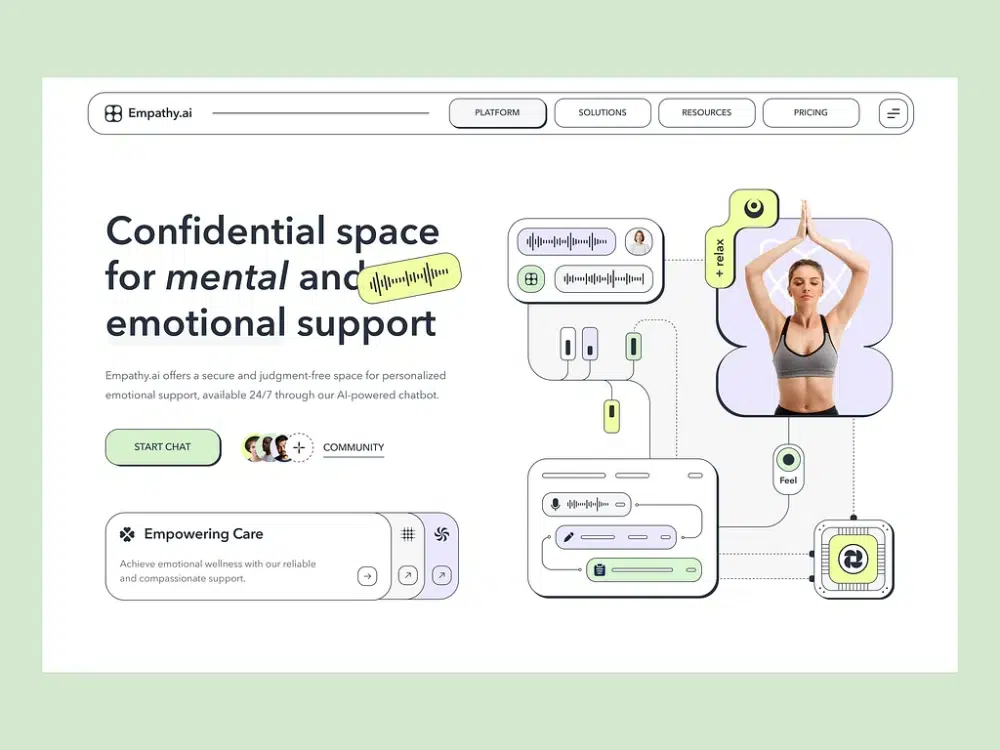 AI's integration into healthcare software solutions opens a wide array of benefits, reshaping the way we perceive and receive healthcare. These benefits range from diagnostic accuracy to operational efficiency, and from patient experience to research and development. Here are some specifics:
Improved Accuracy in Diagnostics & Predictions: One of the major benefits of AI integration is the enhancement of diagnostic accuracy and risk prediction. AI algorithms, with their ability to analyze and interpret complex medical data, can potentially outperform humans in detecting diseases at early stages. For instance, Google's DeepMind Health platform can detect over 50 eye diseases with an impressive accuracy of 94%. This innovative application of AI can revolutionize early detection, potentially saving countless lives.
Efficiency in Healthcare Operations: Efficiency is key in any sector, and healthcare is no exception. AI offers the opportunity to automate routine tasks, significantly reducing the room for human errors and thus improving overall operational efficiency. A 2022 study revealed that AI has the potential to automate approximately 20% of unstructured tasks in healthcare. This automation allows healthcare professionals to focus more on patient care, thereby improving outcomes.
Enhanced Patient Experience: In the age of customer-centric businesses, the healthcare industry is also shifting its focus towards improving patient experience. AI, with its capability to provide personalized care and engagement, is leading this transformation. AI chatbots, for example, are predicted to save the healthcare industry up to $3.6 billion by 2022, by automating patient interactions, thereby ensuring 24/7 availability and reducing wait times.
Advanced Research and Drug Development: The domain of medical research and drug discovery is also reaping the benefits of AI. The ability of AI to analyze massive datasets at high speeds makes it a valuable tool in speeding up research and the drug discovery process. A striking example of this is the AI startup, Insilico Medicine, which used AI to discover a potential new drug in just 46 days – a stark contrast to the traditional drug discovery process that typically takes several years.
Cost-effectiveness and Scalability: Lastly, but importantly, the integration of AI in healthcare has economic benefits. By optimizing processes, reducing errors, and improving efficiencies, AI can significantly lower healthcare costs and make healthcare services more accessible to a larger population. Accenture's report predicts that key clinical health AI applications could potentially create up to $150 billion in annual savings for the US healthcare economy by 2026.
In light of these benefits, it's evident that the integration of AI into healthcare software solutions could revolutionize the healthcare industry, making it more accurate, efficient, and patient-centric.
3. Use Cases of AI in Healthcare Software Solutions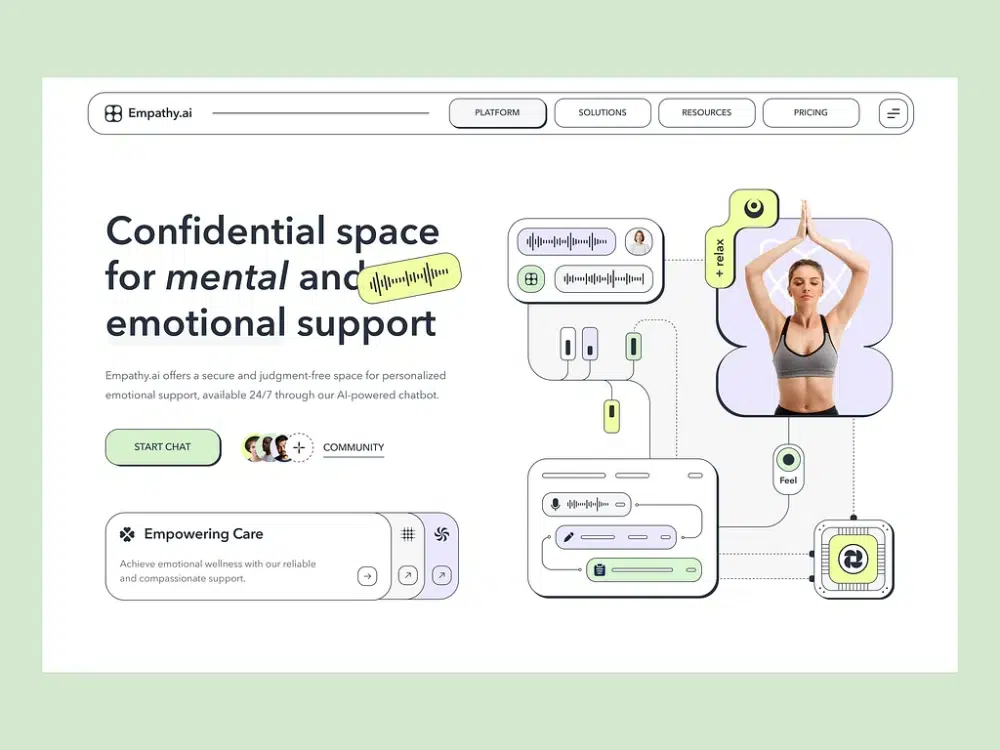 3.1. Radiology and Medical Imaging Software
Medical imaging is an important area of artificial intelligence (AI) use in healthcare. Medical personnel benefit from AI algorithms' capacity to accurately analyse medical pictures such as computed tomography (CT) scans, magnetic resonance imaging (MRI), and X-rays. This technology improves patient outcomes by increasing the accuracy and speed of diagnosis.
Radiology AI algorithms: can evaluate medical pictures like X-rays and CT scans to assist in the diagnosis of diseases like pneumonia and tuberculosis. This can result in faster and more accurate diagnoses and better patient outcomes. AI-powered algorithms can aid in identifying lung nodules in CT scans, lowering the risk of missing any malignant nodules, particularly in smokers or people with a history of lung cancer. AI algorithms can also detect osteoporosis, a bone-thinning illness that causes bones to become brittle and fragile, rendering them more prone to fractures.
Diagnosis and treatment: AI can analyze medical images and assist doctors in diagnosing and treating ailments. AI algorithms, for example, may discover brain tumors by analyzing MRI scans and assist in surgical procedure planning. It can also aid in detecting early-stage Alzheimer's disease and dementia by evaluating brain images and detecting changes in brain structure and volume. Furthermore, AI can scan retinal images to detect early-stage diabetic retinopathy, which can lead to blindness in diabetics.
3.2. Personalized patient care
Personalized medicine is a rapidly expanding area of AI in healthcare applications. AI algorithms can forecast illness risks and recommend specific treatment options based on a patient's medical history, genetic information, and lifestyle factors. This technology assists medical practitioners in providing tailored care to their patients and improving patient outcomes.
Treatment selection: AI can assess patient data and recommend customized treatment solutions. For example, based on genetic information, AI systems can assist medical personnel in selecting the most effective chemotherapy medications for cancer patients. It can also help determine the appropriate medicine dose for specific patients based on their medical history and physiological factors.
Patient monitoring: AI can remotely monitor patients and detect changes in their condition. For example, AI systems can evaluate patient data such as heart rate and blood pressure to detect early indicators of cardiac disease. It can also track patients with chronic diseases like diabetes by assessing their glucose levels and recommending individualized treatment options. Wearable technology with AI capabilities can also monitor a patient's vital signs and spot changes in their condition, allowing clinicians to take action quickly and avoid complications.
Have a Project Idea in Mind?
You are more than welcome to contact our Partnership Manager for a free consultation.
3.3. Electronic Health Records (EHRs)
EHRs (electronic health records) are critical for modern healthcare delivery. AI technology is becoming increasingly important in EHR administration. AI can help medical personnel examine massive amounts of medical data to uncover patterns and trends that can aid in illness prevention and treatment.
Data analysis: EHR data can be analyzed by AI systems to find patterns and trends. This can assist physicians in identifying patients who are at high risk of getting certain diseases and implementing individualized preventative methods. AI can also evaluate pharmaceutical data in order to discover patterns that may lead to harmful drug responses and recommend alternate treatments.
Fraud detection: AI can be used to detect possible billing fraud and enhance medical coding accuracy. This can result in cost savings and better patient outcomes. For example, artificial intelligence (AI) may examine billing data and find trends that signal fraudulent claims, such as duplicate billing or billing for services that were not provided.
Virtual assistant & chatbot: AI-powered virtual assistants and chatbots can provide remote patient care and guide patients through their diagnosis. This can free up time for medical workers, allowing them to focus on more complex concerns.
3.4. Telehealth
AI-powered virtual assistants and chatbots can monitor patients remotely, allowing doctors to keep track of patient's health status even if they are not in the same room. 
Personal health advice: Patients can receive personalized health advice and support from AI-powered virtual assistants and chatbots. Chatbots can be used by patients to ask inquiries regarding their prescriptions, such as potential adverse effects or drug interactions. The chatbot may offer accurate information to the patient swiftly and efficiently, eliminating the need for patients to wait to talk with a healthcare expert.
Appointment scheduling: Virtual assistants and chatbots powered by AI may also organize appointments and conduct administrative tasks. This can assist in reducing medical personnel's workloads and boost patient satisfaction. Patients can use the chatbot to make appointments or inquire about upcoming appointments.
4. Real-world examples of AI revolutionizing healthcare
4.1. IBM Watson
IBM Watson Health is an AI-powered healthcare system that is used to improve patient care and results. The technology analyzes enormous volumes of data using natural language processing and machine learning to present patients with individualized treatment recommendations. IBM Watson Health has been used to create individualized treatment plans for cancer patients and to assist healthcare providers in identifying potential health issues before they arise.
4.2. Google DeepMind
Google DeepMind is an AI-powered technology that is utilized in healthcare to enhance patient outcomes. Deep learning is used in the system to analyze vast volumes of data and provide patients with individualized treatment recommendations. Google DeepMind has been used to create individualized treatment regimens for renal disease patients and to forecast patient outcomes in intensive care units.
4.3. Babylon Health
Babylon Health is an AI-powered virtual assistant used in healthcare to improve patient delivery and care. The virtual assistant employs natural language processing to answer patients' concerns and deliver individualized health recommendations. Babylon Health has been used to deliver virtual consultations for patients and health counseling for people with chronic diseases such as diabetes.
4.4. Amazon HealthScribe
Amazon has announced HealthScribe, a clinical recording tool that allows doctors to automatically write transcripts of patient visits, highlight essential data, and create summaries that can be placed into an electronic health record. Clinicians are currently reviewing the new AI function for two specialties: general medicine and orthopedics. According to an Amazon spokesperson, AWS could expand more specialties based on client feedback.
5. Guide to integrating ai into healthcare software solutions

Step 1. Define your organization's needs
When you've decided to look into AI integration alternatives, the first step is to define the project's goals. What do you hope to accomplish with AI solutions? Which processes would you like to automate and improve? How will it assist your company? And how much money can you put aside for the project?
Answering these questions will help you guarantee that the idea is sound, and you will end up with a list of needs for the AI solutions and the team that will implement them.
Step 2. Select a reliable tech partner 
Relevant knowledge and skills are critical when seeking for a partner to incorporate AI technology into the operations of a healthcare company.
Hardware and software service suppliers must comprehend the legislation, standards, and particular challenges of the healthcare industry. As a result, don't be afraid to assess your possible partners' expertise during technical interviews and to contact their prior clients to learn more about their experience and work approach.
Step 3. Choose a suitable AI solution
There are many AI tools and technologies available. The decision here is determined by the type of data you intend to process and its availability, the technical needs of the AI solution, its regulatory compliance, and cost. Whether you intend to design an artificial intelligence solution from scratch or integrate a ready-to-use one with minor modifications, we recommend consulting with an experienced AI implementation partner.
Step 4. Plan for the execution
The quantity and quality of the data used to train the AI algorithms are highly related to the success of your AI project. As a result, acquiring and analyzing data is a critical stage in preparing for integration.
The data can include medical photos, medical transcription, EHRs, data from wearable devices, and so on, depending on the problem that the algorithm will handle. It is also important to ensure that the AI solution chosen complies with regulatory regulations and standards such as HIPAA and GDPR.
Step 5. Train, test and deploy the AI solution
Once the data is ready, you can start training the AI solution and evaluate how accurate the results are. While engineers are key contributors to this process, ensure to include healthcare experts who will work with the solution in the future. They are the ones who must validate the algorithm's effectiveness.
After the AI model has been validated, the team may deploy it, and your in-house team can begin integrating it into the organization's workflow.
Step 6. Monitor and adjust your AI solution accordingly
The project does not end once the solution is implemented: artificial intelligence programs, particularly in healthcare, require continuous monitoring and improvement.
The approach comprises receiving input from users (in this case, largely medical professionals and patients), studying the influence of the solutions on the functioning of the healthcare organization, and altering the AI to achieve the intended results.
Conclusion
The integration of AI into healthcare software solutions marks a significant turning point in the industry. It holds immense potential to enhance diagnostic accuracy, streamline operations, personalize patient experience, drive advanced research, and ensure cost-effectiveness. As AI continues to evolve, the potential for revolutionizing healthcare grows. The future beckons healthcare organizations worldwide to embrace this wave of change, harnessing the power of AI to deliver better healthcare for all.