How to Hire App Development Company in Vietnam: The Definitive Guide [2019 and Beyond]
Why Vietnam?
Being one of the top destinations in Asia for software offshoring, Vietnam has shown its favourable conditions and lots of potential for IT development. Some of its highlights include:
BPO (Business Process Outsourcing) market has grown

20% to 35% annually

, much faster than

 the 

annual GDP growth

of 5.2 to 7.1% from 2012 to 2018, with a revenue of

2 billion USD

in 2015

 

Ranked 1st in pioneering location and cost environment (

Cushman & Wakefield

business process outsourcing and shaped service location index, 2016-2017)

 

Ranked 6

th

in the Top 55 most attractive countries for Global Outsourcing Services in 2017 (GSLI 2017) in the research by

AT Kearney Consulting Firm

Top 10 countries with the most engineering graduates in 2015 according to

Forbes 

Has attracted investment from major IT companies such as Intel, IBM, Samsung Display, LG, Nokia and Microsoft.
Vietnam has a young, dynamic IT workforce with talented developers. The size of this IT workforce is increasing each year with a total enrollment of over 68,000 students from 250 universities and colleges with majors of IT, electronics, telecommunications and information security, according to 2017 Vietnam Information and Communication White Book. 
The Vietnamese IT workers are also said to belong to a culture of loyalty with a significantly low attrition rate of between 6 and 8 per cent, as opposed to a 20 per cent rate of India in 2015 
In recent years, government policy has strongly encouraged investment in high-tech zones and IT parks.
Another reason that makes outsourcing to Vietnam an appealing option is its cost-effectiveness. Vietnam is among countries with low-cost labour; the IT industry is not an exception. Also, high technology is a sector that is granted tax incentives by the Vietnamese government, according to PwC – Vietnam Pocket Tax Book 2019 
 Apps segment, an important part of Vietnam's IT industry, has also shown inviting prospects. According to Statista, revenue in the Apps segment amounts to US$12m in 2019. The market volume of this segment is projected to reach US$17m by 2023 at an annual growth rate (CAGR 2019-2023) of 10.3%.
Considering the advantages that this country offers, it's safe to say that Vietnam is a promising land for clients hoping to develop trusted applications.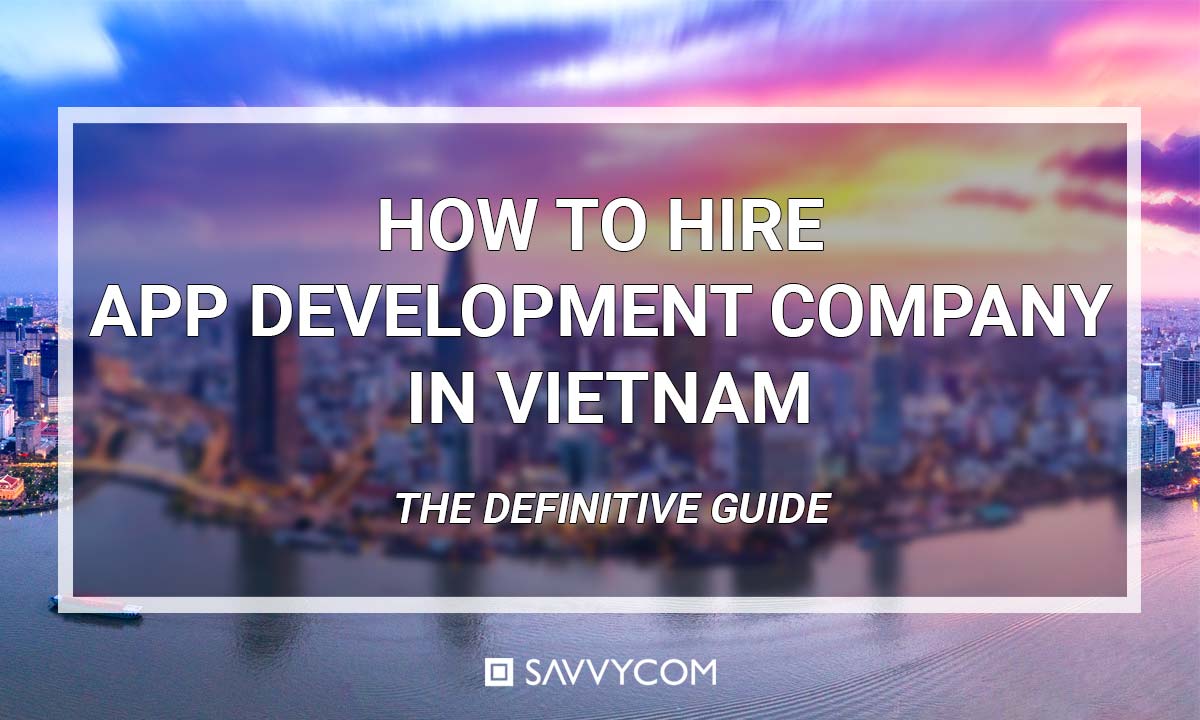 How to find top app development companies in Vietnam?
Before digging deeper into the steps to hire a good app development company in Vietnam, let's take a quick look at the pros and cons of hiring an app development company in general.
1. Pros and cons of hiring a foreign app development company
Pros  
Cost-effectiveness: An outsourcing partner comes with up-and-running infrastructure, sparing your company from costs of facility, equipment and supplies, thus being a cheaper option compared with in-house development.

Greater access to IT talents: Outsourcing companies can offer a large talent pool where you can find highly proficient IT teams with proven IT competency, skills and experience. Leading companies often put great emphasis on sharpening the skills of their employees, making sure that they are capable of delivering the best solutions to their clients.

Reduced time to market: Outsourcing teams are capable of delivering on time as they operate under optimal conditions and closely stick to the project timelines and guidance set by the main office from the beginning to the end of the project.
Cons
Communication issues: These can be derived from several factors, such as different time zones or language and cultural barriers which can lead to major conflicts and threaten work efficiency.

Lack of control: Normally, companies choose to outsource to contract certain business activities to a specialized, external party so that it can focus on their expertise and core activities. As a result, companies often lose some control over how the tasks are being monitored and performed. To maintain the desired level of control. Companies should look for trusted outsourcing partners and make sure progress is constantly updated.

Quality issues: concerns about quality might arise as it's hard to carry out quality control and monitoring when you can't directly speak with the software engineers. The solution, once again, is to find a reputable partner with proven quality.
Now that you've been reminded of what to expect when hiring an app development company, let's set out to find your desired Vietnamese app developer.
2. Where to find app development companies in Vietnam?
Reviews and Rating sites
In today's world where one can just Google everything he needs to know, it seems that simply keying in a straightforward "top app development companies in Vietnam" will suffice. Within one second, millions of results pop up, displaying countless lists and rankings of app development service providers. But beware, as reviews and ratings firms are not at all equally reliable. Try to push a little harder by checking the credibility of those company review sites before putting your trust in a certain review. Clutch and Goodfirms are examples of company reviews, ratings and rankings platforms that are well-recognised and dependable.
IT jobs sites
There are several websites where you can find trusted app development companies in Vietnam, such as ITviec, TopDev, and 9cv9. These websites are mainly created as an IT job classified portal to hire developers, but you can also find list and reference to top Vietnamese IT companies and their information on these platforms.
Recommendation systems
Chances are that you might know someone who works in the field of IT, have a good understanding of software development, or better yet, have outsourcing experience with a Vietnamese company. If that's the case, ask for a company recommendation. This system of recommendation makes it possible to find a trusted company that can fulfil your needs.
3. Steps to hire an app development company in Vietnam
Evaluate the project requirements
Understanding the current needs will give you a general idea of the development company you're looking for and help you avoid searching aimlessly among thousands of potential partners. For example, if you're seeking end-to-end services which include app strategy, development, design and post-launch support for marketing and maintenance, then pay more attention to companies with dedicated specialists for each service. Or if you already have a capable UI/UX team in charge of the design, you'd want to prioritize companies with development specialists.
Make a list of potential candidates
Based on your project requirements, list down 5 to 10 companies that you've managed to find in the form of a spreadsheet. The main columns should cover the company names, the price that they offer, expertise, proposed solutions and your initial evaluation of the companies.
Review the companies' portfolio
Learn about each company's past projects. You can download their apps and form your own opinions of the apps including the design and usability. Look for user reviews and ratings for reference, but remember to stay cool-headed and not get too carried away with the overly positive or negative reviews. Flashy reviews might come from the company itself while bad reviews might come from its rivals. Go to neutral blogs, review portals, websites and forums for more objective perspectives.
Past clients' reviews can also be a trustworthy source. You might want to go as far as to search through the social media of the companies' past clients as they tend to leave detailed reviews on their social media.
In addition to reviewing the portfolio, ask the companies about their processes and timelines. Usually, companies using Agile development have a more systematic approach as they develop and resolve development problems.
Get an estimate of app development cost
App development costs can vary greatly from company to company and might not sit well with your budget. However, price shouldn't be the number one priority when choosing an app development company, as the quality is what matters the most. An ideal company is one that offers the right balance between price and expertise. Send request for a quote and learn the pricing models, payment terms and schedules that the companies employ to see which one is the best fit for your project.
Numerous factors determine the costs of developing an app, one of which being the hourly rates of developers. Vietnam is among countries with the most affordable rates, with an average of $30-40 per hour.
Assess the level of communication
Communication is crucial to the success of any project, and even more so when you outsource to a foreign company. A trustworthy partner would demonstrate a high level of involvement. You'd need a company which provides constant and systematic updates on the work progress and any issues arising along the way to know whether each stage of development is going as planned, and if not, whether delays are being handled properly.
Another thing to consider is the candidates' command of English. In recent years, the English competency of Vietnamese developers has improved greatly. Still, make sure to look for outsourcing partners who have little to no difficulty communicating in your language.
Learn about the maintenance & support policy
Even when you already have your app up-and-running, further support from your development company is still needed as no one can guarantee that the app will always be foolproof. It's highly recommended to find out whether the development company provides quality maintenance and support services, the extent to which they provide support and how much they charge for each service.
All the factors listed above will guide you through the process of narrowing down your list of potential outsourcing partners. Choosing a company that suits your needs can be a painful process, but once you've found your dream team of app developers, you'll find a whole lot of time and effort you've spent worthwhile. In the meantime, be selective and stay strong on your quest for a great app development company.
App development service: Why Savvycom?
Ranked in the Top Mobile App Developers in Vietnam by Clutch, Savvycom Software hopes to use our expertise and experience to deliver high-performance apps to our clients.
Over the past 10 years, we've completed more than 300 successful projects across a variety of industries and brought satisfaction to over 100 clients.
Our stringent process of selection ensures that you can get access to a pool of highly-skilled, certified and proficient software developers who aim to help our clients accomplish their goals using unparalleled domain expertise combined with leading-edge technologies.
With Savvycom, you retain full control over the project management. All members of the developer team are selected as per the clients' requirement. We also adopt a flexible and scalable model that allows effective resources allocation following our clients' demand.
Contact to get our support in your software development project
Connect us for various frontier technology services and IT excellence: