Dating App Development: Trends, Features and Cost
Statista forecasts growth of online dating revenue to USD 1 billion in 2021 in the US only. This says one thing: the online dating app market is on the rise. These numbers indicate that online dating apps and other similar tools the primary way of meeting people. With the demand as high as it is, can there be a place for entrepreneurs and for startup owners to wedge in the dating industry, and perhaps, create a successful dating app?
If you are determined to take a shot in the industry, let's talk about dating app development and figure out how to make a dating application and how much does it cost to develop a dating app?
1. Dating App Development Trends & Statistics
As previously stated, modern technologies have completely transformed how we find someone to date, and online dating is no longer frowned upon.
More than a quarter of committed relationships begin on the internet.
Around the world, approximately 40 million people use dating apps and websites.
The total revenue generated by all dating apps is estimated to be around $2 billion per year.
Tinder, the most popular dating app, has around 50 million users worldwide, with 60 percent coming from the United States.
Tinder's total value is estimated to be around $1,6 billion.
The demand for dating apps is increasing, as is the market for them. As a result, if you want to create a dating app, now is the time. In this case, you should look to industry leaders like Tinder for inspiration. Let's take a look at how to make a dating app similar to Tinder.

2. Dating App Development | Must-Have Features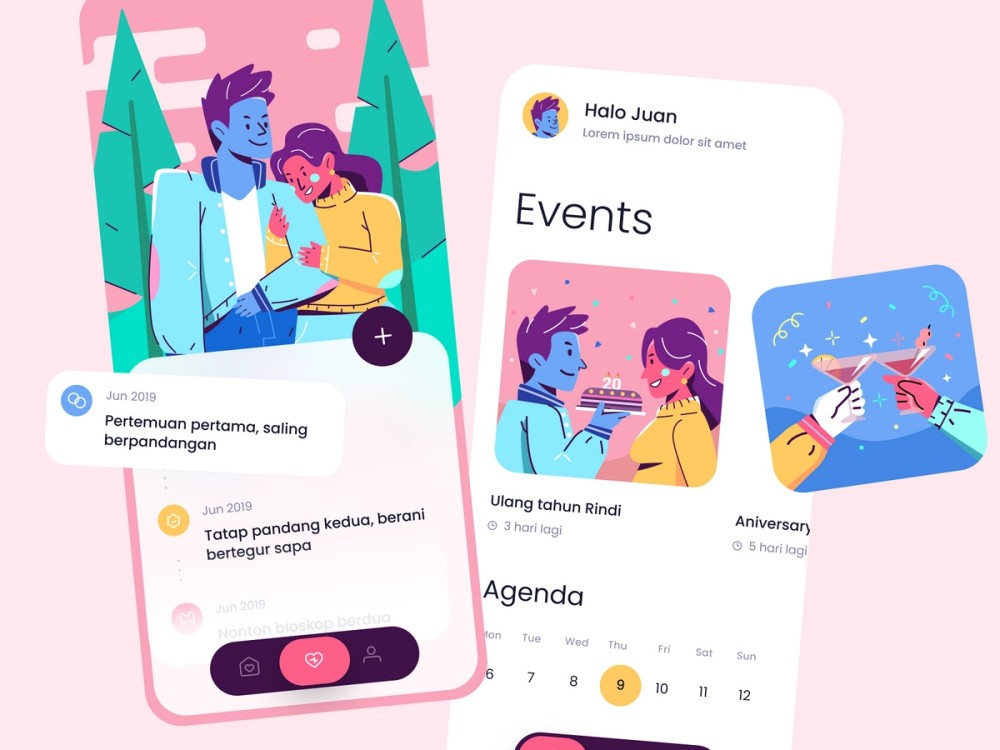 Tinder, as previously stated, is one of the most popular dating apps in the world, and its secret weapon is its gaming spirit and swiping feature. You swipe right if you like someone's profile and left if you don't. More specifically, a dating app is a subcategory of a social media app that focuses solely on dating. As a result, the overall functionality is similar to that of most social apps.
We'll go over the most important tech components and aspects for dating app development in this section:
The Matching Algorithms
Socials & Communication Integration
Have a Project Idea in Mind?
Get in touch with Savvycom's experts for a free consultation. We'll help you decide on next steps, explain how the development process is organized, and provide you with a free project estimate.
2.1. Matching Algorithms in Dating App Development
A dating application's matching algorithm is one of the most important functions that is derived from a set of attributes. You can choose from the following options if you want to learn how to make a dating app with proper matching algorithms:
a/ Usage of Geodata
An algorithm can offer users dates in their immediate vicinity based on geolocation data if that's what they want. On the other hand, if a person is considering relocating, they will most likely be more interested in making new friends in the area. In any case, geolocation matching has many advantages and is an essential factor to consider when developing a dating app. Also check our the guide for the most dangerous state for online dating.
b/ Mathematical Algorithms
Mathematically-based matching is based on algorithms that analyze information provided by users in their profiles and through various surveys, such as:
Personality characteristics (e.g. age, gender)
Compatibility of interests (e.g. music taste, hobbies)
Physical state (e.g. height, physique)
Friend connections to build better trust and user safety (uses data from social networks)
Although mathematically based matching is common, it is not without flaws. This is due to the fact that people could just lie about themselves in surveys and online profiles (like mentioning that they are fond of music or literature they have no idea about). As a result, it is recommended that you use behavioral analysis to get a better understanding of a person's personality.
c/ Behavior Analysis
When compared to mathematical matching, behavior analysis is far more complex. This research is based on a person's actual digital footprint (information on social media, search history, YouTube playlists, pages visited, movie preferences, etc.) This kind of analysis is now possible thanks to Big Data solutions.
d/ Advanced Matching (AI & AR)
With the help of AI or AR, advanced matching algorithms can also be implemented. A dating app, like Netflix and Amazon, can make recommendations based on complex data analysis. More efficient matching and predictions could be achieved by using facial recognition, biological data, and behavior analysis. By implementing precise filtering within the app, users can connect with their preferred people and, as a result, use the dating app more frequently.
2.2. Socials & Communication Intergration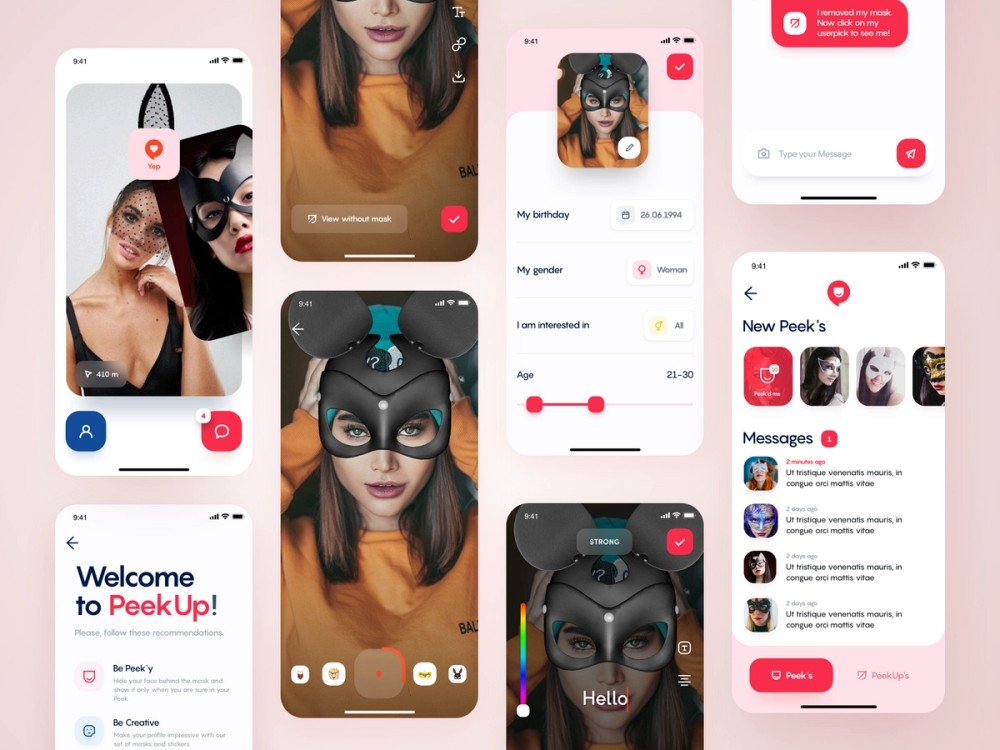 A dating app's messenger is another essential feature. Whatever matchmaking method you use, the next step is always communication. Let's look at how to make a dating app that has a good communication system. Setting some rules about who messages first or encouraging users to send an initial message is a good way to start. Additionally, building a dating app with message encryption is recommended to cover the security side.
Consider incorporating GIFS, symbols, stickers, or video calls for more advanced communication to improve the experience of using a dating app.
a/ Swipe Surge
As previously stated, Tinder users can swipe right to like other profiles and swipe left to dislike them. Swipe Surge, according to the Tinder press release, increased user activity by up to 15 times. This feature also boosts the user's ability to make matches by 250 percent.
b/ News Feed & Stories Content
A personalized feed is a common feature in social networks, but most dating apps lack it. Users will be able to express their thoughts and ideas, as well as share photos, allowing them to have a better chance of finding their soulmate if this is implemented. Aside from that, you can use a basic short story content feature like Tiktok, Instagram, or Facebook, which are becoming increasingly popular nowadays.
c/ Like Features & Messesage Editing
Every like, swipe, friending or unfriending someone, comment, or message in a dating app carries a bigger emotional burden compared to conventional social media apps. Therefore having a wide selection of emoji, unique animated stickers and gifs make a huge difference for usability. Additionally the option to edit sent message can sometimes be a life-saver for many users, since the mistyping of some words can hit hard on one's confidence.
d/ Verification system & Private Chat
Implementing a multiple-step verification system with: social media, photo, phone number, e-mail, etc may at first sound tiring but to many it is the deciding factor whether they want to use this app or not. Since privacy is one of the top priority when using something like a dating app.
e/ Push Notifications
People can use notifications to stay up to date on new possible dating matches, events, or messages. You can use this feature in conjunction with geo-location functionality to notify users when someone they'd like to meet is nearby, or you can use birthday alerts. The notification feature can be very useful with a little imagination.
2.3. Dating App | MVP Development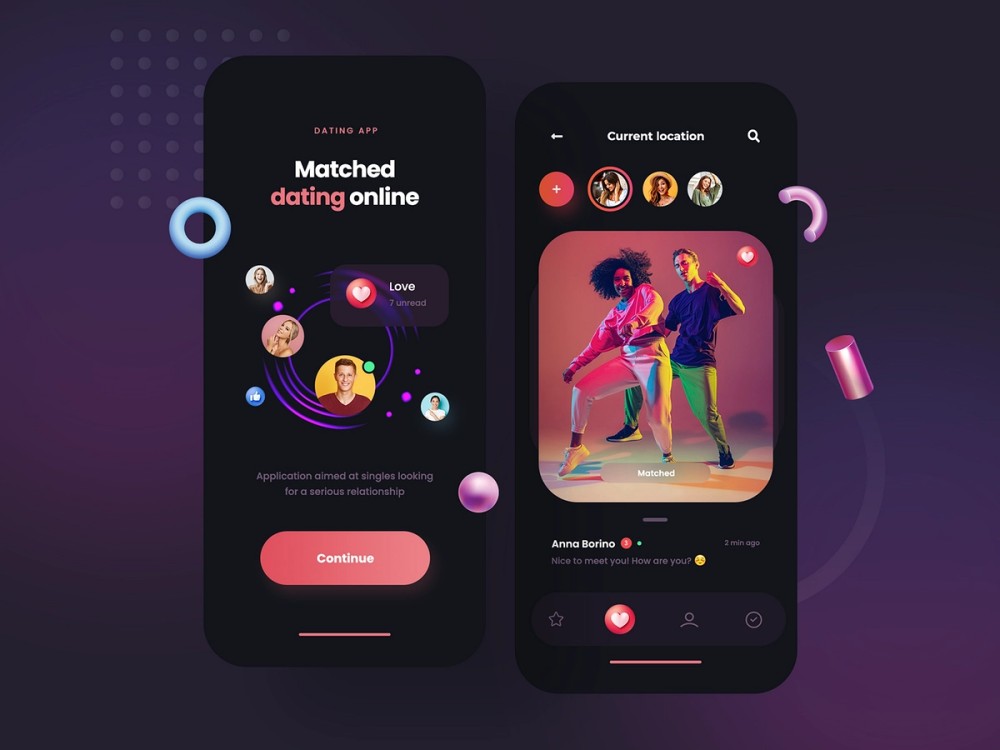 Although you want your future dating app to be a one-of-a-kind product unlike any other, several features must be included to create a functional app. So, if you want to learn how to build a dating app, pay attention to the features listed below.
Social Sign-In
Lengthy registration procedures already appear to be a relic of the past that can no longer be maintained. As a result, the ability to sign in is a first must-have feature. Allow users to sign up with their Facebook, Instagram, Twitter, or LinkedIn accounts and begin searching for their soulmate. Furthermore, social sign-in allows users to share your service on social media.
User Profile
Each user should have their own profile, including information about their interests and hobbies. In most cases, all necessary information is extracted from social media, so users don't have to waste their time there. Users can read each other's profiles to learn more about what each other likes and dislikes.
Geolocation
Thanks to this feature, people will be able to select the region in which they want to find a soulmate and nearby locations. Users from different parts of the country are unlikely to meet, so this feature should be included in your app.
Matching
There is no way to develop a dating app without this feature. Developers can now incorporate AI-based algorithms to activate smarter matches, including all hobbies, location, age, and other factors. Users will be able to see potential candidates they can meet more quickly as searching for perfect soulmates becomes more convenient and flexible.
Never Miss a Deadline with Savvycom
Get in touch with Savvycom for a free consultation. We'll help you decide on next steps, explain how the development process is organized, and provide you with a free project estimate.
Chatting
Without the chatting system, how will they be able to communicate with one another? When users find someone they like, they can begin chatting and getting to know each other better. Additionally, stickers and GIFs can be added to make messages more vivid.
Push notifications
When users are not using the app, they will receive important reminders and notifications about upcoming matches. As a result, users will not waste time and can instead focus on chatting with their potential soulmates.
Swiping
If you want to build a dating app that follows the traditional matching model, you'll need a swiping feature. When browsing photos of women and men, a swipe to the right indicates that you like the person, while a swipe to the left shows that you want to skip this photo. Everything is straightforward.
Admin panel
You should have your own admin panel, which you can access from any computer. You'll be able to block users, resolve significant issues, and give them complete control.
User Data Security
Data security is critical when developing your own dating app. Users entrust you with their personal information, and you must protect it from malware and hackers. As a result, modern security standards such as GDPR, PCI DSS, ISO 27001, and others must be met by your app.
2.4. Additional Features for Your Dating App Development
It's time to think about implementing new features that can broaden functionality horizons and bring a new user experience once you've completed the MVP version of your dating app and built a stable audience.
AI-powered chatbots
Chatbots are all over the place, and their main goal is to assist people. Chatbots are the real icebreakers in the world of dating apps, and they can assist in selecting the first line of a conversation with a match. A chatbot can also notify you if a conversation has gone unanswered or if a new message has arrived.
Video calls
Why limit the types of conversations that can be had? Once the two people have gotten to know each other, they can set up a video call session to talk in person. Aside from that, it's a fantastic feature for long-distance matches who can't meet in person.
Profile or Identity verification
It's always reassuring to know that the person you're conversing with is genuine. Many well-known dating apps have verification features that require you to send separate photos to moderators who will instruct you on what should be on the picture to verify your identity.
3. Dating App Monetization
The dating app industry has money and consumers who are willing to invest money to find a partner, according to statistics. Match Group has grown its paying subscriber base from $3.4 million in 2014 to $10.8 million in 2020. In the second and third quarters of 2020, another 700,000 users signed up. Tinder, on the other hand, has 6 million paying users worldwide.
You must detail the scenario for the return on investment while estimating the cost of developing a dating app, preparing your budget, and/or raising funds. Consider the following revenue sources if you're trying to figure out how to make a dating app that makes money:
3.1. Advertising Model
Affiliate networks are the most effective method. You can display relevant and interesting deals from bars, cafes, shops, jewelry stores, florists, and other businesses. Affiliate companies typically pay commissions based on clicks or installs. Some project owners are willing to compromise on UX in order to benefit from ads by offering paid ad-free versions. With the variety of competition in the dating app game, you don't want to ruin your design with intrusive advertisements.
3.2. Freemium Model
Users can choose to be billed monthly or annually. Additional features include unlimited swipes, profile showcases, and an ad-free app version in this model.
3.3. Affiliate Model
Usage of related content is a much easier way to integrate ads in dating software creation. You may sell discounts to companies that operate in the dating industry. Coffee shops, jewelry stores, facilities for couples, and exclusive deals, for example. Tokens may be used to purchase presents for others. Your app will disseminate event information and tickets, giving you visibility as well as commitment fees. Whatever monetization potential arises for your dating app, it must be considered in terms of applicability.
3.4. Premium Model
VIP account

. Users can pay a fixed fee and become VIPs in the search list for an indicated period. Everything is fair. The most popular apps on the market that use this monetization feature are 

Tinder

 

and Bumble.

Smart swipe

. Integrated machine learning algorithms change the way how users can see your photos. The order of the pictures can be changed depending on the interests of the user who browses them. It gives more chances for a candidate. This feature is pretty rare, and the only app on the market that uses it is 

Tinder

.

Unlimited right swipes

. The number of daily right swipes in a free app can be limited, so people can use a premium app that will give them an unlimited number of right swipes. You can monetize your app this way, as many famous apps like 

Bumble

 and 

Tinder

 did.

Ad-free

. Premium apps will be ad-free, and users will not see any advertising content that may irritate them. 

OkCupid

, 

HER

, and 

Grindr

 use this monetization strategy.
Looking For a Trusted Tech Partner?
We'll help you decide on next steps, explain how the development process is organized, and provide you with a free project estimate.
4. Technology Stack for Dating App (Like Tinder)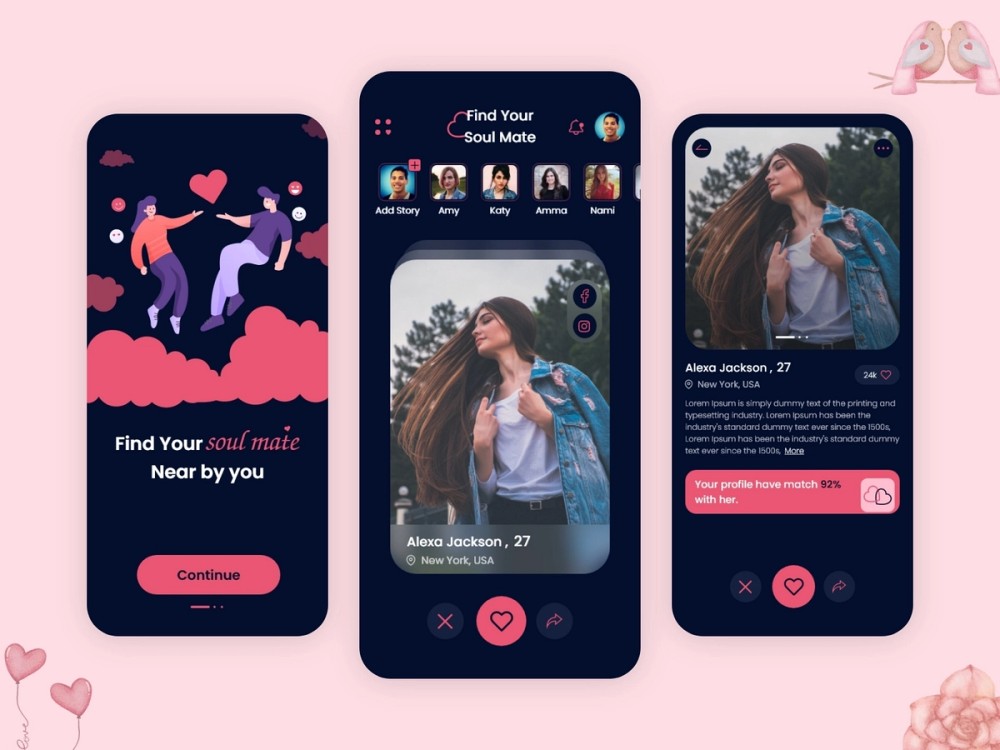 Tinder's visual simplicity reflects the extensive work that developers of various technologies have put in. Tinder's kit contains a website and an API in addition to the main app. Like any other complicated solution involving large quantities of user data, Tinder's success is its most valuable asset, and it must be implemented using the best technology available.
Building a dating app needs more than just the stack, a list of APIs, and even bits of obfuscated source code, so the following information does not guarantee you a Tinder clone. It's all about how you perceive the problems the app helps you solve and how well you understand the technology that can help you.
You can't explicitly search for dating app developers because dating apps aren't as unique as games, where you can learn to work exclusively in the gaming industry. Instead, a team of software developers with a shared understanding of mobile and database technology will work together to create a popular dating app.
Android/iOS mobile app stack:
Backend/API stack:
Website stack:

Swift
Objective C
Java
Ruby/Cucumber
Rubymotion

Node.js
JavaScript
HTML5
Elasticsearch
MongoDB
Redis
AWS
Python
Bash scripting
Mapbox
GoDaddy SSL
5. Dating App Development Cost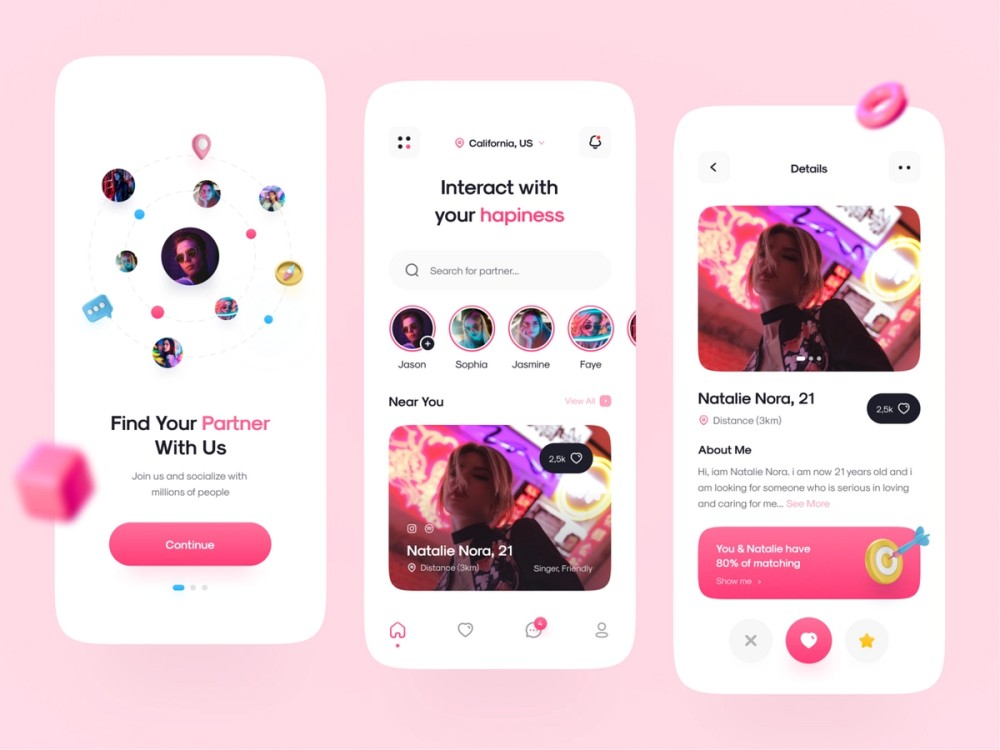 If you want to create a dating app as a full-featured application and launch it quickly, dividing the full product into a few logical app versions is a good idea. This entails integrating the most important features first and saving the rest for later versions. As a result, you'll be able to strike a good balance between app development costs and benefit.
According to our experience, developing the first version takes about 3-6 months and costs between $60,000 and $80,000 per platform (iOS or Android + back-end development + simple admin panel). This is the lowest amount you can expect to spend on the first edition. Depending on your requirements and needs, the cost of developing a dating app can go up.
Development approach
Number of platforms (plus adaptation to devices – web responsiveness)
Location of a software development partner and their rates
App design complexity
Number and complexity of features during dating mobile app development in the first and subsequent app versions
|   | MVP | More features and design of a larger complexity, 1 platform | Complex app design, development, and support, 2+ platforms |
| --- | --- | --- | --- |
| UX/UI Design | $5,000+ | $15,000+ | $25,000+ |
| Custom Development | $40,000+ | $95,000+ | $200,000+ |
| Quality Assurance | $5,000+ | $15,000+ | $25,000+ |
| Project Management | $7,500+ | $15,000+ | $35,000+ |
| Business Analysis | $2,500+ | $10,000+ | $15,000+ |
| Total setup | $60,000+ | $150,000+ | $300,000+ |
| Time | 3 – 6 months | 4 – 9 months | 9+ months |
Extra note: Asking how to make a dating app close to Tinder isn't a good idea. The Tinder app was created, scaled, and promoted by that organization, which received a $50 million investment. Such a budget is not available for every product. You can, however, write your own success story. Simply put, don't plan to create an app like Tinder, as cloning an existing product would not yield a good result. Instead, consider introducing a novel concept to the market.
Looking For a Dedicated Team?
A Dedicated Team might be the best solution in your case. Get in touch with us and we'll help you choose the best IT outsourcing model based on your business needs and requirements.
6. Step-by-step on How to Build a Successful Mobile Dating App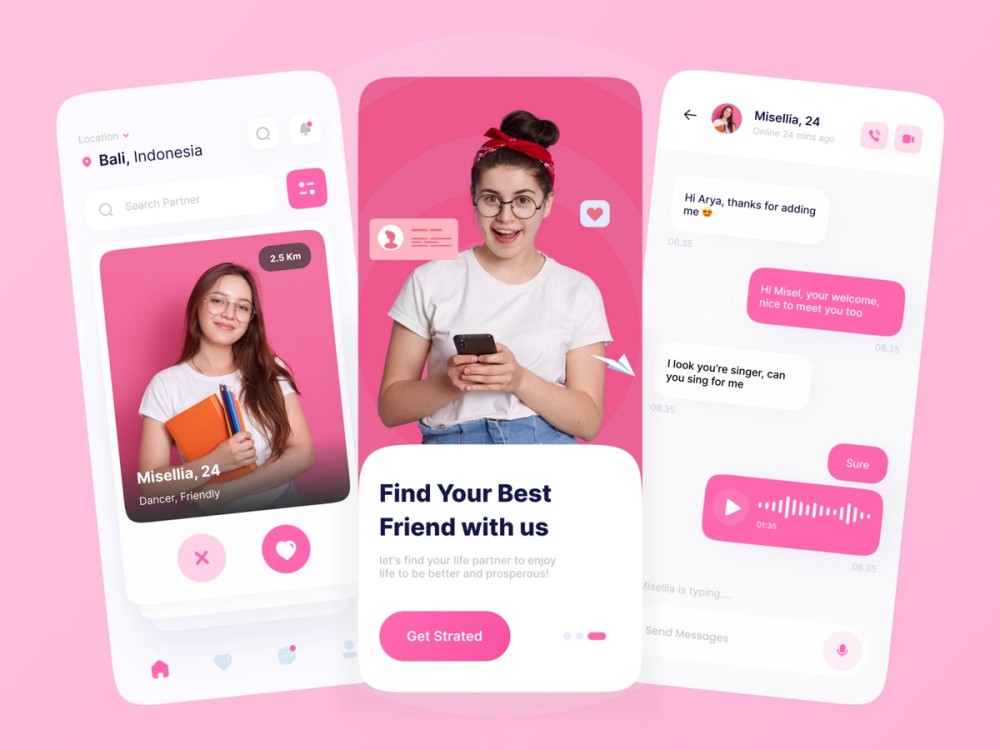 To begin, you should create a dating app that caters to a specific but appropriate audience. If you want to create a dating app with more trustworthiness, you can focus on matches with specific interests, preferences, or relationship goals, or even allow group dates.
6.1. Conduct Market Research
To continue the debate about whether or not to create a dating app, figures show that 19% of couples met their spouses on a dating website. Take a look at the data from Stanford University, which shows how meeting partners has changed over time. In today's world, 40% of Americans use online dating services (more men – 52.4 percent , than women- 47.6 percent ). Consider this: in the United States, over 11 million people use a dating app at least once a month.
Statista provided the following insight about the online dating market:
Revenue in matchmaking will reach US $2,652m in 2020
Revenue predicted at 10.5% annual growth rate (2020 – 2024)
Average revenue in online dating, per user amounts to US $32.91
The projected market volume in 2024 will amount to US $3,961
Currently there are 80.6M users in the matchmaking sector in 2020
In 2020, most revenue was generated in China (US $503m)
Furthermore, according to IBISWorld, the dating service market has grown at an annual rate of 11% over the last five years. However, only 27% of US adults used or were currently using a dating app or website as of April 2020, indicating that there is still plenty of space for creativity and consumer attraction.
Key takeaway: Dating apps account for nearly a quarter of the dating services industry's sales, and they're getting bigger every year. This is attributable to the increased use of the Internet and mobile devices.
6.2. Competitor Analysis
The majority of dating apps (Tinder, OkCupid, Plenty of Fish, and so on) are owned by the Match Group, which is worth noting. By 2020, the company will have surpassed 10 million paying dating app subscribers around the world, and it will continue to grow through foreign acquisitions such as Meetic in Europe and Eureka in Japan. Facebook is now developing its own dating app. More specifically, the network would make date recommendations based on upcoming activities, personal status, and interests.
But you want to know how to build a standout dating app? First and foremost, you must thoroughly research your competitors.
6.3. Dating App Idea Validation
Developing a new app is difficult because you never know how it will work or whether it will be well received by users. You may simply ask your future users how to build a dating app that meets their needs in this case. Conduct a few polls and specifically ask the target audience what features they want to see and what elements are most relevant to them. Then you can build a fantastic user matchmaking algorithm and define your dating app's USPs.
Target Audiences
Critical problem that users have
Your solution
Unique selling points
Your app's advantage
Channels of advertising
Development Cost
Key indicators of success
Revenue channels

6.4. Design UI / UX for Dating App
When it comes to going across app windows, the user interface (UX) should be well-considered. The app's features should be supported by the user interface (UI). Create an app name and logo that is simple to remember. Additionally you could consider the following expert advice if you want to learn how to make a dating app with a unique design:
Utilize current design trends such as blurred background images, transparent components, and swipe navigation.
Color schemes that are constructive and energetic should be used.
To engage with your audience, use interactive elements.
Include an easy-to-understand onboarding process.
For app engagement and interaction, pay special attention to gestures.
6.5. Choose the ideal Tech Stack & MVP Development
Clarification of the project's specifications, the business goals, and project prototyping will all be part of this point. If you wish to test out the app first then we would recommend you going for a MVP version at the start. Below are a few features that you should take notice while developing a MVP Dating App.
| | |
| --- | --- |
| Feature | Description |
| Social sign-in | Empower your app with sign-in via social networks like Facebook, Instagram, Twitter, or LinkedIn for a more seamless experience. |
| User profile | Each user has their own profile where one indicates interests and hobbies. |
| Geolocation | With this feature, the app users will choose the region where they want to find a soulmate and even choose nearby locations. |
| Matching | To make the matching process more accurate, use AI-based algorithms. |
| Chatting | When users have a match, they can start chatting and get to know each other better. Also, it is possible to add stickers and GIFs optionally to make messages more vivid. |
| Push notifications | Push notifications will inform your app users about their matches. |
| Settings | Settings include main features like select by categories, on/off the sound, customize different filters, and so on. |
Savvycom – Your Trusted Tech Partner
From Tech Consulting, End-to-End Product Development to IT Outsourcing Services! Since 2009, Savvycom has been harnessing the power of Digital Technologies that support business' growth across the variety of industries. We can help you to build high-quality software solutions and products as well as deliver a wide range of related professional services.
Savvycom is right where you need. Contact us now for further consultation: